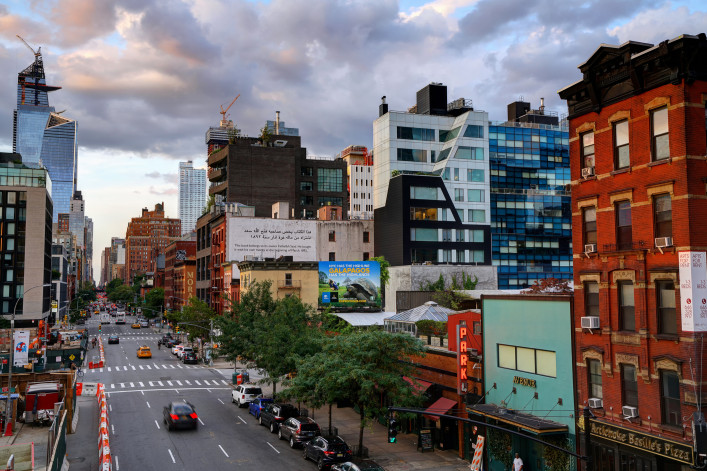 This is part of a new series from Bolster, a New York City-based firm that has designed a radically transparent renovation experience. Below, a Chelsea condo owner describes how he started his renovation process.
Taking the plunge
In early 2016, after almost seven years of paying costly New York City rent, I made the decision to buy a Manhattan apartment. In late 2015, I was told to expect a significant promotion in a few years and I realized that I was ready to take the plunge, become an apartment owner, and commit to living in Manhattan for the foreseeable future.
But I was cautious because I was well aware of both Manhattan's astronomically high apartment prices and the economic shackles that come with buying an expensive NYC apartment (including, beyond just the steep mortgage payments, the notorious maintenance fees and taxes, surprise capital assessments, and other costs renters are generally spared from). The promotion also wasn't locked—what if it didn't come through? Could I still afford to be an apartment owner and would I even want to stay in the city? 
With mortgage rates at all-time lows, I decided I didn't want to wait and I wanted to make a go of it. In the end, I decided to hedge my bets. I would buy a modest studio apartment that I could live in for the long haul, but also could flip to a rental in the event the promotion came through and I wanted to upgrade my lifestyle.
The search begins
Given a potential plan to turn it into a rental, I focused my search on condos (and not co-ops) as I had learned that condos were much easier to rent than co-ops. Through research on Brick Underground, StreetEasy, and other sites, I had learned that many co-ops aggressively limit the ability of their owners to rent, and in some cases impose taxes that make renting economically unwise. I had also learned that condos rarely have such restrictions. I was most interested in living in the Flatiron/Chelsea area, so I focused my search accordingly and began frequenting open houses that were within my budget.
After several months of searching and countless open houses, I had found a good candidate: A reasonably-priced Art Deco loft topping in at 550 square feet, nestled above the 1 train and with protected west views—the only problem was that the unit was significantly outdated. The apartment was the product of a hasty conversion in the 1980s in what was then a non-desirable location. It featured tacky décor, and unnecessarily low ceilings (the sponsor allegedly dropped the ceilings four feet to reduce building heating costs). I felt I would need to renovate it quickly to be comfortable living in the apartment—it didn't feel welcoming. I asked my broker for her thoughts on renovation costs as we were contemplating my bid. She suggested that with a $50,000 budget, I could probably do great things. I was naive and believed that to be the case. 
And so that's where my journey begins. 
Enter Bolster
In April 2016, confident that I could quickly renovate a small studio in Manhattan on the cheap, I bought the apartment and being taking the initial steps to renovate. What I thought would be a project that would take a few months turned into years (four to be exact). I made many mistakes and poor decisions along the way, often in an attempt to save costs. I became familiar with such concepts as "architects of record," "design/build," "building engineers," "electrical loads," and "expeditors," all as I pushed towards a renovation start date that was continually getting pushed further into the future. 
And yet, shortly after I hired my first architect, I also became familiar with Bolster and its mission, and in particular its awesome COO and co-founder, Anna Karp. Since I had already engaged an architect, I filed Bolster away in my brain with a plan to revisit them for the "build" portion of my project. It was probably the worst mistake I made during the whole process.
By December 2019, my construction was finally (and significantly) underway with Bolster. I engaged them for the "build" and this is the first time I've felt confident about my project being in capable hands. I'm eagerly anticipating the results and excited for the future, and yet I'm also kicking myself for not engaging them sooner.
In the next post, I'll walk through some of the poor decisions I made that could have been avoided if I started my project with Bolster (and the costs of those poor decisions!).
---
The Bolster Smart Renovation Zero-Risk Guarantee
How can a design-build firm guarantee a Zero-Risk renovation?

Bolster has pioneered Smart Renovation. We apply quantitative analysis along with our proprietary technology solution to identify and quantify the performance risk on every renovation project. The result is a personalized strategic approach to each renovation that allows us to absorb 100 percent of the homeowner's risk. Your home will be beautifully designed, and delivered on-time and on-budget. That is our guarantee.

Smart Renovation & Zero-Risk means that Homeowners are now free to dream.

To start your major home renovation project visit bolster.us
The Bolster Promise video
Brick Underground articles occasionally include the expertise of, or information about, advertising partners when relevant to the story. We will never promote an advertiser's product without making the relationship clear to our readers.