Over a period of 10 months, Brooklyn homeowners Patrick and Julie saw their dream of a renovation of their landmarked, 3,600-square-foot Park Slope brownstone come to life. What follows is a breakdown of the costs along with images of the completed Bolster renovation. 
When Patrick and Julie decided to call a historic Park Slope brownstone their home, they were excited at the prospect of owning a piece of Brooklyn history, and ready for the challenge of a gut renovation. 
The home already offered conveniences: It was centrally located in a family-friendly neighborhood within walking distance to their son's school. But Patrick and Julie needed to bring the home up to code and make it fit with their lifestyle. 
In addition to prioritizing compliance and infrastructure needs like electrical, plumbing, and HVAC, the couple wanted to customize the home with modern conveniences and ensure longevity. Because both Patrick and Julie both work in the tech industry, they wanted the home to be wired for Category 5 cable. They also wanted to make sure the layout was conducive to a growing family, with the intention of spending at least a few decades in the home.  
Pro Tip:
Whether you're renovating a two-bedroom prewar co-op or a 4,000-square-foot brownstone, Bolster guarantees a beautifully designed home renovation risk-free and on-budget. "Expect flawless communication, white-glove service, and absolutely no surprise costs," says Bolster's CEO and co-founder Anna Karp. Ready to start your renovation? Learn more >>
Patrick and Julie chose to partner with Bolster to transform their home into a space that was safe, convenient, and family-friendly. Bolster is a data-driven design-build firm on a mission to eliminate risk from major home renovations by being radically transparent across everything they do. Bolster's vertically-integrated team and commitment to resourcing puts them in the unique position of being able to financially guarantee that all renovations are delivered beautifully and on-budget.
Patrick and Julie's budget was $282 per square foot all-in for their 3,600-square-foot home. Through the use of predictive data, Bolster is able to budget for unforeseen challenges. Thus, they can absorb cost overruns rather than pass these extra fees on to the homeowner.
Choosing where to spend, save, and splurge
Patrick and Julie's landmarked brownstone was bursting with original details from its construction at the turn of the 20th century, including pier mirrors and stained glass windows, but it was sorely lacking in modernized infrastructure. Since the top priority was bringing the home up to code, this made it easy for Patrick and Julie to prioritize where to allocate their budget. 
The Brooklyn couple made the decision to prioritize infrastructure updates, such as electrical, plumbing, and HVAC. From there, Patrick and Julie moved on to modern conveniences and a layout that would suit their young, growing family. 
They didn't have a need for the dressing rooms with double vanities on the brownstone's top two floors, so those were removed and transformed into a walk-in closet for the master suite on the second floor, and a children's playroom between two of the bedrooms on the third floor—complete with new skylight. 
The couple was very thoughtful about their space as a whole, and deliberated at length about how the home would accommodate their family in the years to come—specifically, the bathroom layouts, which were altered to make space for double vanities and showers.
Once these must-have items were accounted for, Patrick and Julie explored the design of their home, which came with lots of dark wood and outdated wallpaper that overwhelmed the space. Patrick and Julie chose to remove some of the home's original details to make it feel more modern. 
The couple also chose to be practical in the kitchen: though they like to entertain, Julie is the first to admit that they don't cook very often. Thus, the layout of the galley kitchen remained the same, and the space was updated with modern appliances, new cabinets, and fresh paint.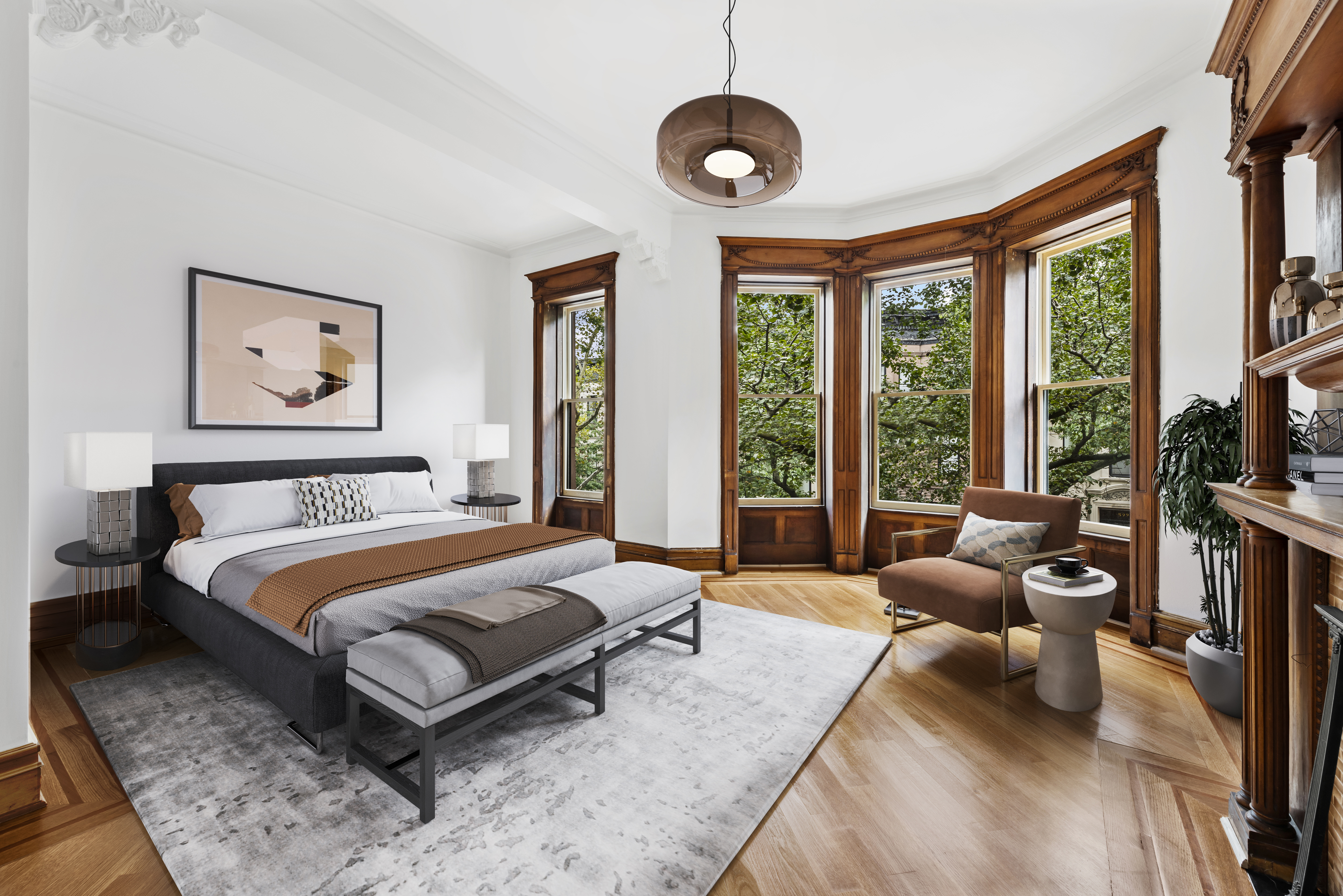 Encountering unexpected challenges
As with many old homes, asbestos is a problem. Asbestos is commonly found in window sealants, flooring adhesive, floor tiles, waterproofing, and pipe insulation. Sometimes, it's even embedded in the plaster.
"Almost all old brownstone homes will contain asbestos, unless they have been renovated and abated very recently," said Bolster architect Paul Capece. "It is important—and required by law—to have a reputable asbestos inspector thoroughly inspect the house and test all suspect materials." 
Once asbestos is detected and documented, it must be properly abated by a certified contractor, and the work must be signed off by the DEP prior to DOB permitting.
"In renovating an older house like this, you have to be prepared for the unexpected to come up," Julie said. 
Patrick and Julie's brownstone is also landmarked, which can also pose unique challenges. 
"One of the main decision points in terms of both budgeting and timing is how far to go with any exterior facade work," Paul said.  
Paul explained that the LPC has two main paths that a project will be sorted into based on the scope: Minor facade repair and/or window replacement work can often be reviewed and approved on a staff level, which is a fairly straightforward process, as long as you follow the Landmarks Preservation Commission's (LPC) standard rules.  But if you want to operate outside of the standard rules, or if you're proposing more invasive facade work or an addition, you'll likely end up heading down the path of a LPC hearing.  
Pro Tip:
Spend less, build faster with Bolster. "We deliver risk-free, on-time, on-budget renovations," says Bolster's CEO and co-founder Anna Karp. "We give you a fixed-priced cost up front, and absorb all unforeseen project costs after the demolition phase. Bolster--not you--is responsible for any and all surprises." Ready to start your renovation? Learn more >>
"On this project, we stuck to simple window replacement and adhered to the LPC rules, which allowed us to go through the simplified process," Paul said.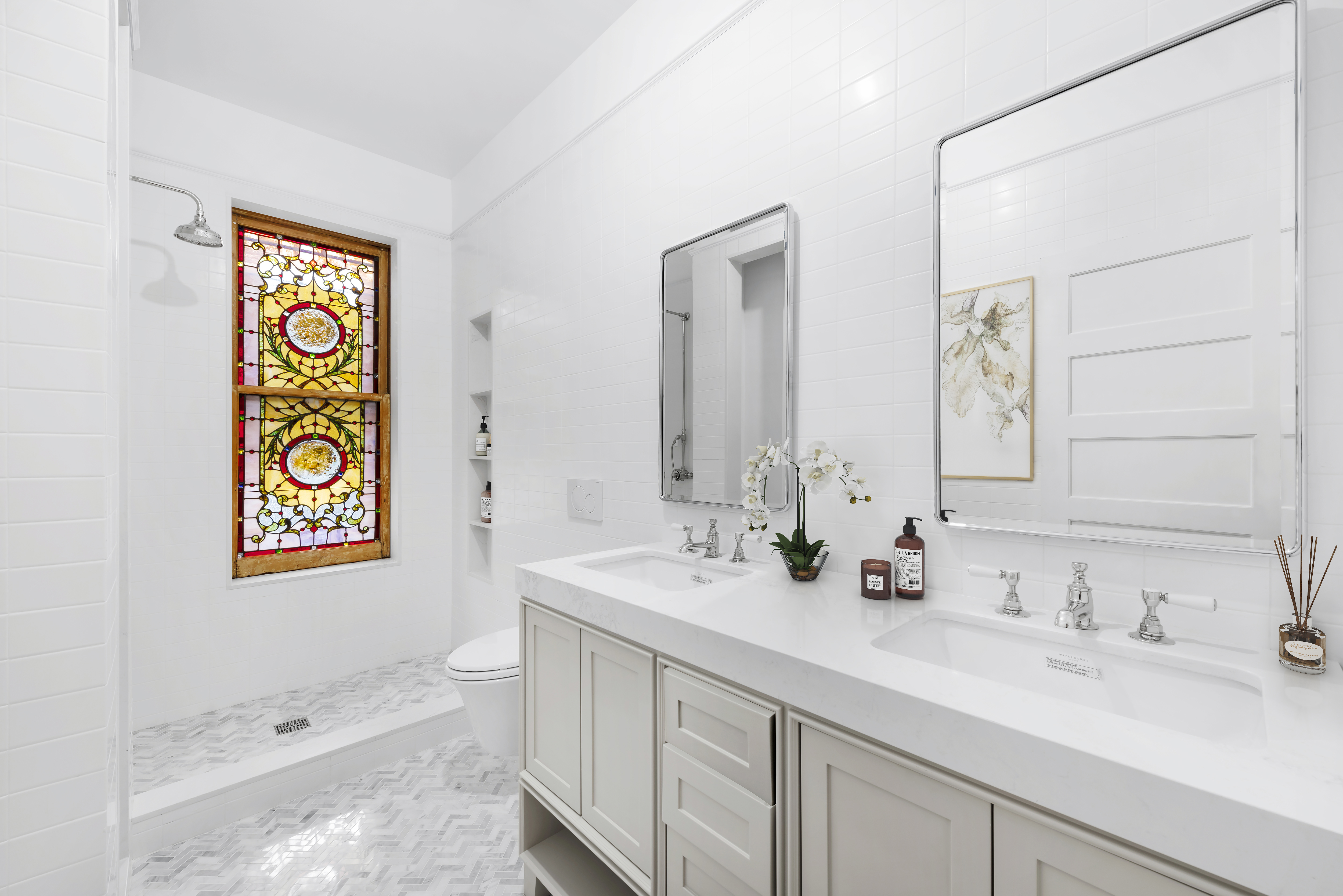 Cost transparency in real time 
The Bolster team gave Patrick and Julie a granular cost breakdown that included design and build project fees, enabling them to see exactly where every dollar and cent was allocated. Transparency like this is empowering, and fundamental to the Bolster process. 
Necessary upgrades to the brownstone included electrical ($72,300), plumbing ($61,700), HVAC ($94,800), and asbestos abatement ($24,482). 
Replacing doors and windows throughout the home totaled $60,825, which included the landmark windows on the front façade ($26,400).  
The galley kitchen, which retained its original layout, received custom cabinets ($24,000) and new appliances. This allowed the homeowners to create a kitchen that met their practical and aesthetic needs without breaking their budget. 
Throughout the home, the couple also chose to add a fresh coat of paint ($63,000), install custom stone and tile ($16,695), and replace the hardwood floors ($74,049).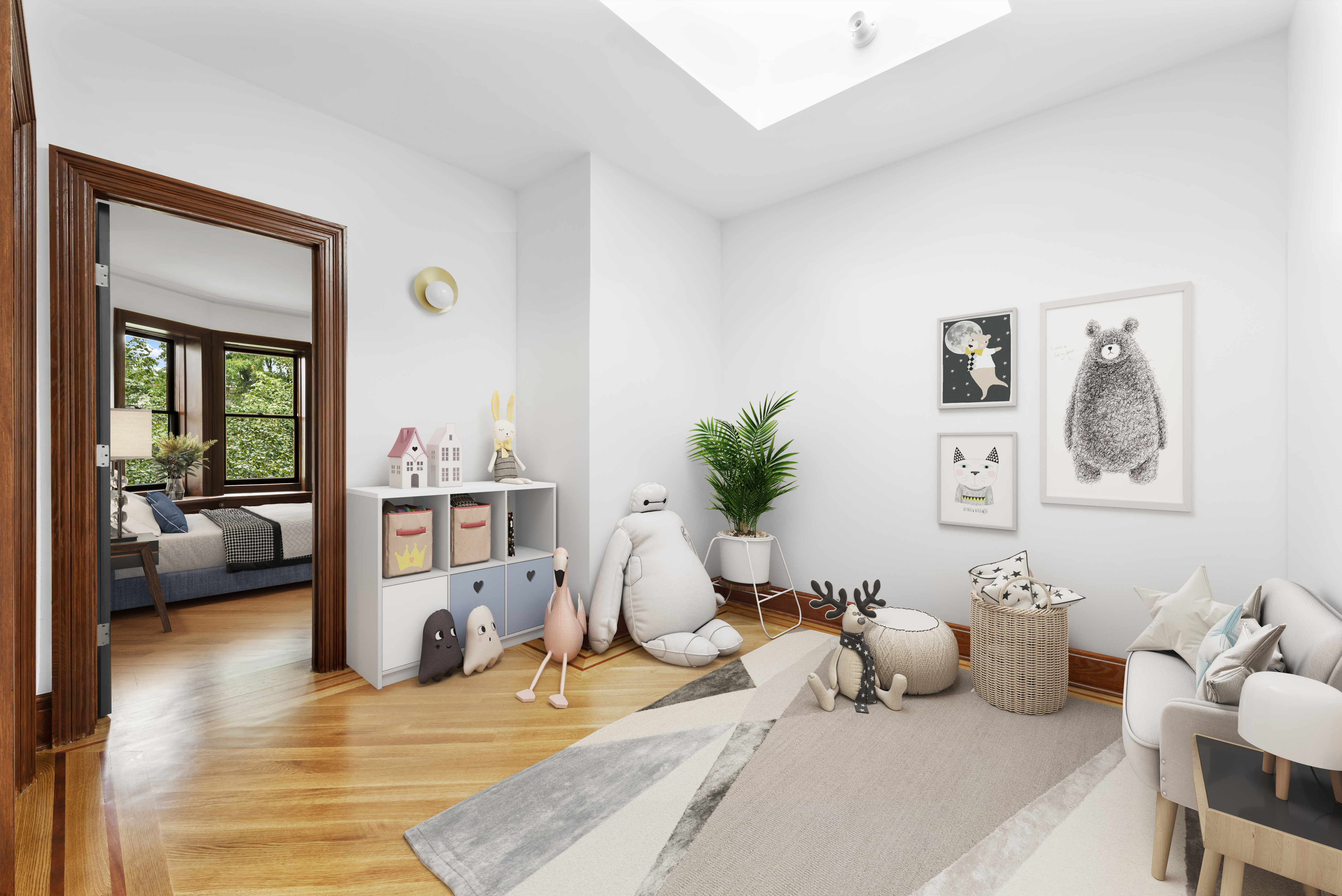 The final cost 
As a result of Bolster's transparent pricing and Patrick and Julie's careful planning, they were able to create their dream brownstone for their family to live in and enjoy for decades to come. 
At project wrap, the final job cost totaled $1,014,079. The cost included a $101,534 architect's fee, $26,431 for insurances, $9,533 for project management, $38,727 for site management, and $41,706 for general labor. The rest of the costs went to direct job costs, profit, and overhead.
---
The Bolster Smart Renovation Zero-Risk Guarantee
How can a design-build firm guarantee a Zero-Risk renovation?
Bolster has pioneered Smart Renovation. We apply quantitative analysis along with our proprietary technology solution to identify and quantify the performance risk on every renovation project. The result is a personalized strategic approach to each renovation that allows us to absorb 100 percent of the homeowner's risk. Your home will be beautifully designed, and delivered on-time and on-budget. That is our guarantee.
Smart Renovation & Zero-Risk means that Homeowners are now free to dream.
To start your major home renovation project visit bolster.us
The Bolster Promise video
Brick Underground articles occasionally include the expertise of, or information about, advertising partners when relevant to the story. We will never promote an advertiser's product without making the relationship clear to our readers.