When NYC residents Patrick and Julie initially started looking for a place in the city to call home for their young and growing family, they thought back to their own childhoods. Both grew up in family-oriented neighborhoods in major East Coast cities, and wanted a similar experience for their children. 
"My husband and I grew up playing sports and being outside a lot, with lots of neighborhood kids around, so we wanted that for our family," Julie said. 
Prior to the birth of their son, the couple lived in a prewar studio in Murray Hill. 
"We loved the character of the building, but it was obviously very small," Julie said. "After having a child, we wanted more space—and somewhere close to a park." 
When Patrick suggested looking in Park Slope, Julie was apprehensive, but quickly came around to the famously family-friendly neighborhood. 
"My husband lived in Park Slope at the time we met, and always raved about it—but I'd only visited once. When we started walking around, I understood why he wanted to live there," she added. 
Pro Tip:
Whether you're renovating a two-bedroom prewar co-op or a 4,000-square-foot brownstone, Bolster guarantees a beautifully designed home renovation risk-free and on-budget. "Expect flawless communication, white-glove service, and absolutely no surprise costs," says Bolster's CEO and co-founder Anna Karp. Ready to start your renovation? Learn more >>
An unexpected renovation
When the couple settled on a landmarked brownstone in the Park Slope historic district, it felt serendipitous. They had previously put an offer on a home on a busier street, but the inspection caused them to pull out of the deal. 
The new home, a 3,000-square-foot brownstone in Park Slope bursting with original details, fit the bill.   
"We didn't want the ultra-new, modern construction look," Julie said. "We wanted somewhere that reflected the historic nature of the neighborhood. We wanted somewhere you could sit outside and hear the birds chirping." 
Undertaking a renovation is challenging—and Patrick and Julie had a lot on their plate. 
Aside from being first-time homeowners, they were adjusting to being new parents, starting new jobs, and had recently repatriated to the United States after spending two years working abroad. On top of that, they were about to take on a full gut renovation of their brownstone.
"It was intimidating and kind of scary knowing we'd have to wait close to a year to actually live in the house," Julie said. "At that point in time—being first-time parents and first-time home renovators—we were flying by the seam of our pants. That's what appealed to us about Bolster: they understood that we needed our hands held, and had the patience to walk and talk us through the process." 
Bolster is a data-driven design-build firm on a mission to eliminate risk from major home renovations by being radically transparent across everything they do. Bolster's vertically-integrated team and commitment to resourcing puts them in the unique position of being able to financially guarantee that all renovations are delivered beautifully and on-budget.
A modern home for a modern family
Early on in their search, Patrick and Julie decided if they couldn't find a place that was fully renovated to their liking, they wanted a blank slate—something that had most of its historic character still intact. It also had to be reasonably-priced, so they could update it with modern conveniences while still falling within their budget.
Here is what Patrick and Julie chose to focus on during their renovation: 
Infrastructure: Patrick and Julie cited infrastructure as being the most important thing to address. This included electrical, plumbing, and replacing the water main. 
Compliance: As a young family, one of Patrick and Julie's top priorities was making sure they felt safe in the home. As the home was constructed at the turn of the 20th century, they encountered challenges unique to older brownstones that had to be addressed. Everything had to be brought up to code. 
"When they started taking things apart, you could see the cloth wiring still in the home and where the gas line would run to a light when they had gas lighting back in the day," Julie said. "With a young family, you want to make sure that whatever you're doing, you're updating it."
Conveniences: The couple wanted to customize the home for both their personal and professional needs. Central A/C and new floors were installed. The home's dated dressing rooms with double vanities on each floor were removed to create a walk-in closet for the master suite on the second floor, and a playroom for the kids on the third floor. The home was also wired with Category 5 cable, "so we have fast internet everywhere," Julie said. (She and Patrick both work in tech). 
Longevity: Many New Yorkers moving from an apartment to a brownstone find it challenging to adjust to vertical living and so much extra space. Patrick and Julie, who moved from a studio in Murray Hill to a 3,000-square-foot brownstone, had to be thoughtful and diligent about how the layout would impact their growing family in the coming decades.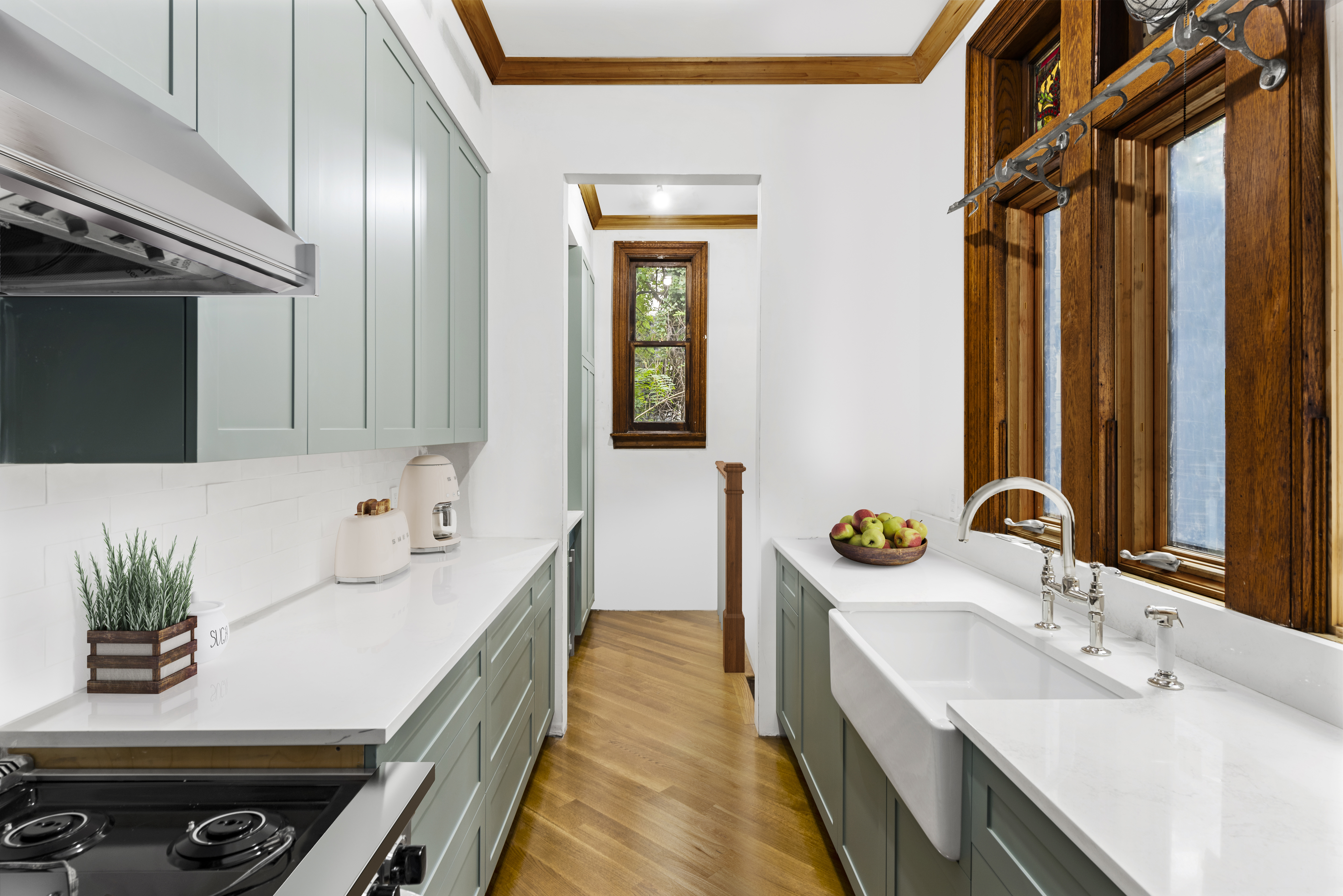 Where they saved
Patrick and Julie focused their budget on their must-have items, so they decided to leave the garden level of their home as it is—for now. 
"Being realistic, we didn't have a budget for all levels of the home, so we focused on the top triplex," Julie said. "We knew we didn't have enough in our budget to combine the two family back into a one family, but we left it in a way where we could always do it in the future." 
The couple also decided to take a more flexible approach to the galley kitchen. 
"We don't cook a lot, but we enjoy entertaining and having modern conveniences," Julie said. "We like having a separate kitchen space that you can use, open up, and see—but at the same time it's not like we're going to be gathering in there."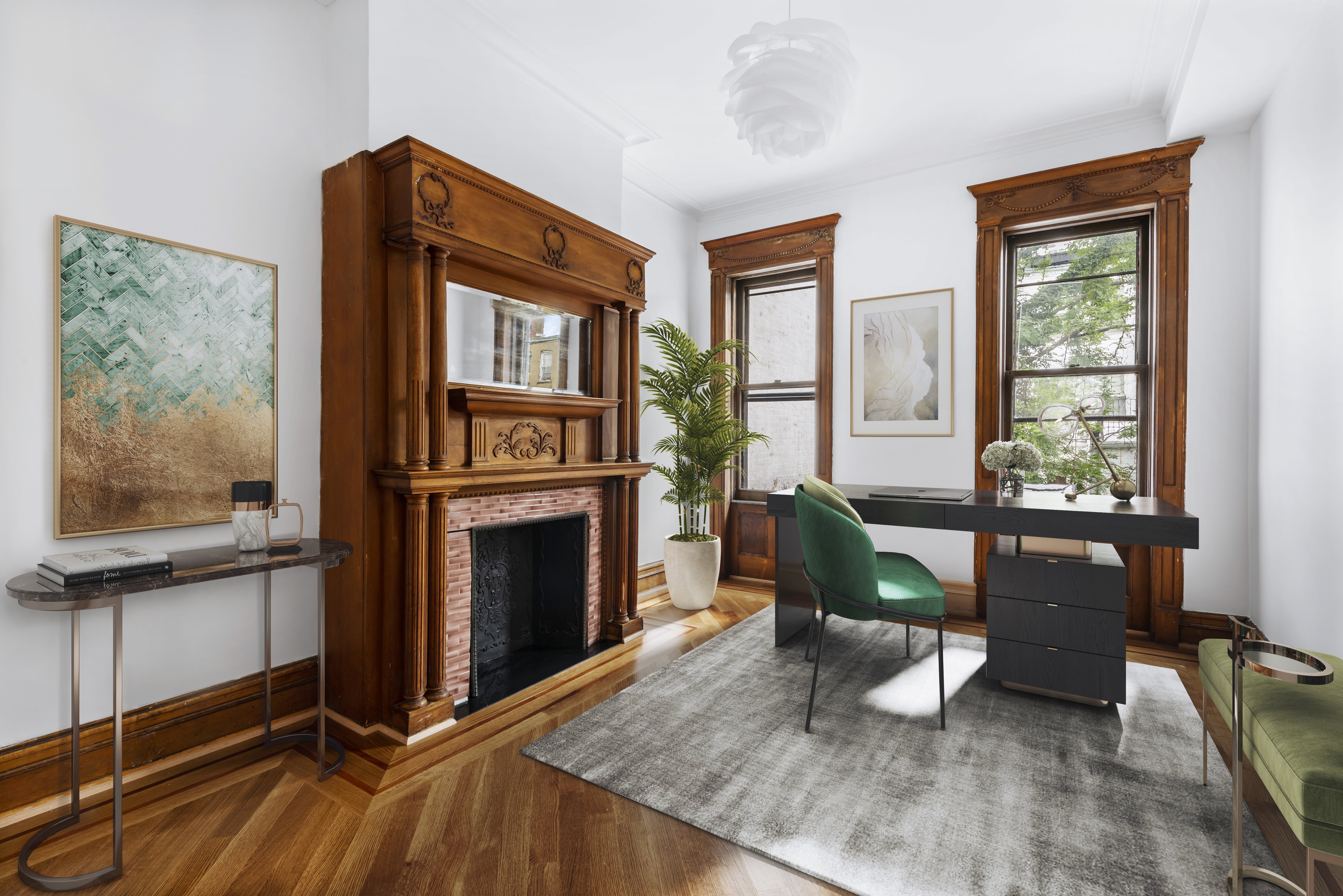 Life after renovation
Now that their renovation is complete, Patrick and Julie are looking forward to settling into their new home and neighborhood. 
"Quite honestly, we're most looking forward to the peace and quiet of the neighborhood," Julie said. "Sitting out on the stoop and being able to walk my son to school is something I'm looking forward to, as is having the flexibility of getting to know neighbors and getting to know people we'll know for a long time."
---
The Bolster Smart Renovation Zero-Risk Guarantee
How can a design-build firm guarantee a Zero-Risk renovation?
Bolster has pioneered Smart Renovation. We apply quantitative analysis along with our proprietary technology solution to identify and quantify the performance risk on every renovation project. The result is a personalized strategic approach to each renovation that allows us to absorb 100 percent of the homeowner's risk. Your home will be beautifully designed, and delivered on-time and on-budget. That is our guarantee.
Smart Renovation & Zero-Risk means that Homeowners are now free to dream.
To start your major home renovation project visit bolster.us
The Bolster Promise video
Brick Underground articles occasionally include the expertise of, or information about, advertising partners when relevant to the story. We will never promote an advertiser's product without making the relationship clear to our readers.