When Maria and Raquel Howard opted to move on from their idyllic Brooklyn rental and into a Harlem brownstone that they had inherited, they did so under one condition: They had to renovate it first.
The four-level brownstone, which hadn't seen any significant improvement since the '90s, was teeming with opportunities for upgrades. But Maria and Raquel were smart. They knew what they wanted, and they knew that to get it, they would need to be flexible with their budget. So how do you set the right limits on your renovation in order to get the most out of your budget?
The couple reached out to the folks at Bolster, a New York City based firm that has designed a relatively seamless renovation experience. Unlike other design build firms, Bolster provides homeowners with radical transparency and a zero financial risk guarantee. Through the use of a proprietary data-driven estimating tool, Bolster is able to provide homeowners with a more accurate estimate of overall costs. This is no small feat, given that half of the renovation projects in the U.S go 40 percent to 200 percent over budget. The firm also boasts a vertically integrated services structure that allows for a full team approach to renovation; architect, designer, contractor and builder work together from inception to completion of the homeowner's project.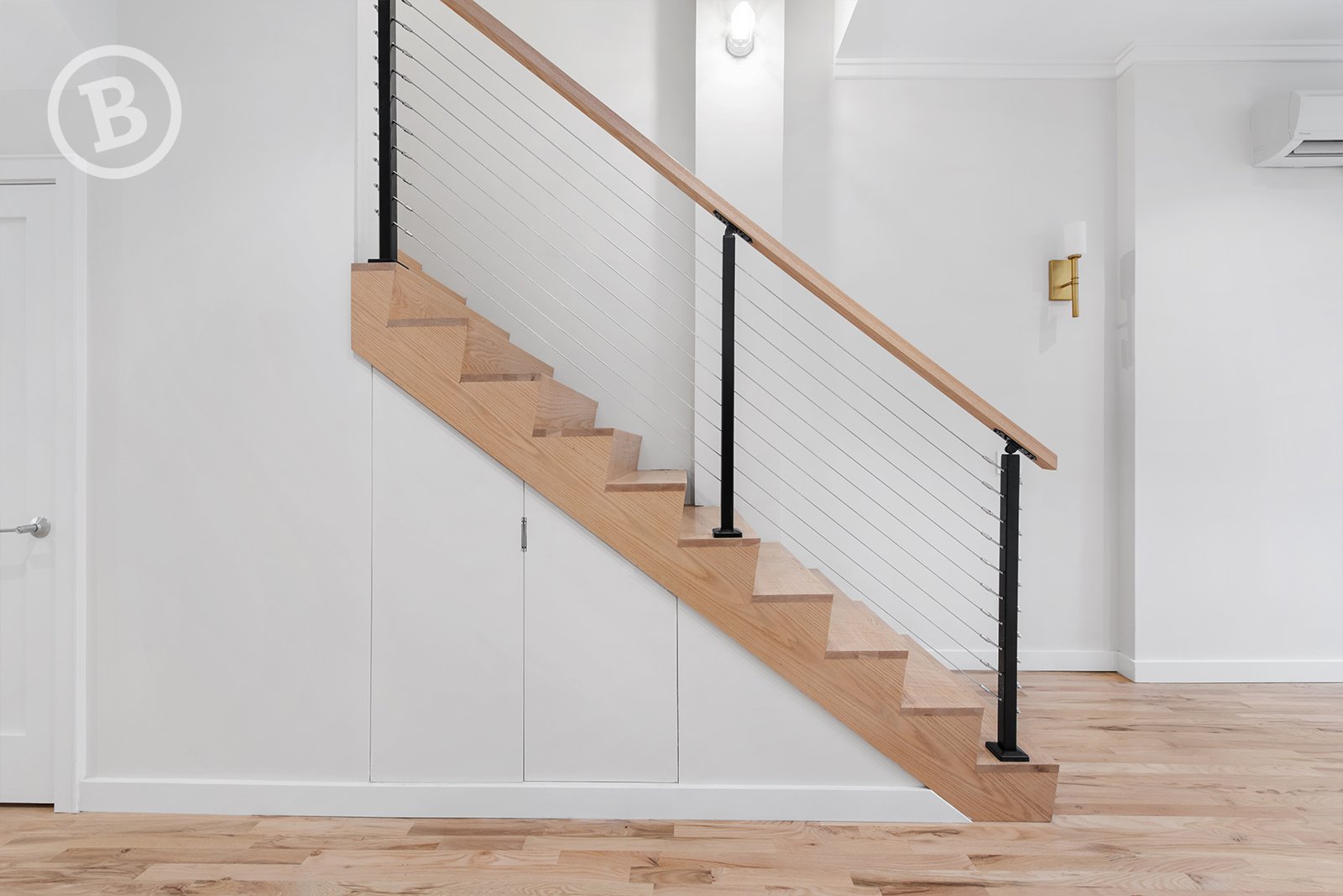 Step 1: The Stairs 
Bolster architect Agustin Ayuso got the project off the ground relatively quickly. "Maria and Raquel have a really good aesthetic," Augustin says. "They were clear about their need-to-haves and nice-to-haves. That always makes things a lot easier."
The entire renovation project was driven by the staircase. Maria has issues with accessibility and the stairs were simply too steep and narrow for her.
To accommodate the new staircase, the Bolster build team needed to open up the walls and put in all-new framing for the stairs. But before they could begin, Maria and Raquel wanted to test it out. Augustin had the contractor construct a mockup for the stairs. With the Howards' input, Augustin got rid of the tight, wedge-shaped winders and built the treads and risers wider and less steep.
NYC Renovation Calculator
What's this?
About Bolster's NYC Renovation Calculator: Bolster's Renovation Calculator enables you to easily calculate the estimated cost of a major New York City renovation. All you'll need to know is 1) the scope, complexity, and type of your project, 2) the quality of your desired finishes, and 3) the area being renovated. [Hint: Bookmark this page for easy reference!]
About Bolster: Bolster is a New York City design-build firm that delivers a seamless, radically transparent renovation experience--beginning with a line-by-line cost estimate that empowers you to plan your scope, budget, and schedule.
Standard: The quality of the finish is acceptable with attention to detail but reliant on big-box store sourced cabinetry, MDF etc. 
Mid Range: The quality of the finish is good (grade A) with attention to detail but reliant on big-box store sourced cabinetry, MDF etc.
High Range: The quality of finish is high (grade AA) and customized with fine finishes and materials being used that can last years, if not a lifetime.
Upscale: The quality of finish is the highest possible (grade AAA) and labor-intensive, with every surface bespoke, new, and beautifully finished.
Low: Simple design, no layout or structural changes, elevator in building.
Medium: Average design, moving of some systems and/or structural changes, no elevator in the building.
High: Complex design, complicated engineering, lots of logistics (e.g. boom lifts, suspended scaffolds, etc.), dangerous working conditions.
Small: Changes to surfaces only (e.g. painting, tiling).
Medium: Small + Changes to the finishes themselves (e.g. removing plaster, replacing flooring etc).
Large: Small + Medium + Changes to the building's infrastructure (e.g. replacing all systems, walls, floor joists etc).
Start Your Project With Bolster
The staircase was also relocated from the center to the right side of the house. This opened up the entire first floor to superior airflow and light.  
"We've made the home's narrowness an asset rather than a liability," says Bolster COO and co-founder Anna Karp. "It used to feel very enclosed. By moving the staircase we've opened it up and made the proportions feel right. That's the genius of the work that Augustin did."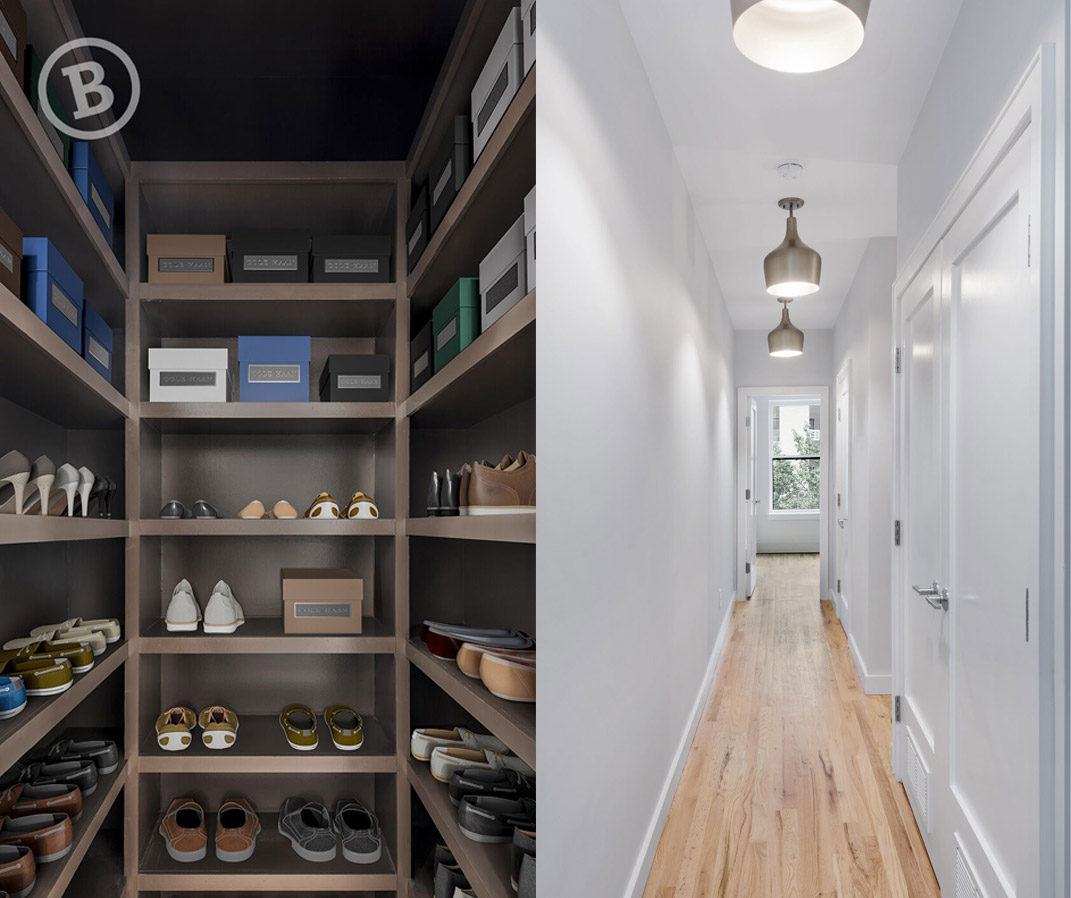 Step 2: The Shoes
Once the staircase design was settled, everything else followed, including a kitchen island, a washer/dryer and a major item on Raquel's wish list—a walk-in shoe closet.   
"It's like a jigsaw puzzle, you tackle the hardest part first, the rest comes easy." Anna says.
Step 3: Everything Else
Because Maria and Raquel knew they had to have the staircase, it served to anchor the budget and keep it contained. And as part of the Bolster pre-estimate process, they had the information about costs, which informed the scope of the project. They chose to put their dollars toward the parts of the home that they planned on using the most. They're rarely on the third floor, so they left that bathroom untouched. Likewise, they decided against a rooftop deck or an upgrade to the basement.
Maria and Raquel Howard's experience is a prime example of a high-end renovation that didn't need to require an entire home makeover. When homeowners are well-informed about where their budget is going, they can identify which parts of their homes need the work and put their money where their passion is.  
"It's proof that the Bolster process works." Anna says. She then produces her smart phone and shows off a text message from Raquel. It's a picture of her fully-populated shoe closet. "And now we have the pictures to prove it."
The Bolster Smart Renovation Zero-Risk Guarantee
How can a design-build firm guarantee a Zero-Risk renovation?
Bolster has pioneered Smart Renovation. We apply quantitative analysis along with our proprietary technology solution to identify and quantify the performance risk on every renovation project. The result is a personalized strategic approach to each renovation that allows us to absorb 100 percent of the homeowner's risk. Your home will be beautifully designed, and delivered on-time and on-budget. That is our guarantee.
Smart Renovation & Zero-Risk means that Homeowners are now free to dream.
To start your major home renovation project visit bolster.us
The Bolster Promise video