When NYC homeowners Mack and Emily purchased their Flatiron apartment in 2019, they knew immediately they wanted to renovate—but what they didn't count on were the challenges they would face.
Mack and Emily reached out to Bolster in September 2019 after Homepolish, the company they had been working with on the design phase of their project, suddenly went out of business.
Founded in 2012, Homepolish made a splashy debut as a startup that offered affordable home design services. Despite its popularity, the company faced operational and financial pressures as it scaled, and eventually ran out of money—leaving Mack and Emily scrambling to find another company that could seamlessly wrap up the design phase of their project and deliver on the build phase.  
Enter Bolster, a design-build firm, which refers to this type of project as "Agile." Bolster offers Agile renovation as a solution for homeowners who don't need to spend as much time on the design phase. 
For Agile projects, Bolster offers in-house designers who can bridge a homeowner's vision from design to build in order to maximize the homeowner's construction budget. Bolster's Agile process provides homeowners with renders, mood boards, and a customized pricing presentation. From there, both parties sign a design-build contract together and move into the build phase of the project quickly and efficiently. 
Pro Tip:
With more than 50,000 square feet renovated in NYC, Bolster understands how to guide New Yorkers through any renovation challenge, from navigating Landmarks to recreating pre-war details, and gives them full visibility into project milestones. "Bolster is the only renovation firm to offer a fixed-price cost up-front. Once we perform due diligence and verify the existing conditions of your property, we absorb unforeseen project costs," says Bolster's CEO and co-founder Anna Karp. Ready to start your renovation? Learn more >>
Using the Agile process, Bolster quickly wrapped up the remaining design work on Mack and Emily's project. Within a month, they had signed a contract with Bolster and were ready to break ground.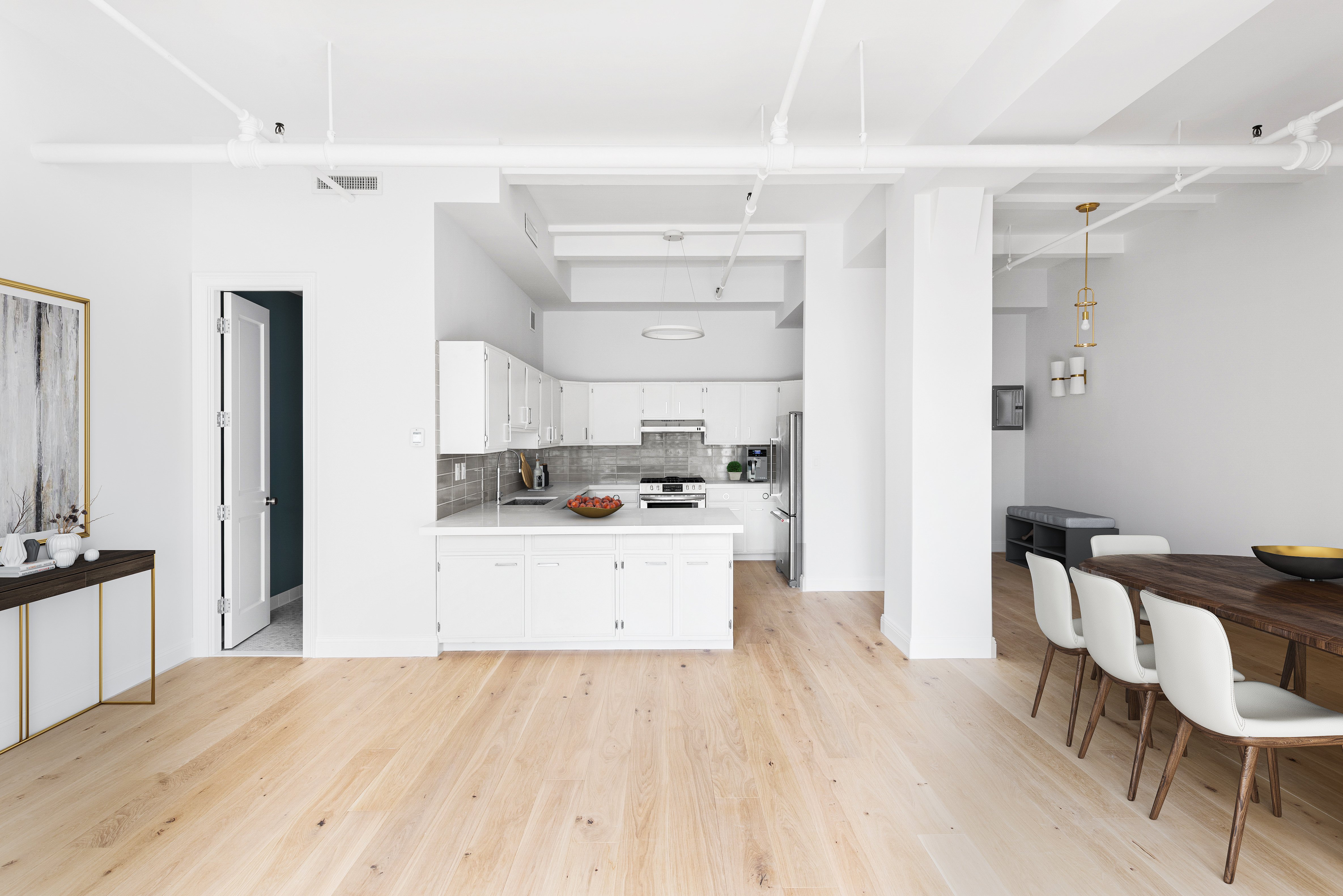 Setting priorities 
Mack and Emily had a very specific vision in mind for their 1,200-square-foot apartment, previously owned by someone in their 90s and never updated. They prioritized key items in order to stay within their $368-per-square-foot budget. 
With no major structural or layout changes to be made, the main items included electrical and plumbing updates, replacing the existing parquet floors in the entire apartment, and renovating the two bathrooms. Additionally, they wanted to add a washer/dryer, custom millwork in the master bedroom closet, and make cosmetic updates. Finally, as a young family expecting their first child, it was important for them to update the apartment's two bedrooms.
One of the items that would normally be a cost driver was the kitchen, which Homepolish had encouraged Mack and Emily to renovate. But the couple liked the layout and large footprint of the kitchen, noting that it was unique for a Manhattan apartment. Self-described "foodies" who like to explore new restaurants, Mack and Emily were happy with the kitchen's layout and the newer appliances.
"We had a decent amount of designers ask if we wanted to make kitchen footprint smaller," said Emily. "Between the fact that I like to cook and knowing that people tend to hang out in the kitchen, it was important to me that we keep the footprint the same."  
Mack and Emily also liked the layout of the apartment, which features a large living and dining space separating the two bedrooms. This was unique to their unit, as they had seen others in the building with a different layout.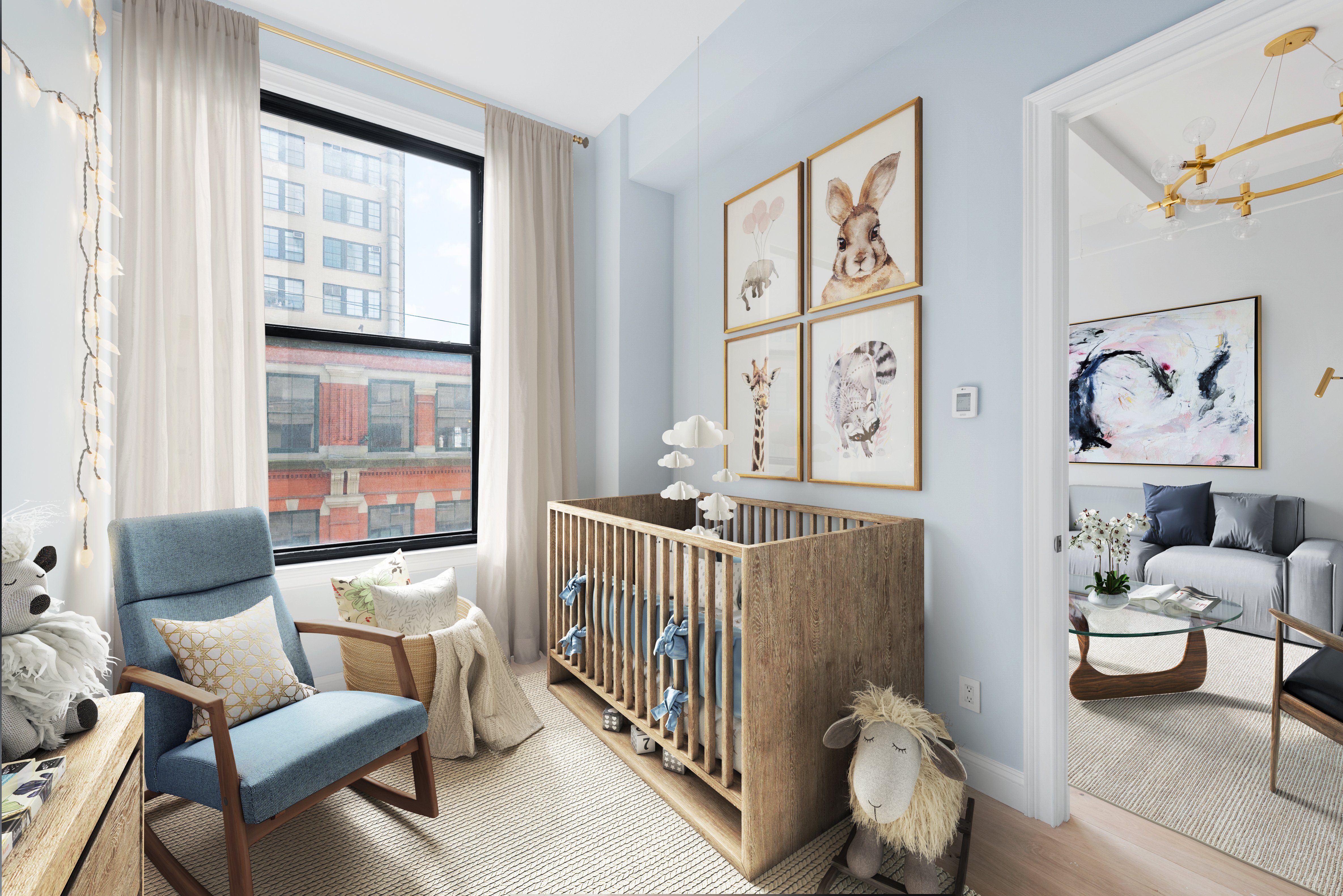 Renovating during Covid-19 
After extricating themselves from Homepolish and efficiently onboarding with Bolster, Mack and Emily's renovation was progressing smoothly when disaster struck again: this time, the Covid-19 pandemic.
The couple had been keeping a close eye on the news and were prepared for the possibility that their project would have to be put on hold. For its part, Bolster pledged to keep construction going as long as the city remained open. As it happened, Emily and Mack's building shut down a week before construction in NYC had to shut down.
"We were literally right in the middle of our project—the team had just finished demolition and started putting up walls," said Emily. "As soon as we got word from the co-op board, they didn't give us any time to prepare. Bolster was great about only having a few hours to seal everything off." 
Once Bolster sealed off and protected the apartment, they shifted their focus to supply chain logistics. By preventing supply chain disruptions, the Bolster team ensured that no additional time would be added to the project, saving the homeowners extra storage fees and giving them peace of mind that they'd be able to move into their new home as planned. 
Pro Tip:
Spend less, build faster with Bolster. "We deliver risk-free, on-time, on-budget renovations," says Bolster's CEO and co-founder Anna Karp. "We give you a fixed-priced cost up front, and absorb all unforeseen project costs after the demolition phase. Bolster--not you--is responsible for any and all surprises." Ready to start your renovation? Learn more >>
"Throughout the shutdown, Bolster ensured deliveries were received and properly stored," said Emily. "We stayed in contact and Bolster stayed ahead of the curve." 
This worked out greatly in Mack and Emily's favor. 
"On the day Governor Cuomo lifted restrictions, we were back in the apartment and made sure our co-op was prepared and had signed off on Bolster's plan—we didn't lose any time!" said Emily. "It was great to work with Jeronimo and the team at Bolster. They expedited the process and kept things moving."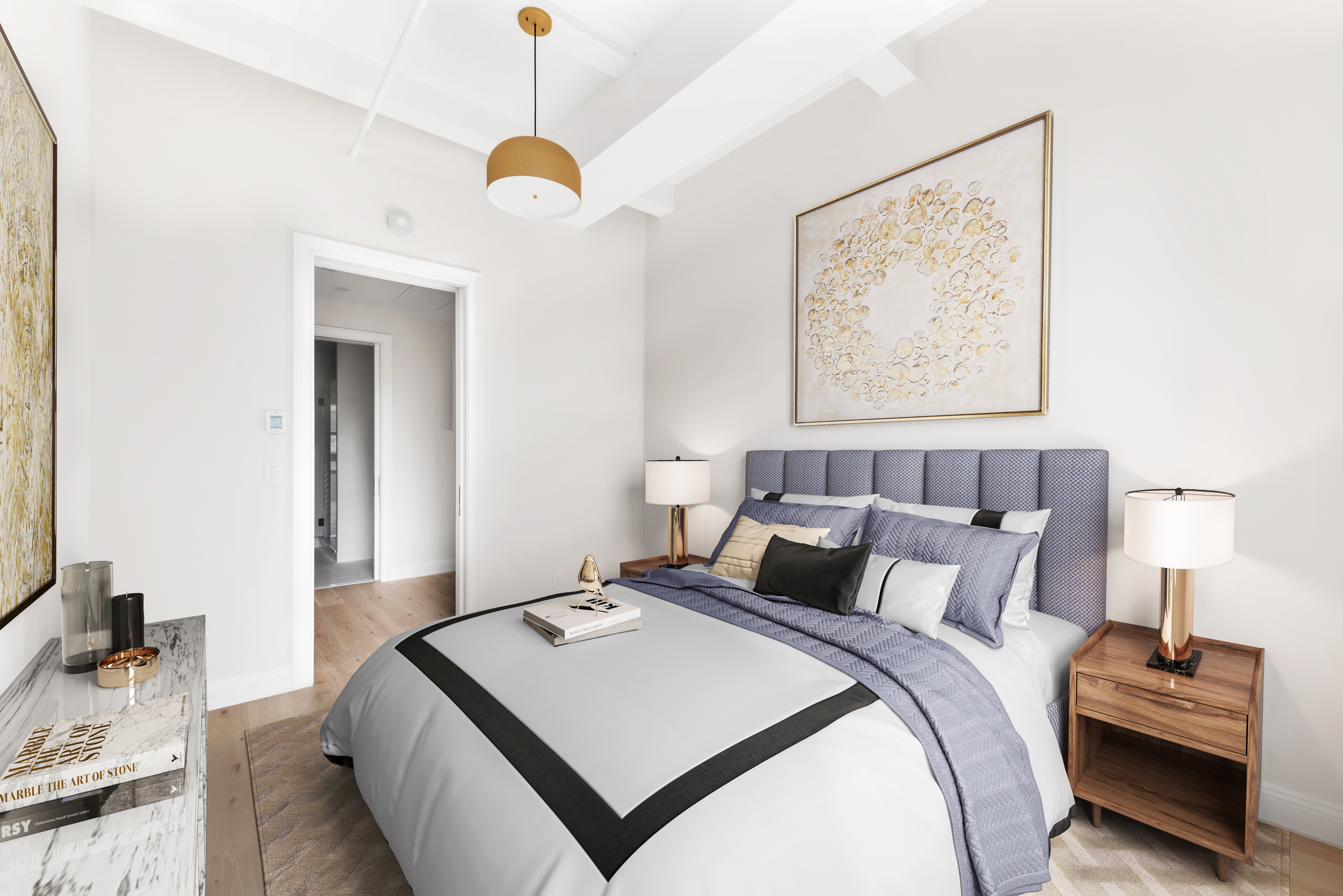 The resulting renovation
Bolster initially scheduled four and a half months for the build phase of the project, and $368 PSF for the total project budget, which included just over $34,000 for design in order to wrap up the transition from Homepolish to Bolster. (Curious how much your renovation may cost? Try Bolster's major renovation calculator, which gives you a customized estimate in seconds.) 
As planned, the main cost drivers included new hardwood floors ($18,000), electrical ($23,750), and plumbing ($32,500). Other costs included other material costs (such as demolition and millwork), labor costs, and indirect costs (such as overhead, profit, and insurance).  
Life doesn't look quite like it did when Mack and Emily bought their apartment in 2019, but they are looking forward to starting their new life in Flatiron. 
"Part of the reason we bought the apartment was the neighborhood," said Mack. "The restaurant scene was part of the draw. Hopefully it comes back in the same way that it was—with restaurants like ABC Kitchen, Gramercy Tavern, and Sugarfish—we're hoping everything stays."
---
The Bolster Smart Renovation Zero-Risk Guarantee
How can a design-build firm guarantee a Zero-Risk renovation?

Bolster has pioneered Smart Renovation. We apply quantitative analysis along with our proprietary technology solution to identify and quantify the performance risk on every renovation project. The result is a personalized strategic approach to each renovation that allows us to absorb 100 percent of the homeowner's risk. Your home will be beautifully designed, and delivered on-time and on-budget. That is our guarantee.

Smart Renovation & Zero-Risk means that Homeowners are now free to dream.

To start your major home renovation project visit bolster.us
The Bolster Promise video
Brick Underground articles occasionally include the expertise of, or information about, advertising partners when relevant to the story. We will never promote an advertiser's product without making the relationship clear to our readers.