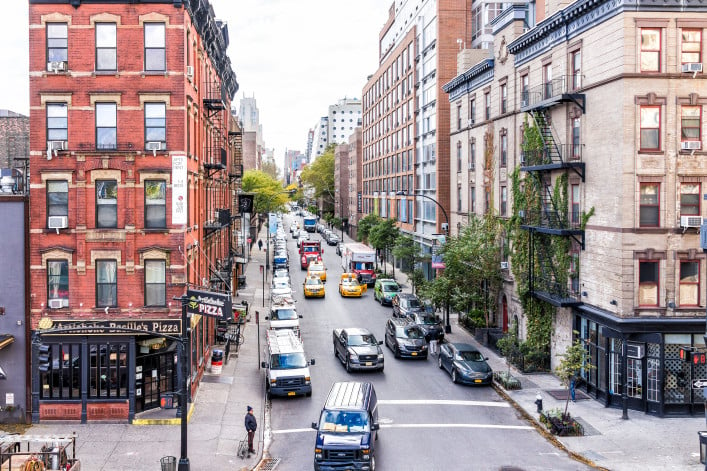 At the outset of my Chelsea studio renovation, I knew that I would need to hire an architect to prepare filings with the NYC Department of Buildings. My building's super told me that tearing down internal walls and raising my ceiling was a complicated project, and that I would need to navigate the challenging DOB to obtain an alteration permit authorizing the work. 
I solicited a few referrals for architects on social media, and reviewed DOB public filings for the names of contractors and architects that had previously renovated units in my building. This process yielded three leads: first, an architect recommended by a work colleague whom I trusted fully; second, an architect that was an acquaintance of a friend; and third, a Manhattan design-build firm with a fancy showroom. I studied up on design-build and, while I did like the logic in working with one person for the entire process, I also expected that to be the most expensive route and perhaps overkill for my small project.   
---
This is part of a new series from Bolster, a New York City-based firm that has designed a radically transparent renovation experience. Here, a Chelsea condo owner describes the process of choosing an architect and collaborating on plans for his renovation project—and the perils of hiring an architect who agrees with everything you say and who turns out not to be licensed in NYC. Read Part I of his story here.
---
Choosing an architect
Ultimately, I met with all three leads. The first architect was sharp and professional, but he quoted me $18,000, which was much higher than I anticipated. The second architect quoted a much lower fee of $10,000. Both produced line-item fee breakouts that weren't directly comparable, but I didn't spend a lot of time understand the differences. Finally, the design-build firm produced what appeared to be a very thorough all-in-quote, but the total price was very high, and a footnote indicated "architectural services" were extra. Sticking to my belief that my small studio renovation would be a simple project, and understanding I would have to pay for an architect anyway with the design-build firm, I decided to optimize for costs and chose the second (inexpensive) architect. 
After a few reference checks on the second architect that seemed to check-out (no reference was particularly effusive of him) I signed his contract. Over the next two months, I would meet with him numerous times to discuss the basic layout of the new apartment and mull over design features, appliances, and more.  
I learned quickly that my architect was quick to say yes to anything I wanted (which initially seemed great). I asked him if we could rearrange the fixtures in the kitchen, and he said, "No problem." He then asked if I wanted a ventless combination washer and dryer unit in my closet. Despite having a laundry room in the building, that seemed very convenient so I enthusiastically said yes. We were making good progress and things were going smoothly. After about eight weeks, architectural plans were ready to go to my satisfaction. I submitted the plans to my building's management company for their approval (a required step before filing with the DOB…and then I waited.
Pro Tip:
With more than 50,000 square feet renovated in NYC, Bolster understands how to guide New Yorkers through any renovation challenge, from navigating Landmarks to recreating pre-war details, and gives them full visibility into project milestones. "Bolster is the only renovation firm to offer a fixed-price cost up-front. Once we perform due diligence and verify the existing conditions of your property, we absorb unforeseen project costs," says Bolster's CEO and co-founder Anna Karp. Ready to start your renovation? Learn more >>
Getting plans approved by the building's architect
Four weeks later (and numerous follow-ups to my management company, which I would later discover on Google reviews, is not well-regarded for responsiveness), I received a lengthy response letter from the building's architect. The building's architect was a gatekeeper for the management company, and before my building would approve the plans, they had to be draw to his satisfaction. He raised a number of comments (i.e. issues) with my plans that needed to be addressed. Many of these comments were technical, but I could understand some comments and identify them as being problematic—for example, a comment said 'laundry in closet creates a wet-over-dry situation and is against building rules.' I would later learn that my ask to put a laundry unit in the closet was a "third rail" for my building and that no amount of begging would ever result in their approval of that feature.  Nonetheless, my architect kept trying to get the laundry approved while revising the plans and winnowing down the other issues. Each successive revision of plans and resubmission to the building took a fresh two-month cycle of waiting (and continual fee assessments by my building for the fees of the building architect, who I was also required to pay for). 
Eventually, I lost patience and directed my architect to concede any problematic features so that we could obtain the building architect's sign-off. After nearly eight months of working on plans, I simply wanted the project to progress.
I was thrilled when I received the "no further comments" letter from the building architect, but that feeling of hope towards quicker progress did not last long. When I called my architect to ask him about next steps to file with the DOB, he sprung a new issue on me: I now needed to engage an "architect of record" and an "expediter."
I had read stories about the need for expediters in New York City—essentially, people who wait in long lines at the DOB and who are skilled in getting renovation plans approved. They are expensive, but a necessary evil apparently.  But, this concept of an "architect of record" was new to me. I had an architect already, so I was confused as to why I needed a second architect. 
Why you need an 'architect of record'
As it turns out, my architect wasn't actually an architect, or at least not an architect in the eyes of NYC—in other words, he wasn't licensed in NYC and thus could not file plans with the DOB.  In order to file my approved plans, I needed to hire a second architect (an "architect of record") to review the plans for code compliance, and to "sign and seal" the plans for filing. The cost of this step (which was a nuance I didn't appreciate when comparing the quotes of the two architects I had been referred to) was a few thousand dollars extra and meant that I now had a new party in the mix to deal with. 
Having already learned the lesson that you get what you pay for, this time around I chose the more expensive expediter and a highly-referred architect of record. Later in my project, while reading a New York Times article about expediters, I learned that a famous low-cost expediter to whom I had been referred and actually considered was banned by the DOB for bad behavior, leading to a suspension of all his previously-filed projects. I felt lucky to have dodged that bullet!
The architect of record I hired was sharp and responsive, but unsurprisingly, he identified a few code-issues in my plans that needed to be addressed before filing with the DOB. And so began another round of revisions and coordination between three separate architects (the new architect-of-record, my initial architect, and the building architect). The resulting back and forth among these parties consumed many more months (about four months). Eventually, around June 2018, I was able to procure agreed plans for the DOB that we quickly got on file, and which were later approved in January 2019. It had only taken me two and a half years to get to this point!
Working with Bolster on the build portion
Shortly after the DOB submission, I reached out to Bolster again to quote out the build portion of my project. I also reached out to the initial design-build firm for an updated 'build only' quote. Both Bolster and the firm quickly furnished quotes. Bolster offered to do a detailed side-by-side analysis of the two quotes and present the results to me in person. I took them up on the offer. The comparison was pretty illuminating. Bolster broke down aspects of both bids first, identifying gaps in the competing bid that were not addressed. For example, my plans called for a new radiator unit—the competing bid omitted both this item and a number of other appliances and costs. Second, Bolster identified ambiguous areas in the second bid that were not well flushed out and Bolster estimated the possible hidden cost associated with those omissions. The comparison was polished and thoughtful.
After the bid comparison meeting, Bolster invited me back a second time for a deep dive into the cost structure of the proposed renovation. At this meeting, Bolster provided me with an extremely detailed interactive excel model to calculate project costs (which they referred to as a build estimator). Each functional component of my project was broken out into separate sections (site work, carpentry, specialty features, demolition, electrical, plumbing, etc.), and under each section heading were detailed line items and adjusters for labor, materials and overhead. Line items also had allowances and adjustors for quantities so that I could toggle the cost impact to the project of for example, adjusting the number and type of light fixture in the living room. I spent an hour with the Bolster team walking through each line item and the corresponding estimator assumptions. The process was fascinating: to see the individual costs (down to the specific light bulbs used), and to watch those costs roll up into a total project cost matrix helped me appreciate why the total project costs (and also to better understand why NYC renovation projects are so expensive!). Furthermore, reviewing the project at that level of detail not only fostered my confidence in Bolster, but also surfaced several gaps in my filed plans that were still not addressed. 
Separately, I was also pleased to learn about the Bolster Promise that guarantees both cost and timing of project completion. The Bolster Promise also served to provide me some peace-of-mind. Bolster identified a small handful of items that they were unable to quote for the purposes of the promise, all of which were understandable.  
After a few positive reference checks with active Bolster customers, I signed the contract, made my first installment payment and notified my super that we were ready to go!  
I also further decided to engage Bolster in a limited architectural capacity to make any final adjustments to my plans and to oversee project construction. In the end, Bolster's architect was the fourth architect brought into the project, but the best of the lot and well worth the additional costs. I simply couldn't count on my initial architect to manage the process or timely and accurate respond to any surprises that came up during the build phase.
And so, in fall of 2019, my demolition and build started—but not without one last scare. On the day before the full demolition commenced, I received a call from my super who told me that the building management company was freezing my project until I "reobtained" approval to renovate. The management company fed me some baloney about too much time lapsing since their prior approval. I alerted Bolster, and they quickly froze the work plan while I sorted out what needed to be done. About a week later, we were off to the races—again!
In my next post, I'll discuss my experiences working with Bolster to finalize my renovations, and I'll shed some insight as to what I would have done differently if I could go back in time and start the renovations anew.
---
The Bolster Smart Renovation Zero-Risk Guarantee
How can a design-build firm guarantee a Zero-Risk renovation?
Bolster has pioneered Smart Renovation. We apply quantitative analysis along with our proprietary technology solution to identify and quantify the performance risk on every renovation project. The result is a personalized strategic approach to each renovation that allows us to absorb 100 percent of the homeowner's risk. Your home will be beautifully designed, and delivered on-time and on-budget. That is our guarantee.
Smart Renovation & Zero-Risk means that Homeowners are now free to dream.
To start your major home renovation project visit bolster.us
The Bolster Promise video
Brick Underground articles occasionally include the expertise of, or information about, advertising partners when relevant to the story. We will never promote an advertiser's product without making the relationship clear to our readers.