Renovation
Brooklyn brownstone renovators share their best tips for working with a design-build firm
Over a period of 10 months, Brooklyn homeowners Patrick and Julie saw their dream of a renovation of their landmarked Park Slope brownstone come to life.
As first-time renovators, the process was more challenging than they anticipated. Not only were they undertaking a gut renovation, but they had recently repatriated to the United States after living abroad for several years and were adjusting to life as first-time parents. 
Below, Patrick and Julie, along with Bolster, share their top tips for first-time renovators. 
1) Take your time in the design phase  
"Our first challenge was not knowing exactly what we wanted and needing to talk through a few different options for things," Julie said.
This is understandable—after all, Patrick and Julie were moving from a prewar studio in Murray Hill to a 3,600-square-foot brownstone in Park Slope. The square footage of a brownstone is much higher than most people are used to—especially New Yorkers transitioning from apartments. 
"When you move from an apartment to a brownstone, you have to make a mental shift in terms of how you want to live," said Anna Karp, Bolster COO and co-founder. 
Bolster is a data-driven design-build firm on a mission to eliminate risk from major home renovations by being radically transparent about everything they do. Bolster's vertically-integrated team and commitment to resourcing puts them in the unique position of being able to financially guarantee that all renovations are delivered beautifully and on-budget.
Pro Tip:
Whether you're renovating a two-bedroom prewar co-op or a 4,000-square-foot brownstone, Bolster guarantees a beautifully designed home renovation risk-free and on-budget. "Expect flawless communication, white-glove service, and absolutely no surprise costs," says Bolster's CEO and co-founder Anna Karp. Ready to start your renovation? Learn more >>
After years of data collection and analysis from large-scale gut renovations in NYC, Bolster discovered that design is the most crucial phase in terms of delivering a project on-time and on-budget. 
The homeowner's job during this phase is to make important decisions—a job they should take very seriously! This means taking dimensions, visiting showrooms, and checking out different materials, brands, and products. Homeowners shouldn't just sign off via text or email—they should make a reasonable effort to see things in person. 
The design phase is also the time for homeowners to change their mind. It's easier (and more cost-effective) to do this at the beginning of a renovation than when the build phase is underway. 
At Bolster, cost to design includes full architectural design services. Homeowners should work with their architect as closely as possible to ensure they're exploring all possible options, making selections in advance, and nailing a budget. The best way to do this is to ask lots of questions, and rely on a team for their expertise.
2) Think about long-term use of your home 
"Our second challenge was not knowing exactly how we were going to use the house long-term," Julie said. 
Patrick and Julie knew they wanted to spend at least a few decades in the home. Thinking that far ahead is difficult, especially as their family continues to grow. 
In particular, they debated at length over the layout of their two main bathrooms—an exercise that proved to be useful during the design phase. 
"We thought we could keep the current layout of one of our bathrooms just to save money, but it didn't make sense long-term," Julie said. "That taught us to think through the space and how we were going to use it and be realistic." 
In the end, both bathroom layouts were altered to make space for double vanities and showers where there had once been freestanding tubs. The couple was very thoughtful about their space as a whole, and deliberated at length about how the home would accommodate their family in the years to come.

3) Expect the unexpected 
"In renovating an older house like this, you have to be prepared for the unexpected to come up," Julie said. 
In Patrick and Julie's case, the unexpected came in the form of asbestos—a common problem in homes like theirs. 
"Almost all old brownstone homes will contain asbestos, unless they have been renovated and abated very recently," said Bolster architect Paul Capece.
Once asbestos is detected and documented, it must be properly abated by a certified contractor. This adds up. 
"Be prepared for things you can't control—like finding asbestos and needing to spend an extra $20,000 on something like that," Julie said.
4) Set a realistic budget 
"In all my years of experience, I've never seen someone do a brownstone and get everything they want," Anna said. "You have to start from a point of, 'What's the best I can do now, and what can I do later?'" 
The main impact on cost is scope. Infrastructure is "hands down" the biggest cost, said Anna, followed by other large components such as HVAC (thus, efficient windows), electrical, flooring, and the roof. Using less expensive materials will only give you marginal savings. 
Patrick and Julie acknowledged early on that they didn't have a budget for all levels of the home, so they decided to focus on the top triplex. 
"Be realistic in the budget and figure out what you want now and what you can do later," Julie said. "We knew we didn't have enough in our budget to combine the two-family home back into a one-family home, but we left it in a way where we could always do it in the future." 
They also compromised on façade work, an important factor in terms of budgeting and timing for landmarked homes. 
For Patrick and Julie's renovation, they stuck to a simple window replacement and adhered to the Landmark Preservation Commission's rules, which allowed them to go through a more simplified process—saving them time and money.  
Thanks to Patrick and Julie's prioritization, budgeting, and working with Bolster, the renovation ended up costing $282 per square foot (learn more about the total cost of their renovation here). 
"One of the main reasons we chose to work with Bolster is because they are more transparent than other companies," Julie said. "We liked that we could see line items and costs, which enabled us to make informed decisions."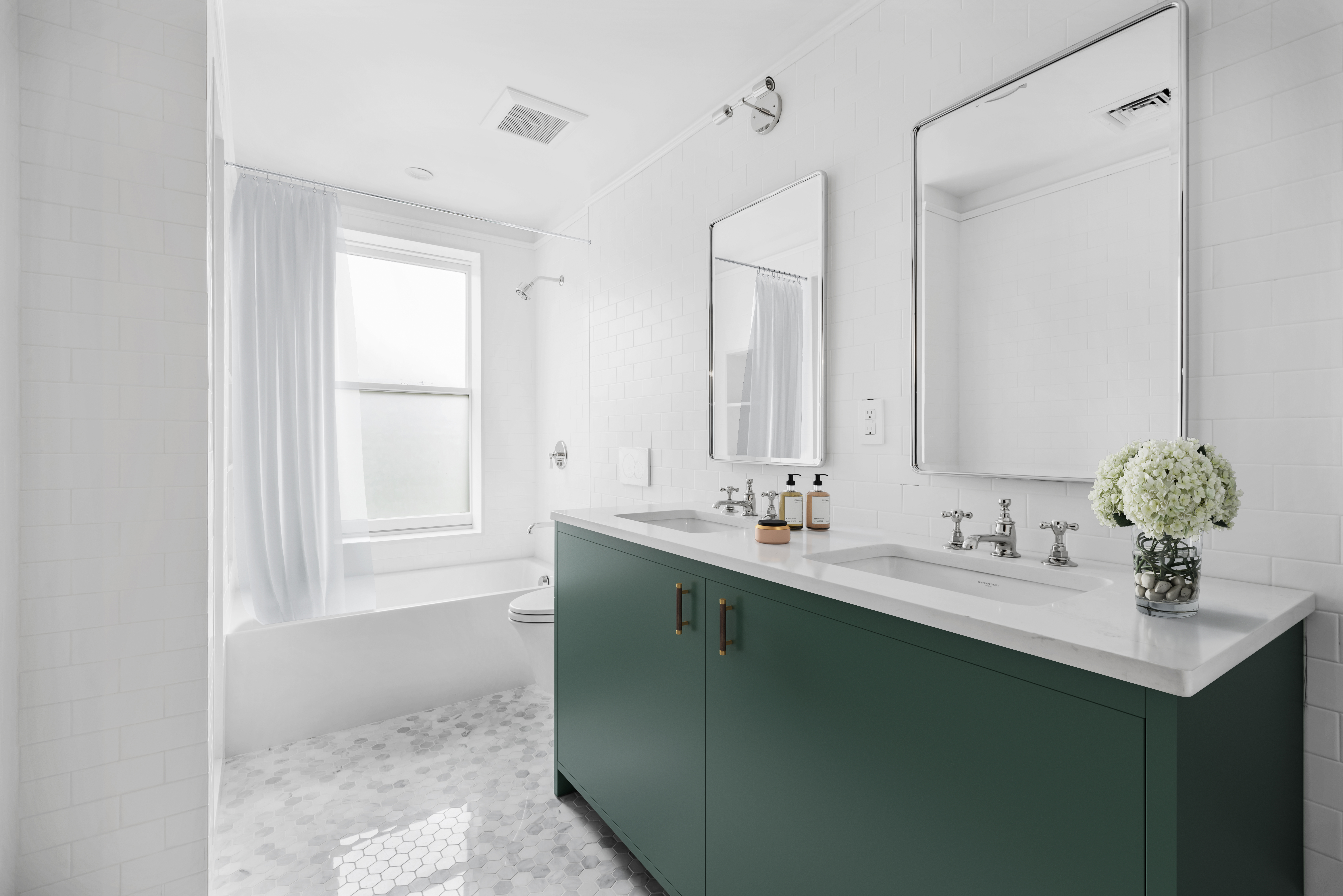 5) Find the right team 
"As first-time parents and first-time home renovators, we were flying by seat of our pants," Julie said. "That's what appealed to us about Bolster: They understood that we needed our hands held, and had the patience to walk and talk us through the process." 
Paul also strongly recommends that homeowners surround themselves with the right team.
"Be skeptical of anyone who is quick to tell you that all of your assumptions and preconceptions are correct," Paul said. "Design is critical, ability to execute is critical, but equally critical is transparency and honesty, especially when it comes to process, schedule, and cost."
---
The Bolster Smart Renovation Zero-Risk Guarantee
How can a design-build firm guarantee a Zero-Risk renovation?
Bolster has pioneered Smart Renovation. We apply quantitative analysis along with our proprietary technology solution to identify and quantify the performance risk on every renovation project. The result is a personalized strategic approach to each renovation that allows us to absorb 100 percent of the homeowner's risk. Your home will be beautifully designed, and delivered on-time and on-budget. That is our guarantee.
Smart Renovation & Zero-Risk means that Homeowners are now free to dream.
To start your major home renovation project visit bolster.us
The Bolster Promise video
Brick Underground articles occasionally include the expertise of, or information about, advertising partners when relevant to the story. We will never promote an advertiser's product without making the relationship clear to our readers.