In mid-2019, Mark and Susan found a 20-foot-wide, 4,000-square-foot Park Slope townhouse for sale. The couple could see the house had great potential, but because it had been vacant for years and was in such disrepair, it would take a lot of work—in fact, a gut renovation—in order to make it livable.
Most people would be daunted by buying a house in such poor condition, but Mark and Susan were excited by the challenge of creating their dream home. Still, they weren't going into this with blinders on. They needed a clear understanding of the potential renovation costs before they put in an offer.
"We didn't want to end up with a house that we couldn't renovate because it was too expensive," Mark says. "When I started reaching out to design-build firms, we were lucky to talk directly with Anna Karp, Bolster's CEO. Even though Bolster couldn't do anything too formal until we had an accepted offer, Anna was able to provide us with rule-of-thumb numbers and ranges." 
This was useful information for Mark and Susan, who found other design-build firms not as transparent as Bolster. 
"Some of the other places we called had no ability to give us the estimates," Mark says. "With Bolster, we were able to start the conversation around cost and budget." 
For homeowners looking to buy and renovate, this information is crucial to making an offer.
Pro Tip:
Whether you're renovating a two-bedroom prewar co-op or a 4,000-square-foot brownstone, Bolster guarantees a beautifully designed home renovation risk-free and on-budget. "Expect flawless communication, white-glove service, and absolutely no surprise costs," says Bolster's CEO and co-founder Anna Karp. Ready to start your renovation? Learn more >>
"If the renovation cost estimate was out of range, we would have said no and looked elsewhere," says Mark. "For us, there was no way we were going to put an offer on the place unless we had a good sense of the cost."
This is a common challenge for many NYC homebuyers looking to renovate their next home. If you are considering that route, check out Bolster's new Homebuyer Guide for Brownstones and Townhouses, which has helpful tips on timeline, financing, and when to engage with Bolster for a renovation estimate. How the Bolster Promise works
Design-Build with Bolster was the perfect solution for Mark and Susan, who didn't have the desire or bandwidth to micromanage their renovation project, and who wanted a defined, predictable budget (for more information on Bolster's other project delivery options, check out this article). 
The couple cited the Bolster Promise as one of the main factors that cemented their decision to work with Bolster. The Bolster Promise guarantees homeowners that renovate with Bolster a fixed price.
During the design phase, Bolster asks homeowners to make all layout, systems, product, and finish decisions. During the build phase, Bolster agrees to absorb the cost of any mistakes or surprises (even the ones traditional contractors list as exclusions). That's how Bolster can keep a fixed price. (With one exception: Homeowner-led change orders and any unpredictable third parties as required by law.) 
For Mark and Susan, the Bolster Promise came into play at a critical moment in their renovation process. 
The initial survey of the property did not uncover the true scope of one of the challenges: A giant boulder in the cellar, nicknamed "The Monster" by the Bolster team. 
Where most traditional contractors would have added this on as an expensive change order, Bolster covered it in full. Because change orders at Bolster are homeowner- or compliance-led, this necessary change order was absorbed by the Promise.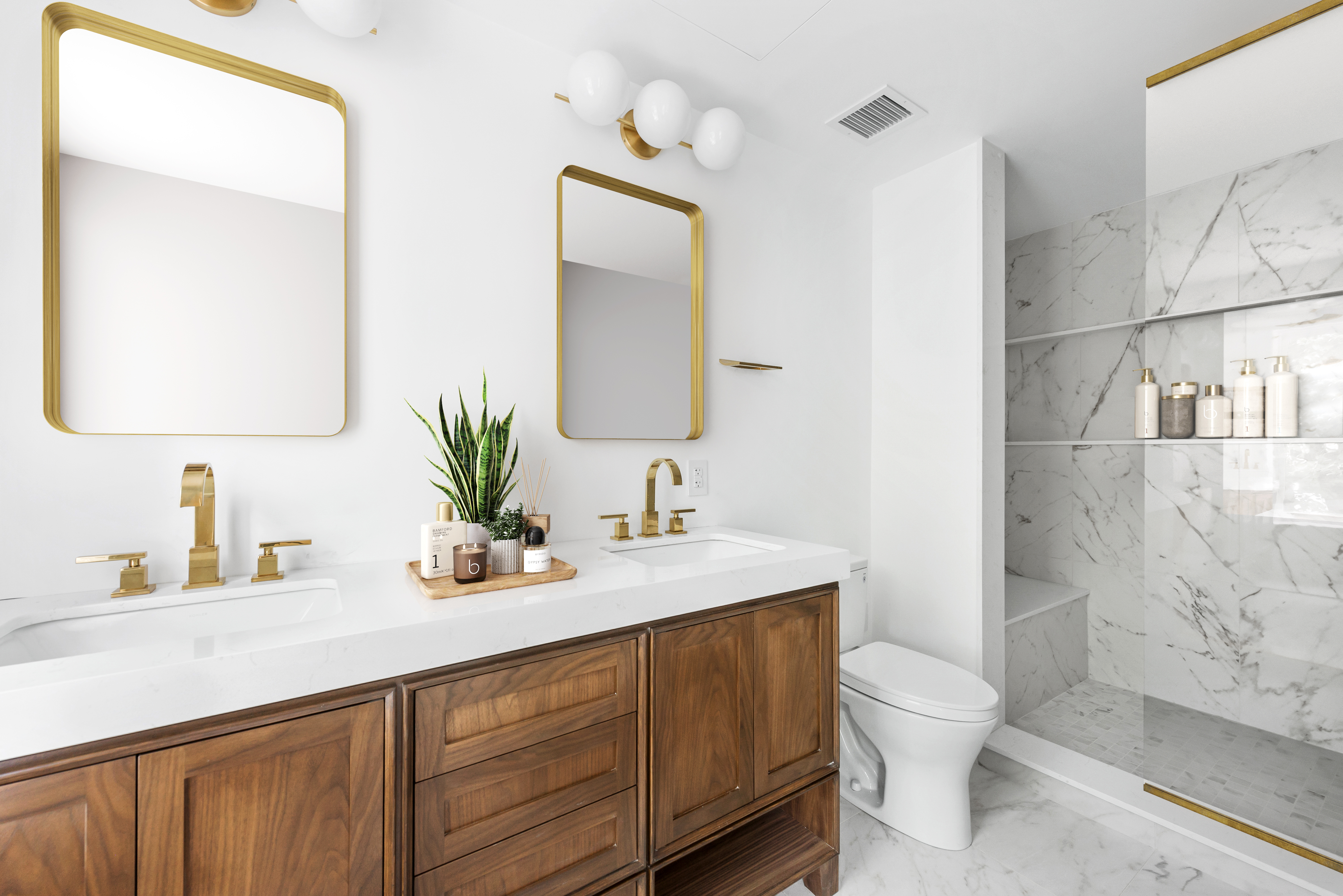 Correcting structural and layout issues
The homeowners worked with architect Paul Capece to design their home. Paul has worked on a number of other Bolster renovations in Brooklyn, including a landmarked brownstone in Park Slope and a landmarked townhouse in Clinton Hill.
"We wanted a comfortable home that would be easy to take care of," Susan says. "We're not the kind of family who says, 'This room is off limits' or anything like that. We wanted things that work well; that we can live with every day." 
One of the main challenges of designing the home, in addition to correcting structural issues, such as a sag in the center of the home, was the layout. The home had originally been used as a two family, so it had two kitchens and needed a major layout conversion to accommodate a single family's needs. 
"The original layout of the property had the kitchen in the extension," says Mark. "But right next to that, there is a beautiful, wide-open space previously used as a dining room, so we decided to put the kitchen there. Because it's so wide, it gave us a kitchen with counter space and additional cabinetry."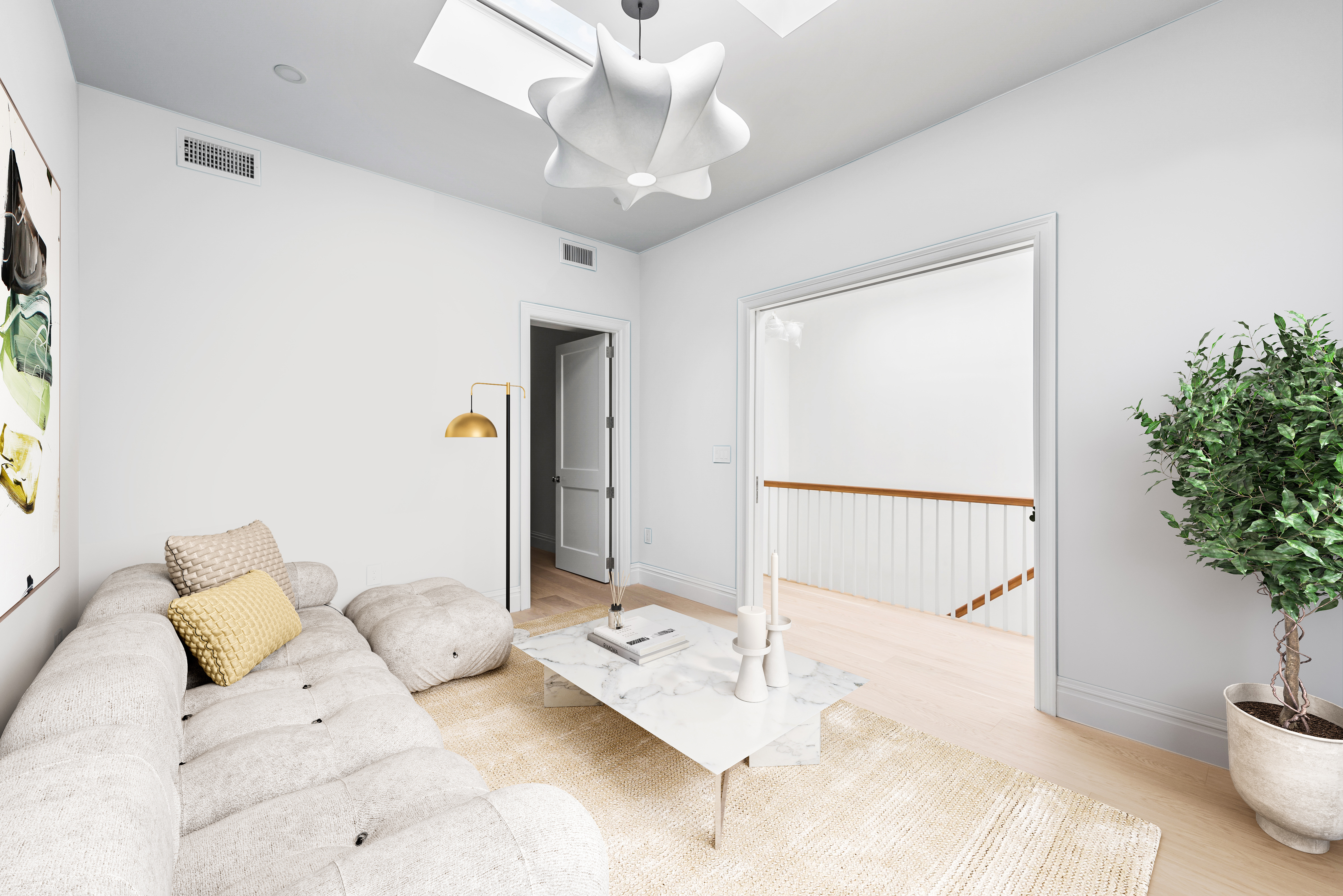 Choosing materials and fixtures
The homeowners partnered with the Bolster team to create a budget that worked with their goals. They chose to forgo higher-end selections in favor of practical materials and fixtures that are easy to maintain, work within their budget, and look good. 
Because of the state of their home, Mark and Susan had to prioritize structural updates first. 
As in most major NYC gut renovation projects, the main cost drivers for their renovation were mechanical ($357,400), HVAC ($94,000), plumbing ($104,000), and electrical work ($89,000). 
Other expenses included cost of materials, such as concrete for pavers for the backyard, as well as building out the solarium, retainer walls, and facade of the home ($106,750); plus metal for structural steel work and framing ($98,640); and custom built-ins in the living and dining areas as well as railings, treads, and risers ($121,010). 
The homeowners were also passionate about incorporating Passive House elements into their home. This involved extensive thermal and moisture work, such as insulation, joist repairs, and roofing repairs ($63,486) as well as high-quality windows, which included Marvin double-hung windows throughout the home as well as a Velux Skylight with roof hatch ($135,419). 
Finally, Mark and Susan left room in their budget for some specialty items and finishing details. This included kitchen and bathroom fixtures and appliances, such as a Wolf cooktop and hood, Thermador refrigerator and freezer, Bosch dishwasher, and a Samsung washer/dryer ($135,212). The Bolster team also replaced new hardwood floors throughout the entire home, and added tiling, stone, and painting throughout ($215,575). 
All other costs included demolition and labor costs (such as project and site management as well as general labor), indirect costs (such as overhead, profit, and mandatory insurances).
In total, the all-in, fixed-price renovation cost to renovate this stunning Park Slope townhouse was $1.8 million, or $450 per square foot.
"It's been great to work with Jeronimo and the procurement team at Bolster," Mark says. "They take our budget seriously. They worked really well with us to find things that worked with our budget and helped us make tradeoffs. Some of those decisions were hard, but we are very comfortable with those that were made." 
The Bolster Smart Renovation Zero-Risk Guarantee
How can a design-build firm guarantee a Zero-Risk renovation?

Bolster has pioneered Smart Renovation. We apply quantitative analysis along with our proprietary technology solution to identify and quantify the performance risk on every renovation project. The result is a personalized strategic approach to each renovation that allows us to absorb 100 percent of the homeowner's risk. Your home will be beautifully designed, and delivered on-time and on-budget. That is our guarantee.

Smart Renovation & Zero-Risk means that Homeowners are now free to dream.

To start your major home renovation project visit bolster.us.
Brick Underground articles occasionally include the expertise of, or information about, advertising partners when relevant to the story. We will never promote an advertiser's product without making the relationship clear to our readers.