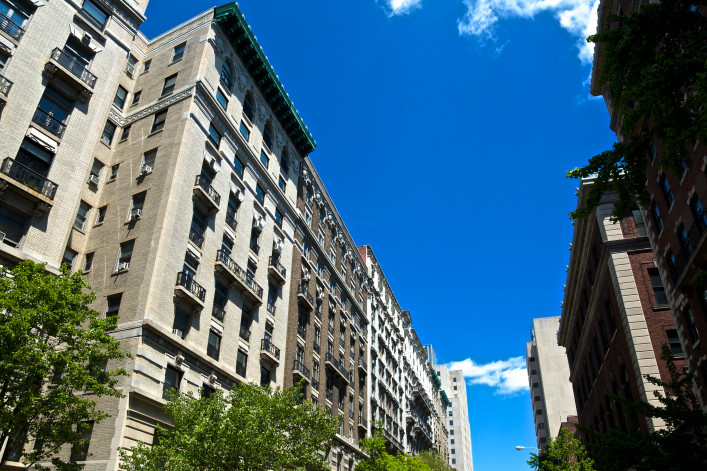 When New Yorkers Peter and Jackie fell in love with a classic six co-op on the Upper West Side, they were excited about the 2,000-square-foot apartment's potential—but knew it would need some work. The co-op had only one previous owner in its entire history and had sat vacant for four years.  
The young couple reached out to Bolster in mid-2019 when they were in contract on the apartment—not an uncommon approach. In 2020, 26 percent of potential Bolster renovators in NYC did not yet own their property. In fact, most Bolster renovators purchase a home with the intention of renovating it before they move in. Bolster highly recommends this approach—because no one wants to live in a construction zone. 
Engaging renovation experts in the contract phase, like Peter and Jackie did, is a great place to start. Jeronimo Aguilar-Gutierrez, Bolster's vice president of pricing and procurement, explains, "For homebuyers who are planning to renovate their property, the roadmap is as follows: After you put in an offer and it is accepted, you then enter contract negotiations," he says. "Then, you'll start the inspection process, confirm your contract, and go through the co-op approval process (if applicable)." 
Jeronimo says you have two choices for deciding when to engage a renovation firm like Bolster, depending on where you are in the process: "Homebuyers who are in contract are the perfect candidates to inquire with our team directly, as they are further along in the process," he says. "When homebuyers are actively searching for a home, we recommend that they use our renovation calculator and check out our blog for resources."
Deciding on Design-Build 
Peter and Jackie felt they were in unfamiliar territory and wanted a renovation partner who they could trust to guide them through the process and provide project management. Bolster knows this is a very common dilemma, which is why they offer three unique service offerings to meet every renovator's needs. 
When Peter and Jackie began the process of searching for a renovation partner, they interviewed two architects in addition to Bolster. They liked the first architect from a design perspective, but the architect didn't have any offerings for the Build phase of their project. This is what Bolster calls Build-Only (and what is traditionally known as Design-Bid-Build, where a renovator contracts separately with an architect, then bids out their process to contractors). 
"It was very hands-on," Peter says. "We weren't prepared to go out on our own and be the project managers of our renovation." 
The other architect presented Peter and Jackie with a full end-to-end solution with an "all-in" cost, which they found troubling. 
"The problem was that they didn't have transparency," Peter says. "They were just giving us one fixed price that was really opaque—and we were not comfortable with that." 
"We couldn't see what they were doing behind the scenes," Jackie adds. 
In the end, it was Bolster's transparency and trust that sealed the deal for Peter and Jackie. They decided to go with Bolster's end-to-end renovation solution, Design-Build. 
"Bolster offered transparency," Peter says. "Being unfamiliar with the renovation process, we felt Design-Build was a good solution for us. We wanted to have a say in our choices and selections while trusting Bolster—the experts—for the project management side of things."  
Pro Tip:
Whether you're renovating a two-bedroom prewar co-op or a 4,000-square-foot brownstone, Bolster guarantees a beautifully designed home renovation risk-free and on-budget. "Expect flawless communication, white-glove service, and absolutely no surprise costs," says Bolster's CEO and co-founder Anna Karp. Ready to start your renovation? Learn more >>
Deciding on priorities 
With Design-Build and the Bolster team in place, Peter and Jackie set about defining their project's scope and priorities. 
In addition to being a very old building (constructed in 1915) the apartment was unique in that it had only had one former owner—and for the last four years "it was empty—and it showed," Jackie says. 
Peter and Jackie's first priority was addressing the kitchen, which hadn't been updated since the 1970s, and featured some hallmarks of the era, including "a tiny, toy-sized oven" and a toaster oven mounted on the wall. 
Peter and Jackie felt fortunate that their apartment had good bones and a great layout, but they wanted the shared spaces to feel more open. They worked with Bolster architect Michael Fasulo to create an open concept, ending up with what Jackie calls their "dream layout."
Encountering surprises 
Peter and Jackie had a few major surprises in embarking on a major gut renovation of their prewar apartment. 
The first surprise was dealing with their building's co-op board; There was a lot of back and forth with the board regarding Peter and Jackie's desire for central air conditioning. In the end, they were allowed to proceed. 
The second surprise involved the number of renovations the building permitted to take place at the same time. Because their building only allows one major gut renovation at a time, another resident jumped the queue ahead of Peter and Jackie while the board was debating their central air conditioning. 
The third surprise was the cost involved in terms of infrastructure—work that had to be done in order to bring the long-vacant apartment up to code. As is the case with many old buildings in NYC, asbestos turned out to be an issue. 
"I didn't think the asbestos was that bad in the grand scheme of things," Peter says. "We were less prepared for the electrical costs. It's a much bigger cost to do that in an older building, but it's not something that we could've known." 
According to Jeronimo, the biggest costs in any renovation are likely to be electrical, mechanical (which includes HVAC), and plumbing. Renovators are advised to take these costs into account when prioritizing the items on their renovation wish list. 
Despite these surprises, Peter and Jackie say the renovation process has turned out "better than expected" as they were able to break ground sooner than planned.
"Bolster kept us on schedule even though things kept changing with the board," Jackie says. Their renovation is expected to be completed in second quarter of 2021. 
---
The Bolster Smart Renovation Zero-Risk Guarantee
How can a design-build firm guarantee a Zero-Risk renovation?

Bolster has pioneered Smart Renovation. We apply quantitative analysis along with our proprietary technology solution to identify and quantify the performance risk on every renovation project. The result is a personalized strategic approach to each renovation that allows us to absorb 100 percent of the homeowner's risk. Your home will be beautifully designed, and delivered on-time and on-budget. That is our guarantee.

Smart Renovation & Zero-Risk means that Homeowners are now free to dream.

To start your major home renovation project visit bolster.us.
The Bolster Promise video
Brick Underground articles occasionally include the expertise of, or information about, advertising partners when relevant to the story. We will never promote an advertiser's product without making the relationship clear to our readers.