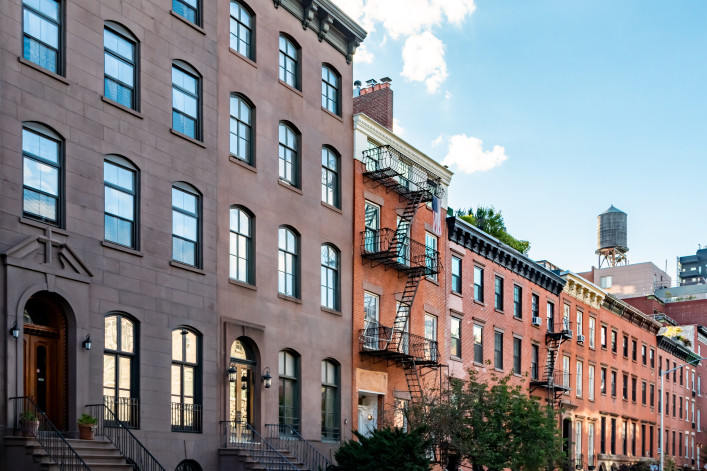 New York City homeowners looking to improve air quality and energy efficiency are increasingly turning to the design principles that make Passive House buildings so attractive. 
"Passive Houses are great for city dwellers because the home is built air-tight and insulated to the highest standards, preventing outside pests, pollution, and allergens from getting in. They also offer incredibly high indoor air quality," says Anna Karp, Bolster CEO and co-founder. 
There are more attributes that make this type of construction appealing to New Yorkers: "Passive Houses are very quiet, since there are no cracks or leaks that allow noise pollution to seep through. Plus, they are energy-efficient, meaning smaller heating and cooling bills," Anna explains. 
Homeowners and renovators often perceive Passive Houses as more expensive than traditional homes, when actually they are a smart, long-term investment: Passive Houses have low operating costs and generally use 25 percent of the total energy costs of a standard home or building. 
Still, while many NYC homeowners are interested in the idea of a Passive House, they are turned off by the tedious certification process, or perhaps aren't willing to meet strict Passive House standards. For example, a homeowner may desire a gas stove instead of an induction range, or they don't want to allocate their budget to some of the high-performance materials that are required. 
In this case, architect Paul Capece suggests owners explore using some Passive House strategies. Incorporating components like heavy insulation, energy-efficient windows, and an energy recovery ventilation system (ERV) into a renovation is a good option for NYC homeowners seeking to preserve their budget while doing long-term good for their home, their wallet, and the planet. A home could be 90 percent passive and provide the major benefits of a Passive House without compromising on the homeowner's must-haves, requiring certification, or break the budget. 
Pro Tip:
Whether you're renovating a two-bedroom prewar co-op or a 4,000-square-foot brownstone, Bolster guarantees a beautifully designed home renovation risk-free and on-budget. "Expect flawless communication, white-glove service, and absolutely no surprise costs," says Bolster's CEO and co-founder Anna Karp. Ready to start your renovation? Learn more >>
What are the main components of a

Passive House? 

A Passive House uses a set of building standards developed by a Swedish structural engineer and a German physicist in the 1980s. The concept has a few simple principles: 
Airtightness. For a Passive House to be built to standard, it must withstand a maximum of .6 air changes per hour at 50 pascals of pressure. An on-site pressure test determines the airtightness of the home. 

Superinsulation. Passive Houses require extensive amounts of insulation, which is inexpensive but effective. This superinsulation of a Passive House significantly reduces heat transfer through the walls, floors, and roof compared to other buildings.

High-performance windows. Windows are commonly leaky and not well-insulated. A Passive House-grade triple-pane window has an R-value of about 11, whereas regular high-quality windows have an R value of about 3. (The R-value is a rating measurement of the overall insulating value of a window.)

Thermal Bridge-Free Detailing. Thermal bridging occurs when a poorly insulated material allows an easy pathway for heat flow across a thermal barrier. In Passive Houses, thermal bridge issues are eliminated through construction. 

Heat Recovery Ventilation. Due to their airtightness, a Passive House ventilation system uses a heat recovery ventilator (HRV) to continuously remove stale air and deliver fresh air. 
How much does a

Passive House cost?

While there is certainly a greater upfront cost for some items like windows, ventilation equipment, and insulation, some AC and heating equipment can be minimized or outright removed, which offsets some of those increases. 

A custom renovation of a Passive House could be, on average, 10 percent higher than the cost of a typical home renovation, largely due to the premium in upfront construction costs. Paul cites triple-pane glass windows, mechanical systems, and additional insulation as the biggest upfront expenses in a Passive House's cost. 

However, Passive Houses can have significant energy savings and reduced maintenance costs over time (and are sometimes subject to tax incentives). 
Bolster projects being built with

Passive House strategies 

Harlem homeowners Jay and Maya, who are currently undergoing a Build-Only gut renovation of their brownstone with Bolster, admitted they weren't familiar with Passive Houses before they began their renovation process. Since they were undergoing a gut renovation, their architect introduced them to the idea, and they decided to incorporate Passive House strategies into their renovation. Energy costs and air quality (especially for Jay, who suffers from allergies) were the top factors influencing their decision.

"From a certification standpoint, we didn't really care," Jay says. "We're in a brownstone, which was last renovated in 2000. Everything was drafty, like many old buildings. Air quality and energy costs were appealing in terms of having a tightly-sealed house." 

For them, the benefits outweigh the costs. 

"From a cost standpoint, yes—it costs a bit more for some of the Passive House features. But in the long-term, we'll save on energy costs," Jay says. 

Park Slope homeowners Mark and Susan, who are undergoing a Design-Build gut renovation of their brownstone with Bolster, also like the energy efficiency of Passive House-style construction.

"We're replacing all of our windows with higher-efficiency windows, as the old ones were quite leaky," Mark says. "The other Passive House element we're doing is the HVAC system, and the ERV which contributes to energy savings." 

Paul recommends an ERV system on all single-family homes or townhouse projects in which windows are being replaced and the house is being sealed. 

"Once you seal the home and add insulation and new windows, it doesn't breathe anymore, and you have to find ways to bring fresh air into the house," Paul says. "An ERV system brings fresh air into the house, tempers that fresh air, and mixes it with ambient air in the house. It's on a regular cycle and brings in fresh air to all floors, from the third floor to the cellar. It's just a way to keep a healthier house." 

Mark and Susan had hoped to take their energy-efficient home a step further with other elements like radiant floor heating and solar panels on the roof, but opted to leave both out of their scope for the time being. 

"Financially, solar was one of the things we had to cut," Mark says. "Instead, we made the home solar-ready by running a conduit up to the roof. The cost of solar is going down year by year anyways. It's a 'Phase Two' thing that we'll do eventually." 

The result is a home that has passive elements but won't be fully passive-certified. 

"There's an economic impact to sealing a house to that level," Paul says. "While we didn't go for a full Passive House design, we installed all new windows, heavily insulated the house, and sealed the house properly." 
Passive house strategies and considerations  
So what's the point of building to near-passive standards, or incorporating Passive House strategies, instead of going fully-certified passive? 
The downside to a Passive House is that it prevents homeowners from having certain things they may desire. In Jay and Maya's case, they wanted their Harlem renovation to include a state-of-the-art kitchen with a gas-fired stove. In Passive Homes, induction ranges are a best practice to prevent indoor air pollution. They were willing to compromise in order to prioritize their must-haves. 
It's also difficult to retrofit brownstones and townhouses to Passive House standards unless you're completely gut renovating them, as is the case with both of the Bolster projects mentioned above. 
Passive Houses are also likely to cost more upfront before energy and tax savings kick in, due to a premium on quality and specialty material costs. 
Finally, the testing and certification process for a true Passive Houses can be burdensome for homeowners. The good news is that homeowners don't need a plaque on the wall to reap the benefits of passive home strategies. 
Why

Passive Houses are good for NYers (and the planet) 

A full, gut renovation of a single-family brownstone or townhouse represents a unique opportunity to incorporate Passive House strategies. New Yorkers will appreciate cutting environmental and noise pollution and keeping vermin out. Finally, the long-term energy efficiency and savings can have a positive impact on your wallet—and the planet.
---
The Bolster Smart Renovation Zero-Risk Guarantee
How can a design-build firm guarantee a Zero-Risk renovation?

Bolster has pioneered Smart Renovation. We apply quantitative analysis along with our proprietary technology solution to identify and quantify the performance risk on every renovation project. The result is a personalized strategic approach to each renovation that allows us to absorb 100 percent of the homeowner's risk. Your home will be beautifully designed, and delivered on-time and on-budget. That is our guarantee.

Smart Renovation & Zero-Risk means that Homeowners are now free to dream.

To start your major home renovation project visit bolster.us
The Bolster Promise video
Brick Underground articles occasionally include the expertise of, or information about, advertising partners when relevant to the story. We will never promote an advertiser's product without making the relationship clear to our readers.