Escape
Checklist: here's all the information you should leave with an apartment or pet sitter before leaving town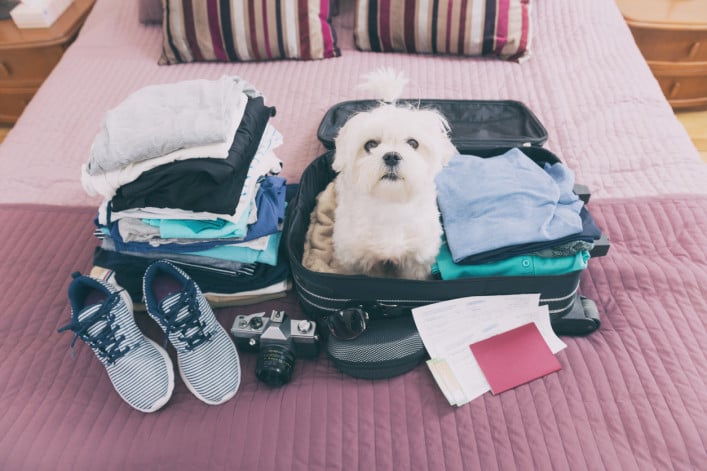 If you're heading out of town for summer vacation, it can feel like enough of an effort to make sure you're packed, have your tickets at the ready, and didn't leave any major crises behind at work. But if you're asking someone to stop in and keep an eye on your apartment or pet while you're gone, you'll need to do more than just hand over the keys (or leash).
In the interest of avoiding any panicked last-minute calls from your house sitter while you're ensconced in your Airbnb, we compiled a checklist of all the details to cover ahead of time:
All the requisite emergency numbers
Besides your own contact information, it's a good idea to leave behind the number for your building's super or management company—a contact to call if something goes wrong with the apartment. (On the flip side, it's also a good idea to give the super or doorman a heads up that this person will be coming and going, to avoid any confusion or concern.)
If it's a country house you're leaving in someone else's hands, says Jennifer Grimes of Red Cottage Rentals, you'll want to leave a number for the electric supply company in case of a power outage, and if applicable, the designated repair person for the hot tub or pool. "We always get the name of the plumber or electrician, or if you're lucky, the caretaker," she tells us.
As for pets, Ian Burgess of Dogger NYC recommends leaving a third party emergency contact who can get a hold of you, in addition to the standard information about your go-to vet. "We ask for keys, contact information, and we have clients sign a veterinary release form," he explains.
Your fridge, guest, and cleaning policies
Aside from the actual care expectations involved, if you're giving someone run of your apartment while you're gone, it's best to set out some clear ground rules at the outset so that neither of you ends up caught off guard.
For example, you should let a house sitter know whether or not they're allowed to have guests over; what (if anything) they can eat out of your fridge, or if they should replace items they use up; and whether they should handle chores like stripping the bed, taking out the trash, or doing the dishes before they leave, or if you'll have a house keeper coming in to handle that.
"One needs a policy that everybody is on the same page with," says Grimes. "What's the expectation of how to leave the property behind? For instance, we ask guests not to leave dirty dishes in the sink."
Wifi, garbage schedule, and other little details
"I always end up having to text people for the wifi password [after they've left town]," says Gleni Bartels, a Brooklyn resident who frequently apartment and pet-sits for out of town friends. "And I like to know if there are any special instructions with the keys. In one apartment I've watched, the front door is super finicky and you have to kind of pull the key out and then turn it."
Grimes also suggests leaving information about the location of the breaker box, if applicable, and any instructions for taking out the garbage and recycling (days for pickup, where to put it, etc).
If there are any other apartment quirks that might trip guests up with the utilities or appliances, leave notes explaining those, as well. "It's good to know if there are any weird things with the bathroom—does the water get really really hot, do you have to do anything weird with the faucet or toilet when you flush?" Bartels notes.
And if someone is staying in your apartment and likely to use your entertainment systems, says Bartels, "Most people have like nine remotes, so it's nice when those are specified."
For pets: personality, schedule, and routine
Besides the requisite emergency number for the vet, you'll also want to give any pet sitters a comprehensive idea of your furry friend's personality and routine to ensure a smooth process for both sides.
In addition to information on any daily medications, and when and how much they should be fed, says Burgess, "We ask what their routine is like, how do they like to play, if they have any favorite toys. We also find out whether the dog has anxieties, issues with people, with sound, with scooters." (For cats, you'll want to note, for instance, if your kitty is likely to simply hide when someone comes over to dish up food, or whether or not that's cause for alarm.)
"I also like to know if there's anything they're specifically not allowed to do (such as get up on the couch), and if it's the summer, whether to leave the air conditioning on from them when I'm not there," says Bartels. "That, and if they have a tendency to go after other animals when you're out on walks—I found this one out the hard way."
Brick Underground articles occasionally include the expertise of, or information about, advertising partners when relevant to the story. We will never promote an advertiser's product without making the relationship clear to our readers.