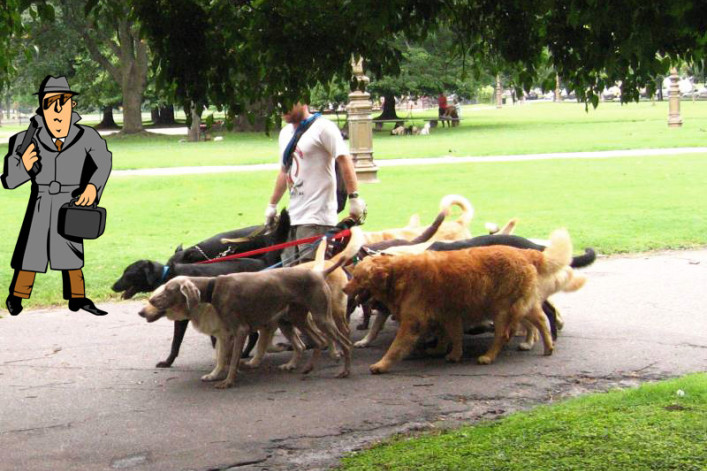 In a dog-eat-dog city, sometimes it's your dog walker who is eating—straight out of your fridge….or medicine cabinet, relieving you of your prescription medicines a few milligrams at a time.

"The prescription drug experience is very, very common," says Elena Gretch, who started her upscale Manhattan pet-services business, It's a Dog's Life, in an attempt to cure "every bad experience" she had with walkers she had hired for her own dog.
Ask around at a dog run and you will hear stories of walkers caught in the shower, watching tv on the sofa, throwing parties and sampling the alcohol.
"One guy wouldn't walk my dog in the rain. He would come inside, wet the leash, and leave," recalls Gretch. "Sometimes the leash wouldn't even move. After awhile, it's not hard to figure out that your dog isn't wet."
According to Gretch, "the most common thing is that they don't show up at all. And if you don't have a way to check, it's hard to know."

Here's how to get the inside scoop on your dog walker's behavior:
1. The doggie cam

"Nanny cams" aimed at dog walkers are so widespread in Manhattan, says Gretch, that she tells her staff "to expect that they're being watched."
One Manhattan condo owner we spoke to put in video surveillance after firing a previous dog walker for consistently helping herself to sodas from his fridge, then denying it when he confronted her.
His findings about his current dog-walker: "One hour" walks range from 45 minutes to 75 minutes, his dog is comfortable if not enthusiastic about its caregiver, and while the walker has been "professional in my apartment and never ventured away from the foyer," he says, "she does use the bathroom most days, which as I'm somewhat OCD gives me the heebie jeebies."

2. The doorman

An attentive, inquisitive doorman can not only apprise you of arrival and departure times, but assess the tenor of the relationship between pet and hired master.

However, this is less effective in a big, busy building. Also, if you live in a building where the doorman typically doubles as the building's dog walker—earning a nice side income—expect reports to come back slightly jaundiced.

3. Hire a dog-walking company that spies on its own employees, or do it yourself

"I always tell a client that at some point in your relationship with a petcare provider, you should be watching. You need to see the kind of love and interaction the dogs are getting," says Gretch.

But a good dog walking service should run its own covert ops division.
"I hire people to follow my dogwalkers around on a rotating basis," says Gretch. "Some companies hire actors to do this."
Gretch's walkers only take out one dog at a time ($21.75 for a half hour and $38 for a full hour). They are expected to keep moving the entire period, not relax on a park bench sipping a latte.

If your dog is part of a group walk, you will also want to make sure the "walk" doesn't consist mainly of being hitched to a pole in front of various pickup and drop off locations.

You could consider investing in a GPS collar to track your dog's whereabouts, though they cost around $250 plus a small monthly fee, and are too bulky for dogs under 40 pounds.
"There is some work in progress to make them smaller," says Gretch. She said none of her hundred or so clients use them. "And after awhile, the fun of tracking your dog around Sheep's Meadow would wear off."
The dog owners we spoke to sounded a bit warmer to the concept.
"If a dog walking company offered GPS as a service, I'd absolutely subscribe," says the condo owner above.
4. Get proof of arrival and departure

Newer buildings often feature a computerized key check-out system that time-stamps arrival and departure and sends the owner a text or email. You can also inspect the sign-in book at the doorman's station if there is one.

Gretch's employees text her when they come and go, and leave behind a "report card" for owners everytime they drop the dog off.

"It says where we went and what the experience was like," says Gretch. The walkers also send owners video clips or photos from the walks twice a week.
You can ask your dogwalker to leave a note each time, but don't be surprised if they balk.

"You would be astounded at how many will not comply. They just say, 'What? You don't trust me?'" says Gretch. "That's a red flag, along with dog walkers who don't have a cell phone."

5. Trust your instincts
Some questions to ask yourself: Does it seem as though your dog walker actually likes dogs? (You probably don't want to wind up with dog walker like this.) Does your dog seem happy to see your walker? Is your dog too energetic when you get home?

"If your dog is jumping all over you, I would be concerned," says Gretch.
Do you trust your dog walker? Leave a referral here!
Related posts:
How to get your dog past a co-op board
Brick Underground articles occasionally include the expertise of, or information about, advertising partners when relevant to the story. We will never promote an advertiser's product without making the relationship clear to our readers.