Reel Estate
Reel Estate: Melanie Griffith's kickass "Working Girl" is also the house-sitter from hell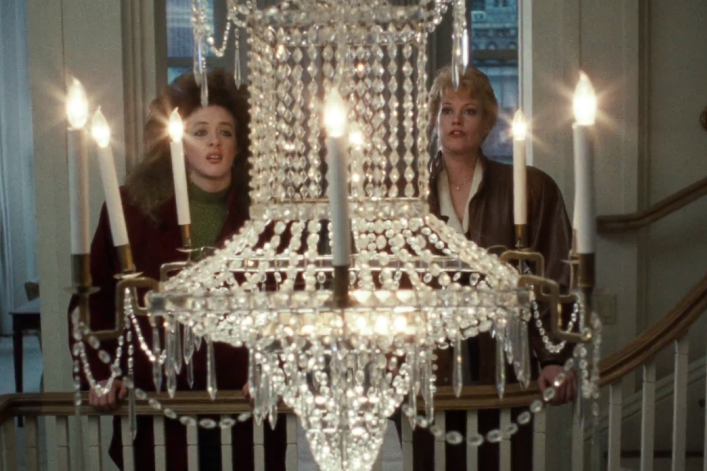 When a movie or TV show is set in New York City—and if the people making it are savvy—real estate becomes part of the story itself. In Reel Estate, we look at some of the more memorable domiciles to grace the screen.
To watch Working Girl for the first time as an impartial, real estate-sensitive adult is to feel like you might be missing the point. Of course, we're all rooting for Tess (Melanie Griffith), the scrappy, financially-savvy secretary from Staten Island, to move up in the world and outwit her (admittedly pretty evil) boss Katharine (Sigourney Weaver).
Still, doesn't anyone else feel at least a little sympathetic for Katharine? Yes, she shadily passed off one of Tess' big ideas as her own, and is generally a condescending nightmare of a supervisor. But while she's laid up in the hospital with a broken leg, Tess completely sets up camp in her lavish West Village townhouse, inviting friends over, raiding her closet (and medicine cabinet), and eventually stealing Katharine's boyfriend and costing her boss her job. Tess is essentially the worst person imaginable to trust with keys to your enormous house.
Then again, can we blame Tess? Look at where she lives:
This is starting from the bottom in its truest form: According to On The Set of New York, Tess' apartment scenes were shot at 506 Richmond Terrace in Staten Island; in 2014, the building made the public advocate's list of the worst in the city when it comes to violations. 
Here's what the building looks like now:
No wonder Tess preferred the West Village. And about that house: Katharine mentions to a friend that it's her parents' pad, and she's staying there before she "braves the New York real estate market" for herself. Even with the dated '80s decor — a Warhol-style print of your own face: maybe not as timeless as Katharine may have thought at the time — it's pretty spectacular:
The exterior was shot at 80 Irving Place in Gramercy, but for the interiors, filmmakers opted for  66 Morton Street in the West Village, which sold for a whopping $17 million back in February. (Unsurprisingly, a bidding war reportedly pushed the price several million dollars above the original asking.)
Meantime, we'll give Tess credit where it's due: She did clean up the place (and take in a raft of dry cleaning) before her boss got back.
And we can take comfort in knowing that she ends up moving in with her new boyfriend/business partner Jack (Harrison Ford), who lives in a nice, if less ostentatious, place of his own:
We never find out much about it (other than the fact that it's a walk-up), but it's definitely an improvement from a Staten Island garret while not quite an over-the-top one-percenter palace like Katharine's. It's all about moderation.
Related: 
Reel Estate: Inside the moneyed mansions of Cruel Intentions
Is now the time to invest in Staten Island
Reel Estate: Buy an apartment in Seinfeld's infamous "doorman" building
Brick Underground articles occasionally include the expertise of, or information about, advertising partners when relevant to the story. We will never promote an advertiser's product without making the relationship clear to our readers.