This $499,000 studio at 340 East 80th St. in Yorkville is described as "totally renovated," but the photos suggest otherwise. Still, it has a surprising number of strengths, according to architect Alexander Butler of Alexander Butler Design Services.
"I'd say closet space is a plus," he says, noting there are two large and one small closet shown in the floor plan.
The Murphy bed is an additional item in the pro column. "If that's retractable and it can add more room to the living space in here, that could be another plus," he says.  
Finally, he's a big fan of the full shower in the bathroom, saying that he believes that most studio dwellers can probably make do without an actual tub—especially since few will have children living with them in such a small apartment.
That said, he also sees lots of weaknesses.
"The kitchen is pretty dated," he says. "In terms of renovation, that'd be the first thing on the chopping block."
The parquet floors would be next on his hit list, he says, calling the way they appear to have been laid down "fickle." If there's ever any water damage here, he warns, "these things will pop up very quickly."
In short, the unit could use a good deal of work. And for this week's Reno Ready, Butler said exactly what he'd do to fix it up.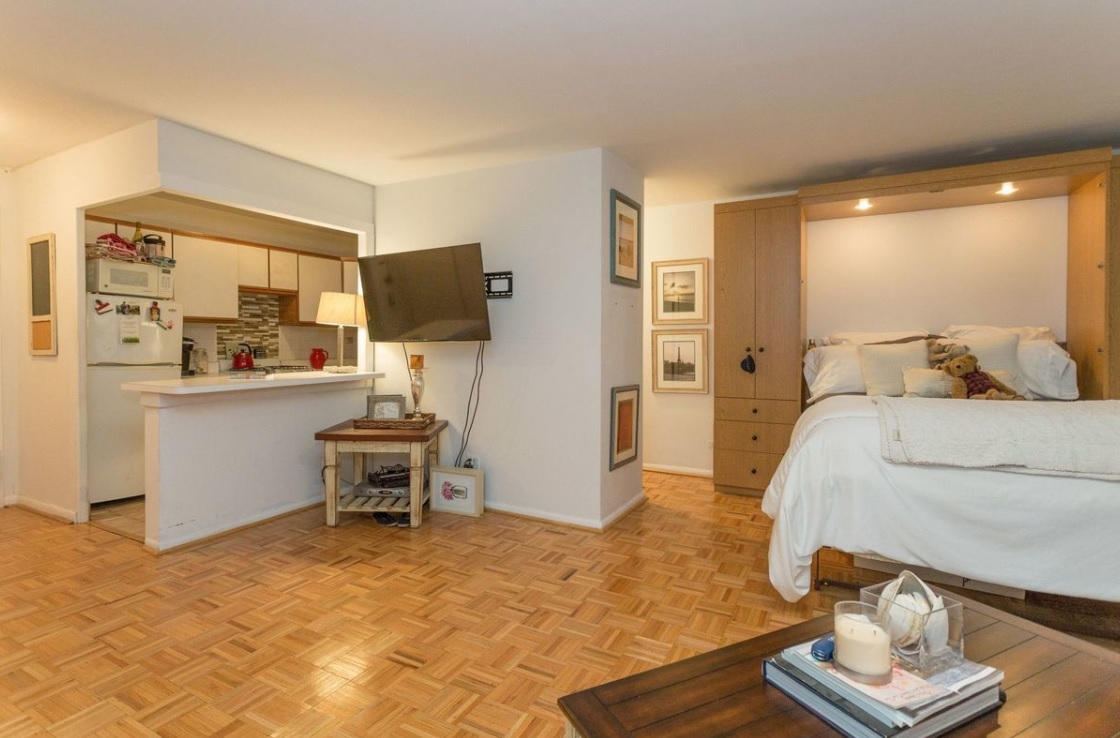 Living room (also pictured at top)
Floors: Butler would nix the parquet in favor of a more modern-looking wide-plank engineered wood floor. Or, if budget's a concern, he'd opt for porcelain floors with a wood look.
"These days, you can find really great wood substitutes that even have a wood-grain texture," he says. Either way, he'd go light in color.
"My preference is to go as light and bright as possible," he says. "It adds to the general livability of the space and increases resale, as well."
He believes that real wood plank flooring would be around $13-$15 per square foot. Porcelain floors would be about half that, $6-$8 per square foot.
Lighting: "I'd probably try to get some more lighting in here," says Butler, pointing out that there's currently not a single fixture on the ceiling of the living area. He thinks that's probably because the ceiling is a concrete slab that can't be drilled into. Therefore, the only way to get any more light in here is to drop the ceiling. He'd recommend doing so around the perimeter of the room and installing recessed LED lights. He'd also swap out the existing fixture for something more contemporary.
He thinks that the new fixtures should probably cost around $120 a piece. Prices for the actual dropping of the ceiling will vary based on your contractor. Prices for this Sky Bang chandelier from Stickbulb start at $3,800 at YLighting. This Stix three-arm LED pendant light is a bit more affordable at $1,113.50, also at YLighting.
Baseboards: "There's a certain level of sophistication that correlates with taller baseboards," says Butler. "The taller the baseboards the more the eye perceives the ceiling height. It'll seem like the room is grander."
As such, he'd replace the current baseboards—which he believes to be about two inches—with six-inch baseboards. He thinks they ought to cost around $1 per linear foot.
Paint: "I'd like to keep the overall palette light and bright," Butler says. He'd probably choose a light gray, blue, or even a pastel green for the walls. The ceiling would, however, be white because it'll make it appear taller. This way, he says, "you get a little bit of contrast, but you're not darkening the room."
If the client wants to save a little cash, Butler suggests keeping the shutters on the windows and painting them white, as well.
"They're already there," he says. "And they will serve to block out light."
Finally, he'd paint the baseboards white, too.
"It'll be a subtle, but nice contrast between the baseboards and the wall," he says. A gallon of Benjamin Moore's Gray Owl is $75. A gallon of Decorator's White is the same.
Cabinet by the window: Since there's already a cabinet next to the window by the air conditioner, Butler proposes simply extending it on either side so that it stretches the length of the window. He'd also add a countertop so that the new owner will have a place to put his or her beverage down.
"You don't really want wood for that," he says, explaining that wood is prone to warping. Instead, he'd opt for Caesarstone, which he says cleans up well and is fairly durable. Pricing for building this cabinet will vary, he says, and depends upon the specific millwork required. The Caesarstone countertop will be around $50 per square foot.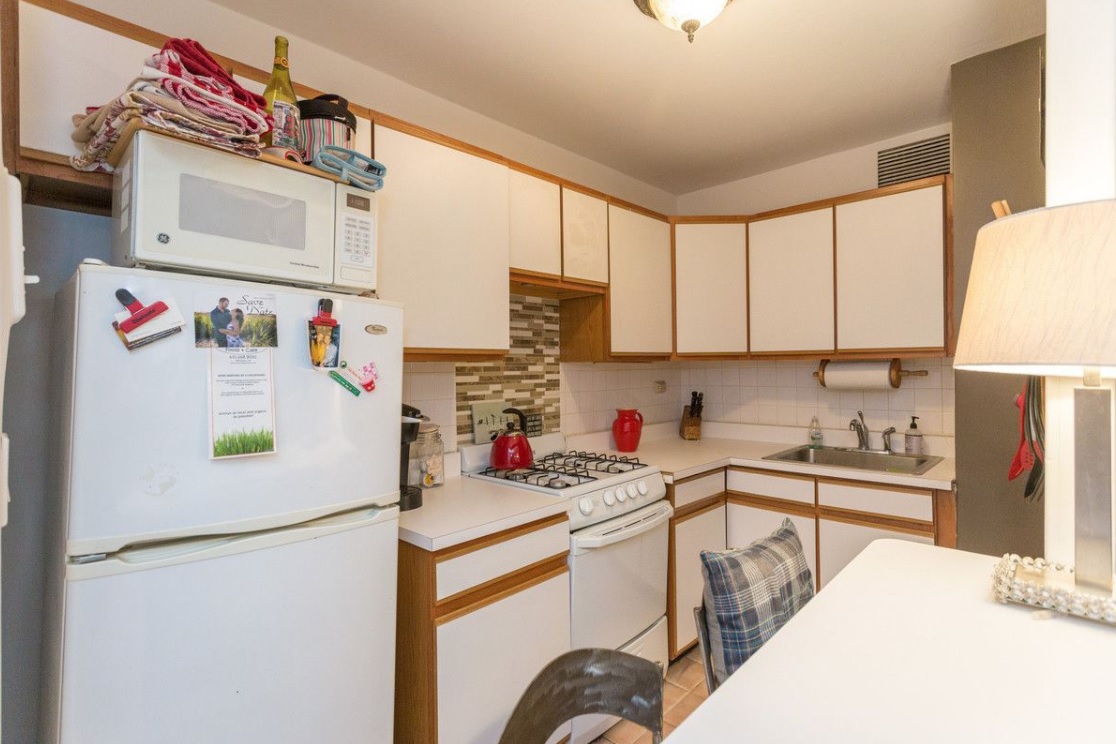 Kitchen
"It's not ideal to have a peninsula like this," he says of the island sticking out into the living space. But if the client likes it, or there are more cabinets underneath it that aren't visible in the photos, he might hang onto it. If, however, he was designing this space from scratch, Butler says he'd scrap it: "I'd like to open up the kitchen more into the living room."
Countertops/backsplash: He'd again go with Caesarstone—the same one as in the living room.
"If you're buying a whole slab, you might as well use as much of it as you can," he says. He'd even extend it up the walls for the backsplash as he isn't a fan of the two separate backsplashes present in the room at the moment.
Appliances: He'd trash the old-school white fridge and range in favor of stuff that'll look better in this small space. Instead of a single range, he'd pick an oven with a separate induction or electric cooktop. That way, he says, you won't have to break up the line of the countertops and the cabinets can extend further down all the way around, and be uniform in height. He'd also get a built-in counter-depth fridge and try to insure that there isn't any wasted space between the fridge and the cabinets as there is now.
"If you build it in, you're utilizing each additional inch of space," he says, noting that this is especially important in tiny Manhattan kitchens. He'd also probably cover the fridge with a panel to match the surrounding cabinetry. This Bosch built-in oven is $1,889 at AJMadison.com. This Bosch 30-inch induction cooktop is $1,439 at build.com. This 32-inch Fisher Paykel counter-depth refrigerator is $1,999 at houzz.com.
Sink: "I'd get a new under-mount sink here," says Butler. "That means there'll be no lip on the counter," so it'll be easier to keep things clean. He'd top that off with a new faucet. This Blanco under-mount stainless steel sink is $558 at faucetdirect.com. Prices for this Hansgrohe spray faucet start at $321 at YLiving.com.
Cabinets: Butler would junk the existing cabinets.
"They're likely not in great shape," he says. Plus, he can't stand what he calls that "missing tooth" above the stovetop that results in cabinets that are different heights. If the client is trying to stick to a strict budget, he'd go with IKEA cupboards, and add panels on top from SemiHandmade, a company that he says "provide nicer-grade front panels for those IKEA boxes you buy."
He says he'd probably try to match them to the millwork in the living room by the window and the bed. If there's a little more wiggle-room money-wise, Butler says he might choose Formica.
"But it's not your grandmother's Formica," he says. "It's durable, and easy to maintain—you just wipe it off."
Finally, he'd add plugmolds (or multi-outlet strips) beneath the cabinets "so as not to break up the look of the backsplash" with unsightly outlets, he says. These two-part Voxtorp base cabinets from IKEA are $174 each. Prices for the SemiHandmade panels vary wildly depending on style and finish. This multi-outlet plugmold is $40 at The Home Depot.
Lighting: Butler would replace the dated fixture on the ceiling with a more contemporary surface-mounted fixture. He'd also add stick-on battery-powered under-cabinet lights so that you don't have to re-wire anything. Prices for this flush-mount light start at $188 at YLighting.com. This three-pack of battery-powered puck-shaped under-cabinet lights is $13 at Lowe's.
Floors: It depends on a number of factors, Butler says, but if he ends up opening the kitchen to the living space—and if he opted for the porcelain flooring with the wood-grain look in there—he'd simply continue those tiles into the kitchen. He thinks the porcelain floors should cost approximately $6-$8 per square foot.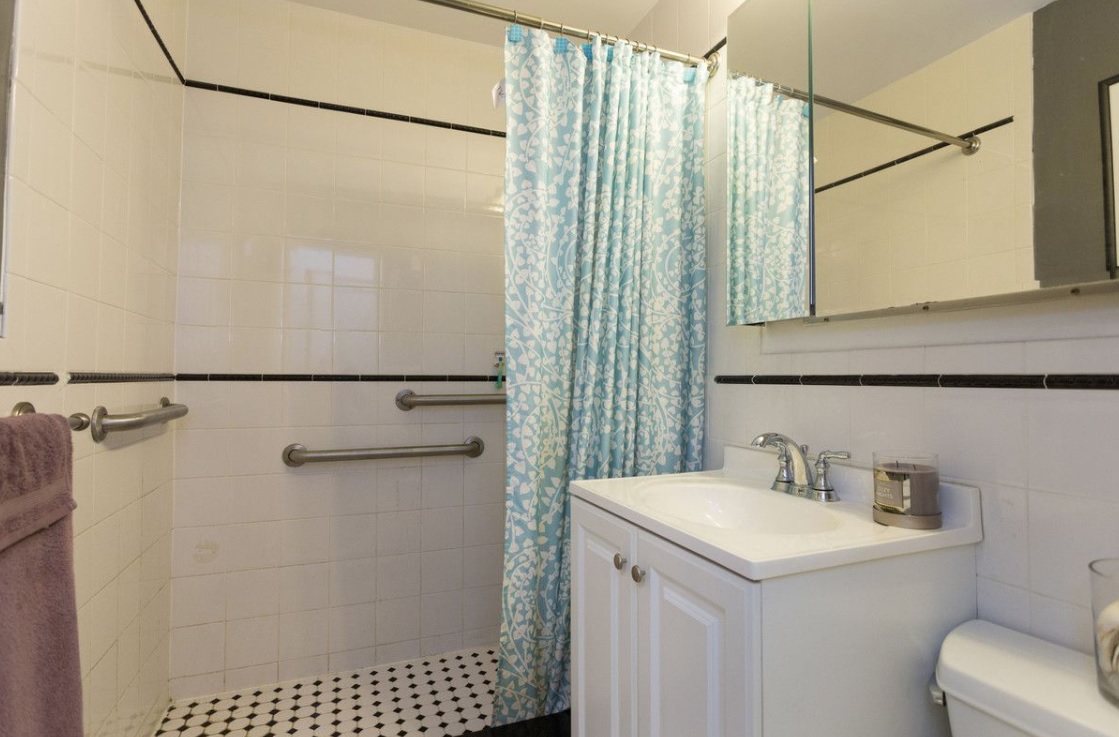 Bathroom
Butler would keep the shower and would also hang on to the tiled walls, as they look to be in good condition. And while you can't see the floors, he speculates that they too might be in okay shape. He'd replace most everything else.
Vanity: Butler isn't a fan of this cookie-cutter type of vanity. He'd swap it out for something a little nicer, like this Duravit L-Cube vanity, $712 at QualityBath.com.
"I'd probably stick with white for the vanity," he says. "The whiter palette makes things feel larger."
Faucet: "I don't like the Home Depot stock faucet here," Butler says. So he'd choose a new one with a more modern feel. This Hansgrohe bathroom sink faucet is $350 at (ironically) The Home Depot.
Shower: Butler would keep the shower, but he'd get rid of the shower curtain in favor of either glass doors or a single glass panel—whatever the client prefers.
"The curtain just seems to take up too much space," he says. These sliding shower doors are $590 at Lowe's.
Medicine cabinet: If the quality/condition of this one is okay, Butler says he'd be fine with keeping it, but if it needs replacing, he'd go with something newer.
"I'd also lower it down a bit for ease of access," he says. This Kohler single-door medicine cabinet is $303 at efaucets.com.
Toilet: If the client replaced the floors, Butler would recommend a wall-mounted toilet, since it can make the room look a tad bit larger than it is.
"But if you're keeping the tile, I'd go with a Toto toilet," he says. "They work the best." This one-piece Toto toilet is $351 at The Home Depot.
Brick Underground articles occasionally include the expertise of, or information about, advertising partners when relevant to the story. We will never promote an advertiser's product without making the relationship clear to our readers.