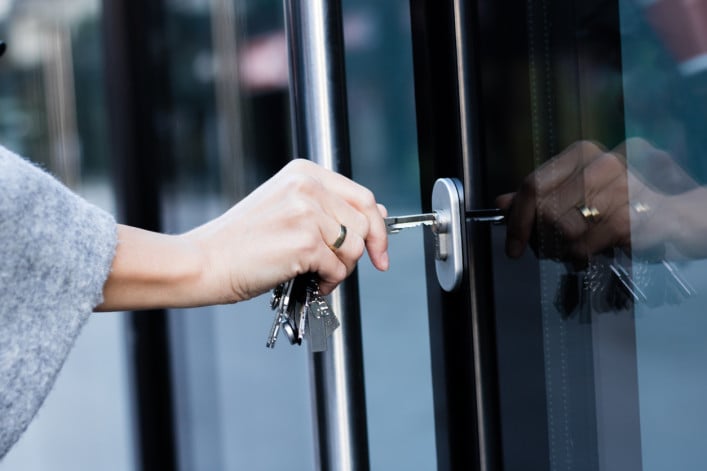 The sellers of a three-bedroom penthouse at 284 20th St., in Brooklyn's Greenwood Heights, are eager to talk to interested buyers but you won't find the place on any of the usual listing web sites. This is what's called a whisper or pocket listing—or in real estate jargon, a private exclusive.
If the penthouse sells in the next few months, "it's going to be by word of mouth," says Alexandra Como Saghir, an agent with Compass, who represents the seller. Instead of being offered to the general public, a whisper listing is quietly shopped around and shown to select prospective buyers.
Getting your apartment seen by as many potential buyers as possible is the first rule for selling high—and maybe getting a bidding war—so why would someone want to whisper rather than shout about the sale of their place? Turns out there are lots of reasons, both personal and professional. But there are concerns whether whisper listings are fair if only certain buyers end up getting access. 
Whisper listings increase during the pandemic
Anecdotally, Saghir says Covid has increased the number of whisper listings. She puts this down to sellers wanting less viewings during the pandemic due both to health concerns and the inconvenience of multiple showings when you're working from home.
Saghir says there are practical and personal reasons why a seller might take the whisper listing route. Perhaps the sale is part of a divorce, or a family member is ill, or the owner is relocating but hasn't yet resigned from a job.
For a seller, a whisper listing is also an opportunity to test the water and see whether there is interest in your place. For many the pandemic has created uncertainty about what happens next and this more tentative approach can work if you're not sure whether you're ready to sell or if you'll get the price you're holding out for. 
Pro Tip:
To find out what buyers are willing to pay for your co-op, condo, or brownstone, consider discreetly "pre-marketing" it. New York City real estate brokerage The Agency has an entire data-driven pre-marketing platform that provides a way to quietly test your asking price and your marketing strategy among real-life qualified buyers before publicly listing your home. There's no charge to participate and no obligation to enter a traditional listing agreement at the end of the pre-marketing period if your place hasn't sold. Click here for more information.
Expensive and quirky apartments fit the profile
Kobi Lahav, director of sales at Living New York, just put a one bedroom at The Caledonia into contract. It's a whisper listing and Lahav says unlike the strong demand for three- or four-bedroom apartments, the market is "tricky" for smaller apartments right now. Buyers are looking for more space and many still aren't sure when they'll need to be in the office full time. Although Lahav had marketing material for the apartment ready to go, making it an off-market sale worked out well for both sides.
"The buyer doesn't have competition, the seller doesn't have to make a decision and they both get the price they want," he says.
Saghir says whisper listings tend to happen for very expensive or quirky listings. "There may be an odd configuration or it's a ground floor with a garden and a spiral staircase—which isn't for everyone—and might sit on the market for a while," she says.
Nicole Gary, a broker with Keller Williams, has two whisper listings at the moment—one on Billionaires Row, the other Manhattan apartment is in the $4 million range and Gary says the sellers aren't hugely motivated but will sell if they get the right price.
Fudging the data
There's another reason sellers might want to sell an apartment as a whisper listing: If the apartment isn't publicly for sale, there's no way to determine the number of days it's been on the market. This is a metric that's calculated once a listing is active online.
It's a useful data point for buyers who can see if a listing is lingering for some reason, perhaps it's over priced or has some other red flag, like the spiral staircase. 
How you'll find whisper listings
You're not going to find out about a whisper listing unless you have a broker.
"Buyers are entitled to representation and representation is free," Saghir says. Remember, there's no additional cost for a buyer to have a broker. It's the seller who pays the broker's commission which is then split between the seller's and the buyer's brokers.
Another new facet to the whisper listing is social media. In the past, a whisper listing was information in a broker's head. Now Instagram and TikTok provide the perfect space to create "something exclusive and create scarcity," Lahav says.
In most cases, however, a low profile sale with minimal publicity is one of the very reasons a seller decides on a whisper listing. This is why it's a popular route for celebrities who don't want people taking photos of their space. "Sometimes you don't want all the photos and traffic and people coming in and seeing personal stuff," Lahav says. 
Discover pre-market properties in your dream neighborhood that perfectly suit your needs and budget.  Meet and deal with sellers before their apartment hits the market.

Let The Agency pre-market team give you exclusive access to apartments in your price range and desired neighborhood that no one else has seen. More options, less competition, no bidding wars. 
Can exclusive also be fair? 
If something is exclusive can it also be fair? That's the issue raised over whisper listings. Discrimination in the real estate industry has been well documented. As a result there are strict fair housing rules in New York, and you can't indicate a preference in your advertising for a buyer with a specific race, gender, color, or sexual orientation. 
But what about circling information about an apartment among a select few? Attorney Andrew Lieb represents brokerages at his firm Lieb at Law, and says although there's never been a judicial ruling on whisper listings, there could be an argument that they create "disparate impact" discrimination—or unintentional discrimination. "Everything is a gray area until a judge rules," he says. 
The Real Estate Board of New York advises brokers against exclusive or pocket listings and warns they could face complaints if they're selling apartments in this way. 
Whispering for (rather than about) a listing
When inventory is low, as it is in New York right now, you might see the inverse of the whisper listing—that is, buyers' brokers sending out requests for specific properties. Saghir is used to getting emails saying, for example, a client is in desperate need of a 20 feet wide two family in Windsor Terrace and to please get in touch if she knows of an interested seller. Ultimately, this could result in an off-market sale. 
Lahav says the lack of inventory is resulting in a common theme for the whisper listings he's getting word of: "The common denominator is that they are overpriced," he says. He mentions a property in the West Village, which he says falls into this category. But he says some people "are fine about overpaying," so the strategy may work out for the seller (and their broker). If it doesn't sell it'll probably be made available publicly, possibly with a price adjustment. A whisper listing can just as soon become a publicly available listing after a month or so, if the seller and their agent decide on a more standard route. 
Brick Underground articles occasionally include the expertise of, or information about, advertising partners when relevant to the story. We will never promote an advertiser's product without making the relationship clear to our readers.