Sales Market
Buying plans on hold for now? Here's what you can do to gain an advantage later
Keep an eye out for listings that are lingering on the market
Foreign buyers are back so be prepared to compete with all-cash offers
Assemble the non-time sensitive components of your board package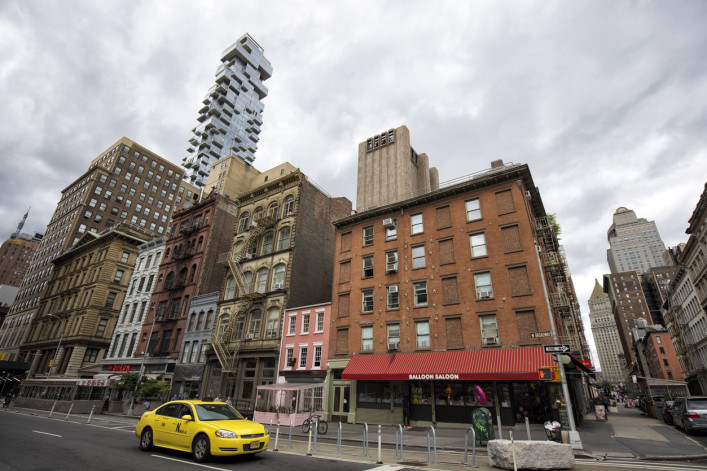 Rising mortgage rates, which make buying 55 percent more expensive this year, have spooked a lot of would-be New York City buyers, sending them fleeing from the market.
But even buyers who don't need financing are sitting out. Kimberly Jay, a broker at Compass, says these buyers are worried about losses in the stock market, smaller bonuses, and job stability. A lack of listings is also a problem.
"Many are waiting on the sidelines. There are very few showings. My buyers are all-cash and want to bid lower. They are hoping to get a deal," Jay says. "These are wealthier buyers. While the under $1 million buyers and those who need to finance are most affected, even wealthier buyers don't want to pay up."
But that doesn't mean buyers are out of the game completely—savvy buyers are staying actively engaged with the market. Turns out, there's a lot you can do while in a holding pattern to put yourself in a better position to buy later.
Brick talked to brokers to find out what buyers on the fence should do be doing now.
Pro Tip:
Fight back against rising mortgage rates. Work with a local expert from Prevu, the brokerage that saves New Yorkers an average of $23,000 per transaction. You'll pocket a rebate of two-thirds of the commission paid to the buyer's broker at closing. Click here to learn about Prevu's Smart Buyer Rebate.
1) Pay attention to listings that linger
Lots of buyers are getting cold feet. According to a recent report from StreetEasy economist Kenny Lee, the percentage of NYC sales contracts falling through reached 1.7 percent—the highest level since spring 2020, when buyers were backing out because of pandemic-related uncertainty. He says that buyers with budgets below $800,000 are pulling out of deals more frequently. The cancelation rate in this price range was 2.8 percent in September, double what was seen in 2021.
Blame it on the high cost of borrowing. The rise in monthly payments for a median-priced property with a 20 percent down payments was up more than 55 percent year over year in Manhattan, Brooklyn, and Queens, Lee says.
Buyers don't have a lot going for them, especially those that need financing—but Lee see one advantage: Days on the market. He says buyers are starting to regain negotiating power, as indicated by an increase in times listings are spending on the market. The median days on market rose to 80 days in September from 69 in August (but entered contract 10 days earlier than the typical home around this time of the year between 2017 and 2019.)
Listings that linger in 2022 are more likely to get price cuts. Close to one in four (24 percent) listings advertised on StreetEasy cut asking prices at least once in the third quarter of 2022, compared to one in five (19 percent) in the third quarter of 2021.
2) Keep going to showings and open houses
Even if you've decided to hit pause for now, Lucy Wu, an agent at Bond New York, says it pays to keep looking at the inventory in your budget range.
This way, she says, "you'll understand the finishes, price points, apartment size, and neighborhood" available to you. They when you're ready to make a move—say in the spring, "you'll be ahead of the game."
3) Be aware that foreign buyers are back
If you're thinking that you can sit and wait for prices to fall, you should know that international buyers are back in Manhattan, and because financing is so tricky for this group, they pay cash. That makes them formidable competition and if you had your eye on a property in Manhattan, you may want to adjust your timeline.
"International investors are looking for deals," says Nicole Gary, a broker at Keller Williams New York City. For some, it's a matter of needing "to get their money out of their country because of political turmoil. Some want to have a place in case they need to leave."
Domestic buyers need to be aware that this competition is back, she adds. "Purchasing all cash is very hard to compete with."
But there are some ways to improve your chances when you are up against all-cash buyers. For example, you could skip the mortgage contingency. There are a lot of caveats with doing that, so brush up by reading "6 ways to compete with an all-cash offer."
4) Get a better mortgage rate with relationship pricing
Banks often provide better mortgage rates to customers who maintain a certain level of funds money in their accounts, a practice called relationship pricing.
So consider opening an account at a bank to get a better deal on a mortgage. You'll need to find out how much you need to deposit and keep in the account. For more on what to ask, see  "What are some tips for buying a NYC co-op or condo when mortgage rates are rising?"
5) Fix your credit score to improve your mortgage rate
Oliver Petersen, an agent at Living New York, points out that it's also important to understand how your credit score impacts mortgage rates.
"Buyers should look to close out any outstanding debts and fix anything wrong with their credit," he says.
A score of 700 to 739 is considered good credit (and above that is considered excellent credit, according to Nerd Wallet). A buyer with a credit score of 700 qualifies for a lower rate than a buyer with a 650 score looking to buy the same property with the same terms.
So how do you raise your credit score?
"Before applying for a loan, you should look to ensure your credit report is in order so you do not have any surprises. Your credit score could play a role in the products and terms you can qualify for, Brittney Baldwin, a vice president at National Cooperative Bank (a Brick Underground sponsor), previously told Brick.
If there are errors in your credit report—address these immediately, Baldwin says.
If credit card debt is bringing down your score, you need to make regular payments and bring your debt down to about 15 to 30 percent of your available credit. For more advice, check out "A bank rejected my mortgage application because of my bad credit score."
6) Get started on your board application
If you're planning on buying in a co-op or condo building, you're probably aware that you will need to prepare a board package, but did you know you that even if you haven't found a place, you can still get to work?
Mike Fabbri, an agent at NestSeekers, advise buyers to start gathering the necessary documents ahead of time. "Some are time sensitive so you don't want to pull those too early. But last year's tax returns, W2, letters of reference, and employer letter" are documents you can assemble, he says.
"Being able to say to the seller's broker that you have half the board package only gives you more leverage," he adds. "It's not about just about the price, it's about getting to the finish line—being approved by the co-op." Want more tips on putting together an application? Read: "How to make your co-op or condo application package rejection-proof."
7) Brush up on how to buy in NYC if buying for the first time
If you're a first-time NYC buyer, Fabbri also advises using your time on the sidelines to research how to buy in NYC—because it is very different here. Even if you have bought in other cities—you will likely be in for a shock when you buy here for the first time. It's more expensive, competitive—and you need a team on your side that includes an attorney plus buyers here typically use a broker.
You also need to have more funds than just the purchase price.
Many people don't understand closing costs, carrying costs, and post-closing liquidity, he says. "You want to be able to make a serious offer," especially because the days of throwing out a pandemic-era lowball offer are long gone. For more on this, check out "How buying real estate in NYC is unlike anywhere else."
8) Use a broker to find out about off-market deals
Jaime Richichi, an agent at Compass, recommends working with a broker so you don't miss out on off-market deals (also known as whisper or pocket listings). They're not just for luxury listings these days.
The reasons vary: Sellers want privacy, they don't want to risk listings getting stale, or don't want to fuel low-ball offers, she says.
"Lots of sellers don't want people traipsing through their home or to waste time with buyers who are not qualified," she says. "More and more sellers are quietly shopping listings to qualified buyers. They're even being done at entry level."
For that reason, working with a buyer's broker is important, she says. You need a broker to find out about these listings through their network—and get insight into the seller's motivation. Plus, Richichi adds, a buyer's broker has a fiduciary responsibility to the buyer, meaning you have an advocate during negotiations.
Brick Underground articles occasionally include the expertise of, or information about, advertising partners when relevant to the story. We will never promote an advertiser's product without making the relationship clear to our readers.