Transitions
From Boerum Hill to Prospect Lefferts Gardens: After years of renting, we wanted to buy a condo with amenities
They wanted to stay in their beloved neighborhood but a brand-new condo development caught their eye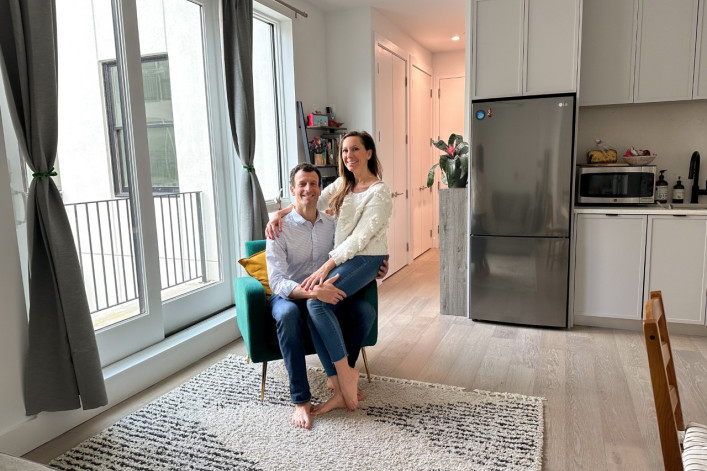 When their landlord of 11 years passed away and their rental building was going to be sold, Laura Giromini and Luca Arrigoni decided it was finally time to buy. Despite wanting to stay in Boerum Hill, a shiny, brand-new condo development in Prospect Lefferts Gardens caught their eye. Here's their story.
I was born in Carrara in Tuscany, Italy, and raised between Marina di Carrara (on the beach) and near Milan. I moved to NYC in 2007 with my husband Luca, who is from Milan originally. 
We both came to NYC to pursue our acting careers. Our first apartment was a small studio in Little Italy that we sublet from a friend. For the past 11 years, we lived in a one-bedroom apartment on Dean Street, between Hoyt and Bond, in Boerum Hill. It was in a classic Brooklyn Brownstone. We had brick walls, a fireplace, a very tiny kitchen and bathroom, but a spacious bedroom and two extra dens—one became an office and the other was an extra bedroom so we could host friends and family. Our landlord lived on the first floor. 
---
[Editor's Note: Brick Underground's series "Transitions" features first-person accounts of what it's like to move from one New York City neighborhood to another. Have a story to share? Drop us an email. We respect all requests for anonymity.]
---
When we first moved in our rent was $2,400 per month. We loved how the apartment was flooded with light and our big windows provided an incredible view of the backyard garden from our bedroom (we never had curtains and we woke up to the sounds of birds and watching squirrels jumping from one tree branch to another one.) We also had a beautiful view of Dean Street's brownstones and trees from the living room. An added bonus was that it was located just three minutes walking distance from the location where my husband chose to open a pizzeria. 
We were extremely grateful that our rent only increased $500 in the 11 years we lived there. 
Still, there were a few things we didn't love: the tilted floor, not having a washer/dryer (there was a laundromat nearby on Smith Street) or dishwasher, and from time to time, our packages got stolen if left unattended on the stoops.
What they loved about the old nabe
For me, Boerum Hill is the best neighborhood in NYC! With its beautiful brownstones, tree-lined streets, plenty of local shops, so many restaurants to choose from, and friendly and welcoming neighbors, it's perfect.
I loved walking along the Brooklyn Heights promenade or the Brooklyn Bridge Park to take in the amazing view of the Manhattan Skyline. I also I loved being able to stroll in Cobble Hill, Brooklyn Heights, and Dumbo, plus getting to Manhattan was super convenient. We lived four minutes from the F/G Bergen stop, four minutes from 2/3/A/C/G trains at Hoyt Street, seven minutes from B, D, N, Q, R, and W at Dekalb Avenue, and 10 minutes from Atlantic Avenue where you can basically jump on any train and be in Manhattan in less than 10 minutes! Also, we had two Citibike stations close by.
The only con: Parking is a nightmare!
Luckily, I don't really have a specific daily commute. I'm a full-time influencer and teach group fitness classes at Crunch for fun. I still pursue my acting career in NYC as well—I'm very grateful because I get to create, direct, and act in my own film projects as an influencer and I get to stay active and keep dancing while teaching at the gym! 
I used to walk, bike, use Revel, or the subway. Dean Street was so gorgeous that I could simply take both photos and videos from my windows or get out of the door to create amazing content. 
Our favorite thing to do for fun was having pizza and lingering at Sottocasa (Luca's pizzeria). Strolling in the area and going for a workout or a picnic at Brooklyn Bridge Park was a close second. 
 
During the pandemic, our neighbor Kay created a chat called "stooptales" for all neighbors so that we could gather on her stoops on summer evenings for happy hour. It was the highlight of the day. 
We shopped at Trader Joe's on Court Street and sometimes at Brooklyn Fare on Schermerhorn Street or at one of the 24/7 delis in the area. There are so many cute and interesting shops both on Smith Street and Court Street and we could order in from every type of restaurant nearby! 
Why they (reluctantly) left Boerum Hill
In December 2021, our beloved landlord passed away and his children told us that they would have put the building on the market in spring 2023. I would have continued to rent until then as I don't really worry about the future, but my husband wouldn't sleep at night knowing that we needed to find a new apartment soon. So we started to look for an apartment in October 2022. 
After 16 years of renting in NYC we decided to buy instead. We knew we wanted a condo without spending an insane amount of money in maintenance or taxes, so we really didn't have many choices. Luca was searching all the different apps like StreetEasy and Trulia and he went to a couple of open houses, including on in Prospect Lefferts Gardens that he insisted I check out—even though he knew I wanted to stay close to Boerum Hill. I reluctantly went and fell in love with the building. 
But then I started frantically looking for alternatives and went to a couple of other open houses in our area. My parents came with me to one open house in Cobble Hill: the building was very old, and the apartment was on the fifth floor with no elevator. By the third floor, my mom, who was breathing heavily, turned to me and said: "I'll wait for you here and if you buy this apartment, forget about me coming to visit you." I convinced her to walk two more flights. The apartment was incredibly small—two-thirds the size of the one in PLG—and had zero amenities. It also cost $150,000 more! That's when we made the decision. 
Thankfully, everything went very smoothly. We made an offer in November 2022, the sponsor accepted most of the requests we had, and we closed on December 6th, 2022. By December 10th we were already living in our brand-new apartment with the help of Denise Cataudella, an agent at Corcoran who represented the building!
We paid $525,000 and are spending about $3,000 monthly on mortgage, taxes, and common charges. So that's about the same as what we were paying in rent. 
Even though it's smaller than our previous rental, we're really happy as we own it and it has a very well-designed layout, with floor-to-ceiling sound-attenuated windows, oak floors, and a beautiful balcony. We also have a spacious bathroom, four big closets, central A/C, a dishwasher, and a washer and dryer in the unit.
The building lobby is very elegant and modern, with its cool concrete and warm wooden accents. There are two elevators, a fully-furnished rooftop, bike room, and lounge with independent workstations, communal tables, and sofas. There's also a fitness center with a separate yoga space, sauna, showers, and changing rooms. Additionally, we got a parking spot and a storage unit. We've never experienced any of these amenities since we moved to the US so it's a real treat. 
What they think of their new nabe
Everybody says this area is up and coming. There are new buildings popping up everywhere, and the people we've met so far have been warm and welcoming. We've hung out with our downstairs neighbors; they are super cool, and we already started a new friendship! And the other day, a neighbor who lives in another building next door saw us leaving and approached us with curiosity—she's been dying to see what the apartments look like having witnessed the building come to life from its foundations. She seemed lovely and I told her she's more than welcome to come and check our place out! 
I feel very safe here. I've been taking the subway both at night and early morning—we are just four minutes from the 2/5 subway stop. Our apartment is pretty close to Prospect Park, and I can't wait to enjoy it in spring.
The fact that I'm farther from Manhattan still bothers me. In addition, my former 10-minute bike ride to Crunch at 5:30 am is now a 10-minute taxi ride. We are thinking of getting a scooter soon! Luca's life has changed the most: Before he used to walk just 3 minutes to work; now he has to commute by train for 25 minutes. 
Not having a Trader Joe's nearby is a bit disconcerting. I still have to find a grocery store that I like. C-town is just ok, and when I find organic products at other close-by grocery stores the price are higher than in Boerum Hill.
We mostly cook at home and haven't ventured out to many restaurants yet, but so far, I love spending time at Ciao Bella Coffee, and we had a wonderful Italian dinner at Camillo.
What their family and friends say about their (small) condo 
My mom is happy about this apartment, saying, "You're never at home, so the smaller it is, the easier it is to clean it!" 
Another dear friend (like a second father to me) who visited when we were moving in exclaimed, "You said it was small. I didn't expect it to be this small!" We laughed hard!
When Luca's uncle (in a wheelchair) and aunt visited us for a week, we had a blast despite having elevator issues. He had to stay in the lobby for hours until it was repaired. But we were able to comfortably share our space with everyone.  
Overall, buying is a good investment. We can always choose to stay or go. I'm grateful for having had the opportunity to live in my favorite NYC neighborhood for 11 years—but after 16 years in the city, you realize how much you spend on rent. It was clearly time for us to become homeowners.
Brick Underground articles occasionally include the expertise of, or information about, advertising partners when relevant to the story. We will never promote an advertiser's product without making the relationship clear to our readers.