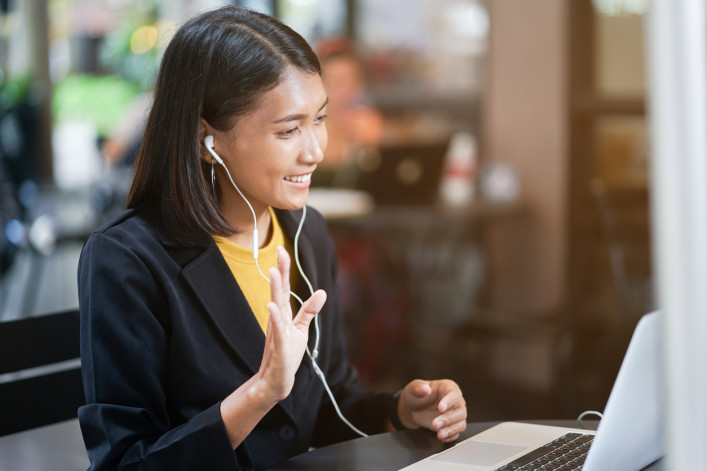 With New York's non-essential businesses closed and residents told to stay home, the city's real estate transactions, which were already slow, are grinding to a halt. Some buyers are asking to postpone closings indefinitely while others are working around restrictions to try and close remotely. One of the sticking points is the board interview for a co-op deal.
Social distancing requirements are pushing these interviews online. If you're going ahead with a co-op purchase and have your interview lined up, the advice is to treat it exactly the same as you would if it was in person—in other words, take it just as seriously. Find a quiet, well-lit place to do the interview, and avoid quizzing the board on how they're addressing the coronavirus. 
---
Editor's note: Click here for more of Brick Underground's coronavirus coverage.
---
It's business as usual
The general advice is to treat a remote or online call as you would a regular interview.
"Dress the same, speak the same, conduct yourself the same," says Adam Stone, an attorney at The Stone Law Firm. He says it's possible co-ops will "loosen their reputation for stodginess" and be a bit more flexible going forward but right now, you should prep for your interview as if you were there in person. 
In fact, it's recommended you be "even more thoroughly prepared than ever," says Jed Lewin, a broker at Triplemint. The economic impacts of the pandemic are far-reaching, so boards will need reassurances that you will still be able to make your monthly payments. As always, "buyers need to prepare to answer potentially intrusive questions about finances," Lewin says.
Dress as you would anyway
You may have been working in your pajamas for a week or more but your co-op board interview is an opportunity to dress professionally. "Just because it is at home, don't wear leisure sportswear," says Martin Eiden, a broker with Compass. 
"No sweatshirts! No yoga pants!" says Daniele Kurzweil, a Compass salesperson. She's advising her clients to "take this as an opportunity to get dressed in some real clothing and put on some makeup."
Quiet on the set
Countless workplaces are adjusting to remote meetings so take what you've learned over the past few weeks and apply it to your board interview. 
"Be sure, when you take your call, to be in a quiet and well-lit place. Be sure that kids and pets are tucked away with an activity that will keep them busy," Kurzweil says.
In terms of where to set the camera up, Eiden says "create a set."  Point the video camera at the nicest wall in your best room and set the camera so you can be clearly seen. "Sit on a chair so they can see you, not behind a desk," he says.
Spruce up your space
Lewin says don't be surprised if you're asked to give a video tour of your apartment. This is a whole new aspect of a co-op board interview that shows a board how you take care of your place. "Buyers should make sure their home is spotless, organized, company-ready, and that nothing is visible in any room that you would not want an interviewer to see," Lewin says. 
Show some gratitude
This is a stressful time for everyone but board members will be fielding calls from residents as well as adjusting to their own personal and professional circumstances related to the pandemic. It's not the time to grill board members about their building's approach to the crisis. 
"When interviewing with your potential new neighbors, be sure as always to be appreciative of their time, especially during this pandemic. Avoid asking questions about their specific building's protocol with regards to what the building is doing to keep their residents safe. They are still trying to figure things out and every day the moving target shifts. They will deal with everything, including your potential move in on a case-by-case basis," Kurzweil says. 
It may be short and sweet
Gerard Splendore, a broker with Warburg Realty, says in his experience the remote interviews are likely to be "very brief and to the point." Some board members don't have much experience with Skype or Zoom so may not be able to participate as meaningfully as others.
"The board just wants to meet you face to face. Be calm and smile, your chances are very good you will be accepted," Splendore says. 
Brick Underground articles occasionally include the expertise of, or information about, advertising partners when relevant to the story. We will never promote an advertiser's product without making the relationship clear to our readers.