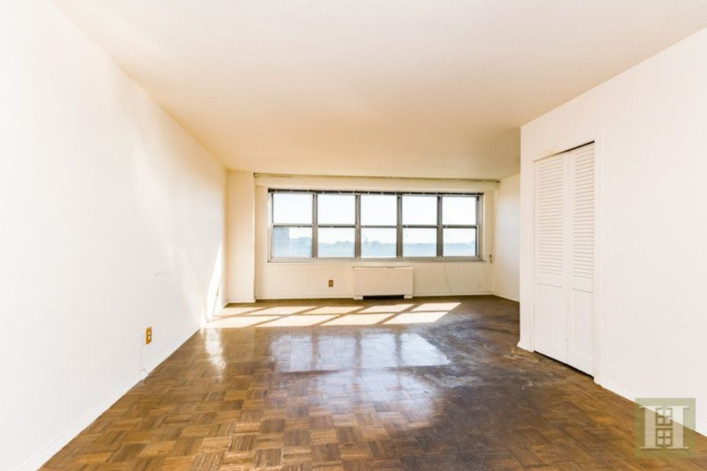 This Spuyten Duyvil one bedroom, 555 Kappock St., #16A, has lots to recommend it, according to architect Audrey Matlock, including its approximately 720-square-foot size, good light, and its covetable Harlem River views. It's on the market for $170,000.
But the place will need a hefty dose of TLC in order to make it livable, especially its badly damaged floors. The "tired-looking space has not been cared for," she says. "It needs a total update."
In this week's Reno Ready, Matlock explains how a few simple tweaks will really transform the co-op. "With the current layout, there is a lot of wasted space," she says.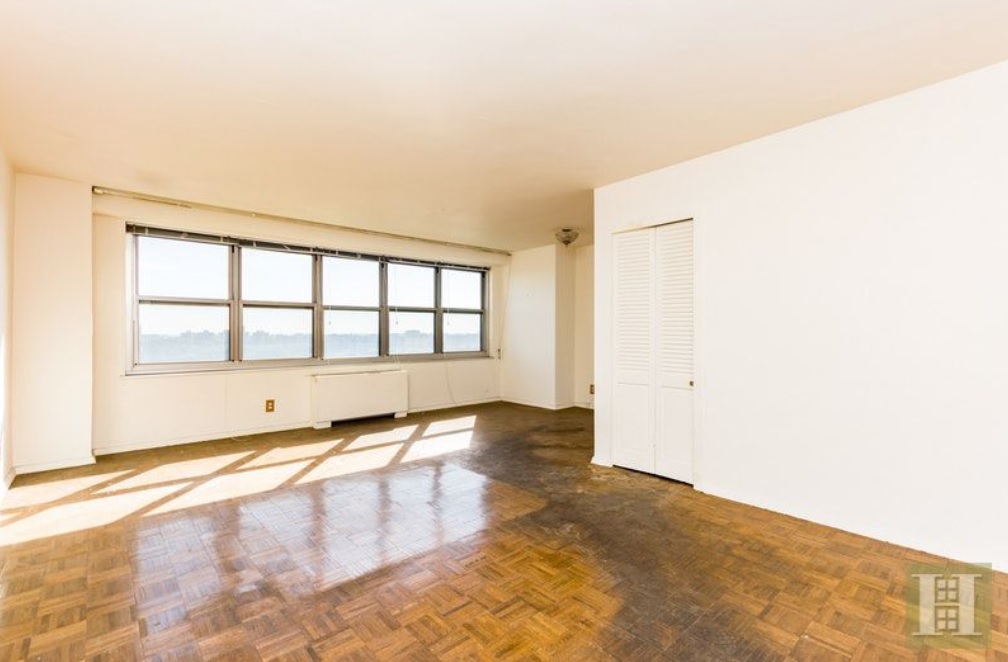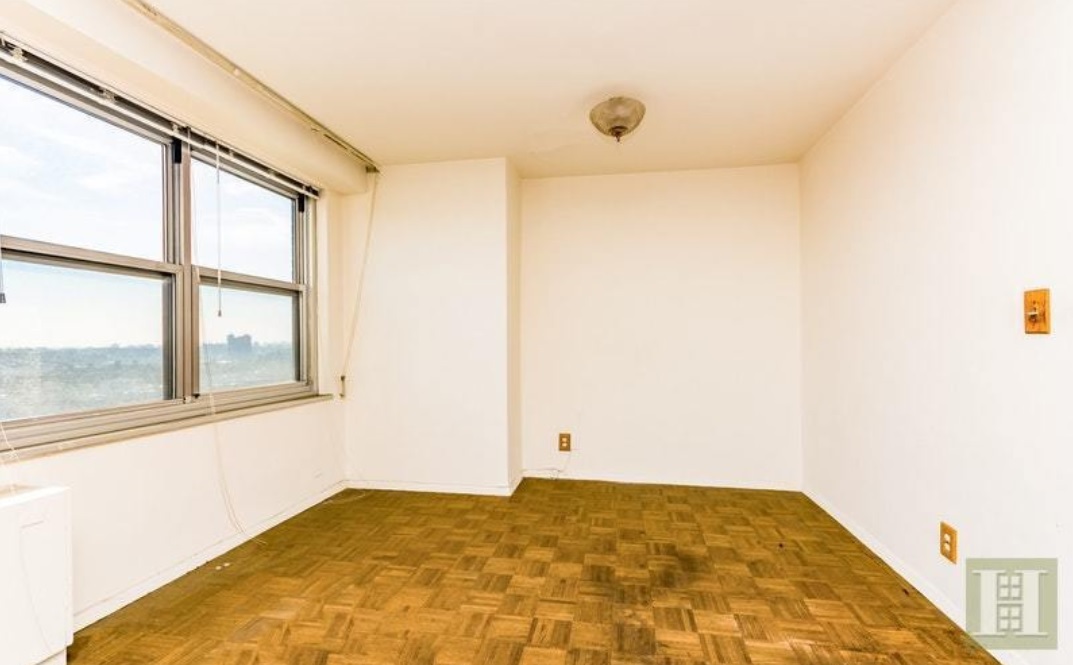 Take out the wall in the living/dining area 
Wall: The first thing Matlock would do here is eliminate the wall that separates the dining nook from the bathroom hallway since "it's ridiculous to have a hallway in such a small space." She'd relocate the dining area to adjacent to the kitchen bar (more on that later), so "the living room can occupy the entire area along the windows." She feels that this is a much better arrangement because "the dining area is now near the kitchen and the living room is no longer in the middle of the main circulation area." This demo work should only cost about $300 or so.
Floors: "The varied colors of the parquet floor tiles draw too much attention to this cheap flooring," she says, noting that the discoloration is probably due to sun damage. "A light sanding and a dark walnut stain would even out the color and give the floor a significant upgrade" and make the place look more "upscale." She'd also recommend adding simple, off-white area rugs to "anchor the furniture and create contrast." Sanding and staining the floors throughout the unit should be about $5,000. Prices for this Mae Diamond tufted rug start at $159 at Pottery Barn.
Paint: "The entire apartment needs to be painted," she says. She'd go with Benjamin Moore's Super White for both walls and trim. "It's a good, pure white with a slightly warm glow." A gallon goes for $75.
Baseboards: Matlock feels that the baseboards throughout the apartment appear to be in poor shape and "have a strange contour." She'd replace them with flat, squared-off, four-inch baseboards. This should cost about $600.
Receptacles/switch covers: She thinks that the current receptacles and switch covers—which are a fake wood color—"stick out like a sore thumb." She'd replace them with screwless white wall plates. This Leviton screwless snap-on wall plate is $6 on Amazon.
Window treatments: She'd recommend simple roller shades in charcoal from a place like The Shade Store for a clean look. It will probably cost $1,500 or so for window treatments for both the living room and bedroom.
Lighting: She suggest replacing the single-light fixture with adjustable track lights that will light the entire wall and entertainment cabinet. She likes Juno White Water Drop 22-watt LED track heads, approximately $90 per light at Lamps Plus.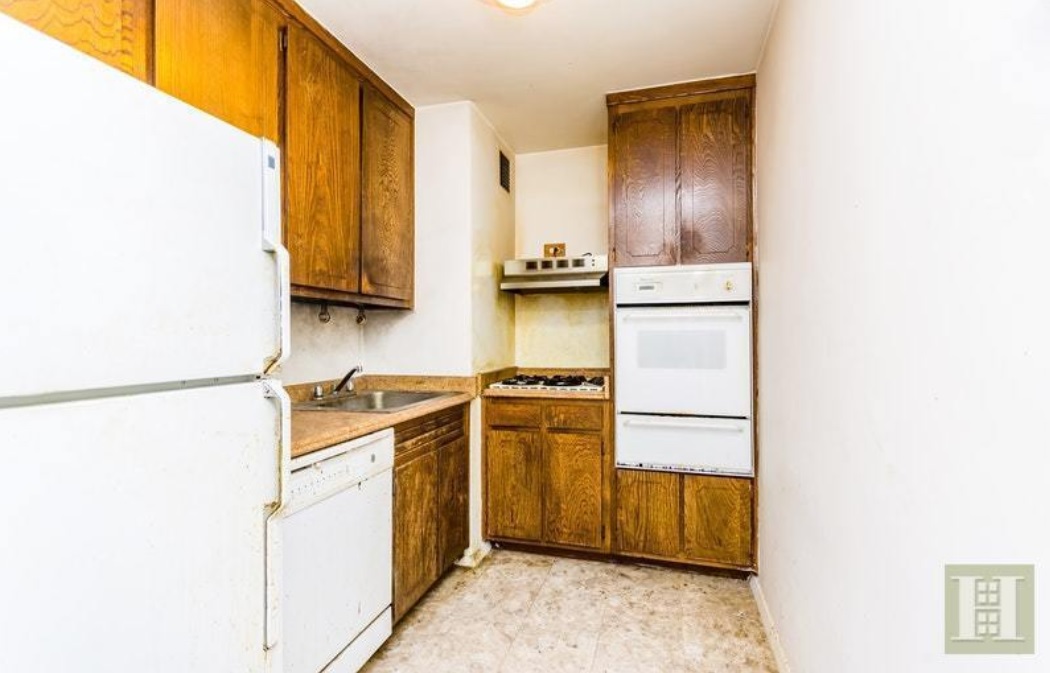 'Gloomy' kitchen cabinets
Open up kitchen: She'd move the closet just outside the kitchen so that it faces east and is in line with the kitchen counters. "The open floor space is currently five feet wide, so shallow counter-height cabinets could be added along the wall across from the sink," she says. "By eliminating the kitchen wall, there is room for a breakfast bar. The kitchen is now larger and more open and natural light will penetrate the space." It should cost about $500 or so to move the closet. Knocking down the wall and building the breakfast bar will cost a few hundred more.
Cabinets: Matlock describes the current cabinets as "dark and gloomy." She'd swap them out for ones with flush overlay doors in either a gray laminate finish or Grevsta stainless steel from IKEA, (which she likes because it'll match the appliances). She feels that both will hold up well and clean up easy. For the upper cabinets, she'd choose IKEA Jutis doors, which are aluminum and glass. They're "very contemporary and very durable." She'd also add "well-designed hardware," like Hafele finger cabinet pulls at around $7 each. "They'll give an upscale, minimal look to these economical cabinets." The cabinets will cost around $1,000.
Lighting: "The ceilings are almost certainly concrete so I recommend a simple square surface-mounted light in the same location as the existing one," she says. She'd also add under-cabinet lights beneath the upper cabinets. This Edge Lighting Mint Ceiling Light in Satin Nickel is $97 at Lighting by Gregory. These LED light strips are $15 at IKEA.
Paint: Matlock would again choose Benjamin Moore's Super White. Since the kitchen will now be open to the rest of the apartment, she wants to maintain a sense of continuity.
Appliances: "The wall oven takes up too much room and looks old," Matlock says. She'd replace it with a new stainless steel oven beneath a new cooktop. She'd also remove the upper cabinet to the right of the stove in order "to create more countertop work surface." Since the rest of the appliances are also outdated, "replacing them will add value to the apartment." This Bosch single wall oven with convection is $1,976 at Sears. This Bosch gas cooktop is $763, also at Sears. This Liebherr refrigerator is $2,139 at AJMadison.com. This Bosch dishwasher is $624, also at AJMadison.com. This Whirlpool recirculating range hood is $299, also at AJMadison.com. "If these appliances add to too great a cost, I would replace only the cooktop and oven, and keep all in white," she says.
Sink: Matlock thinks that a new stainless steel under-mount sink and faucet will be necessary as the existing ones look to be really old. This Kraus under-mount sink is $270 at The Home Depot. This Kohler Purist sink faucet is $526.
Countertops/backsplash: "I suggest a Caesarstone Pure White polished counter and bar top," Matlock says, explaining that the material that will hold up well. She'd also run that up the wall for the backsplash. Cost is approximately $1,800.
Floor: Matlock advises going with 12-inch porcelain tiles in a gray color because it's great for hiding dirt. The tiles are "economical and durable and widely available," she says. These should cost around $5 a square foot.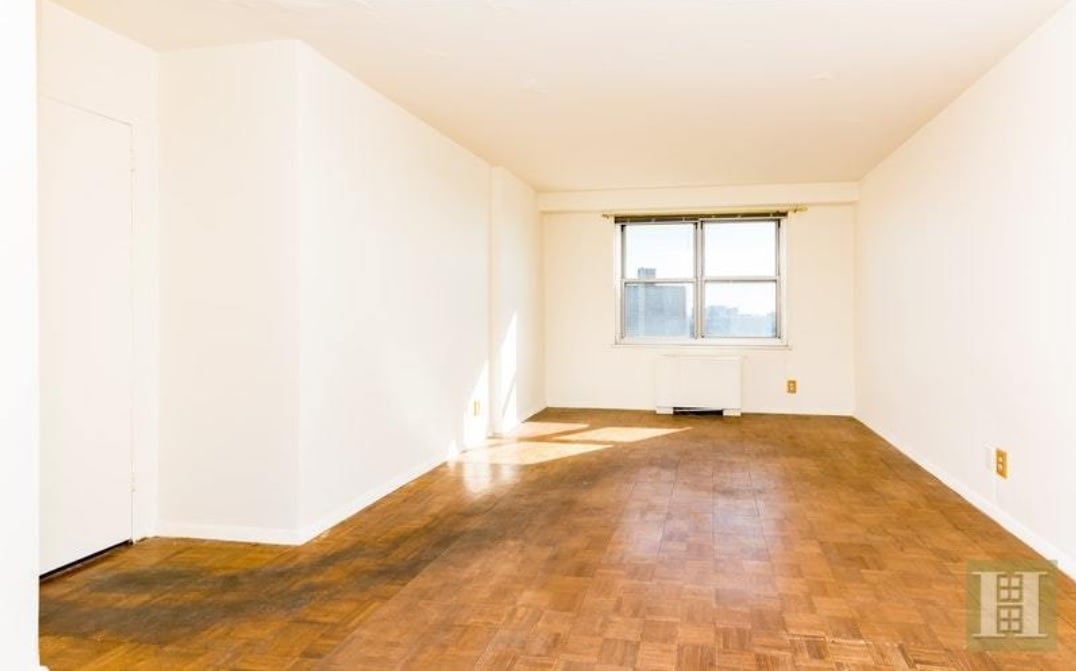 Fix the floors in the bedroom
Just like in the living room, Matlock would sand and stain the floors, paint the walls with Benjamin Moore's Super White, replace the baseboards and switch covers, put up track lighting along the long wall, and put simple roller shades up over the window. These will help keep up a sense of symmetry throughout the apartment.
Bedroom door: Matlock doesn't like the swinging door in here because "it takes up space," a precious commodity in a one bedroom. She'd suggest going with a surface-mounted slider, instead. This should cost about $600.
Closet doors: While the photos don't offer a glimpse of the storage wall, Matlock says that if there are accordion doors or ones that are in poor shape, she'd replace them with flush doors and pivot hinges that will make the space more easily accessible. These should cost about $1,000.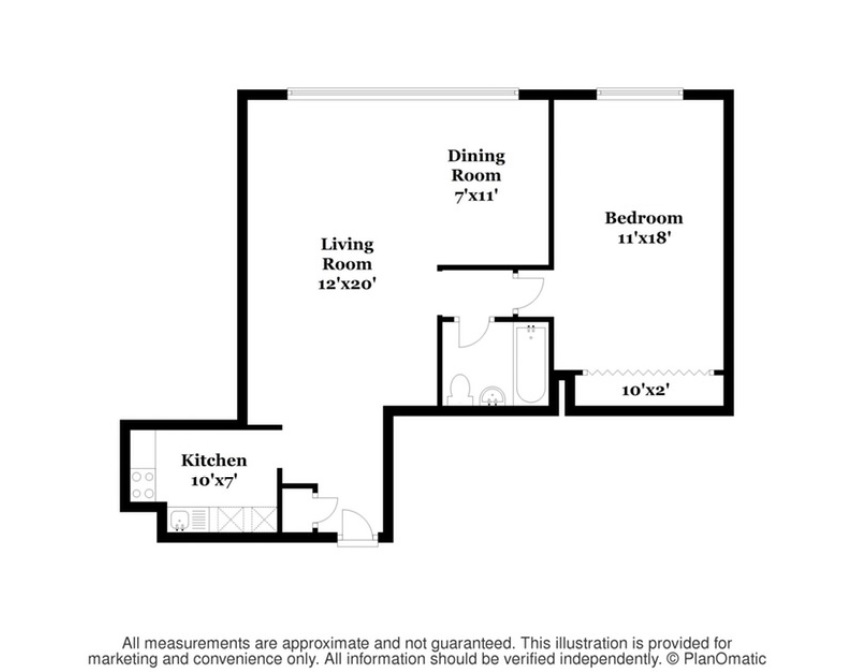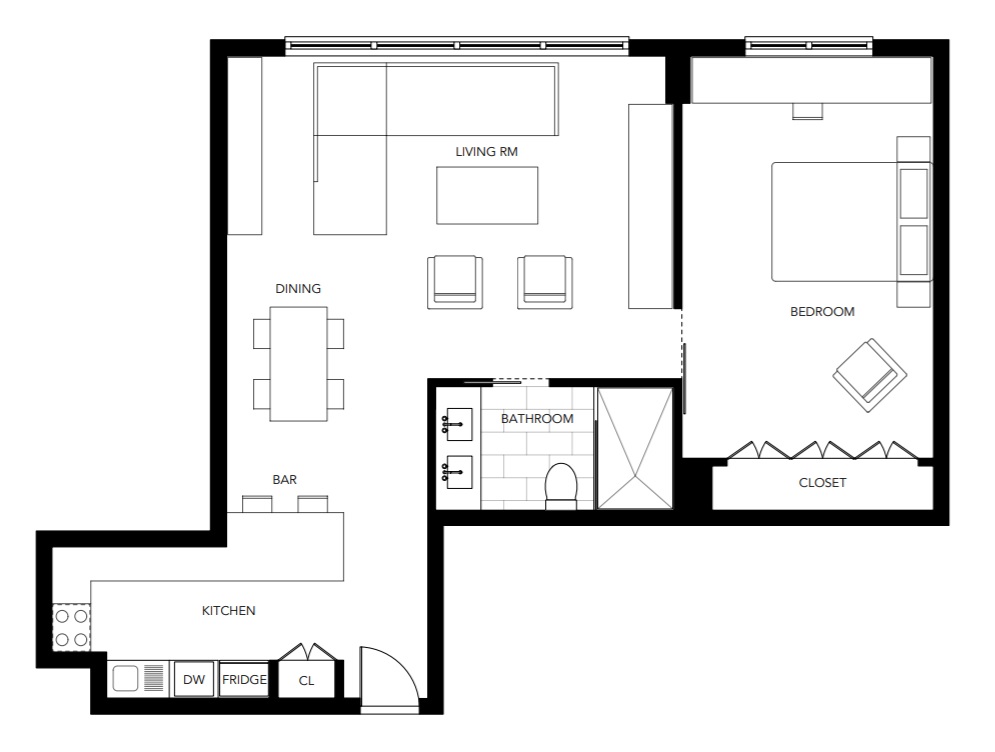 Bathroom is likely in bad shape
Walls: While there aren't any pictures of the bathroom, which is usually an indication that it's in pretty bad shape, Matlock can still get a sense of it based on the condition of the rest of the apartment, noting that the area outside the bathroom "is a totally wasted area." She'd move the wall out to incorporate an extra 10 square feet or so into the bathroom. This should cost about $600.
Door: She'd replace the swinging door with a new sliding door "that will free up bathroom space and provide a clean look." The sliding doors should be a few hundred dollars. These Accurate flush pulls with locks are $852 at Better Building Hardware. "They're a bit pricey," she says, "but worth it for their unbeatable style on a door facing the living room."
Vanity/Sink/Faucet: "By adding to the bathroom, a vanity large enough for one or even two sinks with storage below is possible," she says. A vanity of this sort could be custom made for about $2,000. This Kohler Verticyl sink is $180. This Hansgrohe Talis faucet is $200 on build.com.
Mirror: "I wouldn't do a medicine cabinet because there's enough storage in here," she says. Instead, she'd have a frameless mirror custom cut and hang it above the vanity. "It fits in with the really clean look I'm going for in here." This should cost approximately $600.
Shower: Matlock says "a walk-in shower is a more popular solution than a tub that one needs to climb over for a shower." Instead, she'd install a single frameless tempered glass panel. "It's a cleaner look," she says. "It looks like there's nothing there, so the bathroom will look huge." She'd also add Kohler Stillness shower controls, $345 at eFaucets.com and a Delta square rain showerhead, $88 on Amazon.com. Both, she says "are great-looking, cost-effective solutions." The shower enclosure and glass panel should be around $800.
Toilet: She'd change out the toilet for a Duravit Me by Starck toilet, $280 at build.com, which she calls "cool-looking and stylish." If that's too pricey at the moment, she'd simply replace the existing toilet seat.
Tiles: For the walls, she'd choose classic white subway tiles, $2 per square foot. For the floor, she'd go with charcoal gray Daltile with gray grout. "If you do white grout, it'll be gray in no time, but it won't be a nice gray," she says. It'll be about $10 per square foot.
Lighting: She'd install standalone surface-mounted LED strip lights, like these from Delray, on either side of the mirror. They should cost about $300 each.
Brick Underground articles occasionally include the expertise of, or information about, advertising partners when relevant to the story. We will never promote an advertiser's product without making the relationship clear to our readers.