This Kensington one-bedroom co-op, 515 East 7th St., #1B, has "great bones," including a large living room, open foyer, and abundance of closets, according to architect Alexander Butler of Alexander Butler Design Services. It is listed for $399,000. But it's pretty generic, Butler says.
He recommends focusing on fixing up the rooms that help sell an apartment—the kitchen and the bathroom. In the kitchen, he'd replace the cabinets and extend the countertops in a U-shape around the room to create more prep space. He also suggests a creative update for the bath: Add a double vanity and relocate the toilet.
In this week's Reno Ready, Butler describes what he'd do to renovate some pretty basic-looking rooms, as well as how he'd update the rest of the 800-square-foot co-op so that it stands out from "the rest of the run-of-the-mill places on the market."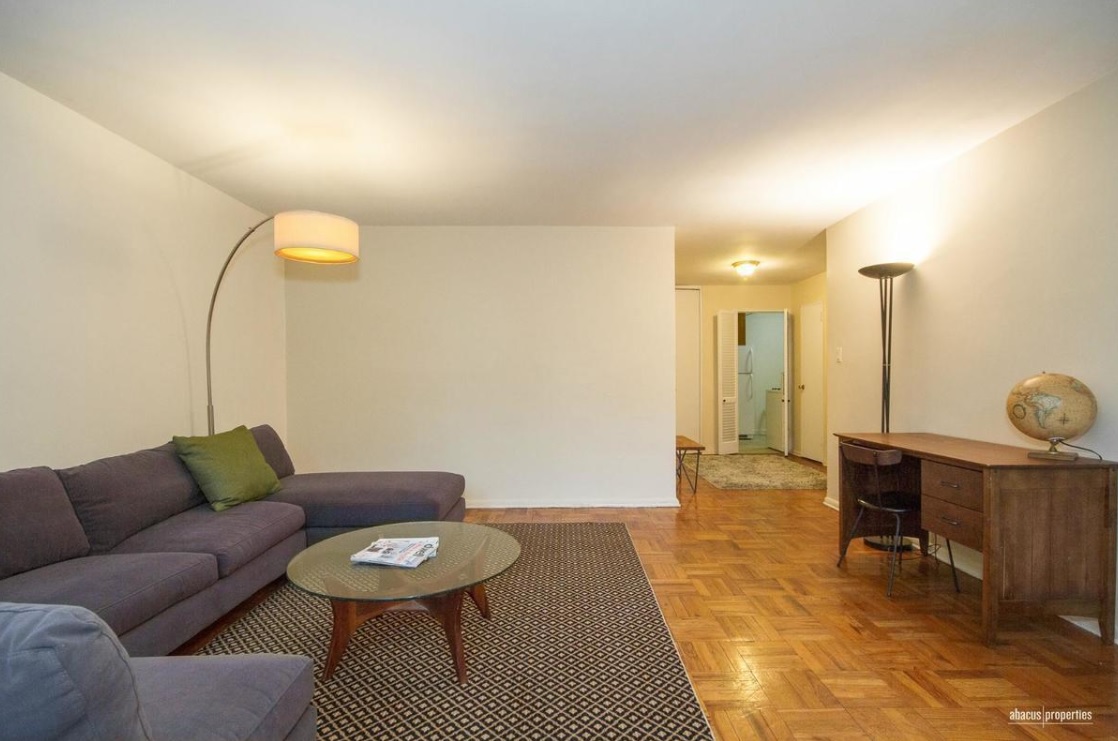 Living room needs a color refresh
Walls: To replace the drab off-white shade on the walls, Butler advises going with a light gray or a light blue, like Benjamin Moore's Gray Owl. "Some sort of pale color that's different from white" will be striking, he says. He'd then paint the baseboards, doors, and casings bright white for contrast. A gallon of Gray Owl is $75.
Floors: "I don't particularly like these old parquet floors because they're often damaged," he says, noting that many are also "really cheap contractor-grade stuff." He'd go with something much more durable, a wide-plank engineered wood floor like the one offered by Havwoods International. Engineered flooring differs from traditional hardwood because it has more than one layer. The top is solid hardwood, but underneath that is a plywood base that makes it less susceptible to warping or cupping. Butler would also opt for a lighter shade. "A lighter, brighter palette always makes me feel good in a space," he says. This sort of flooring should be around $7 to $8 per square foot.
Lighting: The ceiling looks to be made of concrete, so drilling into it to install overhead lighting won't be doable. "The most economical thing to do here would be lamps," Butler says. But for folks who want something that'll stand out a bit more, he recommends recessed lights, but ones that only require about two-and-a-half inches of depth (typical recessed lighting requires more).
"With the advent of LED technology, recessed fixtures require significantly less depth," he explains. And in lieu of your traditional dropped perimeter soffits, Butler likes to create a stepped ceiling treatment, where he can conceal these shallow fixtures (see below). The lights would cost about $150 each. This Flos Tab F lamp is $395.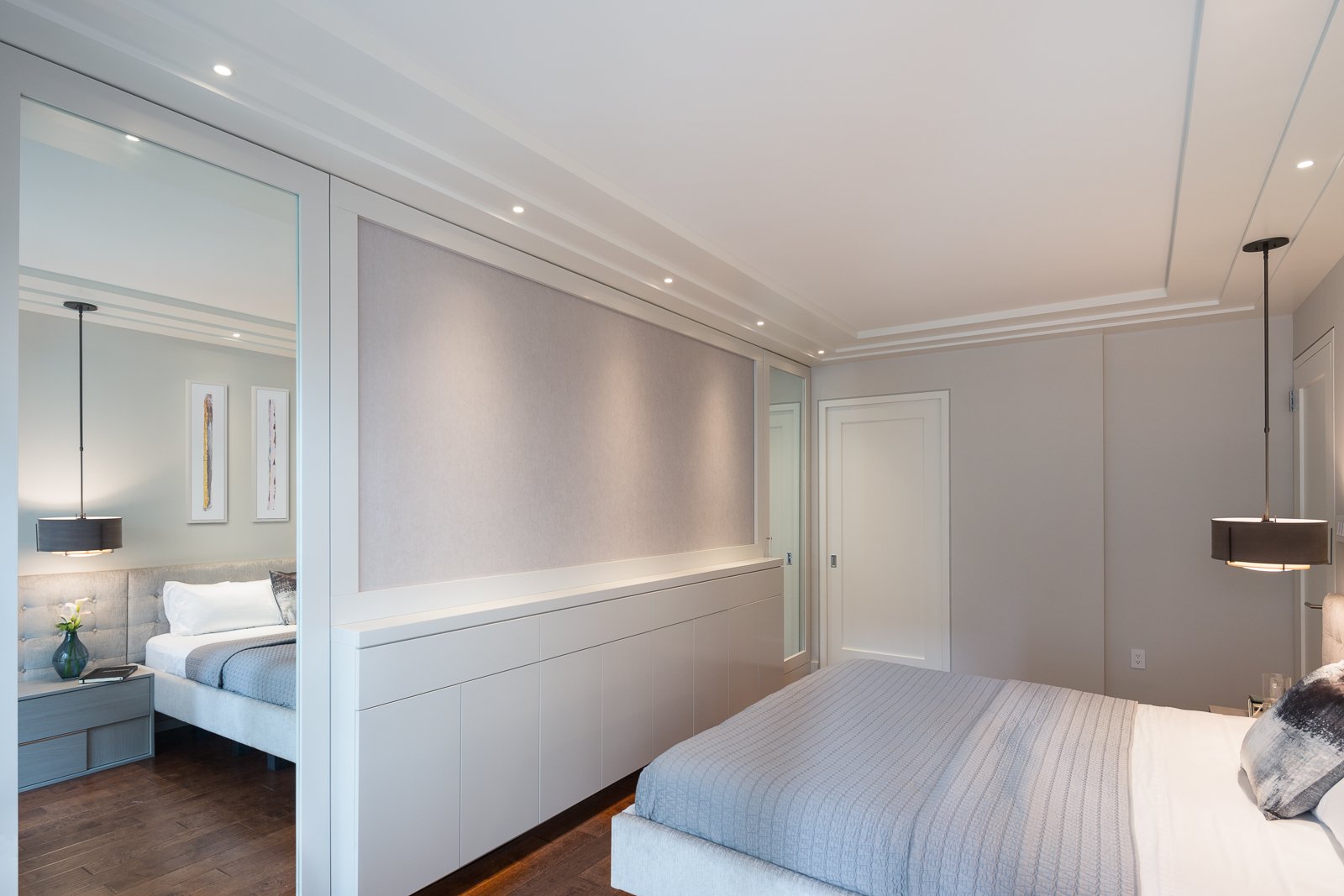 Radiator cover: Butler isn't a fan of the rather ugly exposed radiator and air conditioner, so he'd recommend building a cabinet of some sort to hide them from the world. "You can do a window seat or a desk area," he says. "Or you can build in bookshelves or cabinets with some kind of utility." He'd also use a countertop made of engineered quartz. "It's a durable surface and you can rest easy if you spill a glass of wine on it. It'll wipe clean." This cabinet would cost about $750 per linear foot. The slab of quartz for the countertop should be around $1,200 or so.
Window treatments: "If you're doing wall-to-wall millwork, don't do drapery since it'll drag on the surface," he says. Instead, he suggests going with simple roller shades. Prices for these light-filtering roller shades from The Shade Store start at $219.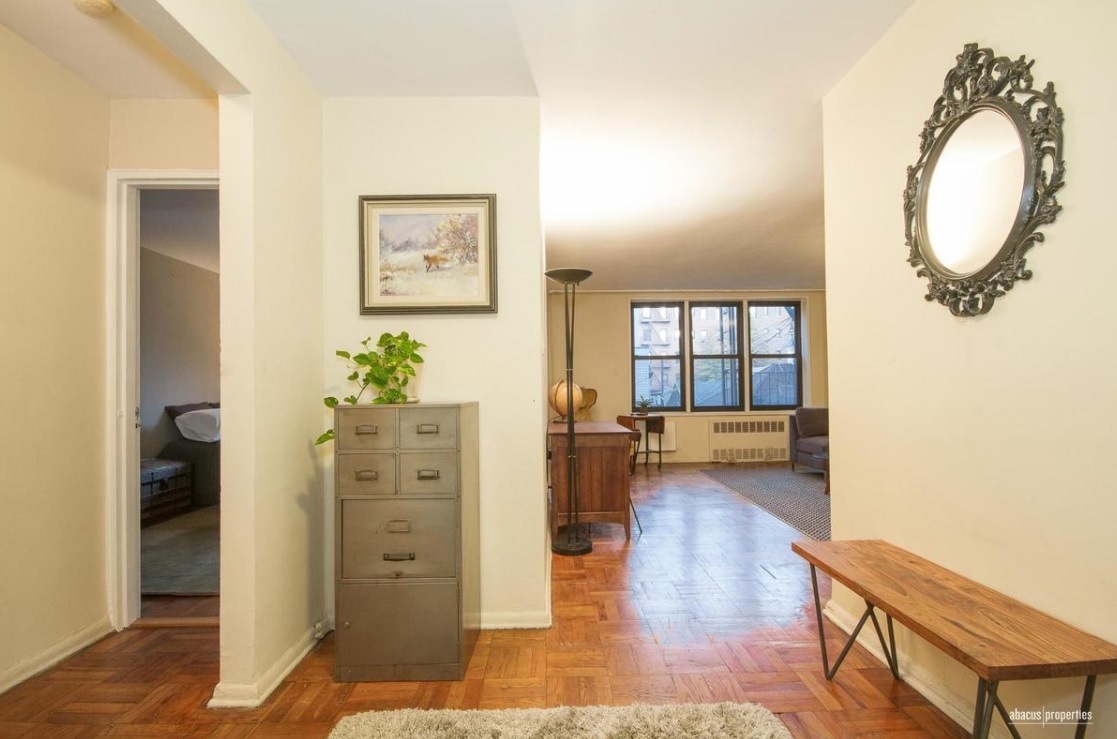 Lose the closets in the foyer
Walls: Butler would paint the walls the same gray as in the living room and extend the new engineered wood flooring in here, too.
Closets: He would eliminate the closets on the left-hand side in order to create a bigger, more memorable entryway that can even be used as a dining area. He'd make up for this by adding more closets in the bedroom, because in his opinion, "bedrooms don't need as much square footage." (See floor plans below.)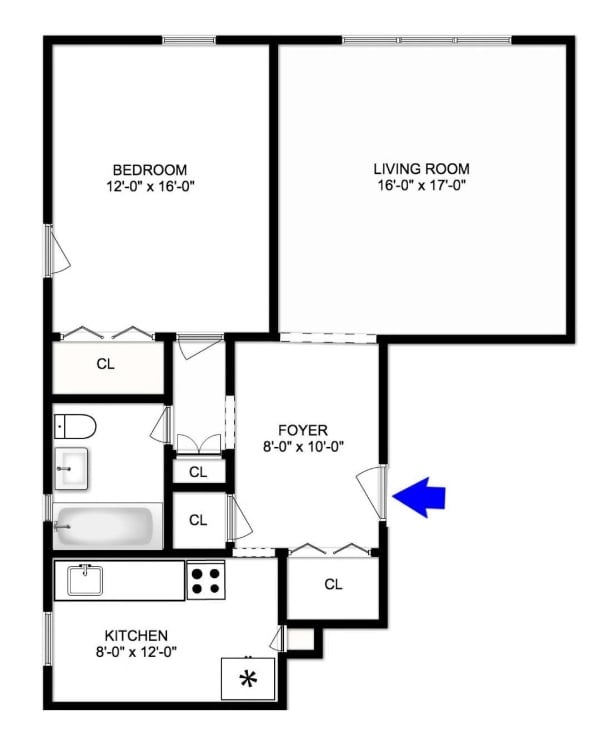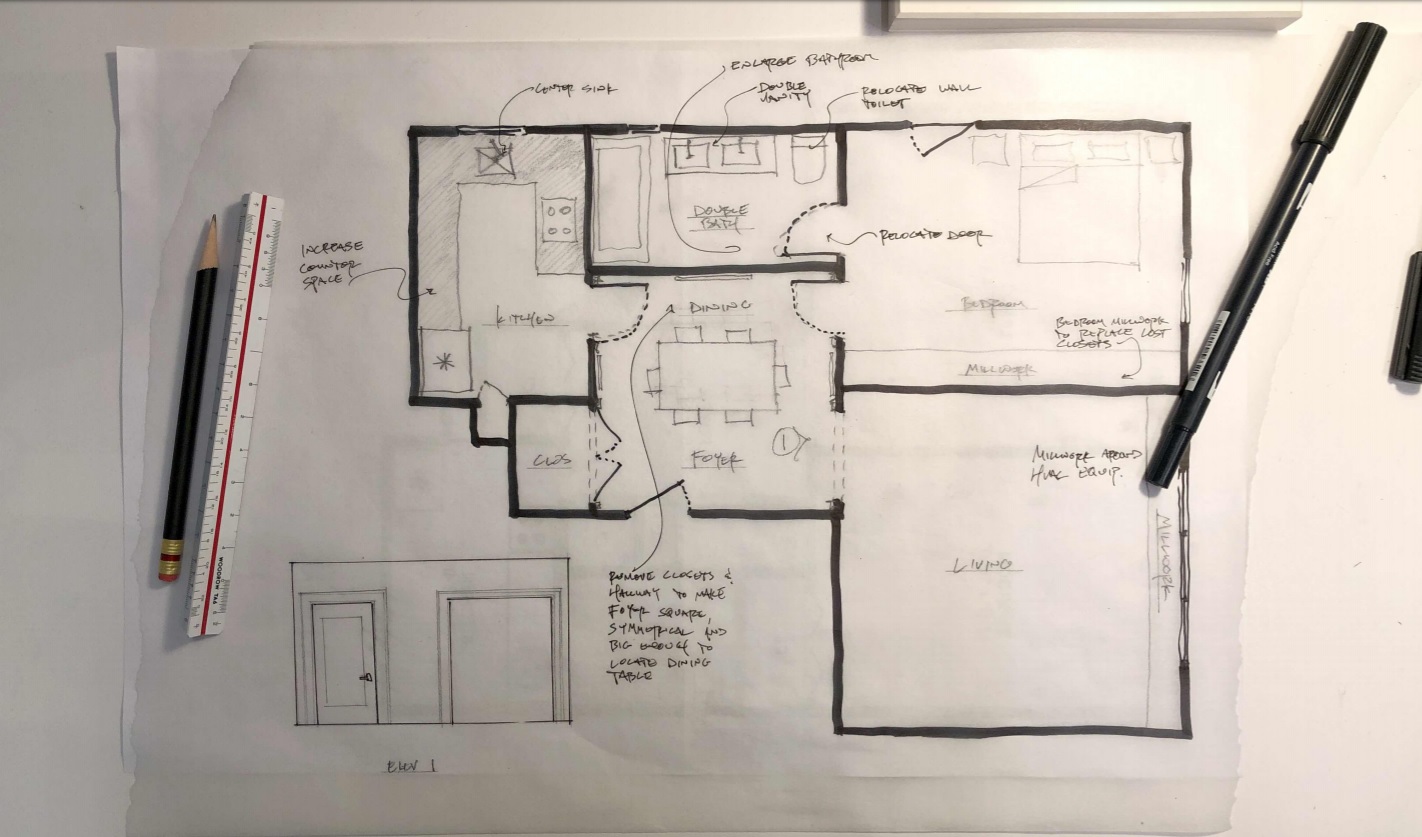 Bathroom door: He'd also move the door to the bathroom into the bedroom and close the wall off completely in this foyer. 
Casings: "In order to create a squarer, more rational foyer area that could support a dining table and that would have symmetry on both sides," Butler says that he would add casings around the doors and openings. 
Lighting: Butler says he'd either drop the ceiling here and have some recessed lighting installed or put some sconces up on the back wall. Each recessed light will cost about $250 to $300. These Foglio wall sconces from Flos are $395 each.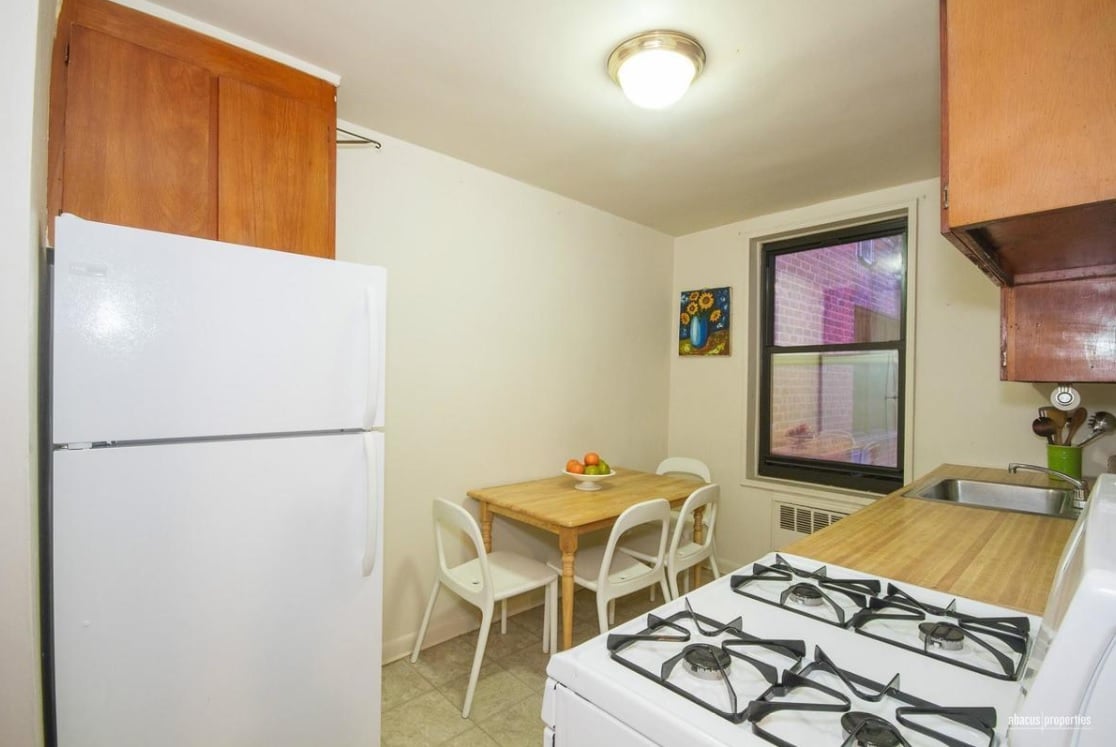 Extend the countertops in the kitchen
Dining: Butler would lose the dining table if you're adding space for it in the foyer.
Walls: He'd go with white in here to keep things simple. A gallon of Benjamin Moore's Cloud White is $75.
Countertops/Backsplash: Since there isn't much in the way of usable workspace in here, Butler would extend the countertops, running them around the window, heading back toward the fridge in a U-shape. "You don't lose any of the view by having the countertop above the windowsill," he says. "It creates an infinity pool sort of look." Butler is a big fan of Georgian Bluffs, a gray-veined Caesarstone. He'd also run it up the walls to serve as a backsplash. It should cost about $1,400 to outfit this room.
Cabinets: In place of the old wooden cabinets, he'd install laminate cabinets with texture to them "so it won't feel like your grandmother's laminate." He'd also add more cabinets next to the fridge above where the table is at the moment. As for the wooden pantry next to the fridge that sticks out like a sore thumb, Butler says he'd simply paint it white to match the walls so that the eye will no longer be drawn to it.
Appliances: The range and fridge are ancient, so Butler would swap them out for newer, smaller, counter-depth pieces that won't take up nearly as much space as the current ones do. If there's money in the budget for panels that'll match the cabinets, he'd advise springing for them because it's "a cleaner, simpler look." Otherwise, he likes the look of matte stainless steel. Panels should cost about $2,000. This panel-ready Liebherr 24-inch bottom-freezer refrigerator is $2,809 at AJMadison.com. This Blomberg free-standing gas range is $899, also at AJMadison.com.
Floors: "Since we have a defined break between the foyer and the kitchen, I'd use tile here instead of the wood," Butler says. He'd choose a large square gray porcelain tile that will play nicely off of the countertops, but would "turn it 45 degrees so it's more like diamonds and doesn't look totally run-of-the-mill." Tiles like these should cost around $8 per square foot.
Lighting: Butler would trade in the existing light for a newer, more contemporary-looking surface-mounted light. He'd also add under-cabinet lights. This Taketa LED ceiling light is $482 at YLighting.com. This three-pack of battery-powered puck-shaped under-cabinet lights is $13 at Lowe's.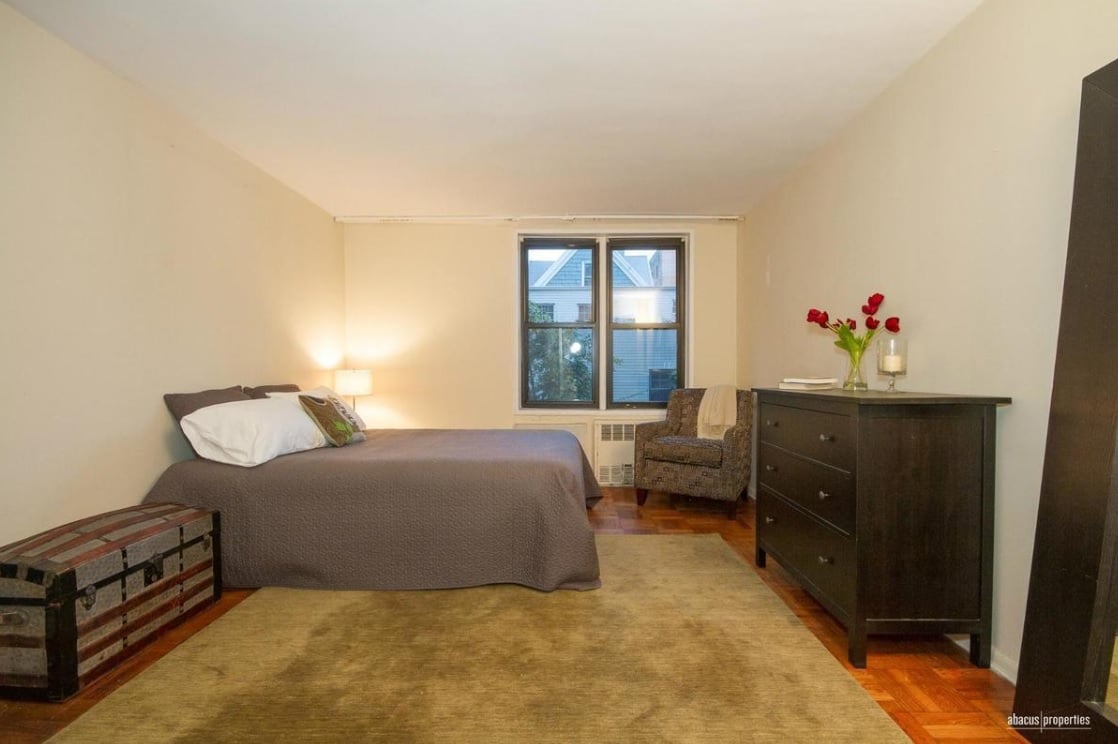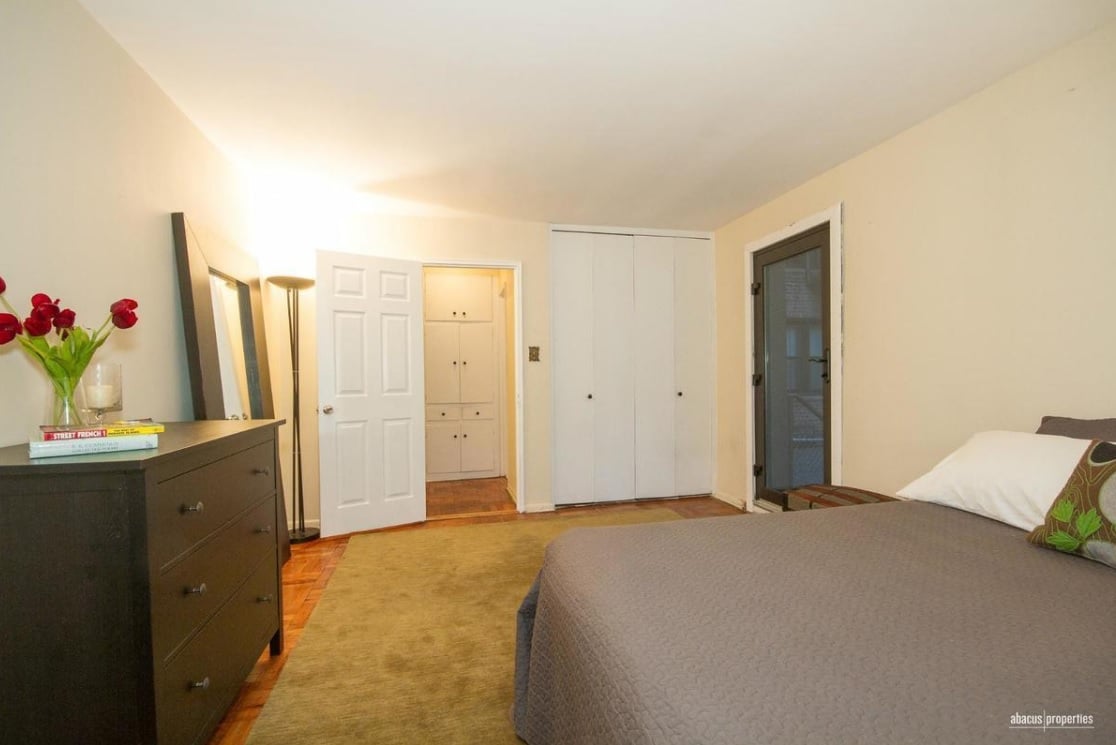 Tie the floors in with the bedroom
Floors: He'd run the new engineered wood flooring in here, too so as to tie the bedroom and living room together.
Walls: Rather than go with simple paint on the walls, Butler would opt for a statement-making wall covering (like these from Innovations)—which can be anything from fabric to linen to leather to paper. "I'd go with something muted but with texture, with a feel to it," he says. He'd choose something in an off-white shade "because you want it cozy." Prices for these types of wall coverings typically start at $20 per yard.
Lighting: Butler doesn't feel that overhead lights are necessary in a bedroom, so he'd stick to bedside lamps. Prices for these Flo LED bedside table lamps start at $756 on YLighting.com.
Closets: Since recommends taking out the closets in the foyer area, he would add more storage space in the bedroom. The existing closets will be taken over by the new door to the bathroom, so he would build a wall-to-wall closet/cabinet with a built-in entertainment center along the wall across from the bed. Prices for this probably be at least $1,000 per linear foot.
Bathroom door: As mentioned above, he'd move the bathroom door to the bedroom so as to free up space in the foyer. He'd probably put it where the existing closets are at the moment. 
Window treatments: Here, too, he'd go with simple roller shades.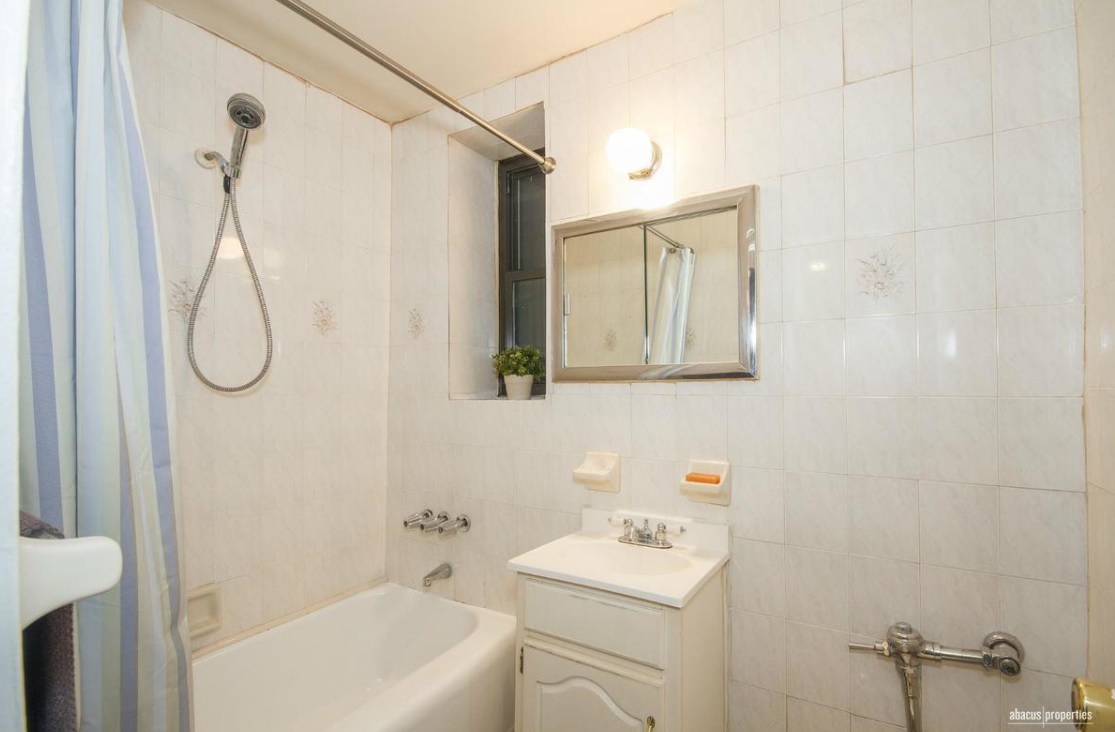 Give the bath a double vanity
Vanity: "A double vanity would make a world of difference in this bathroom," Butler says, noting that it'd make the space more palatable to couples. This wall-mounted double vanity is $900 at Wayfair.
Tub: While he'd prefer a standing shower, he'd probably keep the tub so as to appeal to a broader audience of buyers. He would, however, lose the curtain in favor of shower doors. These frameless sliding glass doors are $543 on houzz.com.
Floors/walls: Butler likes the look of marble, but in order to keep costs down, he'd recommend Glassos tiles, which effectively mimic that marble look at a fraction of the price. "You could just do white," he says. "It'll be very clean, very spare." Outfitting the walls and floor should cost approximately $4 to $5 per square foot.
Toilet: The introduction of the double vanity will mean that the toilet will need to be relocated to the right (just outside of the photo). This wall-mounted Toto is $682 on houzz.com.
Medicine cabinet: He'd choose a simple wall-mounted medicine cabinet. "That way, you don't have to do any extra excavating in here trying to recess it," he explains. This classic wall-mounted medicine cabinet is $249 at Pottery Barn.
Lighting: "I'd probably move the location of the light to be more centered over the double vanity," he says. He thinks a single bar-type surface-mounted light would work well in the space. "It's a more contemporary look," he says. Prices for this Brink LED bath light starts at $149 on YLighting.
Brick Underground articles occasionally include the expertise of, or information about, advertising partners when relevant to the story. We will never promote an advertiser's product without making the relationship clear to our readers.