The listing for this estate condition, prewar one bedroom in Carnegie Hill calls it "a diamond in the rough."
Aaron Bollman, a Manhattan general contractor, and Margherita Menino, a Williamsburg architect who often collaborates with Bollman, agree with that assessment completely. For starters, though, the apartment has a lot of features working in its favor. 
"It's got nice light," Bollman says. "It's got that great closet/office space. And it's got a large living space."
But the gem is definitely in need of some polishing. The ancient kitchen needs to be fully replaced, and the bedroom is microscopic.
"It doesn't even feel like a real one bedroom," Menino says, noting that the bedroom was likely originally meant to be used as a dining room, since the kitchen opens directly into the space.
For this week's Reno Ready, Bollman and Menino share what they'd do to upgrade the apartment. Here are their recommendations.
The living room (pictured at top) needs more light
Floors: Menino isn't a fan of the yellowish tint to the current flooring, so she'd replace it with wide-plank, engineered wood in a lighter color. She thinks this should cost about $8-$12 per square foot.
Lighting: Since the ceilings look to be pretty high, Menino says she'd swap out the boring flush-mount fixture for a striking pendant light or a chandelier that will really catch the eye. This Kinetic LED chandelier from Modern Forms is $1,499 at YLighting.com.
Paint: Our experts suggest repainting the room—including the ceiling and all the trim—with Benjamin Moore's Chantilly Lace, which Menino describes as a "crisp white without yellowish undertones." They would go with different finishes for each of the surfaces for contrast, though: matte on the walls (because it covers imperfections well), flat on the ceiling (because "it keeps light where you want it to be," according to Bollman), and pearl or satin for the baseboards and door frames, so they stand out a little.
Bollman also suggests a full skim-coat for the ceiling.
"There's lots of detailing," he says. "This will make everything crisp and clean."  
Finally, if the new owner wants to add more pizzazz to this space, Menino advises painting the wall by the closet/office a slightly darker accent color. A gallon of Chantilly Lace is $75. The skim coating for the ceiling will be about $3,500.
Heater: Menino would have a wooden cover made to hide the unsightly radiator, perhaps with storage or shelving built in. The pair would paint it white to match the walls, but in a slightly different shade for contrast. Bollman believes that prices for a piece of mill-work such as this start at $3,000.
Window treatments: "This window is too small for drapes," Menino says. She would go with a simple roller shade.
"It's a nice, clean look," she says. These white roller shades from The Shade Store are $219.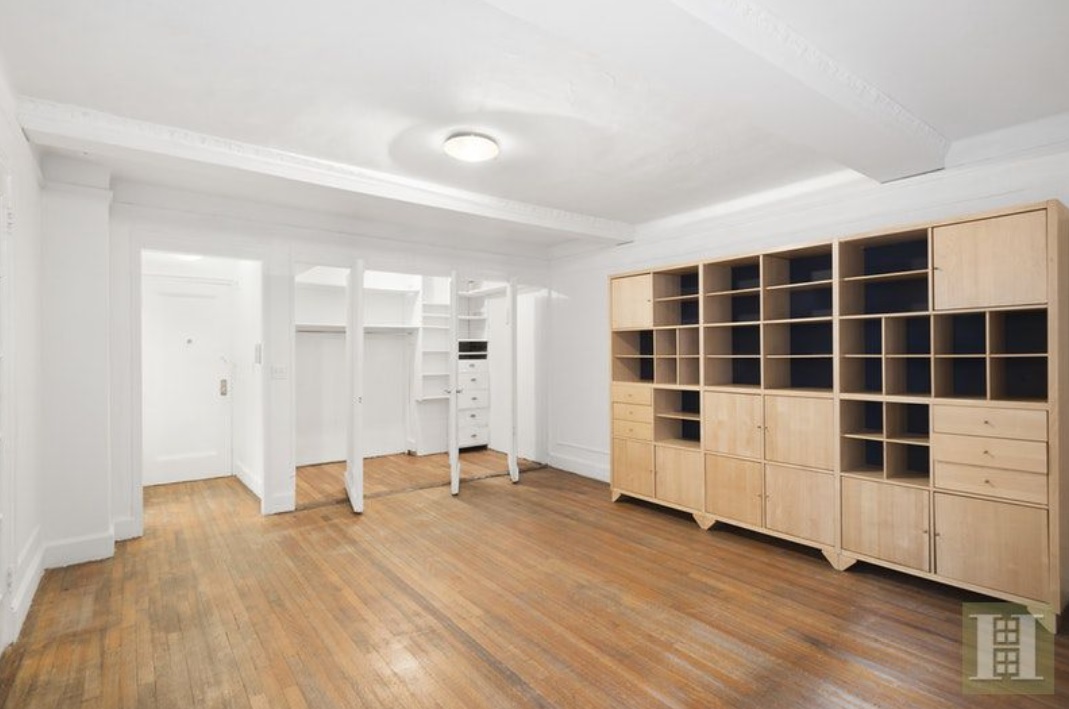 The office could be the new kitchen
If money is no object and the co-op permits it—many have strict prohibitions on running plumbing over pipe-less rooms on a given line of apartments—the duo would suggest moving the entire kitchen to where the office is.
"It would allow you to have a nice open layout with room for an island," Menino says.
You could then stick a dining table in the living room and expand the bedroom into the former kitchen space. Bollman says moving the kitchen would start at $80,000.
If the building forbids it or the new owner can't swing the cost, the pair has some ideas.
Doors: First, Menino would take the doors off this room to make the space feel a bit more open. Of course, if someone would prefer to keep them for privacy's sake, they can. The cost of this labor is minuscule.  
Desk: "Right now this is more of a closet space, but it could be more of an office space," Menino says.
Bollman suggests getting an office system from a store like IKEA with a desk and shelving along the back wall. He believes this would run $500-$700.
Floors: The two would extend the new wood flooring in this room. They believe it will cost about $8-$12 per square foot.
Lighting: Since it's such a small space, Bollman suggests a single flush-mounted light on the ceiling and some under-cabinet lighting beneath the shelving. This flush-mounted fixture is $126 on Build.com. These under-cabinet lights are $59 at Staples.
Paint: Because this office would be open to the rest of the living room, our experts would paint it the same color, Benjamin Moore's Chantilly Lace.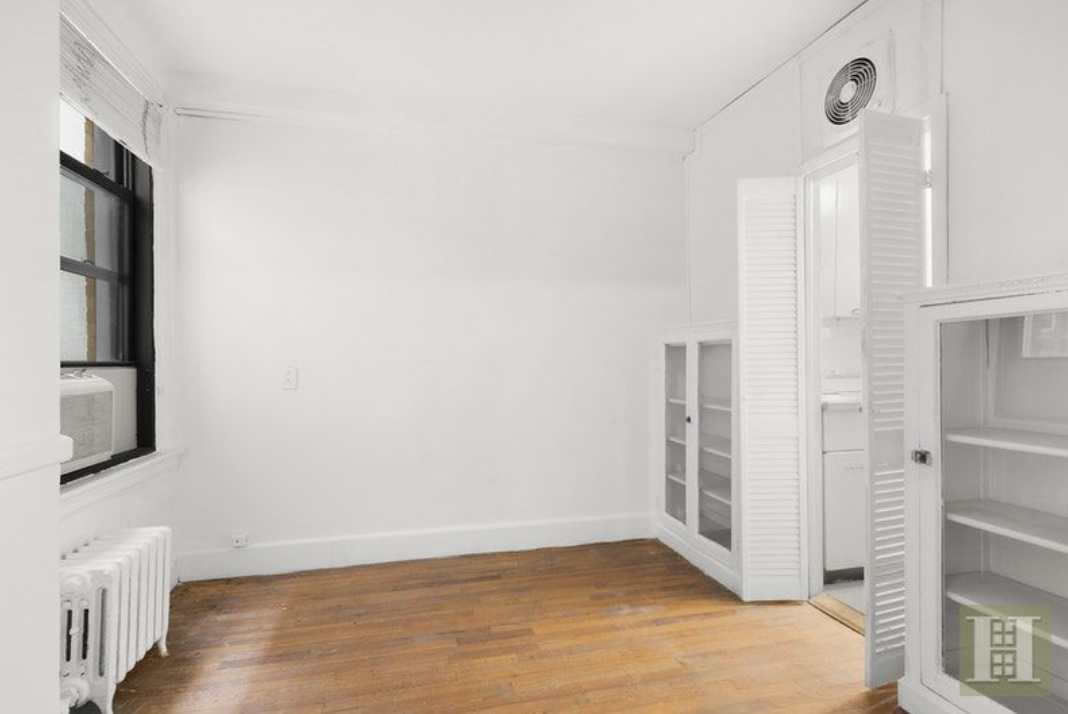 The bedroom would benefit from sound dampening
"It's pretty tight in here," Bollman says, noting that if you leave the room as is, you'll be limited to a full-size bed. If, however, you do choose to move the kitchen to the closet/office, you can expand the bedroom into the kitchen area and have room for a larger bed, as well as other furniture.
Doorway: Because this room was probably meant to be used as a dining room, it makes sense that there's a doorway leading from the kitchen into here. Bollman would close up that wall, get rid of the ugly vent fan, frame the opening, insulate it, and add a sound-deadening drywall known as QuietRock. He believes that this entire process should cost $3,000 or so.
Floors: They would also put new wood flooring in here. It should cost about $8-$12 per square foot.
Paint: Since the room is visible through the French doors, Menino would stick with the same Chantilly Lace paint as in the living room. Bollman says he would like to "mix it up" by painting the back wall a gray or a blue—something conducive to sleep. A gallon of Benjamin Moore's Perspective, a light gray, costs $75.
Lighting: It's hard to tell the exact height of the ceiling from the listing, but Menino says that if it's nine feet or higher, she'd put a chandelier in here, too. If it's lower than that, she'd choose a pair of sconces for the back wall. This Vaxcel mini chandelier is $290 at Lighting by Gregory. These Sonneman sconces are $320 each, also at Lighting by Gregory.
Heater: Bollman and Menino would have a cover built over this radiator, too. But since the room is so small, it should just be big enough to conceal it, and not have any additional shelving. Bollman thinks that a simple cover like this should cost about $850.
Window treatments: For consistency's sake, Menino would opt for white roller shades for the window in here, too. These white roller shades from The Shade Store are $219.
Moldings: "Right now this little room doesn't have any real detailing," Bollman says, so he would propose running crown molding around the perimeter to inject some more personality. He thinks this should cost around $850.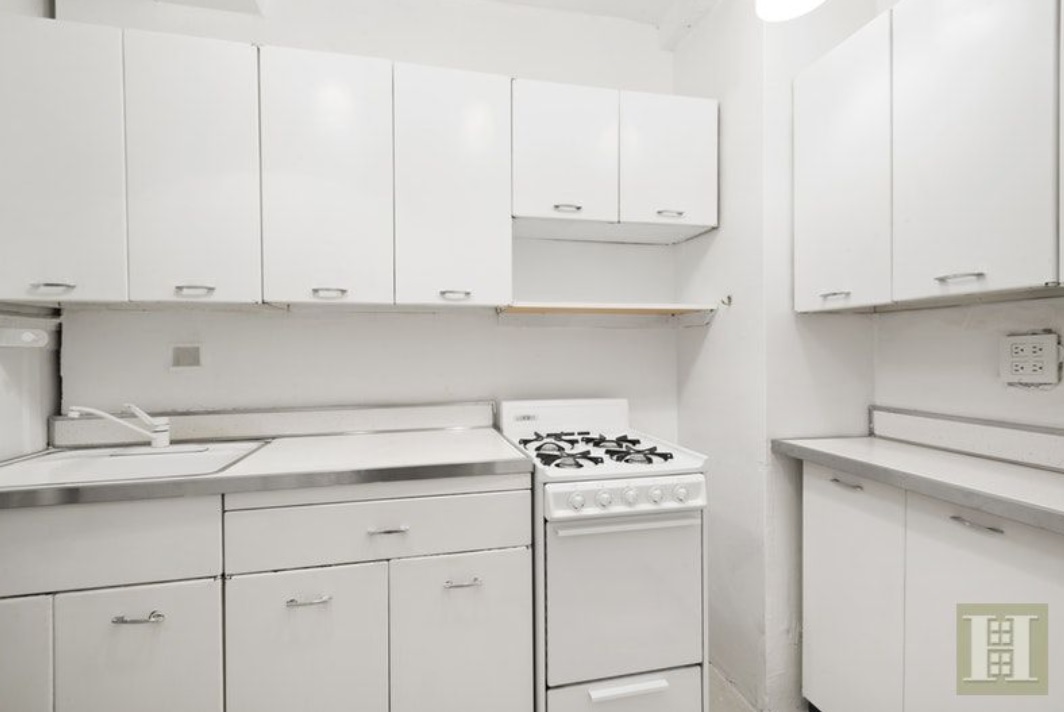 The kitchen: If you can't move it, gut it
If you can't or don't want to move the kitchen, Bollman and Menino would gut it.
Cabinets: If the new owner is looking to save money, Menino recommends getting low-cost IKEA cabinets for the kitchen. She thinks you can replace all the cupboards in this kitchen for around $3,000.
If he or she wants to spend a little more, they could add custom doors.
"They're not that expensive, but the kitchen will look more high-end," Bollman says. With the custom doors, they think the cabinets should cost around $8,000.
Either way, the duo would prefer that the new cupboards be taller, extending all the way to the ceiling.
Flooring: Some people are against wood flooring in a kitchen, but Menino is a big fan, so she'd bring it in here, too. The wood flooring is $8-$12 per square foot.
Countertops/Backsplash: Menino says that she often likes to use the same material for the countertops and backsplash so that everything blends together seamlessly. She would choose Caesarstone because it's durable and comes in a variety of colors. If the new occupant would prefer something different, Menino likes back-painted glass for the backsplash in a grayish or metallic color. Caesarstone for the countertops and backsplash should cost about $4,500. For just the countertops, it should be around $2,000. The back-painted glass backsplash should run you around $2,000, as well.
The sink: A new under-mount sink is necessary here to replace the archaic white sink that's in here, as is a new faucet. This under-mount sink is $120 on houzz.com. This Brizo pull-down faucet is $444 on Build.com.
Appliances: Buyers have a lot of options when it comes to appliances. Since both the fridge and stove could use replacing, it all depends on how much they're willing to spend. If the new owner wants to go high-end, there's Sub-Zero or Miele. Low-end is LG, and Bosch is in between. Bollman says that a lower-end appliance package will cost around $4,000. Higher-end stuff will cost $10,000 or more.
"To keep costs down, I'd keep it all stainless," Bollman adds. "That way you don't have to purchase any additional cabinet faces."
Lighting: Since it's pretty tight in here, they'd go the simple route: under-cabinet lights and a flush-mount up top. A fixture with stainless accents would match the appliances. This PureOptics LED by Black + Decker under-cabinet light bar is $55 on Wayfair.com. This Access Lighting flush-mount is $104 on houzz.com.
Paint: They would once again pick Chantilly Lace for the walls for a neutral background.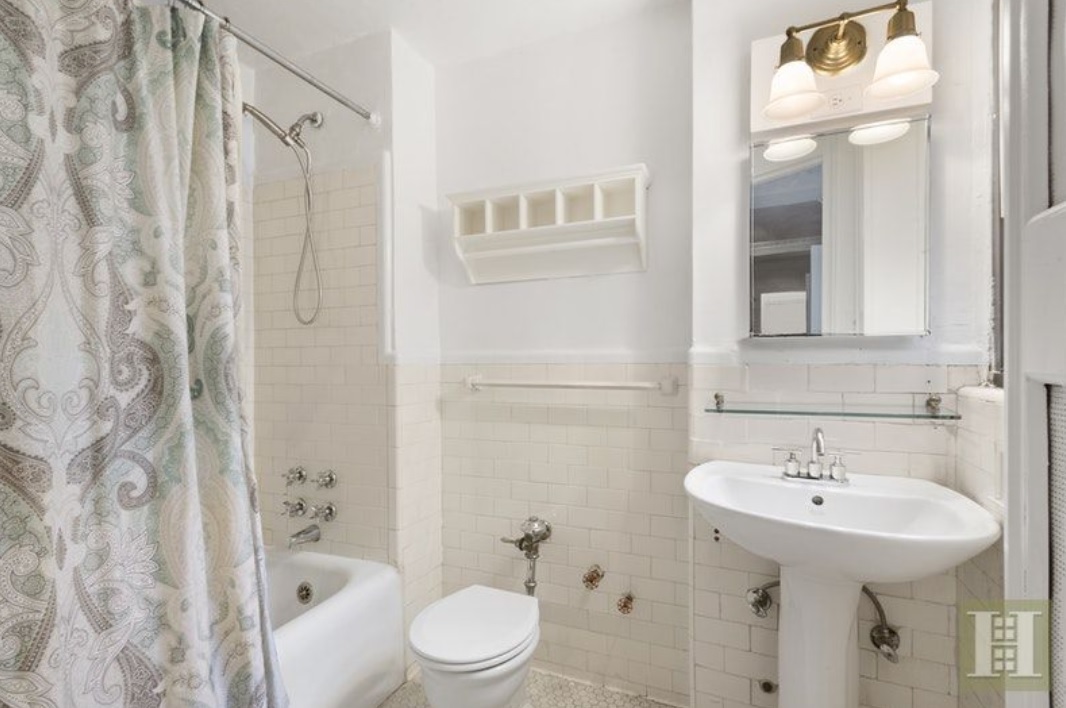 Give the bathroom the works
Both Bollman and Menino think that this room also needs to be completely updated. Replacing everything would probably cost $25,000 or so. If you start moving things around or laying down any new piping, it'll be more.
Bathtub: "A tub isn't that popular with people who have this type of apartment," Bollman says, i.e. a single person or a couple. So he'd replace the tub with a shower. "It's a sexier look," he says.
Menino would like the shower to be the same level as the bathroom floor so it'll "have that high-end hotel look." To keep up that vibe, she'd also add a single glass panel door. They believe that replacing the tub with a shower should cost a few thousand dollars.
Should the new owner want to hold on to the bathtub, Bollman suggests reglazing it so it looks shiny and new. He says that this should cost about $700.
Fixtures: You'll need new fixtures in this new shower. If you have a little extra cash to spare, Menino recommends getting shower fixtures from Waterworks, which she calls "the Sub-Zero of the bathroom." This Waterworks Flyte Pressure Balance package is $2,576. For something a little more economical, Bollman likes Kohler. This HydroRail-S Shower Column Kit is $443.
Toilet: They'd get a new toilet, too. This wall-mounted Duravit toilet is $317 on Amazon and will look sleek and refined in the space. If, however, the client would prefer a more typical toilet, this Kohler two-piece is $168 at The Home Depot.   
Tiles: There are a couple of options available, Menino says. If the new owner wants something simple, she'd suggest going with white subway tiles for the walls and a black-and-white mosaic for the floor. She thinks the subway tiles should be about $6 per square foot, whereas the mosaic would be around $25 to $35 per square foot.
If, however, the new owner wants something with a little more oomph, she'd suggest porcelain tiles that look like marble for both the wall and the floor. They should cost about $15 per square foot.
Paint: For the small part of the wall not covered by tiles, the duo would again choose Chantilly Lace paint. But they'd make sure to go with a pearl finish in here.
"It's better for wet environments," Bollman says. 
Vanity: Menino likes Restoration Hardware's line of sleek-looking vanities, like this La Salle Metal-Wrapped single vanity. It starts at $2,321.
Medicine cabinet: Menino recommends getting a medicine cabinet with lighting, for easy makeup application. This framed, lit medicine cabinet starts at $671 at Restoration Hardware.
Lighting: Overhead lighting is still a must. Menino says that either a sconce on the wall or a simple flush-mount on the ceiling would work for this space. This square ceiling light is $62 at Shades of Light.
Brick Underground articles occasionally include the expertise of, or information about, advertising partners when relevant to the story. We will never promote an advertiser's product without making the relationship clear to our readers.