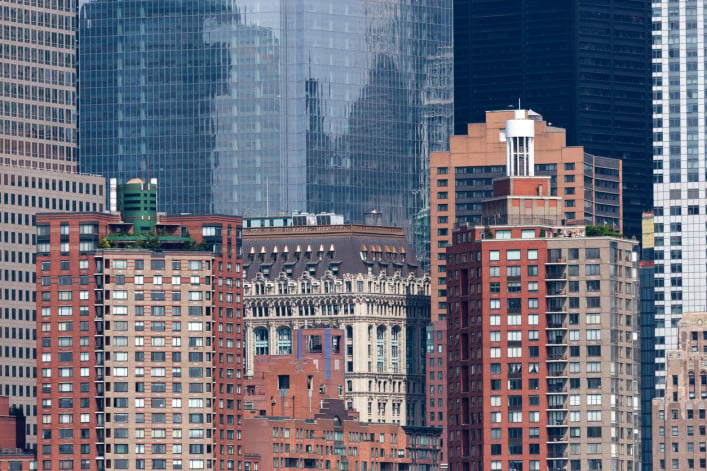 It's fair to say that most New York City renters have the same real estate fantasy: Instead of throwing away their money every month—and agonizing over it—they could be applying their payments toward ownership.
That's why rent-to-own luxury condo programs, which are rare but growing in the pandemic, have so much appeal. They help developers who are struggling to fill empty apartments and give renters who want to buy a chance to wait and test out the building—like a glide path to ownership. You can find rent-to-own condos at 100 Barclay Street, One Manhattan Square, 196 Orchard, 298 East Second Street (Houston House) and 21-30 44th Dr. in Long Island City (Corte).
Luxury condos are nice, of course, if you can afford them, but for most buyers a condo that starts at, for example, $4,485,000 at 100 Barclay or $1,395,000 at 196 Orchard is out of reach. So you might be wondering: Is it possible to approach someone selling an apartment or a house and ask if the owner will allow you to rent first and buy later—and apply your rent payments to the purchase price?
Market decline brings back rent to own
The answer is yes. Rent-to-own purchases of apartments or houses from a seller (not a condo developer) come back in fashion when sales are slow, like they are now. But it is not typically a widespread phenomenon.
"In the last downturn there was buzz about rent-to-own and very few deals happened—it was talk, talk, talk, and at the end of the day, very few happened," says Mark Chin, CEO of real estate brokerage KWNYC.
These deals don't end up converting many sellers, however, with more programs available from condo developers, rent-to-own may gain some more traction. And as sellers are forced to compete with developers of new condos, taking a page out of their playbook is one way to level the field.
Why would you rent to own?
It's a route to ownership that may make sense if you're a renter who wants to buy but you're concerned about your job stability in this economy, for example, and want the ability to cancel the deal without penalty. Like rent-to-own condo programs, rent-to-own deals for resales give you a period of time to decide whether to buy.
So, if you are renting for one year, you may have to let the owner know by the eighth month if you intend to buy. Depending on the agreement, you can apply a portion or the full amount of your rent toward the purchase price. The deal allows you to chip away at the price of the house while giving sellers the rental payments they can use to pay their mortgage or common charges.
A rare kind of real estate deal
They're not a straightforward path to ownership though. In fact they remind Jonathan Miller, president and CEO of appraisal firm Miller Samuel, of a reverse mortgage, another rarity for NYC. And, if you think about it, they are also somewhat mind bending when you consider what happens when a tenant ultimately decides to buy, and has their rent deducted from the sales price. "You could argue that they paid no rent," Miller says.
It's not necessarily a way to get a deal either. Usually, the seller is asking for a price they couldn't get on the open market, Miller says.
To Miller, they make up a nominal, niche part of the market.
Where to find a rent-to-own property?
Rent to own can be negotiated with any type of building—townhouse, condo, or co-op, says Steve Wagner, partner at the Manhattan law firm Wagner, Berkow & Brandt, who represents co-op and condo owners (and is a Brick sponsor, FYI).
"I've done a couple of them," he says, emphasizing that the deals were not new construction but apartments that were converted long ago and were rented to someone who is interested in buying.
"With a condo or co-op, it is likely you'd be approved to buy but not guaranteed. Generally with condos, the board has a right of first refusal and co-ops have the right to consent. This is handled in the contract, as well as financing, approval, representations, all the stuff you'd normally have in an agreement," Wagner says.
To Craig L. Price, a partner at the law firm of Belkin, Burden, Goldman, this mode of buying "has become more than niche" recently. He's seeing an uptick now because of the pandemic and in the last month worked on four such agreements (one didn't pan out because of the complexity of the deal and became a regular rental).
These arrangements are easier to do in a condo than in a co-op, he says, which will require jumping through many hoops to gain approval from the board.
Price recommends pre-negotiating a purchase agreement before you occupy the apartment or house—you'll have more leverage with an owner of an empty place. An attorney will need to work out protections for you to prevent the owner from selling to someone else before you exercise your option, he says.
"The downside for tenant is that they may overpay," Price says. You are negotiating a price without knowing where the market will be in eight months or a year from now when it is time to pay up. You may be locking in a premium price for the property, he explains.
He recommends tenant buyers get a financing contingency as part of the deal (aka a mortgage contingency), which offers you a way out if you can't get a mortgage.
Brick Underground articles occasionally include the expertise of, or information about, advertising partners when relevant to the story. We will never promote an advertiser's product without making the relationship clear to our readers.