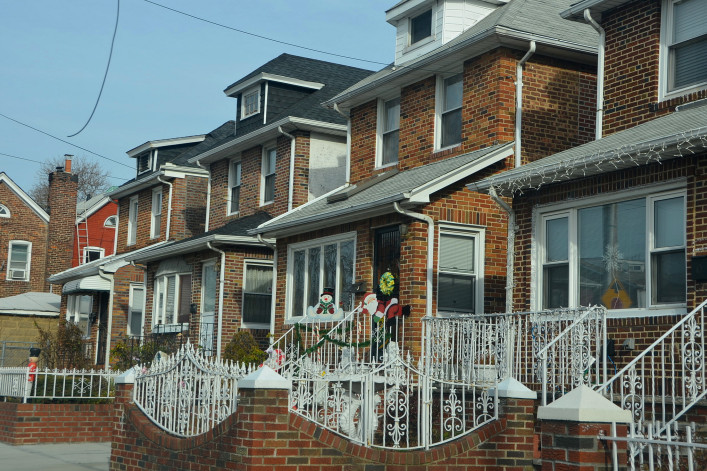 At the most basic level, a reverse mortgage is exactly what it sounds like: a home loan where the bank pays you a monthly stipend based on your home's value, rather than the other way around.
"With a typical loan, you're paying down a mortgage," explains Megan Keller of mortgage banker American Financing. "A reverse is basically reversing the amortization, so you're adding onto your mortgage. It eats the equity into your house, as opposed to adding to the equity."
Unlike other means of borrowing against your home's equity, such as a Home Equity Line of Credit, reverse mortgages are restricted to homeowners over the age of 62, and for properties that serve as primary residences. (So you can't stay live at your beach house while still collecting cash via a reverse mortgage on your Manhattan condo.) "It creates cash flow if that's an issue, and a lot of older people are on a fixed income," adds American Financing's Tim Beyers.
A reverse mortgage is generally based on a period of 30 years, or until the owner sells the property, or lives elsewhere for more than a year (for instance, in an assisted living or retirement community). If there's any equity left when you sell, you get to keep the difference, and even if the property is underwater, the homeowner won't end up in debt—the FHA will cover the difference, says Beyers. And if at any time you want to adjust the size of the payments (for instance, lower your monthly intake to leave more equity on your home), you can usually do so for a small fee, says Kelly. "[It will cost] $20 to $50 for the change, depending on the servicer," she tells us.
If you inherit a property with a reverse mortgage, you can sell and claim whatever equity might be left, or keep the home, provided you're able to refinance with a standard mortgage.
Though American Financing reports that reverse mortgages were up 27 percent as of November in the New York-New Jersey Metropolitan area, that still represents a small number—around 300 reverse mortgages total. And they're notoriously tricky to get in NYC, where co-ops won't accept them. (Technically, a reverse mortgage can only be used for "real property" as opposed to the shares you own in a co-op, and even without that hangup, many boards are anxious at the prospect of shareholders losing equity.)
"They are not at all prevalent in NYC, as you can only do them in single-family homes, or in condos that have been FHA-approved, which is a pain for the board to do," explains Rolan Shnayder of Citizens Bank. (HUD has a guide to the process here.)
Way back in 2009, we wrote about a possible loosening of the rules for co-ops that had previously balked at reverse mortgages. However, thanks in part to HUD's failure to implement rules to go along with a federal ruling from 2000 that gave the go-ahead for reverse mortgages in co-ops, as the New York Times has reported, many aging New Yorkers who could benefit from a reverse mortgage remain shut out in the cold.
Brick Underground articles occasionally include the expertise of, or information about, advertising partners when relevant to the story. We will never promote an advertiser's product without making the relationship clear to our readers.