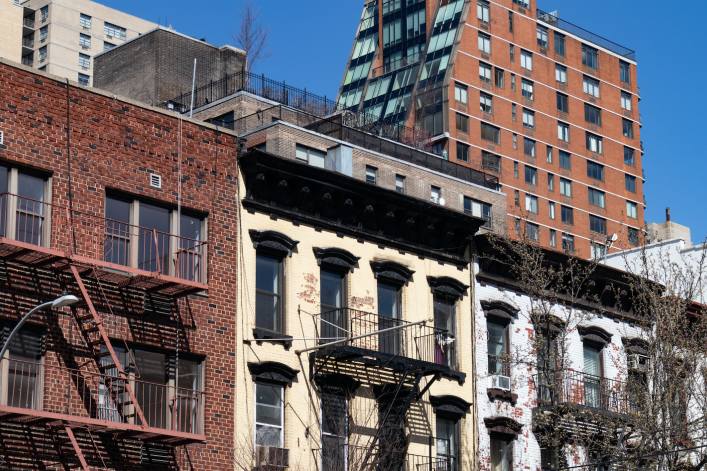 A change to New York State law means co-op shareholders aged 62 or older will soon be eligible for reverse mortgages—which unlocks equity in a home without having to sell and move.
For many NYC seniors who own their apartments, nursing home deaths in the pandemic drove home the urgency of staying in their place as long as possible. The reverse mortgage, which has long been available to condo owners who are 62 years old or more, can make this possible.
Now co-op shareholders of the same age will be eligible for this financial product, but they will have to wait a bit: The rule change goes into effect on May 30th, 2022—and it may take even longer than that for New Yorkers to get them. 
---
[Editor's note: A previous version of this post was published in April 2021. We are presenting it with updated information for December 2021.]
---
A reverse mortgage works by flipping the traditional mortgage arrangement on its head, giving the bank more equity in the property over time, not less. The principal is then repaid when the borrower dies or sells their place. 
"For owners generally, and that includes people who are over 62, the equity in their homes has risen significantly over the last couple of years of the pandemic and it is a major benefit to homeowners to tap into that equity," says Bonny Gilbert, a New York loan officer at Fairway Independent Mortgage Corporation. 
In changing the rules, New York is trying to make it more equitable for co-op owners but Gilbert says it will likely take some time, probably beyond the May deadline, for reverse mortgages to actually come out in the market and be available for co-op owners.
There are two primary sources of reverse mortgages: Federal Housing Association (FHA) financing and private mortgages. FHA currently does not allow for mortgages on co-ops so Gilbert says the Department of Housing and Urban Development (HUD) will have to make changes to allow FHA to finance loans on co-ops, which they currently don't. 
In addition, private companies will have to decide their own guidelines and make their own decisions about whether they will be willing to do a private reverse product on a co-op.
"Typically, the national proprietary product generally follows the FHA guidelines on reverses so they have to decide whether they are going to add co-ops to their portfolio," Gilbert says. 
How to tell if a reverse mortgage is right for you
It's true reverse mortgages don't have a stellar reputation and Gilbert says they aren't right for everyone. For example, it might not be the best choice for someone who is definitely not planning on remaining in their home for at least the next two or three years to justify the cost.  
Additionally, if there is another family member who needs to inherit the property, for example if you have a child with a disability and want the child to stay in the apartment long-term, a reverse mortgage may not provide long-term security. 
However, Gilbert says she has seen cases where a senior child over the age of 62 and a parent have gone in on a reverse mortgage together and says "it allowed tremendous protections for both generations." 
What are the protections against predatory lending?
Changes to the mortgage industry over the past decade have contributed to making reverse mortgages safer, Gilbert says. For starters, a financial assessment must be carried out to ensure you have enough money for the ongoing costs of the property.
Embedded into the rule change allowing co-op shareholders in New York to access reverse mortgages are similar protections to those in place for reverse mortgages on condos.
The legislation was sponsored by State Senator Alessandra Biaggi, who, in announcing the changes, pointed out protections are in place to prevent predatory lending strategies.
"These protections will safeguard elderly communities and allow New York's seniors, who so desperately wish to stay in their homes, the ability to do so," she says.  
Gilbert adds, "New York has been very assertive in making sure that there are additional consumer protections beyond what FHA requires generally."
Brick Underground articles occasionally include the expertise of, or information about, advertising partners when relevant to the story. We will never promote an advertiser's product without making the relationship clear to our readers.