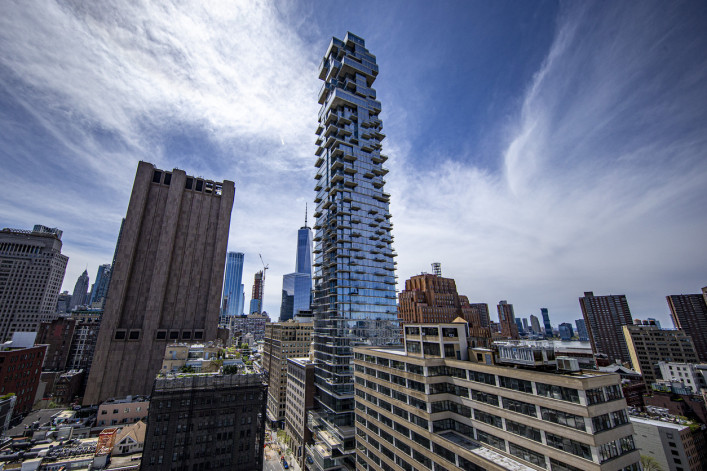 In February, Mallory Johnson (a pseudonym) went into contract for a one bedroom in a prewar co-op on the Upper West Side, for a price of $737,500. But a lot has changed for her since then because of the coronavirus pandemic. There have been furloughs at her company, and she has taken a pay cut—and expects to be laid off eventually.
Now that her financial outlook has changed, she says she can't afford to go through with buying the co-op, and she can't afford to walk away from her deposit, either. She put 10 percent down: $73,750. She's wondering whether she can walk away from the deal with her deposit intact. 
This buyer is not the only one hit by the recent rapid chain of events. Covid-19 has disrupted many deals and lawyers are hearing from New York City buyers who do not want to move forward. Many fear losing their jobs, which is no surprise, considering the staggering unemployment numbers. According to New York City Comptroller Scott Stringer, one in five working New Yorkers is expected to lose their job by the end of June, with the unemployment rate hitting 21 percent.
---
Click here for more of Brick Underground's coronavirus coverage.
---
Johnson says she feels like she is stuck. "My sellers have moved and if they lose me, they have to start over," Johnson says. "The timing is atrocious."
However, according to two real estate lawyers Brick Underground spoke with, the fact that she hasn't had her co-op board interview yet may work in her favor.
If the co-op board asks about the impact of the health crisis on the buyer's finances or employment, "my advice is to be candid about what has happened during the pandemic. I don't think that constitutes bad faith. If it comes up in the interview, it's not disingenuous to say, 'I've taken a pay cut or have had a material change in financial circumstance since going into contract,'" says Michael R. Feldman, a partner at the law firm of Romer Debbas.
However, he warns, if the board doesn't raise the question and the buyer volunteers this information, it could be potentially considered bad faith—i.e., an effort to intentionally flunk her board interview—putting her deposit at risk.
"If the buyer affirmatively volunteers this information without being asked, it could later be alleged that the buyer did this solely to secure a rejection," Feldman says. "However, in my view, it would be irresponsible for a board not to ask a prospective buyer about their financial/job status in light of the pandemic, so it should come up in the interview." A board has a duty to only approve buyers who are financially capable, he adds.
Craig L. Price, a partner at the law firm of Belkin Burden & Goldman, doesn't think buyers need to wait to be asked. If they have had a change in financial status since the submission of their application, they should consider speaking up.  
"By not disclosing they have had a change in income, they could be perceived as acting in bad faith," he says.
He says a prudent board is going to ask whether a buyer has been impacted financially by the pandemic. And even if a building does not have a liquidity requirement (many co-op buildings do this to make sure buyers have funds left over after a purchase to cover maintenance payments), they are still going to likely look at a buyer's finances especially closely now.
"There is an obligation to be truthful and transparent," Price says. "If your stated income was one thing and now it is another—you can pose it in a way that makes it clear you are not looking to get out of the contract."
A condition may be a way out
His advice for this buyer? Don't be so quick to force a situation. Consider having the board review the application with the understanding that the buyer's status has changed financially and see if they impose a condition, such as requiring a guarantor.
At that point, the buyer is potentially free to reject the condition—and may be able to walk away with her deposit, depending on the language in the contract. "If the contract provides that it 'is subject to the corporation's unconditional consent,' a condition may very well just be her  'get-out-of-jail-free card,'" Price says.
Can a funding contingency be added?
Being rejected by the board or rejecting a condition are not the only ways out of this buyer's predicament.
If the board does approve the buyer, Feldman says she could ask her lawyer to renegotiate the contract to add in a broad funding contingency in order to give her an out.
A funding contingency, while rare in recent years, allows a buyer to cancel a contract if he or she is unable to get financing to complete the purchase, for example if the bank pulls its lending commitment before closing, something that is happening in today's market. 
Another strategy is to see if the buyer can be let out for a portion of the deposit.
"I would be willing to lose some money to walk away, but the potential of losing both my job and my deposit is tragic," Johnson says.
Renegotiate the price
And there is one final option that Feldman is seeing other buyers attempt—which may not necessarily work for Johnson: Renegotiate the price. He's participated in eight to 10 similar transactions recently, representing either the buyer or the seller.
"There's nothing in the contract that gives them this ability. But if you can't get out of a deal, consider a concession or reduction in price or a closing credit," he says. This can reduce the amount of cash a buyer is bringing to the table.
He's seeing reductions of 2 to 5 percent of the purchase price or requests for coverage of a few months' of carrying costs. And in cases where a building was not allowing moves or a buyer couldn't take occupancy for safety reasons, he says it would be reasonable for a buyer to ask for a credit to cover, for example, three months of carrying costs and interest on loan.
Don't take advantage of the pandemic
Feldman stresses that renegotiating the price is only for buyers who are struggling.
"I'm not philosophically in favor of doing an extra deal just to get a better price. From an ethical perspective, I don't think it's right for a buyer who can still otherwise afford the unit they are in contract for to use the pandemic solely to extract a more favorable deal," Feldman says.
If a buyer is truly struggling and has satisfied all contingencies in the contract—binding them to the deal—and still wants to proceed but can't without a concession, it can benefit both parties, Feldman says, because the buyer is able to move forward at price she can afford, and seller can go through and not have to litigate or re-list in a very uncertain marketplace.
Brick Underground articles occasionally include the expertise of, or information about, advertising partners when relevant to the story. We will never promote an advertiser's product without making the relationship clear to our readers.