Sure, buying an apartment in a walk-up building is cheaper than an elevator building. But will climbing a few flights of stairs each day be worth it?
In this week's Buy Curious, Christopher Totaro of Warburg Realty and Debby Klein of BOND New York explain how much you can expect to save on an apartment in a walk-up, plus things to think about when figuring out whether you (or your family) is really a good fit for this type of NYC living. 
The question:
I've been considering buying a place in a walk-up building, but when I mention it to friends, everyone keeps trying to talk me out of it. Will I regret it?
The reality:
While some aspects are definitely personal (only you really know how irritated you'll get at the prospect of having to climb up and down several flights a day), there are some significant benefits. Here's a breakdown of what to expect.
What are some pros of buying an apartment in a walk-up?
For starters, you'll save big time. According to Totaro, your housing budget could net you "25 percent more apartment" than you'd be getting for a unit in an elevator building.
"That third-floor, 1,000-square-foot unit with no view [in an elevator building] could translate into a 1,200-square-foot, sunlit space with skylights and great views," he says.
The higher you go, the more you'll save: Totaro says, "The discount begins at 10 to 15 percent above the second floor, and each floor above that will carry about 5 percent per floor."
You'll save money on monthlies too. Maintenance fees are likely to be lower because it's expensive for buildings to inspect and maintain elevators on a regular basis. Taxes will probably be lower, as well, since elevator buildings will be assessed at a higher rate, he says.
There are some other, less tangible benefits. You may find yourself becoming a more organized and efficient person when getting out the door, because who wants to go up and down for a forgotten item?
For Klein, the best thing about living in a walk-up is the opportunity to get to know your neighbors better.
She also likes the fact that the heating system in most walk-ups, which were typically built before WW II, is likely to be steam heat and billed on a building-wide basis, so it'll be much cheaper than running individual heating units.
What are some cons?
Obviously, the physical exertion, such as lugging groceries or a stroller up to your apartment. But that's not all to consider.
"If you have an injury those stairs become a significant obstacle," Totaro says.
Older people and older pets may also be unable to manage the climb, so keep that in mind if you have an ancient Labradoodle or a grandma who likes to visit regularly.
When you have work done on the apartment, contractors will likely charge you more for having to haul equipment and materials up and down the stairs, so will moving companies. And be prepared to tip your Seamless delivery person extra or meet them in the lobby.
Since many walk-up buildings are older, the electrical and other building systems may need costly updating, Klein says. She advises checking the building's financials, as well as looking at the roof, basement, and overall physical state with an attorney and an engineer to spot what may need work.
Which NYC neighborhoods have the most walk-ups?
They're prevalent in Bed-Stuy, Park Slope, Sunset Park, Cobble Hill, and Carroll Gardens. Some were single-family buildings converted to multi-family.
In Manhattan, Klein suggests looking at converted brownstones in the West Village, the Upper East Side, and the Upper West Side.
Pro Tip:
Looking to buy a co-op apartment?  National Cooperative Bank offers competitive rates and easy pre-qualification. With 40 years of lending to buyers in New York City, NCB is the bank for co-ops. After all, Cooperative is our middle name! Call us at (646) 201-4714 or email Brittney Baldwin at [email protected].  NMLS #507535. Equal Housing Lender. 
When were most of these walk-ups built?
The vast majority are from the 19th and early 20th centuries. Elevator technology was just being implemented in the second half of the century.
How high up do walk-ups usually go?
Most are between four and six floors—although Totaro has seen a couple that are eight floors up.
Who typically buys an apartment in a walk-up?
First-time buyers looking for good deals, Europeans (who are intimately familiar with walk-up buildings) as pieds-à-terre for their trips to the city, and architecture lovers who will appreciate the high ceilings, exposed brick, and crown moldings found in prewar buildings.
Who tends to avoid it?
Older (or even younger) folks who lack stamina for the climb will stay away, as will buyers who want a full-service building.
Many families with young children avoid them because it means years of carrying a stroller and a baby up and down.
Do you have any survival tips for living in a walk-up?
Totaro recommends creating an exit routine (such as post-it notes by the front door) to train yourself to have everything you need when you walk out the door.
Before moving in, Klein advises asking other residents if they have had complaints about inadequate heating.
She also strongly advocates making sure that you really are ok with walking up a number of flights each and every day. "Try before you buy," she says.
Check out these apartments in walk-up buildings: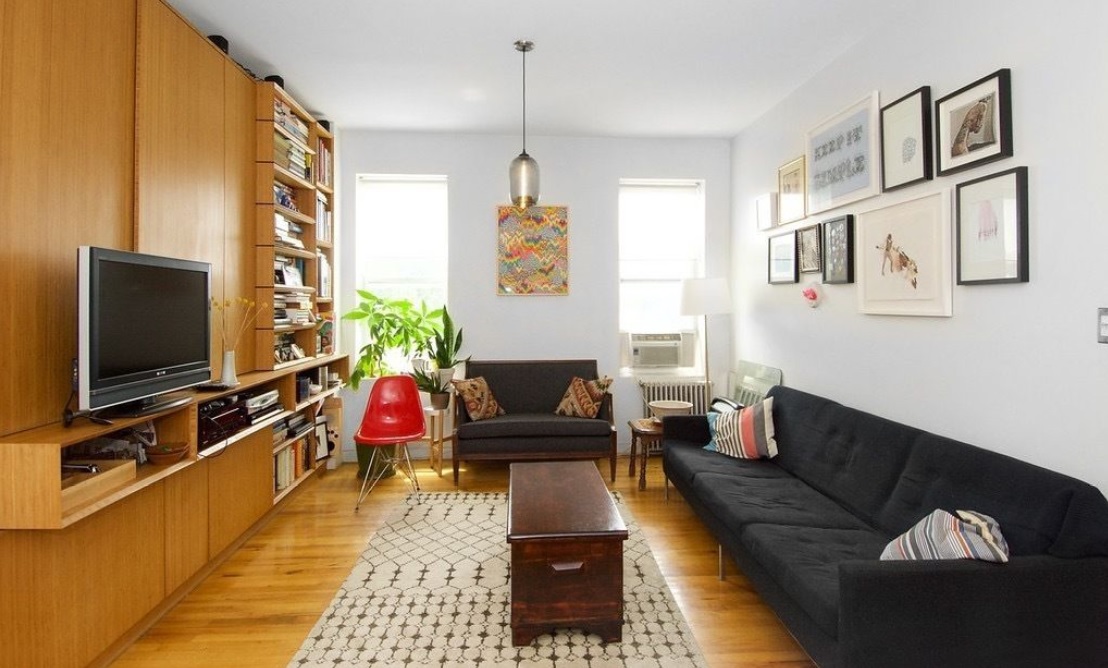 Listed for $900,000, this recently renovated two-bedroom, two-bath co-op (also pictured above) has an open living room, eight windows, and a kitchen with an island, a dark slate floor, and stainless steel appliances. It's on the third floor of a six-story walk-up building with a shared roof deck, a laundry room, a storage area, bike storage, and stroller parking. The pet-friendly building also has a live-in super. Maintenance is $854 a month.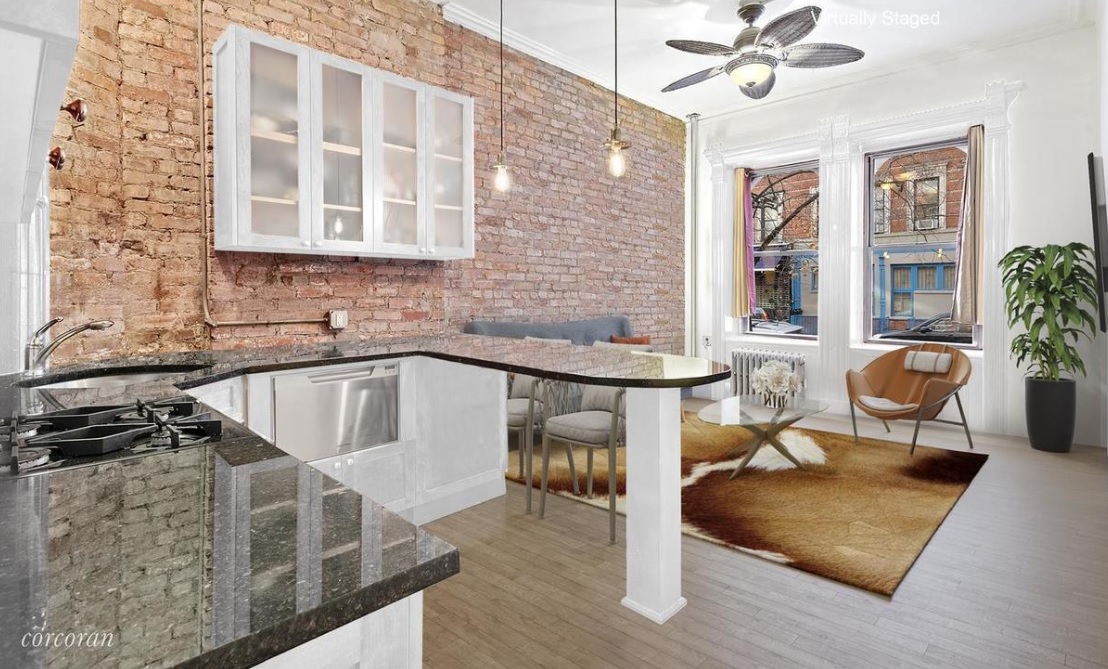 This $550,000 one-bedroom, one-bath prewar HDFC co-op (with income restrictions) is located on the first floor of a walk-up building and has 11-foot ceilings, original window frames, baseboards, and moldings, and exposed brick, as well as a modern kitchen with stainless steel appliances, an island, and a dishwasher. There's also a storage cage and bike storage available in the basement at no additional cost, as well as a rooftop with open views, a basement laundry room, and a common garden. Maintenance is $480 a month.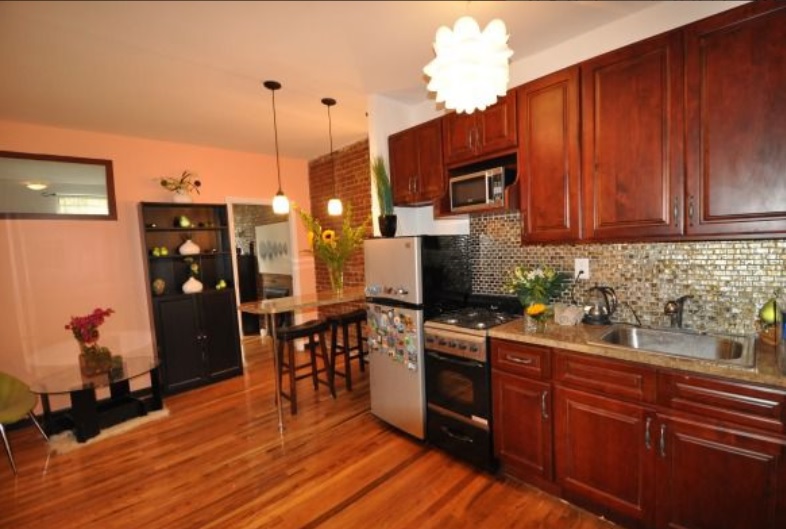 Priced at $339,000, this converted one-bedroom, one-bath co-op has an updated kitchen with an open bar and dining area, hardwood floors, a fireplace, high ceilings, and exposed brick walls. It's in a five-story walk-up building with laundry in the basement. Unlimited subletting allowed after three years of ownership. Maintenance is $850 a month.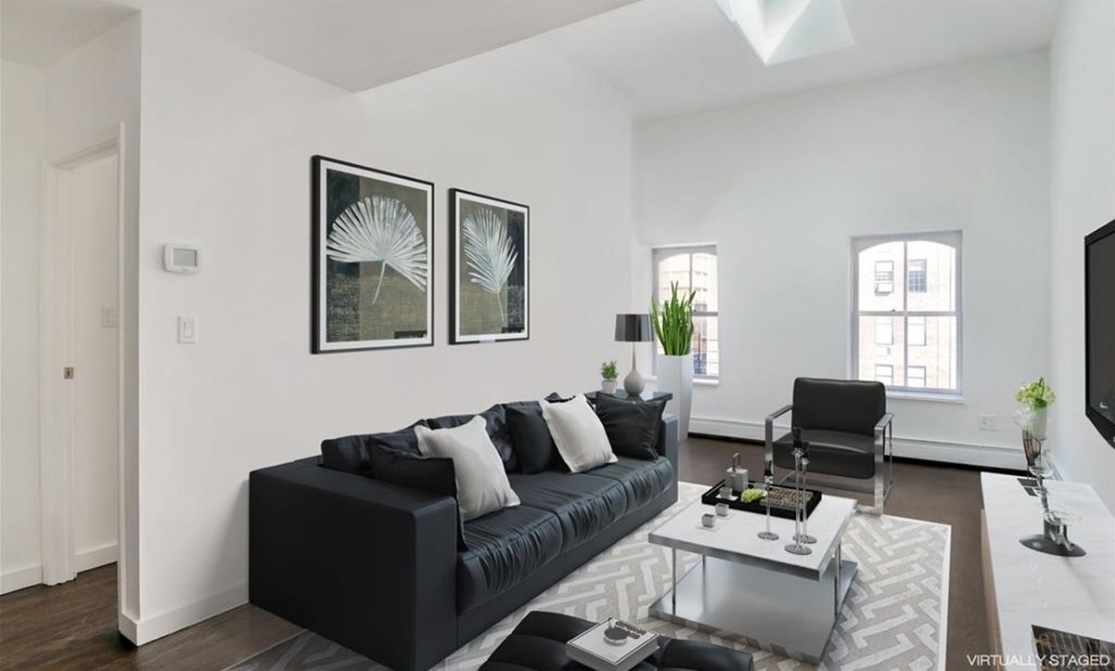 468 West 23rd St., #5F, Chelsea/Hudson Yards
This $1,550,000 two-bedroom, two-bath duplex is located on the top floor of a four-story condo townhouse and has exclusive access to the 400-square-foot roof terrace. The apartment has an open kitchen with granite counters, cherry cabinets, and a dishwasher, a skylight, high ceilings, newly refinished hardwood floors, and in-unit laundry. The master bedroom has floor-to-ceiling built-in maple cabinets and an en suite bathroom. The second level bedroom has a full bath and access to an outdoor deck. Common charges are $733 a month. Taxes are $1,039 a month.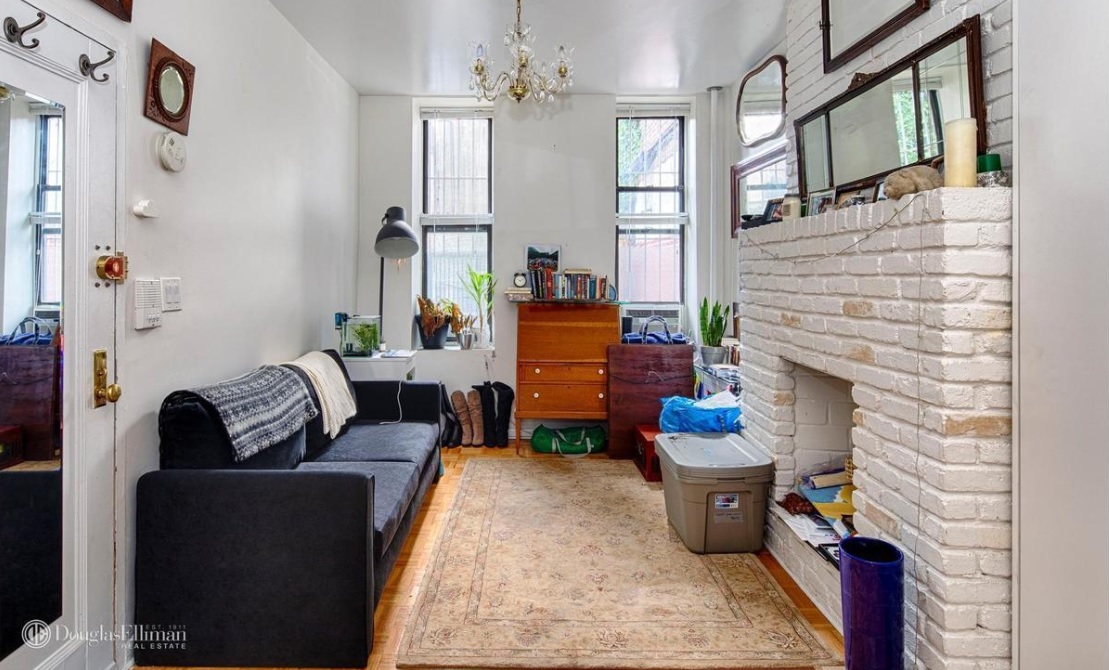 Listed for $375,000, this first-floor studio has tall ceilings, an exposed brick fireplace, a twin-size Murphy bed, a kitchenette with overhead storage, and a recently renovated bathroom. It's located in a walk-up co-op building with a live-in super, bike storage (for $5 a month), a laundry room, and a courtyard. Cats are welcome, but dogs are not. Subletting is permitted after three years of occupancy with board approval. Maintenance is $790 a month. There's a tenant current in place until July 31 paying $1,999 a month. Owner will do a post-vacancy closing or attempt to work out an early termination.
Brick Underground articles occasionally include the expertise of, or information about, advertising partners when relevant to the story. We will never promote an advertiser's product without making the relationship clear to our readers.