Buy Curious
What you need to know about living in Kensington, Brooklyn, a diverse area near Prospect Park
The central Brooklyn community of Kensington, which is named after a district in West London, is largely residential and is known mainly for two things: Its cultural diversity and proximity to Prospect Park. Many streets have a suburban feel—thanks to the front yards and porches you'll find here.
In this week's Buy Curious, Salomon Danielov, an agent at the Corcoran Group, and broker Jeff Surowka, owner of Abacus Properties, tell you everything you need to know about Kensington.
The question:
I've heard that Kensington is a nice place to live and that housing prices are rather reasonable. I don't know much about it. What is it like to live there?
The reality:
Danielov notes that it's very much like Park Slope. "It's more affordable, and you have the proximity to Prospect Park, which is a big, free amenity," he says.
Kensington is "the definition of a melting pot in New York City," Surowka says. "There are 15 languages spoken in the large co-op building I live in," he adds.
Where is it?
Just south of Prospect Park and Green-Wood Cemetery, Kensington is bordered on the east by Coney Island Avenue, on the north by Fort Hamilton Parkway and Caton Avenue, on the west by McDonald Avenue and 36th Street, and on the south by Foster Avenue. Prospect Park South and Ditmas Park are to the east, Windsor Terrace is to the north, Borough Park is to the west and Midwood is to the south. Ocean Parkway, which runs north and south, bisects the community.
Why would NYers want to move to Kensington?
"It's affordable on a New York City level," Surowka says. "It's also close to Prospect Park, and it attracts a large number of renters from Park Slope and Downtown Brooklyn who see they can get a larger amount of space for the price point."
In addition to the park and the affordability of its real estate, the community offers a variety of housing options.
"There's anything you want from older Victorian homes and co-ops to new-development condos," Danielov says. "Not all neighborhoods have such a variety."
Where in Kensington should you live?
Although there are no named sections of Kensington, Danielov says there are three distinct submarkets.
With its single, two- and three-family houses, the east section of Kensington has a suburban feel. "The streets are tree-lined," he says. "The homes are large Victorians, and the lots are large—40 feet, 50 feet and 60 feet."
The area along the avenues has stores and restaurants and some houses. "There are a lot of rentals and mixed-use co-ops," Danielov says, adding that there are some new developments.
The area along Ocean Parkway is "picturesque," Danielov says. "If you're in a fourth-floor unit of your building and facing south, the foliage is beautiful. Some of the trees are 60 and 70 feet high."
What are housing and pricing like?
The community's housing stock includes large Victorians, and pre- and post-war co-ops and new condos.
There are 87 co-ops, condos, and single-family houses on the market in Kensington, according to StreetEasy.
That may not sound like much inventory, Danielov says, but Kensington is a small neighborhood that's only 13 blocks long and nine blocks wide.
Prices have risen substantially in the last decade, he says. Single-family houses generally are $900,000 to $2 million, and two- and three-family houses typically run $1.4 million to $2 million.
Prices for two and three families are identical, he says, because they have the same square footage but the three families have been subdivided.
Prices for co-ops, the most predominant type of housing, typically are $200,000 to $300,000 for studios; $300,000 to $700,000 for one bedrooms, and $500,000 to $900,000 for two bedrooms. Three-bedroom units, which are very rare, generally are $700,000 to $1 million or more.
"The price ranges are huge," Danielov says. "The price depends on the proximity to Prospect Park and the condition—some of the units have not been renovated since the 1960s, and today's buyers are willing to pay more if they are gut renovated. Also, some of the co-op buildings are small—they only have 40 to 50 units; others have more than 100 units and come with amenities such as doormen and garages."
Noting that there is less demand for studios and one-bedroom co-ops, Surowka says that they present opportunities for price-conscious buyers. "The larger two-bedroom, three-bedroom units get scooped up," he adds.
Danielov says prices for new-construction condos are $300,000 to $400,000 for studios; $500,000 to $700,000 for one bedrooms; and $650,000 to $900,000 for two bedrooms. Three-bedroom units, which are very rare, typically are priced at $950,000 to $1.5 million.
Rents have risen dramatically in the last year, Danielov says, adding that the choices range from units in small mixed-use buildings to larger buildings along Ocean Parkway.
One bedrooms run $2,000 to $2,500; two bedrooms are $2,500 to $3,500; and three bedrooms, which are rare and most likely to be in private homes, run $3,000 to $4,000.
Is there a lot of new development? 
"There are a handful of condo projects under construction and a lot in the pipeline," Danielov says.
One condo building is 571 Ocean Parkway, a 29-unit project that launched sales of eight units in April.
Surowka says, "compared with other areas like Flatbush, there's not a lot of new development."
What's the transportation situation?
The F and G trains run in Kensington. The B8, B16, B35, B67, B68, B69, B70, and B103 run locally, and the BM1, BM2, BM3, and BM4 run express to Manhattan.
"On the F, you can get to Downtown Manhattan in a half hour," Danielov says. "You also can walk to the Q and B lines, which, depending on where you live in Kensington, are six to eight blocks away. The B is express—you can get to Midtown in 30 to 35 minutes."
What is there to do?
Prospect Park is the community's biggest, most desirable amenity, and properties close to it command higher prices. The 526-acre park, the second largest public green space in the borough, has a 90-acre Long Meadow, a zoo, a bandshell, and Brooklyn's only lake.
In addition to basketball courts, baseball and soccer fields, and an ice skating rink, there is also a tennis center.
Ocean Parkway, the main artery of Kensington and the first bike path in the United States, offers a variety of outdoor activities.
"There are four pedestrian pathways and a bike path," Danielov says. "There also are benches and chess tables so you can watch people play or look at the kids drawing with chalk on the sidewalks."
Kensington Stables, which is right outside Prospect Park, offers riding classes and horses for rental.
What's the restaurant/nightlife situation?
Kensington is primarily a residential neighborhood, and as Danielov points out, "there's not a single store on Ocean Parkway. The only ones you'll see are on the perpendicular avenues."
Although there are some restaurants on Ditmas, 18th and Church avenues, the neighboring community of "Ditmas Park is a destination for restaurants, and not just for locals," Danielov says.
Popular places in Kensington include Holy Schnitzel, with a kosher menu that features a variety of burgers, Thai Farm Kitchen, and Der Pioneer, which sells European pastries.
In Ditmas Park, in addition to San Remo Pizzeria & Restaurant, there is Purple Yam, which is known for its Filipino fare; Werkstatt, which serves Austrian cuisine; and the wine bar King Mother.
How about grocery stores?
There are several supermarkets, including Foodtown, Stop & Shop, Ideal Food Basket, as well as smaller grocery stores such as Isaac's Apple Farm, Carnival Fruits & Vegetables, and Natural Frontier Market.
Check out these listings in Kensington.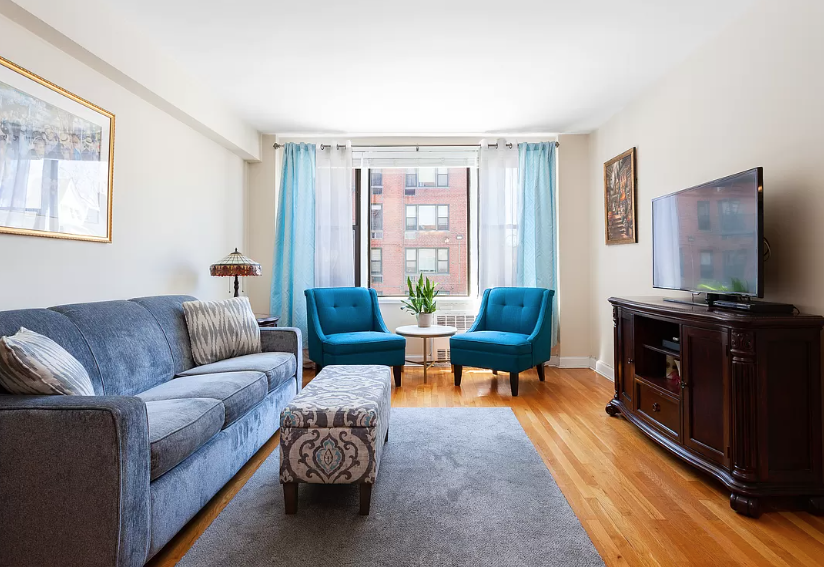 This two-bedroom, one-bathroom co-op in Beverly Towers is listed for $699,000. The 950-square-foot unit, one of 130 in the six-story 1963 building, is on the third floor. It has a large living/dining area, quartz countertops and a dishwasher in the kitchen, a modern bathroom, original hardwood floors, and through-wall air-conditioners in each room. The building, on a tree-lined residential street a block from shops, has a live-in super, a 24-hour doorman, two laundry rooms, a bike storage area, and indoor parking. Cats, but not dogs, are allowed.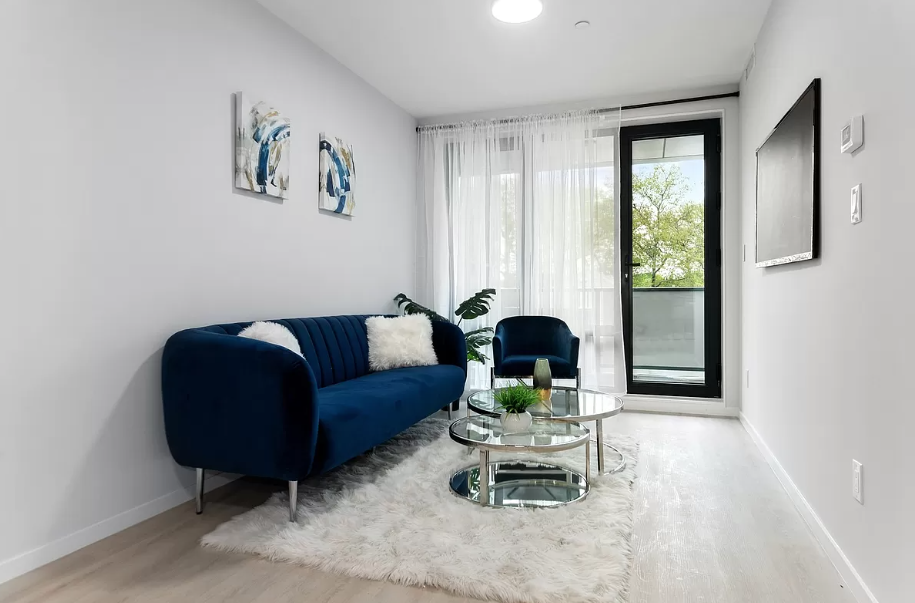 In a new luxury building, this one-bedroom, one-bathroom condo is listed for $499,000. It comes with a private outdoor space, a long foyer lined with closets, radiant-heated floors, oversize triple-pane windows, a smart-entry door lock, intercom system, central cooling, in-unit laundry, and a soaking tub and shower in the bathroom. The building has a pet spa, bike storage area, fitness center, common roof with 360-degree views, and backyard deck.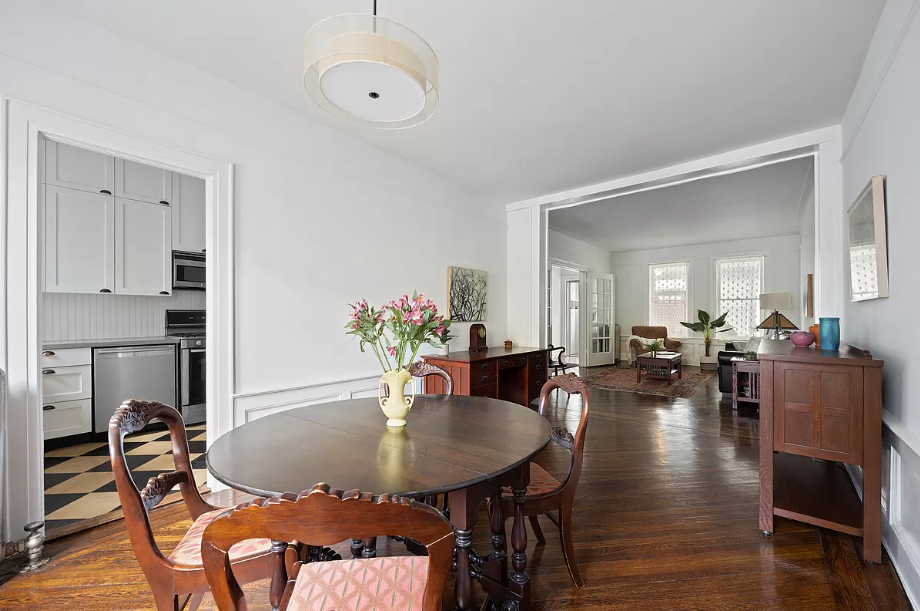 Listed for $1.45 million, this 1,640-square-foot single-family brick home, recently renovated, dates to 1920. It has three bedrooms, one full bathroom, one half bathroom, a big backyard, enclosed front porch, original painted wainscoting, updated kitchen with an original built-in hutch, and a full basement that is partially finished with a laundry room.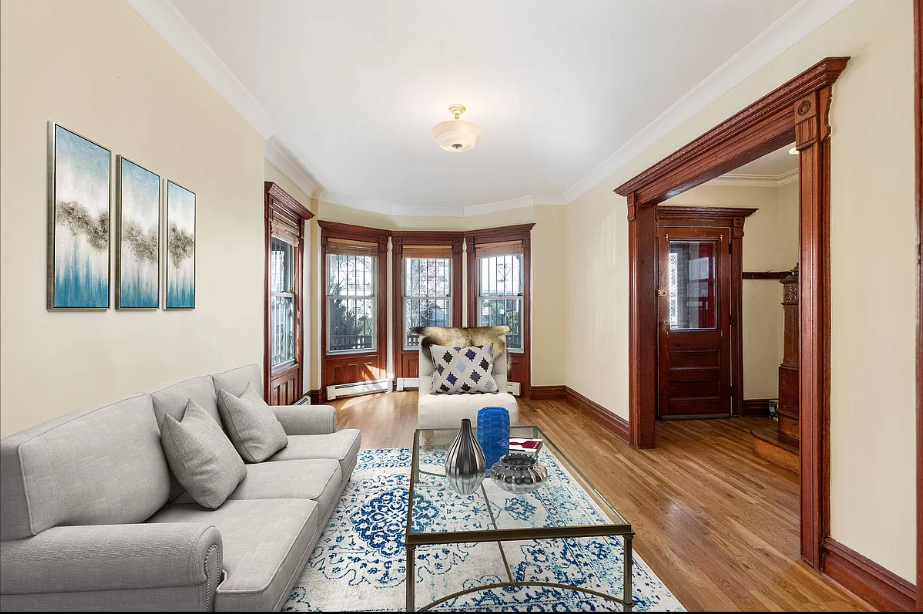 This single-family detached Victorian house, built in 1910, has five bedrooms and three bathrooms. Listed for $1.699 million, the 1,640-square-foot house retains several original features, including an oak staircase, decorative moldings, and a mirrored mantel in the dining room. In the double parlor, there is an original decorative gas fireplace. The house, which is on an oversized lot, has a large wraparound porch, finished basement with a laundry room, and a driveway with a garage for four cars.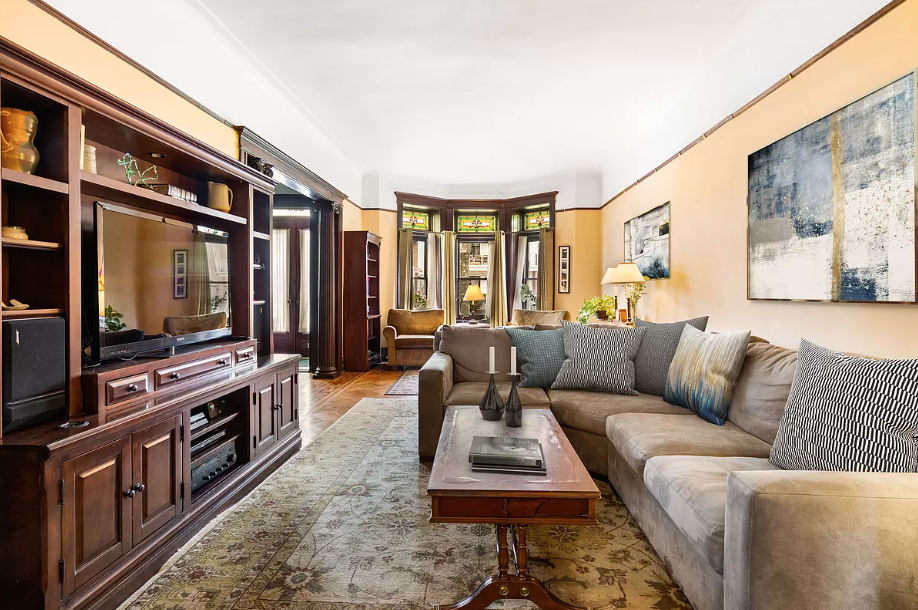 Listed for $1.999 million, this two-story 3,012-square-foot limestone townhouse, which was built in 1915, is a legal two family but is being used as a one family. The house, which has four bedrooms, two bathrooms, and one half bathroom, has original parquet floors, central staircase and moldings, a double parlor separated by pocket doors with stained-glass transoms, updated vented skylights, a dual-zone air-conditioning system, an updated kitchen with a five-burner Wolf cooktop and a Bosch dishwasher and granite countertops, and a large garden with a bluestone patio. There also is a partially finished English basement with a separate front entrance and a laundry room.
Nancy A. Ruhling is a freelance writer based in New York City.
Brick Underground articles occasionally include the expertise of, or information about, advertising partners when relevant to the story. We will never promote an advertiser's product without making the relationship clear to our readers.