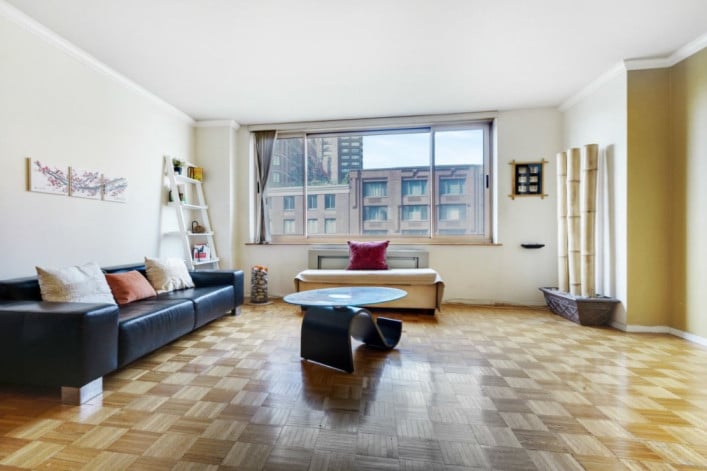 This reasonably priced (for Battery Park City) one-bedroom condo has eastern and western exposures, but it's in need of some updates. Lower East Side-based architect Andrew Mikhael says the process of sprucing this place up should be easy. For this week's Reno Ready, we asked Mikhael how a potential buyer might go about doing it.
"A one bedroom with a double exposure is rare," he says, adding that the 710-square-foot apartment "needs to be more open so you can feel like you're in a bigger space than you are."
Here are his recommendations on how to make the most of the apartment's space:
Living room (pictured above)
Floors: "The parquet reminds me of olden times," Mikhael says. He'd replace it with more contemporary wooden planks to "accentuate the open feel of and connectedness of the space." He believes the flooring should be around $10-$20 per square foot.
Moldings: He'd get rid of the crown molding.
"It just doesn't make sense here," he says, noting that it's an old-school motif, yet the building wasn't built until 1985. Mikhael says he prefers the cleaner look the room has without it. As for base moldings, he'd swap the old, worn ones out for new ones. He believes the new base moldings should cost a few dollars per linear foot.  
Paint: "I'd probably go neutral," he says. You can rarely go wrong with white, he says, but if the client isn't afraid of a little color, he'd recommend choosing one wall—probably the long one where the bathroom is—to use as an accent wall. It'll draw the eye and be a good place to display artwork. A gallon of Benjamin Moore's Decorator's White is $75.
Lighting: Mikhael says that judging from the fact that there isn't much lighting in the ceiling, he'd assume that it's made of concrete and can't be drilled into. While he'd usually recommend recessed lighting in a room of this size—so that you won't waste precious floor space with lamps—he wouldn't suggest that here.
"The walls look like they're barely eight-feet high," he says. "Dropping the ceiling would simply make the room feel even smaller than it already is." Consequently, he'd go with contemporary-looking lamps that will match the room's decor. Prices for this Lotus Bubble Floor Lamp start at $475 at Lumens.
Radiator/Air-conditioner: He doesn't love how the boxy combo unit looks, so he'd have a custom wood cover built for it. He thinks it should cost $1,000-$2,000 or so.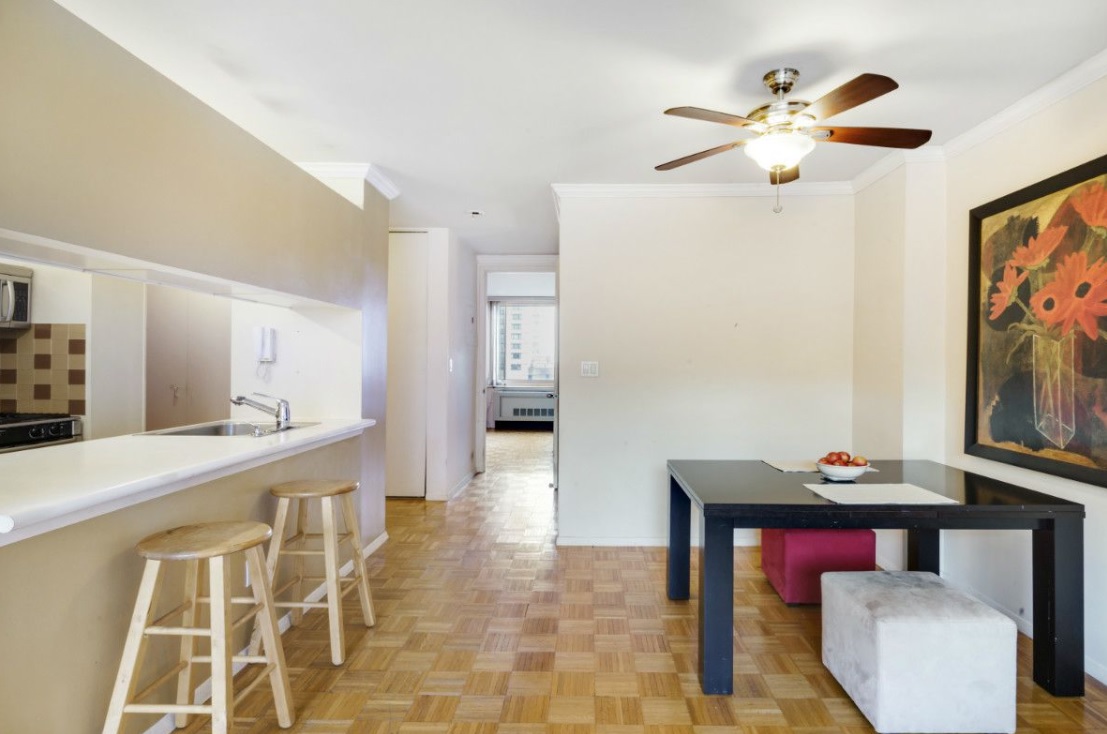 Dining area
Since this area is still technically in the living room, Mikhael would put in the same flooring, paint the walls the same color, and junk the crown molding here as well. He would, however, change out the lighting.
Lighting: Mikhael would lose the ceiling fan since it isn't really needed thanks to the AC units. He'd swap it out for a new ceiling fixture without a fan. Prices for this semi-flush mount start at $199 at YLighting.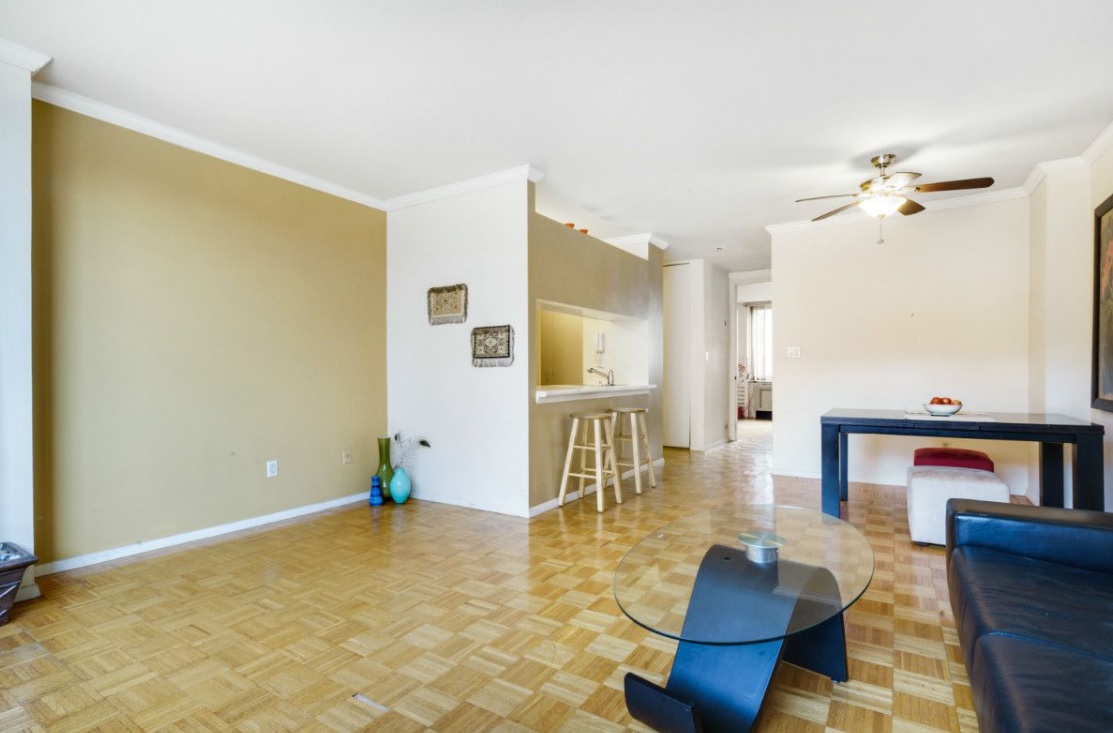 Kitchen
Renovations here depends on the resident. 
"Some people will want the kitchen closed off," Mikhael says. "Some will want an open entertaining space."
Wall: He says that if the client would like the space more open, then he'd knock out the wall on the left-hand side of the kitchen to "make it more porous."
Floors: Mikhael would simply extend the wooden flooring into the kitchen to keep the continuity going throughout the apartment.
Cabinets: The current cupboards only go partway up the wall. Mikhael would install new ones that extend all the way up to the ceiling in order to maximize storage space. He thinks that new custom cabinets should cost in the $15,000 range.
Backsplash: Mikhael would go for a sheet-glass backsplash, which he calls "a sleek upgrade." He notes it'll be easy to clean because it's one big surface without any grout lines. Prices usually start around $45 per square foot.
Countertops: He advises going with a solid surface material like Corian (a blend of minerals and acrylic) in a solid color in here.
"It's visually clean and easy to clean, as well," he says. Corian typically costs between $40 and $60 per square foot.
Appliances: He'd replace whatever's currently there with new stainless steel pieces. He'd recommend a counter-depth refrigerator that won't stick out too much into the room. He'd also get a new stove and dishwasher. As for a microwave, Mikhael says that lately, many of his clients don't want one built into their kitchens since they're simply not using them as much. He'd leave it out here. This counter-depth Bosch fridge is $2,519 at Lowe's. This Fisher & Paykel gas range is $2,999 at AJMadison.com. This Bosch dishwasher is $849.10, also at AJMadison.
Sink: Mikhael thinks a new sink is warranted. He'd go with a stainless steel under-mount. This Franke sink is $391.15 at The Home Depot.
Lighting: Mikhael says task lighting under the cabinets would make it easier to see whatever it is you're chopping. He'd also drop the ceiling in order to recess some lights, as he feels that it's especially important to be able to see what you're doing in a kitchen. These GE under-cabinet lights are $60 at The Home Depot. He thinks that each recessed light should cost between $150 and $300.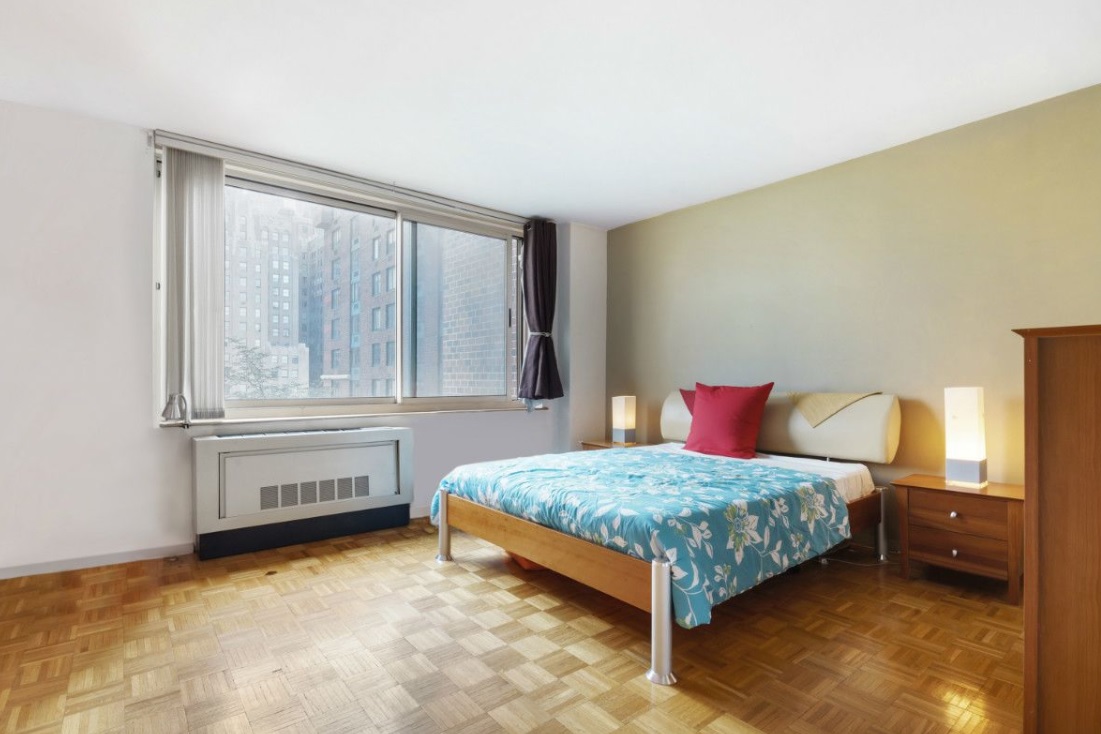 Bedroom
Floors: Here too, Mikhael would replace the parquet with more modern wooden planks. 
Paint: Mikhael isn't a fan of the olive green accent wall behind the bed, so he'd do away with that. As for what color he'd put on the walls, that, he says, would depend upon the client's personal preferences. White is always an option. 
Radiator/Air-conditioner: He'd have another custom cover built for it so that it doesn't stick out so much in the room. He thinks this wooden cover should cost $1,000-$2,000 or so.
Lighting: "I really don't like ceiling lights in bedrooms," Mikhael says, explaining that he hates harsh overhead illumination in a room where you'll be lying down and staring straight up at them. Instead, he'd go with wall-mounted sconces on either side of the bed. These sconces are $86 each at AllModern.com.
Closet: There is but a single small closet in the bedroom, which Mikhael thinks won't be enough to accommodate most people's wardrobes. As such, he'd do away with the existing closet in the corner and build an entirely new wall of closets on the wall across from where the bed currently is. He believes that building these new closets should cost "in the thousands."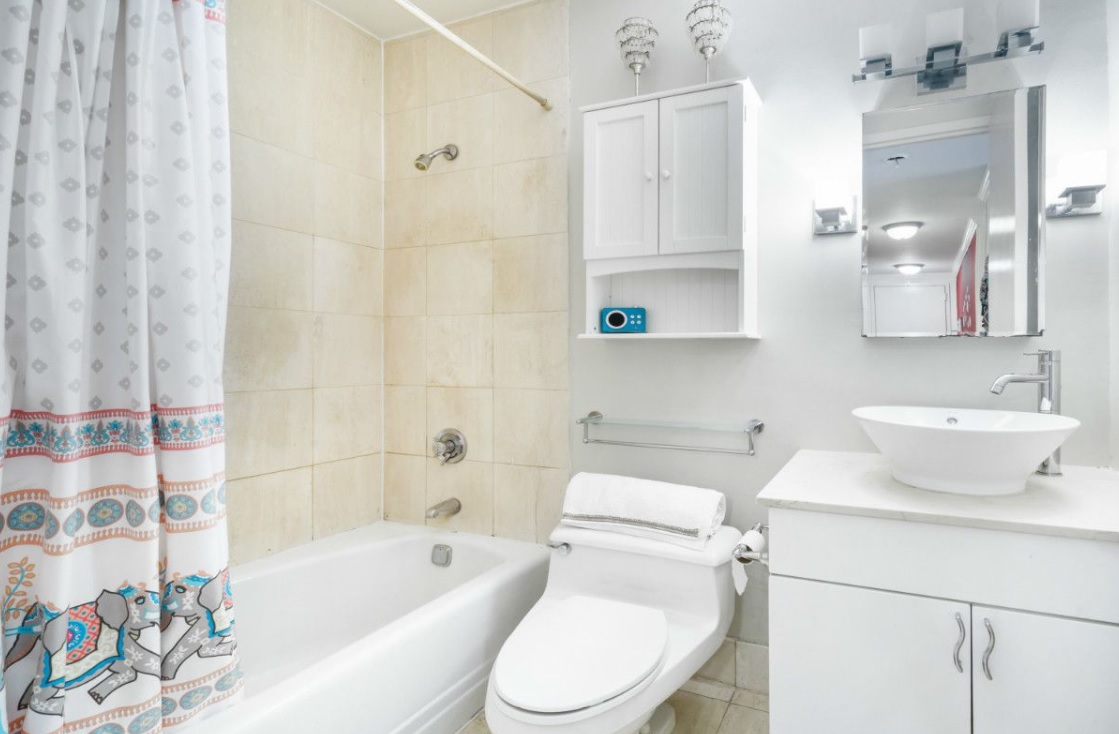 Bathroom
Walls: He'd remove the tiles from the wall and replace them with sheets of frosted glass.
"Then you'll have the light pass through into the bathroom, so you'll be able to feel the openness of the space," he says.
Prices will vary based upon the exact design, but he believes these glass sheets should cost a few thousand dollars.
Shower: "I find that few people really use a bathtub," he says. Therefore, he'd swap it out for a standing shower. It'd give you more room to move around. He'd also get a new shower head and knobs. This frameless stand-up shower is $858 at houzz.com; This shower set is $399, also at houzz.com.
Flooring: Mikhael would go for large-scale porcelain tiles in here—color to be determined by the occupant. The tiles should be around $10 per square foot, he says.
Toilet: Since few people want a used toilet, Mikhael would swap in a new one. This one-piece Duravit is $323 at Qualitybath.com.
Vanity/sink: He'd replace what's there with a simple vanity and sink with storage underneath. This 30-inch vanity is $259 at The Home Depot.
Medicine cabinet: Mikhael would also replace this with a newer, more modern piece. This Robern medicine cabinet is $749 at build.com.
Lighting: He'd prefer something with "a cleaner aesthetic," he says. Prices for this linear bath bar start at $380 at Lumens.
Brick Underground articles occasionally include the expertise of, or information about, advertising partners when relevant to the story. We will never promote an advertiser's product without making the relationship clear to our readers.