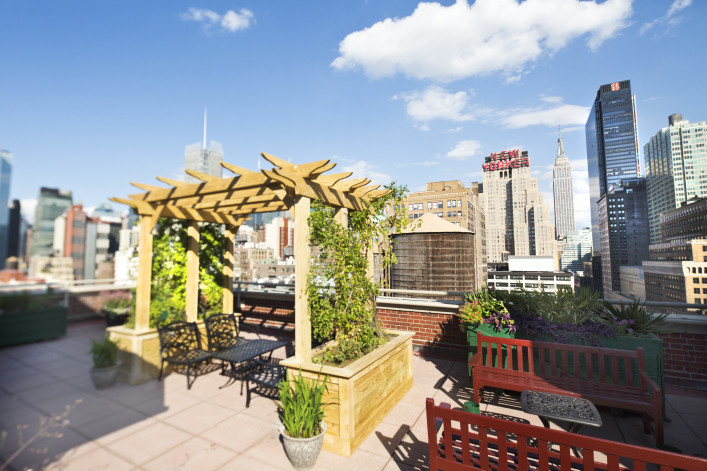 Patricia Willis Photography
On West 34th Street, alongside the booming development of the Hudson Yards area, there's an apartment building where residents' monthly rent of about $1400 includes two meals a day, weekly maid service, and access to a back garden and rooftop deck with stunning views of the Empire State Building.
Of course, New York is a city that demands concessions, and to live in such a place, you should be prepared to give up having your own bathroom, the ability to cook for yourself—and men.
The Webster Apartments are one of the city's few women-only residences, but don't call it a boardinghouse. Tara Scott, director of guest services, says that unlike with boardinghouses, the Webster's emphasis is, and has always been, on helping working women find a foothold in NYC. Boardinghouses, on the other hand, were defined simply as homes that provided guests with food and lodging. 
Traditionally, though, boardinghouses were a popular option for single ladies in the city. At the height of its popularity in the late 1800s, female-only lodging was considered an acceptable option for women who were on their own, a place where their safety—and morals—could be protected from the harsh urban landscape. These residences also allowed unmarried women to have a room of their own, and a chance at a more independent life than might be afforded by one with relatives.
Boardinghouses have played a role in helping to launch the careers of several famous New York women: the Barbizon Hotel for Women, a female-only residence for nearly 60 years, was once home to such luminaries as Joan Didion, Lauren Bacall, Liza Minelli, and Phylicia Rashad, among others. But with the rise of women's lib, it gradually became the norm for women to rent their own apartments, and boardinghouses fell out of favor. Today, only a handful remain, many of them with religious affiliations, like the Jeanne D'Arc Residence, founded in 1896 and operated by a Roman Catholic organization.
The Webster, however, has no religious associations. The building was founded in 1923 and named for Charles Webster, a cousin of Roland Macy, founder of the department store. Charles and his brother Josiah came to New York to learn merchandising from their successful relative, and while they were working at Macy's, they identified a need for a residence for their female counterparts. Scott explains, "At that time, it really wasn't seen as the right thing to do to live on your own, without a man, before you were married."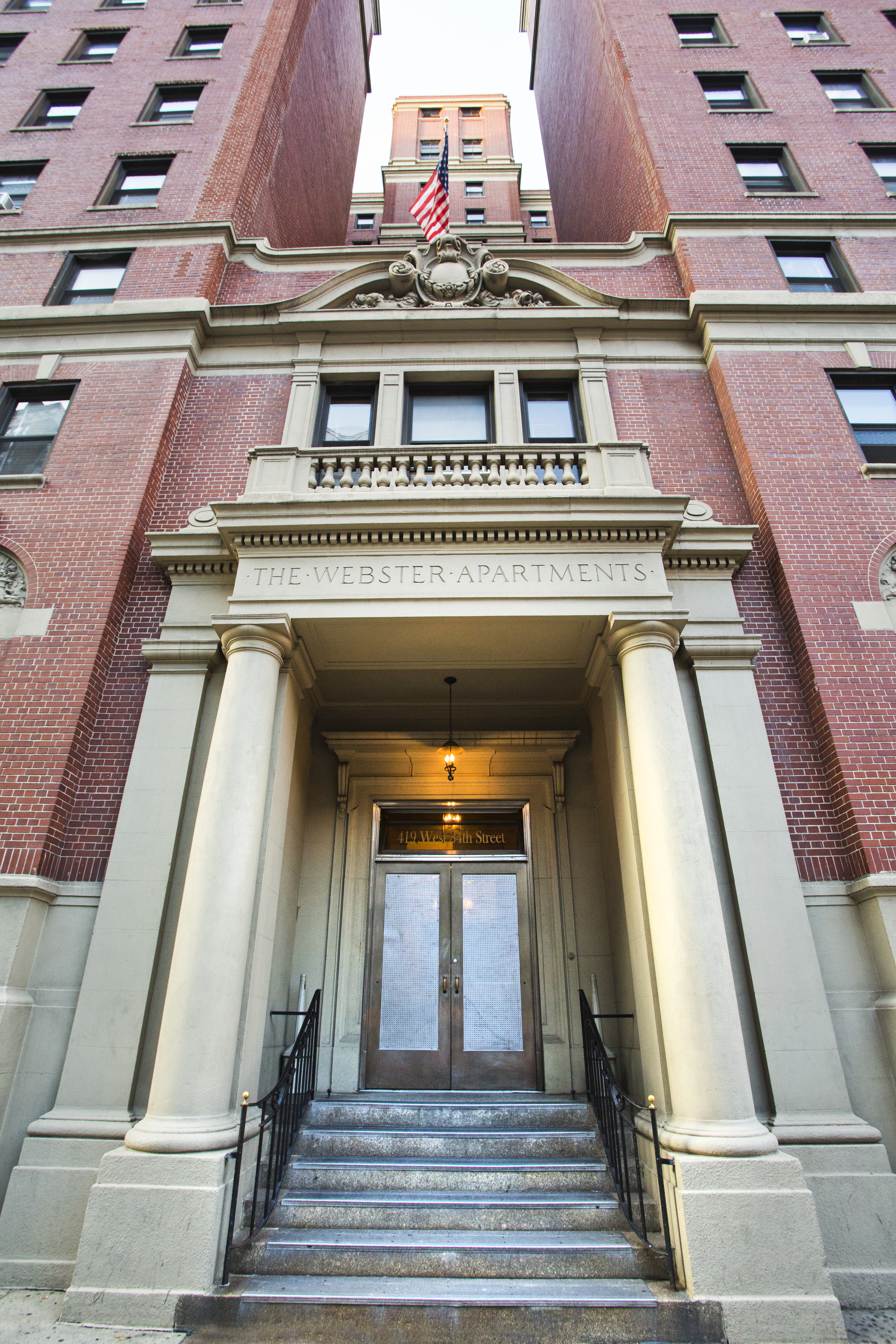 When Charles died, he left his estate to Josiah with the purpose of creating a home for working women. In his will and testament, he detailed the residence's purpose: to provide professional women with room, board, and moral surroundings, in close proximity to the Macy's retail store, at little cost to them. Josiah founded the building, which opened its doors in 1923 and has remained in the same location since. 
Many of the original tenants worked at Macy's; some hailed from overseas and were hired because "in the 1920s and 30s it was seen as favorable to have a receptionist who had an accent," Scott explains. "A lot of these employment agencies referred women to Webster because they knew the purpose here was to help them get their feet on the ground when they came to New York."
Today, the mission is much the same, and the women who live in the Webster represent a broad swath of nationalities and industries; there's no longer a Macy's affiliation, though when the building opened, 30 to 40 shopgirls were among the first residents. Now, the typical age range of residents is from 18 to 22 for interns, and from 22 to early 30s for full-time workers, though occasionally older women who are changing careers will stay there while they figure out their next move. The residency requirements are that applicants be 18 or older, have a full-time job, or be working at least 30 hours per week at an internship; women must submit paperwork detailing where they will be employed, annual salary, and their intended length of stay. 
Many of the women who arrive are new to the city and don't have many connections yet: "A lot of them don't know anyone when they come to New York, so from the outset they meet a nice group of women in their hallway, at an event, or in the dining room," Scott says.
Nicole Weaver, who wrote about her stay at the Webster for The Billfold, has stayed at the residence multiple times, beginning when she was a Penn State student who had an internship in the city. It was her first time in New York, and although she considers herself an introvert, she says there are plenty of opportunities to befriend the other residents: "Everyone there is new and open to meeting people. There are a lot of Europeans who come to Webster, and they're homesick and open to talking." 
Another advantage is the building's central location, Weaver says. Safety was a major factor, too: "My mom loved it because she didn't have to worry. There are security guards and rules about who can come upstairs."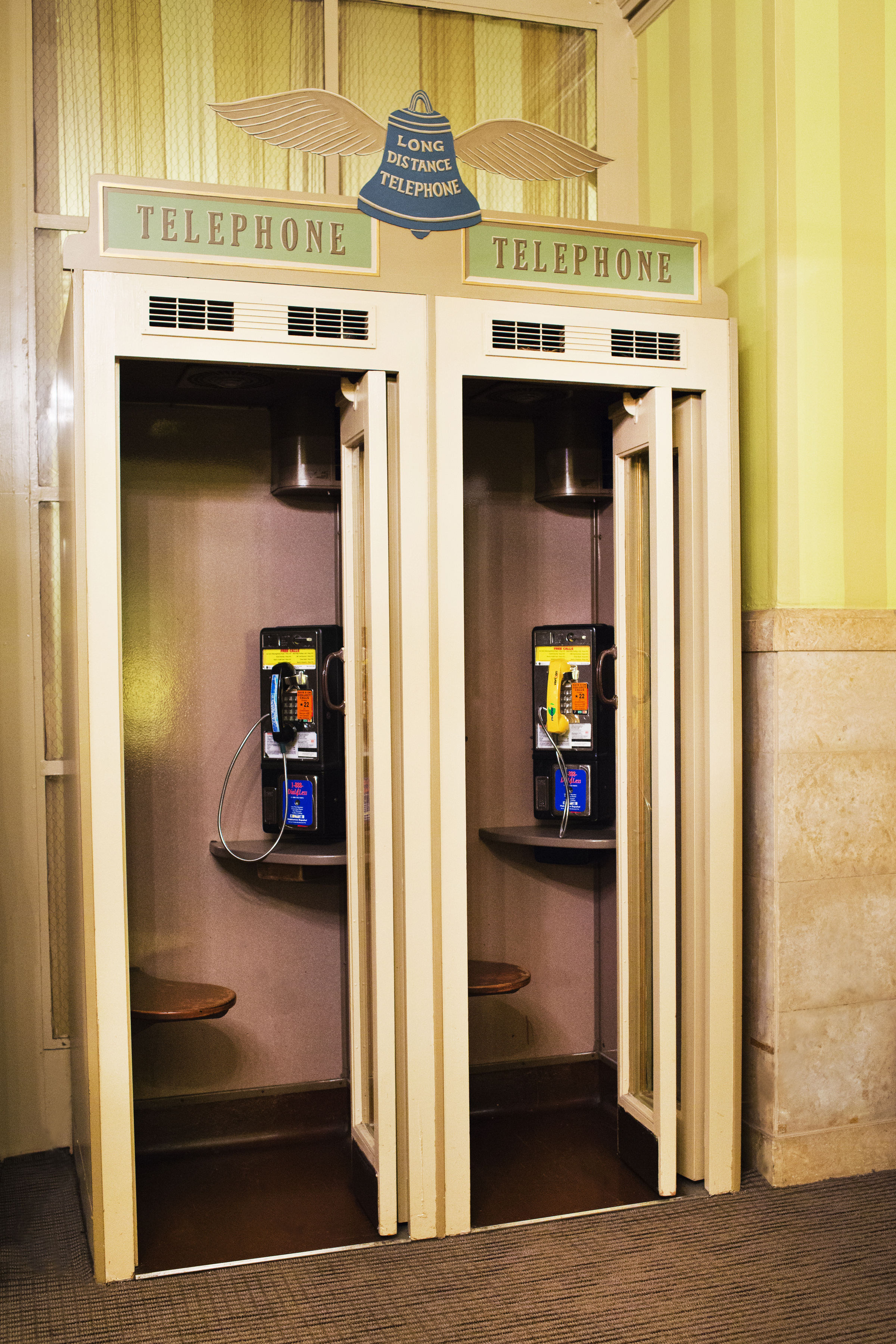 Brick Underground got a tour of the building, which retains many historical details from the time of its founding, including original mailboxes in the lobby, a fireplace, and steel laundry drying racks in what used to be a seamstresses' room, and is now a community room stocked with vending rather than sewing machines.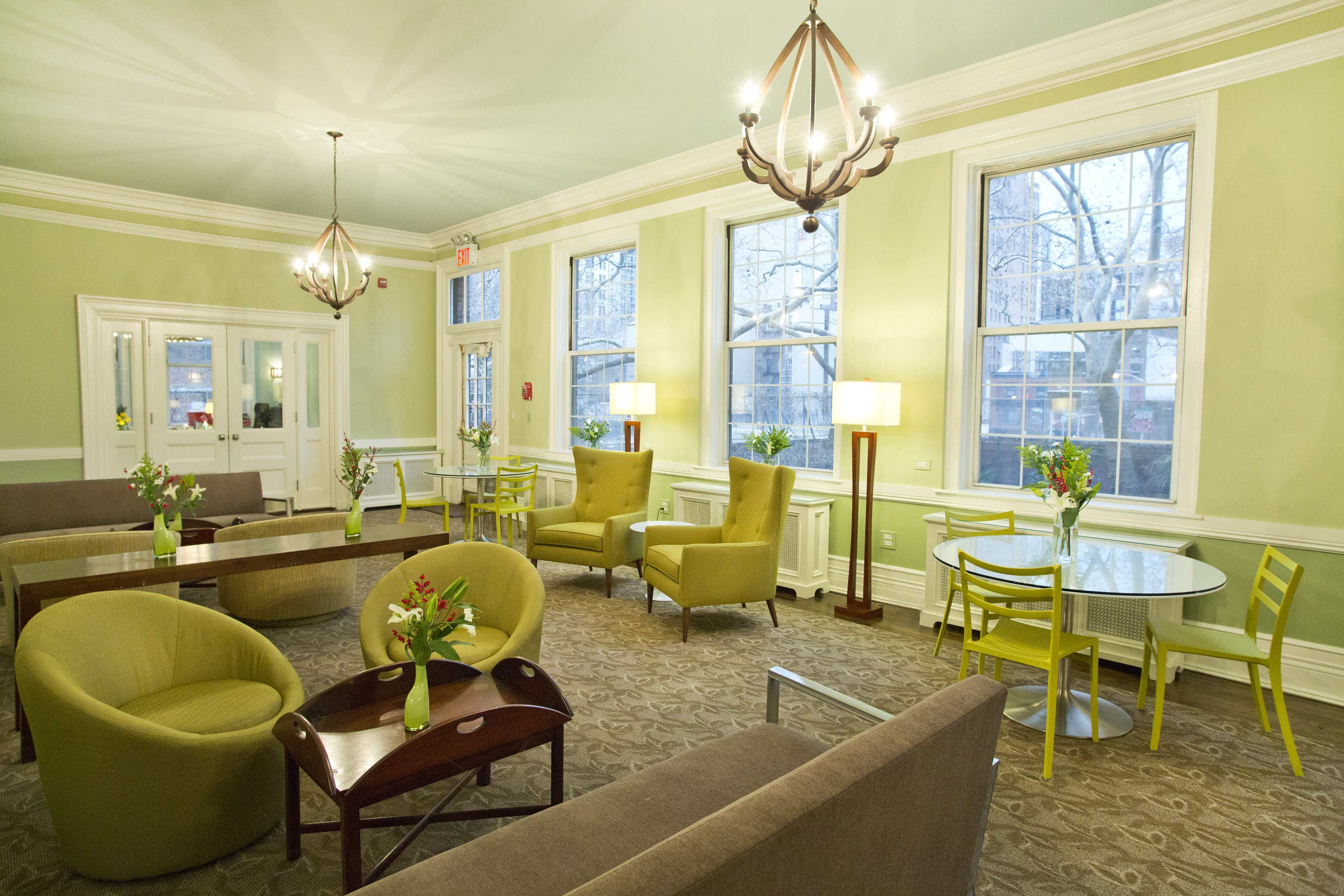 There are several common areas where the Webster hosts professional development events that are included in the cost of their monthly rent. Scott says, "In today's sense, it's fulfilling Webster's vision of providing them with education, by giving them the tools and resources they need to advance in their careers." There are also opportunities for socializing, via movie nights and yoga classes; in the warm weather, events and dinners are held in the spacious back garden. The rooftop, too, offers another impressive outdoor space, with remarkable views of the skyline.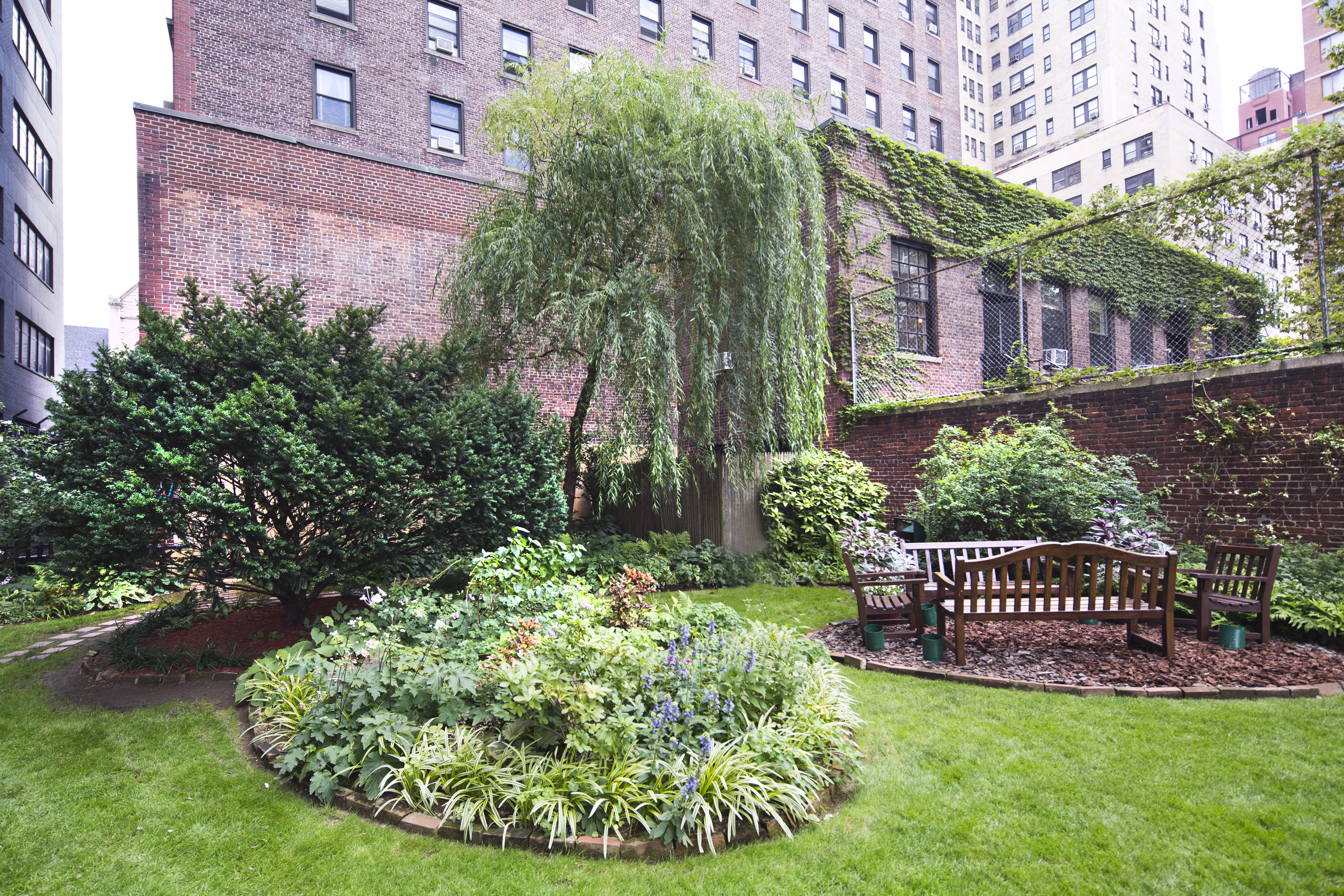 Unlike boardinghouses of old, the Webster imposes no curfew, but it does retain limitations on the presence of men: They're welcome to hang out on the first floor, but they can go no higher than that. (Female guests are permitted to stay overnight for a fee, and tenants are free to spend their nights elsewhere—no one at the Webster is keeping tabs on where they sleep, and women are not required to sign in or out. The building does lock up at midnight, but late-returning residents are buzzed in by one of the security guards, who are present 24/7.) This rule against men on the upper floors also led to an interesting architectural feature: The ground floor includes seven "beau parlors," miniature, door-less rooms where residents traditionally met with gentlemen friends, though today the spaces are more often used for movie-viewing or study groups.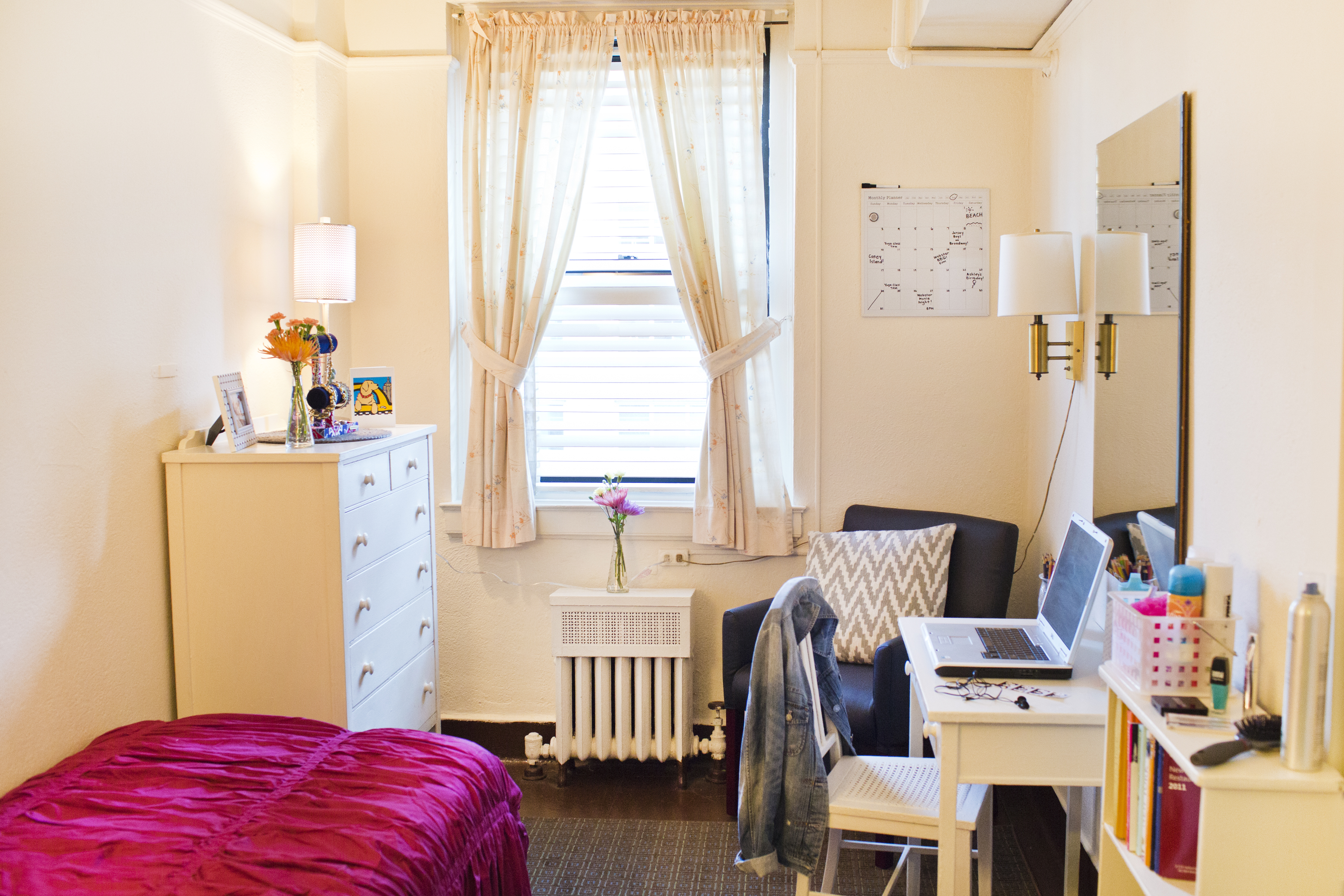 The bedrooms—there are 375—resemble dorm room singles, and come furnished with beds, linens, dressers, desks, sinks, and fairly sizeable (by New York standards) closets. As in a college dormitory, bathrooms are shared, though showers are in private, single stalls. The downstairs dining hall prepares three meals a day, and two are included in rent; residents can also purchase bagged lunches to bring with them to work. The space closely resembles a college cafeteria, with the appealing addition of access to the backyard garden, where Scott says women often have their meals during the nice weather. A sample weekly menu suggests the offerings are fairly varied, and include vegetarian options; some former residents have opined about the quality of the food on the Webster's Yelp page. 
Weaver found the meals to be hit-or-miss; one downside of living at the Webster, she says, is that "if you are the type of the person who likes having control of your meals, it's kind of hard." 
Last year, Catie L'Heureux  described for New York why she opted to live at the Brandon Residence for Women, which is similar in its approach to Webster: the rent is much lower than area averages, especially considering that it includes meals and housekeeping. Plus, for recent college grads, it's a way to delay committing to cramped, expensive city housing and the possibility of difficult roommates: "Instead, I co-exist in a multigenerational sorority of sorts, waiting for the right time to set out on my own," she wrote.  
Weaver agrees that the experience is dorm-like. "If you're a student, there's little to no change except you're in a big city now," she says. The one disadvantage to an otherwise smooth transition from the college lifestyle: "You feel like you're not totally grown up yet." 
Scott says that some women have come to Webster after getting into living situations that turned out to be undesirable. "Or their parents came to drop them off [wherever they had arranged to live] and said, 'You are not staying here'," she says. "If we have space available, we'll process their application in a day, and it ends up working out." That said, Scott adds that for much of 2015, the Webster was at 100 percent capacity. When there are no vacancies, staff will sometimes refer applicants to the Markle Residence, a West Village building run by the Salvation Army that also offers women two meals a day along with lodging. 
Residency requirements are that interns work at least 30 hours per week, and workers at least 35; to live at the Webster, a tenant's salary must be between $30,000 and $70,000, in keeping with the mission of supporting women early in their careers. If a tenant should lose her job, Scott says, she meets with staff to identify new job opportunities and is given an eight-week grace period. "We don't want to put them in a position where they're strapped for making the rent payment," Scott says, "but we try to help them as much as we can."
The minimum length of stay is one month, and women can live at the Webster for up to five years, but the average stay is between three and ix months due to the number of temporary interns in residence. Scott says the residency is capped because "we want to provide this experience for as many women as we can. This is a stepping stone."
And it's one that has had a significant impact on the lives of many women. Scott recalls three former residents who were recently interviewed by staff about their time at the Webster: the women, all from different parts of the world, met there in the 1960s, became best friends, and remain so today.
Weaver is currently living in her native Pennsylvania, but she plans to return to NYC. And when she does, she says she'll stay at the Webster once more until she finds a more permanent home. "The biggest thing that kept coming up when I was living there," she says, "was all the things I was cutting out, like living with roommates and paying utilities. The answer for me was always to stay as long as possible and save money." 
Brick Underground articles occasionally include the expertise of, or information about, advertising partners when relevant to the story. We will never promote an advertiser's product without making the relationship clear to our readers.