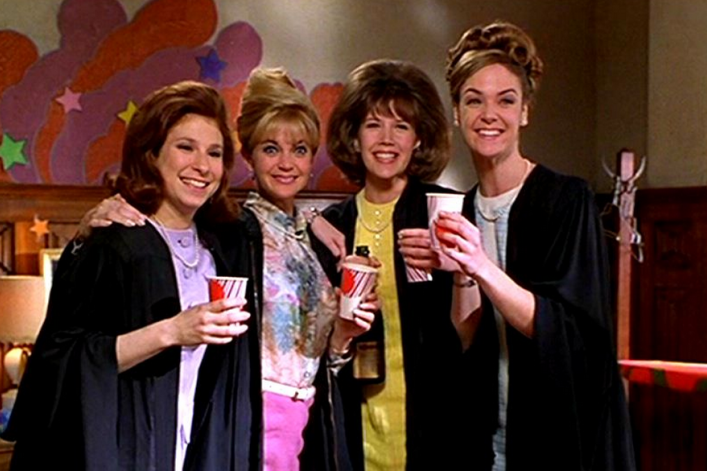 While expensive, dorm-style living for adults has been making a lot of headlines lately, lest we forget, New York has had a version of this for well over a century, in the form of women's boarding houses. And as Catie L'Heureux over at the Cut discovered after a fruitless search of Craigslist and Airbnb, this old school arrangement has its unexpected benefits. 
The place may be a "virgin vault," as she calls it—indeed, these residences are often run by nuns and all of them have strict rules against letting men in the building—but at $1,200 for a furnished room, wifi, maid service, and two meals a day on the Upper West Side, the place is a relative bargain, even on an entry-level publishing salary.  
Rooms at the Brandon Residence for Women, where the author lives, run between $1,118 and $1,332 a month. Elsewhere, the Saint Agnes Residences charge between $750 and $850 for a room (wifi and electric included), the Webster Apartments charge $335 a week for interns and $360 for full-time workers, and the Markle Evangeline Residence charges between $1,210 and $1,820 per person per month. Not bargain basement, necessarily, but likely better than other options you'd find in neighborhoods like the UWS, Chelsea, and the West Village.
The rules can be strict—there are specific mealtimes, fees for guests, and sometimes curfews, in addition to the no-boys-allowed ethos—but as someone who once woke up to find my roommate's "date" from the night before snooping through my apartment while swigging from two separate bottles of champagne at 8am, having staff whose job it is to toss out trespassing dudes truthfully sounds pretty appealing.
And, as L'Heureux points out, there are some social upsides:
"This is, of course, all bizarre. But I love it every time I meet a New Yorker and we exchange the most basic small talk: "Where do you live?" I get to give a wildcard answer, the most unlikely conversation starter, and the best excuse to give a guy at a bar when he's trying (and failing) to come home with me. It's thrilling, in an absurd and classically beautiful way, to live in a relic of what the city once was."
And after all, if it was good enough for Sylvia Plath and Grace Kelly, it might work for you, too.
Related: 
How to squeeze a "guest room" into even the smallest apartment
The 8 best websites for finding a no-fee apt in New York City
Moving to NYC? Here's a crash course in finding an apartment here
10 of the best NYC neighborhoods for recent college grads: 2014 edition
Brick Underground articles occasionally include the expertise of, or information about, advertising partners when relevant to the story. We will never promote an advertiser's product without making the relationship clear to our readers.