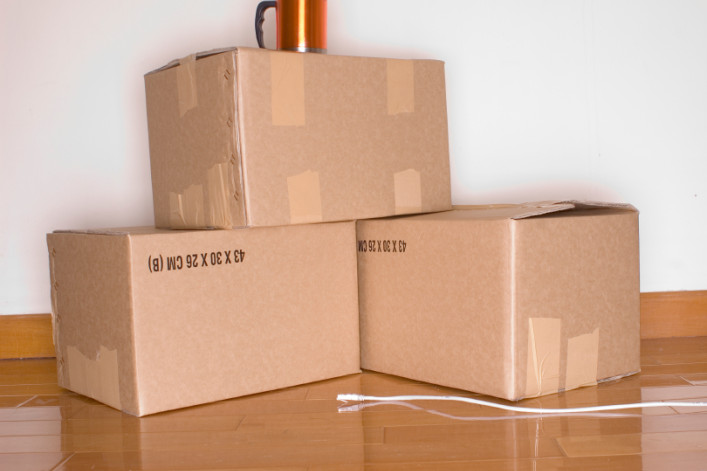 By now we've all heard the old saw about moving being one of the most stressful events in life, right behind death and divorce. (Fun.) But more to the point, it's easily one of the most expensive.
Besides the basics—a security deposit for your new place, the cost of movers and boxes, beer and pizza for the friend you roped into helping out—the process comes with tons of expensive extras that have a way of adding up, and fast. From personal experience, that includes damage charges, parking tickets, and tow truck fees, just for the U-Haul alone (still bitter about that one.) "Even if you're a seasoned mover, these costs add up for everybody," as Argo Residential broker Harold Kobner puts it.
With that in mind—and in the name of being better prepared and budgeted next time around—we chatted with veterans of the NYC moving process about what extras to expect at every stage of the process, from stripping down your old apartment to settling into the new one.
Leaving your old apartment
"Not everyone gets their entire security deposit back. If you're painting the walls back to white when you move, that costs money, too, but if you don't, you'll get charged. The landlords will tell you it costs $3,000 to paint when it really costs $300 if you do it on your own." — Natalya Disario, agent at Corcoron
"Everyone thinks that their move is going to take two hours, when it's really going to take six. And a lot of people try to skimp on the amount of movers. But if you get four instead of two, it's cheaper, because they move faster. Plus, there needs to be someone to watch the van." —Karla Saladino, managing partner at Mirador Real Estate
"If it's possible to get a mover that can do it for a flat fee rather than hourly, then you're not responsible if traffic on the bridge is backed up, the elevator was closed, etc. Sometimes supplies like boxes, tape, can add 10 or 15 percent more to your bill, too." —Douglas Wagner, agent at BOND New York 
"I had a client who had to clean out an apartment, and called 1-800-Got-Junk, thinking it was free because they donate to charity. But the removal is still at a cost, and it's expensive [Ed Note: Got Junk's policy is to determine pricing on arrival, and cost varies]—around $800." —Disario
​"Hallways of walkups are considerably more narrow than hallways of newer buildings, and a lot of times big pieces of furniture won't fit. Then it's usually a $150 service call for companies that take apart furniture, bring in, and put it back together. And if you've got movers and they're waiting on the furniture guys, you're paying double." —Wagner
Building charges for your move
"Some managers won't even let you move in unless you get a minimum amount of renter's insurance, which becomes a part of the move-in cost if you don't already have it. It's usually around $100/year for $100,000 to $200,000 worth of coverage." —Disario
"Many buildings have strict time limits for your moving day, and if you keep going after they want you to quit, you'll incur hefty hourly fees. [Editor's note: Move-in fees cost around $500 per move.] Make sure you are aware of the rules and set up your move to stay within the building guidelines." —Brooke Stone, founder of personal assistant concierge service GYST 
"In addition to the usual application fees, if you're searching with a guarantor, every time you apply to a building, the guarantor has to pay a fee as well for credit checks, so it ends up costing twice as much." —Disario (Note: If you settle on an apartment outside your original price range and wind up using an institutional guarantor like Insurent Lease Guaranty, a Brick Underground sponsor, because you don't have a parent or relative who will take on the responsibility, you will incur fees for that, too.) 
"Especially in Manhattan, landlords sometimes require you to have your air conditioner installed by an insured, licensed professional, and won't let you ask the super to do it. Installation can cost $75 to $100." —Kobner
"Often, management companies will also have you pay an extra $15, $35, or even $40 per month while your A/C unit is in the window, particularly in buildings where electric is included as part of the rent. In my building,  our one A/C unit in the bedroom window costs an additional $20 a month." —Disario 
Settling into your new apartment
"People think the first cleaning of an apartment will be $40 or $50, and then they get the bill for $125. (Or even higher.) There's more to do when you first move in, and if you're getting a one-off cleaning from a service you don't usually use, they often think they can get away with a higher price since it's a onetime deal." —Kobner
​"A lot of apartments don't come with blinds or any sort of curtains. Certain landlords will provide blinds and shades and others don't, so then you move in and realize you need to buy custom window treatments." —Saladino
"Floor space is a big one to think about when you decide on an apartment. Do you like the way the floors look, or do you need to use rugs? And do the rugs need padding? Area rugs can run anywhere from a couple hundred to a couple thousand dollars, and padding is $20 or $30 per pad." —Wagner
"If you need to hang anything, mount a TV, put up wallpaper, etc., you'll probably have to hire a handyman or Task Rabbit to get things set up." —Saladino
"I've had a lot of clients who look to save money by moving into a convertible apartment (as opposed to a true two- or three-bedroom), and end up spending around $800 on the cost of a temporary wall. (That includes the eventual charge for removing it.) In a loft with especially high ceilings, it can cost as much as $2,000." —Disario
"Every single time I move, I end up spending around a couple hundred dollars just on the Container Store. You move into a small space and suddenly need  something for your shoes, something else for the closet, and somehow none of the storage tools you bought for your last apartment end up working in the new one." —Saladino​​
Getting to know your new nabe
"There's always a learning curve to find the most cost-effective options for errands in your neighborhood. Until you get to know your 'hood, you may accidentally shop at the most expensive grocery store, pharmacy, dry cleaners, etc. Account for a brief uptick in cost of living expenses as you get savvy." —Stone
"If you move to a neighborhood that doesn't have a branch of your bank and want to open an extra account with whatever's  nearby (who wants to pay endless ATM fees?), you'll need extra cash on hand to meet the bank's account minimum." —Disario
"When people move farther east or west in Manhattan, or somewhere way out in Brooklyn, to find a cheaper apartment, they wind up spending a fortune on cabs to their new place. A friend just moved from 10th Avenue to Sixth Avenue, for instance, and cut her monthly transportation budget by hundreds of dollars." —Saladino
​"Take-out meals for the first week in your new place; chances are, you'll be in no condition to be cooking your own meals or packing lunch." —Stone
"Time is money. If you want to get your TV, telephone, cable, internet, etc., hooked up, you have to take a lot of time off work, which depending on your job, can add up to lost income." — Kobner
Related: 
Building move-in fees: are they necessary, and why?
Your must-read 8-week guide to prepare for a move
16 tips for an (almost) stress-free moving day
How to negotiate with a NYC mover: 7 tips that may save you big time
NYC movers reveal their biggest pet peeves—and how to stay on their good side
3 moving scams you should know about—and 10 ways to avoid getting duped
Brick Underground articles occasionally include the expertise of, or information about, advertising partners when relevant to the story. We will never promote an advertiser's product without making the relationship clear to our readers.