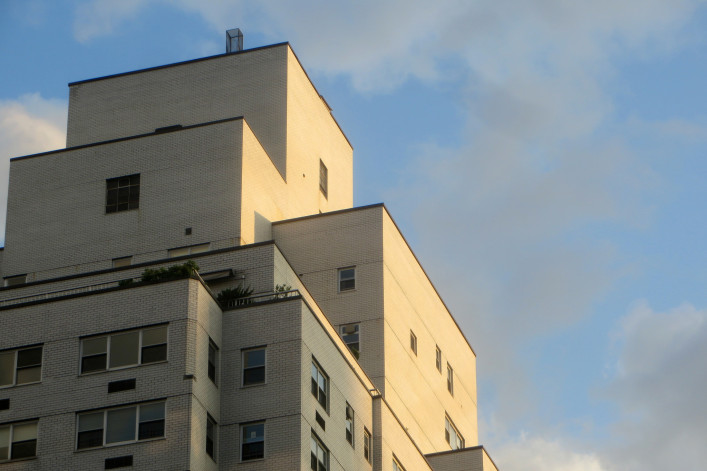 Somewhere between the old world glamour of prewar apartments and the glossy allure of a new condo, you'll find the overlooked Everyman of New York real estate: the post-war apartment. Sometimes retro, often plain, these buildings are among the city's more affordable and plentiful housing options.
[Editor's note: A version of this story was first published in 2014. We have updated it for 2018 with additional reporting.]
If you're planning to buy, chances are a post-war or two will show up on your list of options, even if you're not specifically looking for one. These apartments come with their own set of pros, cons, and hidden costs.
"With post-wars, it's about price, space, and amenities—and the maintenance is higher," says broker Michelle Sedlitz of Citi Habitats.
Here's a closer look at what to expect when buying in a postwar.
What exactly does post-war mean?
Admittedly, post-war is a broad category, encompassing buildings constructed from 1945 up until the 2000s. However, the term post-war is usually used to refer to buildings that went up in the 1950s, '60s, and '70s. 
"I tend to think of newer 'post-war' buildings built after the late 1990s as 'new development,'" Sotheby's International Realty associate broker Kinnaird Fox tells us.
But of course what's considered "new" changes with each passing year, which is why you'll see some buildings constructed as recently as the late 2000s described as post-war. 
"I tell clients that post-wars are the Honda Accord of New York apartments,'" says Gus Waite, a broker with Dwellworks Property Advisors. "It's a solid, no-fuss, no-muss, easy thing, with great locations at comparatively low prices, but there's not the sex appeal of prewar or a brand-new building."
Though architecture in the older post-wars is often considered "cookie cutter" compared to the grandeur of prewars, you will likely get modern touches such as gyms, laundry rooms, outdoor space, parking garages, more electrical outlets, and an elevator.  From the '50s and '60s you can expect lots of white brick buildings (more on that below), and from the '70s and on, more modern amenities like gyms, as we've written previously.
For these mid-century buildings, comparatively low (often around eight-foot) ceilings and the lack of a formal dining room tend to be negatives for many buyers, Fox notes. 
Post-war buildings can be found all over the city, and they're concentrated on the Upper East Side and in Murray Hill, Midtown West, and Midtown East. They're less common in Brooklyn, particularly in brownstone neighborhoods like Park Slope and Clinton Hill, where residents worked to enforce landmark restrictions and block this type of construction.
The post-war discount
There's a major advantage when buying in a post-war: you're more likely to find a deal on an apartments there than in virtually any other type of housing in the city. Data guru Jonathan Miller, CEO of appraisal firm Miller Samuel, has previously told us that all things being equal ("a huge disclaimer," he notes), post-war apartments tend to be around 10-15 percent cheaper than their prewar counterparts.
According to data from StreetEasy, as of February 2018, the median asking price in buildings that went up between 1945 and 2007 was $895,000, where as in prewar buildings the median asking price is $1,195,000, and in new construction, a whopping $2,500,000. (StreetEasy defines prewar as built between 1900 and 1939; post-war as built between 1946 and 2007, and new construction as built in 2013 and beyond.) 
Once you control for 421-a tax abatements—a tax break for buyers of new condos that gradually phases out, usually over 10 or 25 years—post-war apartments generally have lower taxes as well, and older post-war buildings tend to have lower monthly charges. On the flip side, post-war apartments are not considered investment opportunities, so don't count on buying one with the goal of a pulling off a big flip.
"The prices just don't appreciate as much as with new construction," says Citi Habitats broker Brian Morgan.  Morgan calls these buildings "a nice option if you have a family and are looking to move into an affordable, decently sized apartment for the long haul."
Extra costs
Another thing to keep in mind: post-wars are generally condos, rather than co-ops, meaning that if repairs come up, buildings don't have the option of obtaining an underlying mortgage to cover the cost of repairs—as a co-op might. Instead, in a condo building, major work will either have to be paid for with all-at-once assessment charges to residents, from reserve funds, or a with loan for capital improvement repairs, which can spread the payments out over the course of up to 15 years, says Harley Seligman, vice president of National Cooperative Bank (a Brick Underground sponsor, FYI). 
As with any apartment purchase, you and your lawyer will want to do the due diligence, checking into the board's financials, reserve funds, the state of its maintenance charges (and if they're being systematically and appropriately raised to cover costs), and in a co-op, the state of the underlying mortgage. ​
"Our building has had a number of capital projects and assessments over the years, what has felt like way too much troublesome construction followed by even more troubling monthly assessments," says Charlotte Kullen of Char PR, a media relations firm, who lives in a 1961 post-war in Gramercy Park. 
When assessments hit, they can hit hard. The $30 million facade fix at 2 Fifth Ave. is a particularly jaw-dropping example. And a 10-building post-war complex spent $100 million (or around $40,000 per apartment) to replace its 1960s-era heating and ventilation system, according to the building's attorney, Dean Roberts of the firm Norris McLaughlin & Marcus. 
White brick, red flags
White-brick buildings sometimes require re-pointing—the pricey, painstaking process of updating brick work—and expensive repairs to the cavity wall behind the main facade, which often retains water and causes damage to the outer walls of the building. (Cavity walls were a popular—but often poorly implemented—new construction technique in the 1950s and early 1960s.) Another thing to check into: the building's ventilation. Post-war buildings rely on a rooftop ventilation system that services the whole building, so you'll want to check to see that it's clean, up to date, and not in need of pricey repairs.
"When I have a client who's buying in a building from this time period, I ask about white bricks, and if the building has addressed any issues with them," says real estate attorney Steven Wagner of the firm Wagner Berkow (another Brick sponsor).  "And if nothing has ever been done, and the building is from that era, I tell clients to count on a large assessment. When you see buildings that are having the entire face redone, it's always white brick."
With white-brick buildings in particular, it's helpful to check into the building's history of repairs. If the work is done right, a big fix only needs to happen once, so if the building's already taken care of it, you're likely in the clear, Wagner says. 
Keep in mind too that "an assessment isn't always a bad thing," Fox says. "I'd rather see a short-term assessment than a history of maintenance increases. A high maintenance fee can come back to haunt you when you try to sell."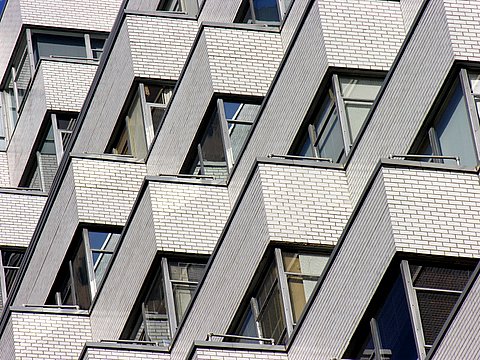 The blank slate
When it comes to the apartment interior, the boxy '60s architecture may actually work to your advantage—it can be a perfect canvas for renovations if you're looking to customize your space.
"It's possible to create a very contemporary feel in a post-war building," Fox says. "Especially those that have higher ceiling height."
Post-war apartments are generally much easier to renovate than their prewar counterparts. Waite tells us that many owners of mid-century apartments decide to ditch the galley kitchen, changing up the apartment's layout to a more open floor plan. (For more on the pros and cons of an open kitchen, check out our "Would You Rather" feature.)
Lilian H. Weinreich is a New York City architect familiar with the challenges of renovating an apartment in a post-war building. Common complaints include low ceilings, few lights, large vents in living spaces, and rooms with constrained proportions.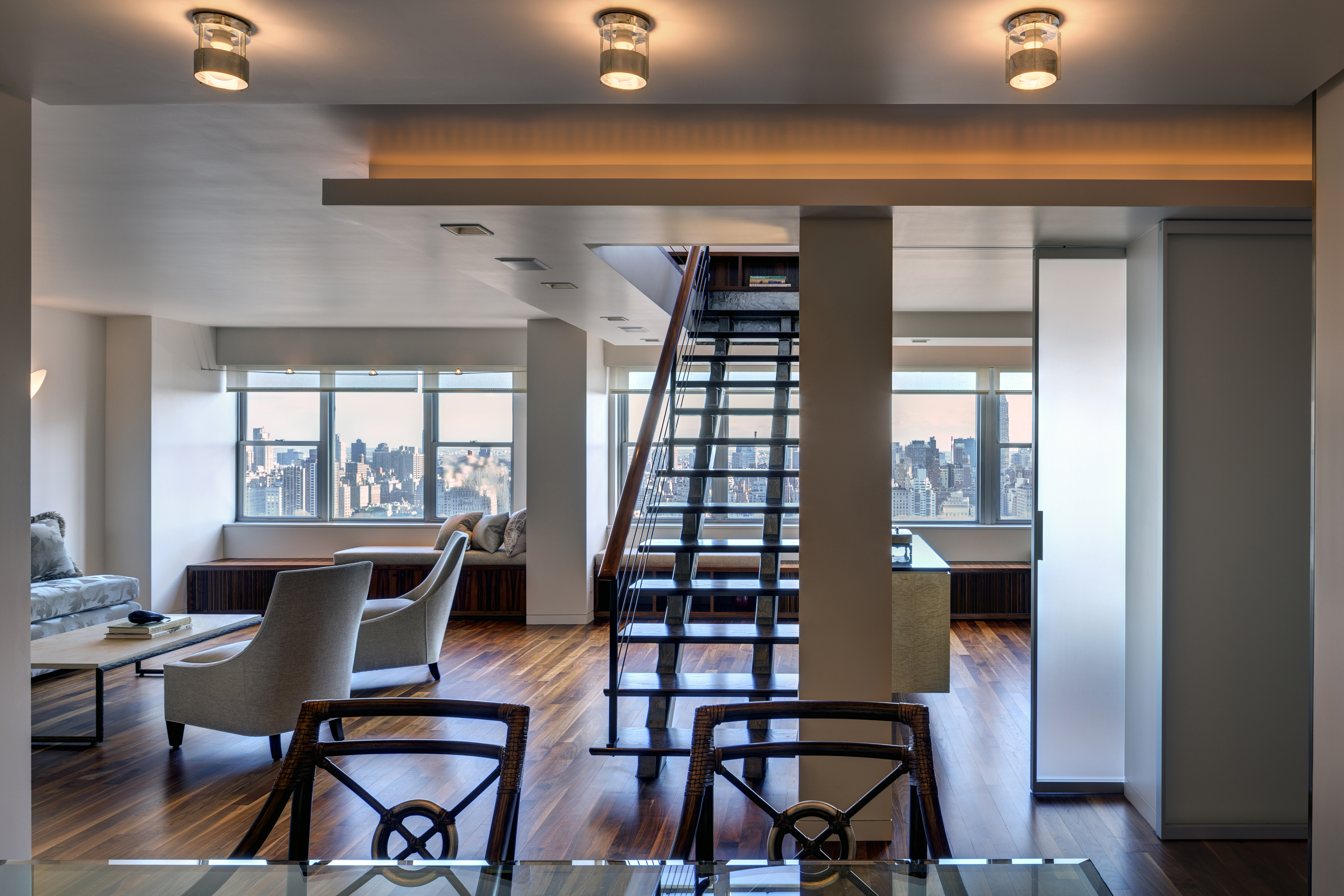 For one post-war project (pictured above) she opened up the eight-foot ceiling to full height and added a lower ceiling plane to house mechanical equipment, ducts, and wiring. She also likes to install full-height doors ("they make the space feel bigger and more gracious") and sliding doors or partitions, which can be opened to create unobstructed space or closed for privacy. 
Weinreich also says that in a post-war apartment, it's often easier to purchase the unit next door or above or below to combine apartments, and that post-war building boards often welcome renovations.
The walls may have ears
Post-war buildings have a reputation for having thin walls, which can be bonus for combining apartments, but a drag otherwise.
"The walls aren't particularly thick," Kullen says about her building, "so it's easy to combine units, which a lot of people have done, but also that you can feel very close to your neighbors and their choice of music, pets, and life events at times, too.'"
Wall thickness varies from building to building, experts say. For example, the Upper West Side's Schwab House is an example of a mid-century building with thick walls that can help maintain your privacy, Fox says. More than anything, you'll want to check in with the doorman, the super, and the neighbors to get the scoop on an apartment's noise level before signing on the dotted line. 
Discover off-market properties in your dream neighborhood that perfectly suit your needs and budget.  Meet and deal with sellers before their apartment hits the market.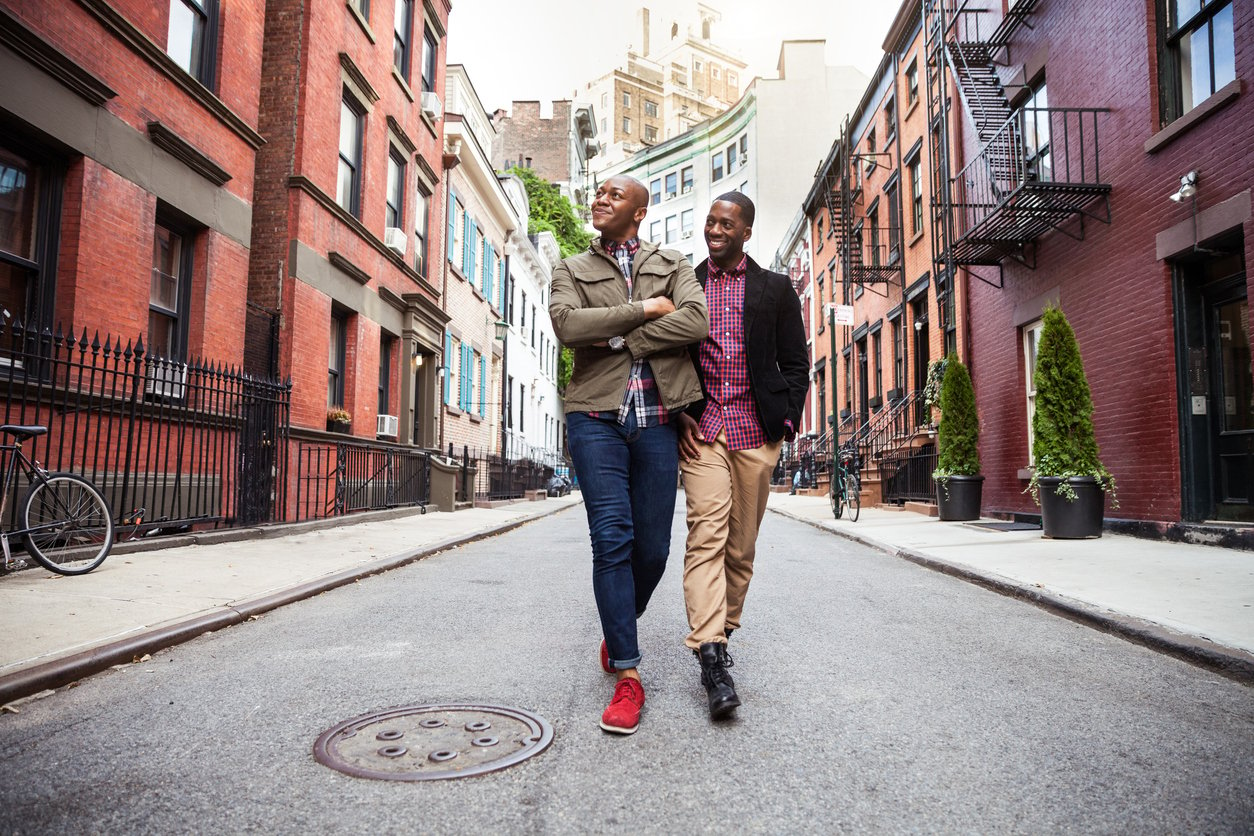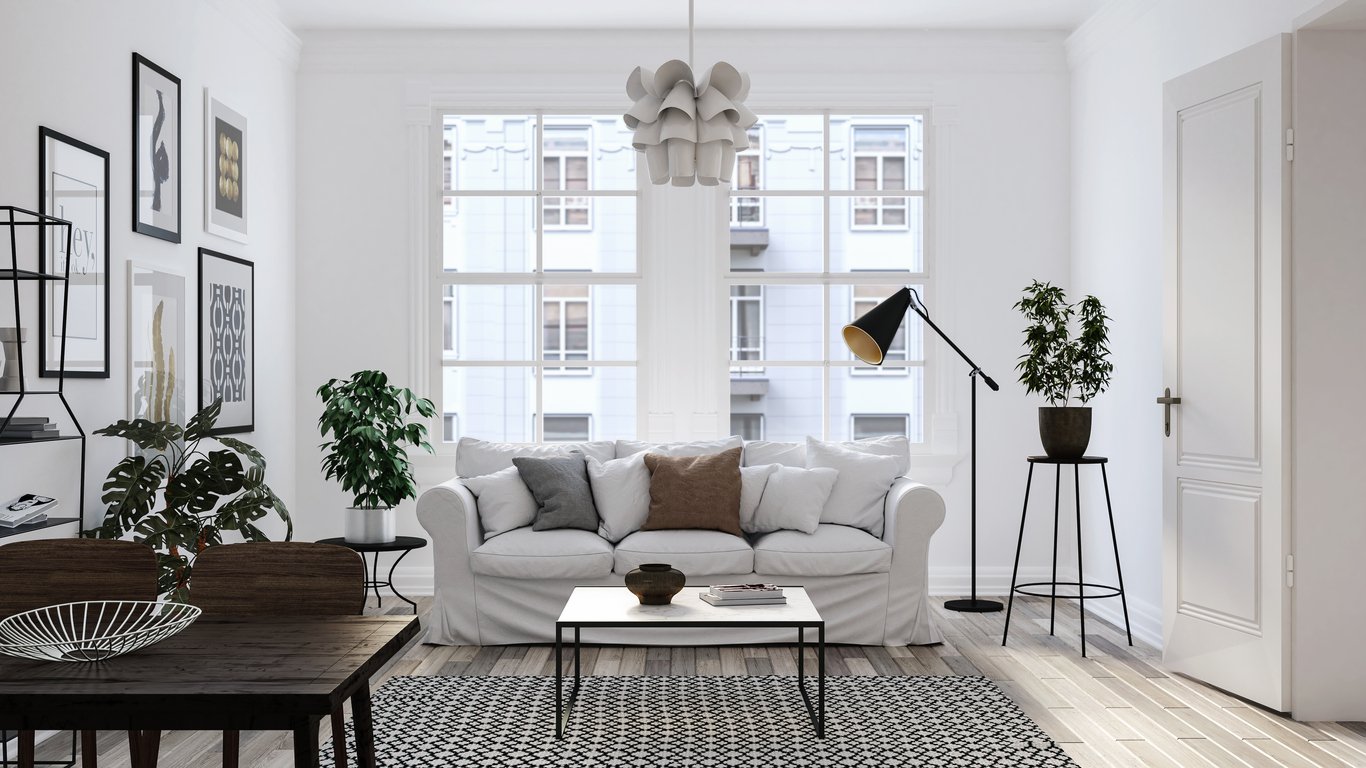 Let Triplemint's off-market team give you exclusive access to apartments in your price range and desired neighborhood that no one else has seen. More options, less competition, no bidding wars. 
The eye of the beholder
Sedlitz says that when it comes to visual appeal, post-war is rarely going to beat out prewar.
"Aesthetically it cannot compare to prewar," she says. But she also notes that what one person reads as cookie cutter or sterile another could see as minimalist and modern. "A lot of people like clean lines," she says.
Sedlitz also notes that post-wars offer perks that can be hard to find in prewar buildings, like floor-to-ceiling windows and accompanying light or views.
"[An apartment that] feels open and airy even if it's not big. That's captivating," she says. 
And those who want an outdoor space are much more likely to find it in a postwar building. Sedlitz says an impressive 600-square-foot outdoor space was what instantly sold a client who worked in finance on one post-war apartment.
"When we walked in he said, 'This is it,'" she says. "He didn't even look around. He saw the deck and that was it." 
Brick Underground articles occasionally include the expertise of, or information about, advertising partners when relevant to the story. We will never promote an advertiser's product without making the relationship clear to our readers.