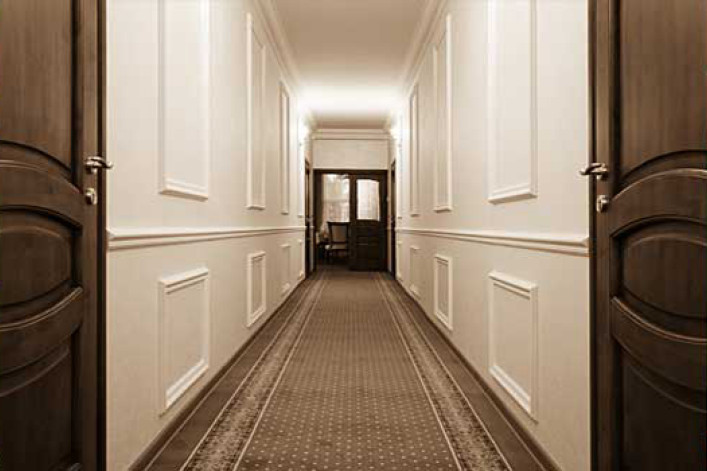 Before I bought my junior one-bedroom last spring, I researched everything I could about the building, a roughly 100-unit, seven-story West Village co-op, as well as the board. I looked into their professions, read through notes from about a year's worth of board meetings, and checked up on past rules and assessments they'd made. 
I felt like I knew everything about these people, but I overlooked one main thing: where they live in the building. By the time I was sitting down for my co-op board interview, it was too late. My interview was held next door to what became my apartment—that's right: the board president is my neighbor.
Two to three weeks after I moved in, we held the first shareholders' meeting. Afterwards, I was walking back to my place when I realized that the building's treasurer lived across the hall. I was lodged between a rock and a hard place, otherwise known as a president and a money manager.
I stay really far away from the drama and politics of the co-op world; I won't even make eye contact in the elevator. So I really wasn't expecting to have to be friendly with the board members. 
I see my board president every day, sometimes a few times a day. We have the same work hours. I see the treasurer less frequently, usually just in the evenings and sometimes on weekends.
They're both older than I am--the board president is likely in his early 30s and the treasurer, I'd guess, is in her late 30s or early 40s. 
My board president, is, for the most part, a very quiet man. He doesn't complain, has never asked to borrow milk or a cup of sugar, and hasn't even mentioned my affection for watching television loudly at 3 a.m. Perhaps this is because his apartment constantly reeks of marijuana. Now that I live right next door to him, I feel pretty confident in saying that he's a pothead. 
During my board interview, I did notice a lot of tie-dye. His apartment decor, as far as his furniture, kitchen and bathroom were concerned, was pretty bland. But I remember a giant tie-dye wall hanging, bed spread and rug.  He was wearing a Grateful Dead t-shirt under his blazer.
Personally, I have no problem with his decisions. It doesn't impact how he manages the affairs of the building, and perhaps explains why he is always so calm in the elevator.
The main frustration was finding a draft guard--a weighted piece of fabric to put under the door--to block out the smell of smoke. After trying out a variety of guards, I settled on a lavender scented one.
As for the treasurer, I'm happy to say she is also quiet and doesn't bother me much, but I can't say the same for her three Chihuahuas. Normally, I would complain to my management company about something like this, but not when the dogs' owner is the treasurer. Considering the circumstances, I would rather be woken up at 7 a.m. on a Saturday by shrill barks than face the wrath of the woman who controls my maintenance fees. She isn't very friendly, and she yells at her kids in the hallway sometimes. I'd like to avoid similar treatment. 
Overall, however, I can honestly say it's not so bad having two of the most influential people in my building as neighbors. It means kids never play on our floor, and that no one holds loud parties or does construction outside of the allotted times. The perks seem to outweigh the smoke and barks. 
See all Living Next To
Related:
How renting next to a funeral home gave me a new lease on life
Living next to Herald Square is not as bad as you think
Living next to Union Square: It's a circus, but at least it's convenient
Living next to a concert hall: Camp-outs, pot smoke and public urination
Living next to a bridge and tunnel club
Brick Underground articles occasionally include the expertise of, or information about, advertising partners when relevant to the story. We will never promote an advertiser's product without making the relationship clear to our readers.