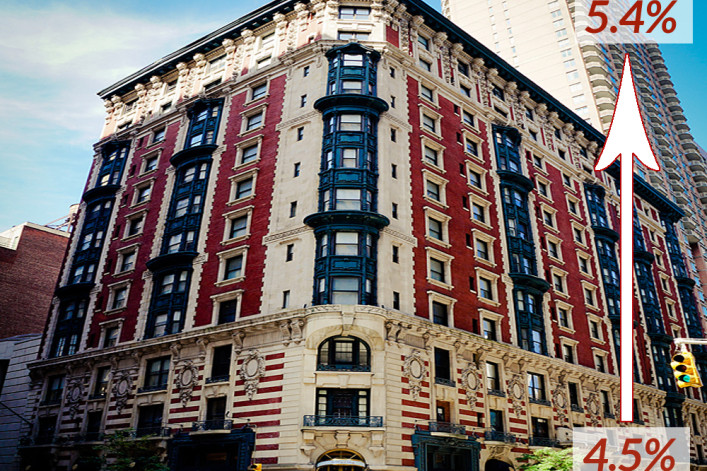 Thinking about buying a NYC place with a mortgage next year, or refinancing your existing loan--perhaps to renovate or consolidate debt?   Here are 5 mortgage trends you should keep an eye on, says Brittney Baldwin, vice president of National Cooperative Bank. 
1. Interest rates heading up
The National Association of Realtors is forecasting an increase in the 30-year mortgage rate for 2014, with rates in the fourth quarter of 2014 climbing up to 5.40%.
"But while the 30-year mortgage rate has increased since its lowest level in 2012, it is important to remember that rates are still at historic lows," says Baldwin.
In 2008, for example, the annual average interest rate for a 30-year mortgage was 6.02%. Financing $100,000 would have resulted in a monthly payment of $600.84, says Baldwin. At today's rates of 4.50%, the monthly payment on $100,000 is $506.69.
2. Demand for mortgages will slow, especially in inventory-starved NYC
Nationally, most mortgage activity in 2014 is expected to occur around new purchases rather than refi's, since most people who could refinance have done so already.  
That said, housing supply in New York City is so low that "we don't expect that the demand for mortgages will be as heavy as it was in 2012 and 2013," says Baldwin. "But you never know.  If home values continue to rise, people may be more willing to sell."
3. New underwriting standards will take effect Jan. 10 
The Ability to Repay and Qualitfied Mortgage Standards (ATR/QM), which are part of the lending reforms of the Dodd-Frank Act, take effect on January 10th. The new underwriting standards (which provide lenders with certain legal protections) are intended to lower the risk of default.
"They will require financial institutions to analyze a borrower's ability to repay based on  credit and financial information, including credit history, current income, expected income, current obligations, debt to income ratios, employment status, and other financial resources," says Baldwin.   "Basically loans will have to have full documentation of the ability to repay."  
Many borrowers may not notice much difference in the lending process, but they may find they have fewer choices among lenders, says Baldwin, as the cost of fulfilling increased compliance regulations could make it more difficult for smaller banks and lenders, including credit unions, to compe
Pro Tip:
Looking to buy a co-op? Get information on rates and pre-qualification from National Cooperative Bank. NCB has been providing co-op unit loans in New York for over 40 years. Call us at (646)-201-4714 or email Brittney Baldwin at [email protected].  NMLS #507535.  Equal Housing Lender. 
4. More lenders will offer home equity lines of credit (HELOCS) 
"You will definitely see more home equity lines of credit available," says Baldwin. "Financial institutions are aware that most people who have mortgages took advantage of refinancing.  So to stay active in the market, they will be selling HELOCs to owners.  HELOCs are great for those looking to do renovations or consolidate debt."
5. Rates on jumbo loans will continue to be low
In 2013, for the first time ever, jumbo rates (in New York City, loans for more than $625,000) were lower than conforming rates. Many community banks and credit unions will continue offering very competitive rates on jumbo loans next year.
"Most of these banks and credit unions are flush with cash because consumers have been on a savings kick in recent years," says Baldwin. "They are offering very competitive transactions to put assets on the books.  
---
Brittney Baldwin (646-201-4714) is vice president at National Cooperative Bank in Manhattan. 
Related:
Top 12 Questions New Yorkers Ask Their Mortgage Bankers [sponsored]
4 Good Reasons to Refinance Your Super's Apartment
Brick Underground articles occasionally include the expertise of, or information about, advertising partners when relevant to the story. We will never promote an advertiser's product without making the relationship clear to our readers.