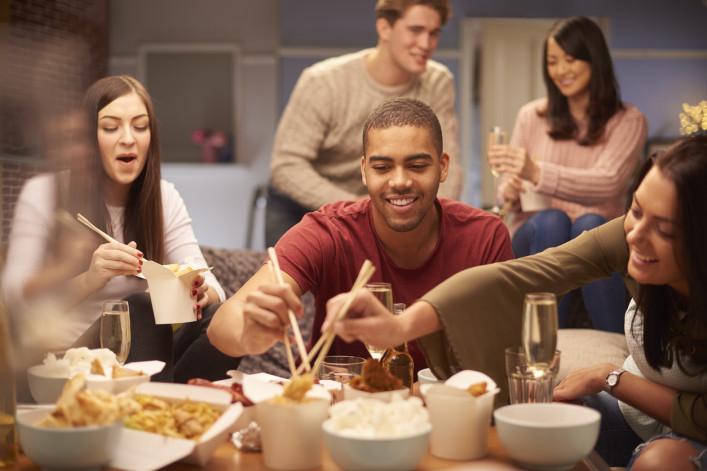 Roommates share all kinds of things, like living space, toothpaste, even Thai takeout leftovers. Did you know that you can share an insurance policy? 
It's pretty easy: For around 50 cents a day, a basic renter's insurance policy can be a financial lifesaver in case of fire or theft, as well as at least a dozen other situations that may happen to you and/or your roommate, like power surges that zap your appliances, accidental floods, and even lost luggage.
Unlike immediate family members who live together, roommates aren't automatically covered unless they're actually listed on a policy, says apartment insurance broker Jeff Schneider of Gotham Brokerage.
But these days, you should share insurance only with someone you know well and trust, Schneider points out. That's because in the Covid era, people are cooking more and drinking more at home. Then there are the pressures of living through these stressful times. "Some of us tend to be more absent minded and less focused—I know I am," he says. "Cooking incidents and careless errors, letting tubs and sinks overflow are things to look out for."
Also, many New Yorkers have decamped for relatives' places or out-of-town havens. "When your apartment is unoccupied for extended periods, what would otherwise be a minor water damage claim can turn into something much more significant," he says.
Here's the lowdown on what you need to know about renters' insurance for roommates:
1)  A roommate does not have to be on the lease to be added to the policy.
2)  A maximum of two unrelated people can be on a single policy, so additional roommates will need to buy a separate policy.
3)  There's no extra charge to add a roommate, and it won't change your premium either. You may want to increase your coverage if you have a lot of valuables, but you'll still probably pay less than you would alone since you get to split the cost.
4)  Theft by a roommate—or intentional damage—is not covered by insurance, whether they're on the policy or not. (Which is why you should only share renter's insurance with someone you know fairly well—not someone you just met.) 
5)  You are sharing the coverage with your roommate. All claim checks will be payable to both of you, and either person can change or cancel the policy. So sharing coverage is something to do with someone you know and trust.
---
Gotham Brokerage Co. an insurance brokerage, has been serving NYC renters and co-op and condo owners for over 45 years. For a free quote, click on over to Gotham Brokerage or give them a call at 212-406-7300. 
More from Gotham:
4 insider tips for big savings on your apartment insurance
The top 3 apartment insurance claims in NYC
5 reasons to get apartment insurance if you have outdoor space
How to file a claim on your apartment insurance, the right way
There's an apartment INSURANCE blacklist too. Here's how to stay off of it.
8 questions you MUST ask before buying renter's insurance
The ultimate co-op and condo insurance checklist
10 things you didn't know were covered by renter's insurance
Brick Underground articles occasionally include the expertise of, or information about, advertising partners when relevant to the story. We will never promote an advertiser's product without making the relationship clear to our readers.