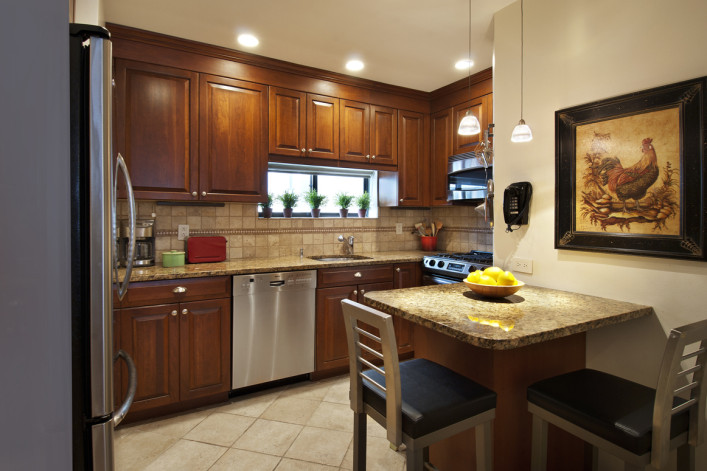 This week we go behind the negotiations of a two-bedroom, two-bath Upper West Side condo at 211 W. 71st Street, which sold for $1.250 million, $75,000 less than asking price (and closed just 51 days after it went on the market).

The seller's agents were Amelia Gewirtz and Andrew Phillips of Halstead. The buyer's agents were Margaret Anna and Renee Isacoff of Halstead.

THE DETAILS

The 58-unit boutique building, built in 1985, is around the corner from the new Trader Joe's and right by the 1, 2 and 3 trains. 

The apartment, according to Gewirtz, was in perfect selling condition, which was one of the reasons it fetched the highest sales price the building had seen in years.

"This was a 'bring your toothbrush to the showing' type of place," Gewirtz said. "There was no Ikea in this apartment. There were top-of-the-line custom cherry wood cabinets, a marble backsplash, a Bosch dishwasher, stainless steel appliances, Toto toilets, Kohler sinks, a rain shower fixture for master bedroom. The owner had even replaced all three HVAC units. She had custom black-out shades in the bedrooms."
Though another buyer offered a higher number, the seller went with a $1.25 million bid because it was all cash.
 
An almost identical apartment (with better views) in the same line (12A) went on the market in March 2011 for $1.395, and didn't close until December, for $1.1875. 

DATES

On the market:  October 16, 2011

Offer accepted:  November 9, 2011

Contract signed: November 18, 2011

Closing date: December 6, 2011

HOW THE DEAL WENT DOWN

The apartment went on the market in October 2011 for $1.325 million. Within two weeks, the seller had two offers. 

One potential buyer offered $1.275 million but needed to take out a mortgage.

Almost at the same time, another offer came in -- this one for $1.2 million in cash. The seller countered with $1.275 million. The buyer countered with $1.250 million.
"That sealed the deal," said Gewirtz. "They said, we'll take the $1.25 million no contingencies, no requests... they wanted a quick closing because they were moving -- downsizing to save more money for travel." 

Since they didn't have to wait on any banks and the managing agent processed the files quickly, things moved fast.

According to Margaret Anna, the buyer had been looking for a while and he wanted to move as quickly as possible. He knew that by offering cash, "once he made the decision to buy, he was going to go almost straight to the closing table," Anna said.

THE TAKEAWAY

A non-contingent sale is good (and fast) to a seller, but a cash sale is even better. 

(It's especially good in a condo; in a co-op, a cash deal eliminates financing uncertainties, but the sale could still be blocked by a board turndown.)

Gewirtz added that buyers "have one chance to make a first impression. I usually advise my buyers that if they think the seller has priced an apartment appropriately--and buyers these days are very educated--they need to play to win. If they lowball the seller or nickle and dime them, they're not going to get it."

She thinks one of the best things the seller did was stage the apartment right. "We're not just selling a piece of real estate, we're selling a feeling. You want things to be as clutter-free and welcoming as possible." 
---
The Haggle explores the anatomy of a recently closed New York City apartment sale, so that when the time comes to buy or sell, you'll have a better idea of what to expect.  Got a deal to dissect? Send us an email!
Related:
Rent coach: What to know before renting-to-own a new condo
Top negotiating mistakes of sellers and their brokers
Top negotiating mistakes of buyers and their brokers
Top negotiating mistakes EVERYONE makes
Find a great agent with BrickUnderground's Agent Referral Service
Brick Underground articles occasionally include the expertise of, or information about, advertising partners when relevant to the story. We will never promote an advertiser's product without making the relationship clear to our readers.