Improve
New York City vertical dwellers have lots to be thankful for (though we don't always know it)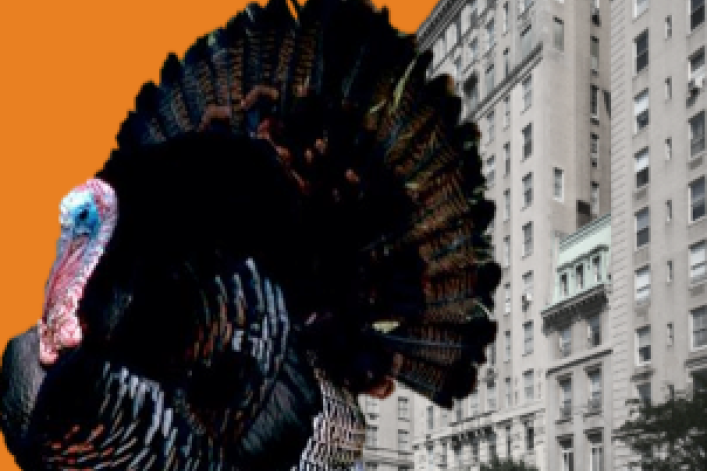 Living in New York City is certainly not easy - the prices are high, the spaces small, and there are a whole lot of visitors making everything more expensive and crowded from now through New Year's.

But as the holiday season kicks off, let's focus on the positive. Here are a few things New York City vertical dwellers have to be thankful for on Thanksgiving, in addition to having a place to sleep in the greatest city on earth:
So many people leave the city that you will have the laundry room to yourself for the entire long weekend.
Half-size oven cannot accommodate an entire turkey so the hardest part of the holiday meal can be outsourced (and there are plenty of places to outsource to).
If the meal is a bust, you can still get delivery.
It's cold enough that the building heat isn't cooking you like a turkey, but warm enough to enjoy a glass of cider/pinot/scotch on the roofdeck.
The new doorman, who will only need to be tipped half as much as the one who just retired.
The dollhouse proportions of your apartment plus the Draconian co-op rule limiting the number of house guests means you are off the hook for hosting out-of-town family.
Your fifth floor walk-up means you can walk off those pumpkin pie calories without ever having to hit the gym (bonus: The five-floor climb could keep some less-than-welcome guests away).
Your lack of a dishwasher will scare away said unwelcome guests who fear having to help you wash up after dinner.
Four days of peace from the renovation noise upstairs/downstairs/next door.
No room at the card table for everyone invited for Thanksgiving dinner so you get to watch football with your plate in your lap, just the way you like it.
Four words: No alternate side parking - meaning you don't have to pay the super to park your car today.
The leftovers, and their calories, leave with the guests because the freezer is already full of vodka/ice/frozen meals from the diet you just broke...and it's not like you have an extra freezer in the basement, er, storage bin.


Related posts:
Then & now: My Apartment Thanks Giving
A Doorman Speaks: This time, a letter of thanks
7 things you need for your apartment that do not exist (yet)
16 things I have learned since moving to NYC

10 things you never want to hear in the middle of the night
10 things your building should have, but doesn't
NYC Real(i)ty Speak: 5 Groupons for vertical dwellers
The Flat-Tip Bill, plus 7 other apartment laws we'd like to see
Brick Underground articles occasionally include the expertise of, or information about, advertising partners when relevant to the story. We will never promote an advertiser's product without making the relationship clear to our readers.