Getting Ready
Is the real estate calendar still relevant? Or are sellers done with waiting for spring and fall to list properties?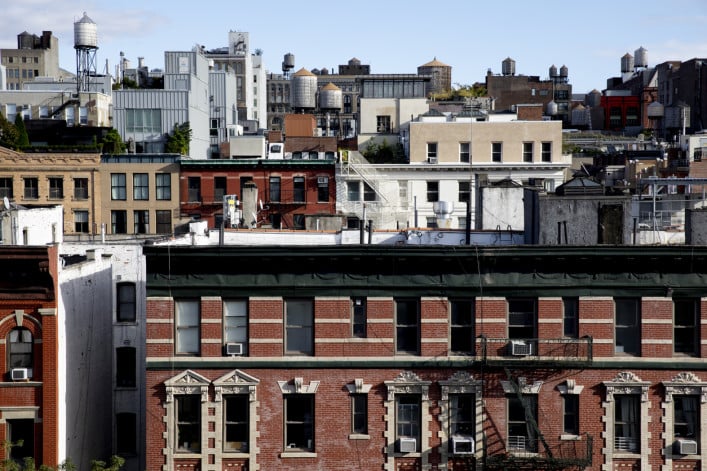 When you plan to list a New York City apartment for sale, brokers often suggest you do it in one of two seasons, spring or fall. When you put a place on the market outside these traditional periods, it usually means you can expect to work with a limited buyer pool, something that isn't preferable when the goal is to have the apartment seen by as many potential buyers as possible. 
Most years the summer is a quieter buying period—people take vacations and may leave the city for several weeks. But in 2021, real estate activity during the summer months was the strongest in more than 30 years. And last winter, many buyers, unable to travel, were scrolling listings to find a deal, presenting owners with a fresh challenge—how to sell in the winter. The answer: With minimal holiday decorations, a cozy temperature of 72 degrees, and if possible, a working fireplace. 
The summer and winter sales surges over the past year may just be blips in the traditional real estate calendar, goosed by pent up demand and low mortgage rates. Some say that, like the current supply chain issues, we may see disruption for a while but the market's seasonality will eventually return to normal. However, other brokers argue that waiting for one season or another in order to list is increasingly irrelevant, especially now that buyers and sellers have become so savvy online.
Of course asking a broker if you should sell your apartment is a bit like asking a hairdresser if you should cut your hair—there's a financial incentive for them to encourage you to do just that. 
The 24/7 online search
Although you could easily search online for an apartment before the pandemic, real estate listings gained a level of sophistication when lockdowns prevented buyers from physically viewing apartments. Brokers now regularly give clients tours via their phones; 3D footprints and virtual tours are common; and buyers are better informed and know the questions they should be asking. 
"Technology is a game changer," says Wendy Sarasohn, a broker with Brown Harris Stevens. She says the change in the traditional seasonal market isn't a post-Covid blip but rather "directly related to the way most buyers now search for an apartment."
"Although sellers may try to list their homes right after Labor Day or at the very start of spring, we see that homes are now listed any time of year, and potential buyers are surfing the web any time of year, and any time of day or night," says Steven Gottlieb, an agent for Warburg Realty.
Sarasohn is regularly asked to FaceTime her clients from an apartment and says with buyers honing their search in this way, they might physically visit a handful of top picks rather than physically touring dozens over many weekends. This means the weather or seasonal vacations plays a less significant role. 
John Walkup, the co-founder of the real estate analytics company UrbanDigs, thinks there will be a slow return to seasonality in real estate markets as time moves on. "The winter slowdown revolves around holidays, which have not changed, and the summer slowdown used to revolve around vacation schedules. The eventual return of family vacations, travel, summer camps, and other summer happenings will most likely eat away at summer real estate activity," he says. 
Townhouse versus apartment
The reason you might list in spring is to capitalize on warmer weather and early blooms to showcase outdoor space. Gottlieb says in terms of timing your listing, curb appeal definitely matters but more so when selling a a townhouse. When potential buyers walk up, you want the house to look as beautiful as it can and leaves on the trees can help with that objective. "If you're selling a city apartment, curb appeal is not necessarily as much of a factor, so strategizing seasonality is less important," he says.
Sarashon says serious buyers generally aren't put off by either high humidity or freezing temperatures. In fact Sarasohn says, the pandemic has taught us that the places we live in now need to serve us 12 months a year so what she calls "seasonal seduction"—blossoming trees in spring or the wood burning fireplace in the fall—in her view, are less important. Indeed buyers want to see what the place will feel like in winter so viewing it during the colder months can even help.
Sheila Trichter, a broker for Warburg Realty, says she's never seen the point in waiting for the spring market. "People do go out in the winter," she says. She probably wouldn't recommend listing between Thanksgiving and the first week of January, though. "That's when folks are focused on holiday shopping and going on vacation. It's better to be new and fresh when things are back to normal," she says. 
Pro Tip:
To find out what actual buyers are willing to pay for your co-op, condo, or brownstone, consider discreetly "pre-marketing" it. New York City real estate brokerage The Agency has an entire data-driven pre-marketing platform that provides a way to quietly test your asking price and your marketing strategy  among real-life qualified buyers before publicly listing your home. There's no charge to participate and no obligation to enter a traditional listing agreement at the end of the pre-marketing period if your place hasn't sold. Click here for more information.
The school year
If you're trying to sell a large apartment that's best suited for a family, you'll be aware of the school calendar playing a role in the seasonality of the city's real estate activity. Walkup says, "school calendars are much more impactful than the weather." 
A lot of people with school-age children want to move after the school year ends or get settled before the school year starts, so as not to disrupt the routine of homework and extra curriculars. Even so, Sarasohn says, "now the desire to have the space they want is key," and that search can start at any point in the year. In some cases, it is possible to negotiate a closing date several months out if both buyer and seller have school calendars to accommodate. 
"So the argument can be made that even a large apartment can be listed any time of year," Gottleib says.
He contends that the pandemic has warped many peoples' sense of time. "Instead of the usual milestones of seasonal changes, many people do feel as if each year is a monolithic entity. This has also affected the seasonality of listing, as the natural rhythm of life has been blurred," he says. 
However, you could argue that Halloween is back and this Thanksgiving will see families reunited in a way that was impossible last year. Walkup says "the seasonality in real estate was derived from general human patterns, which over the longer term, tend to revert back to their norms." 
Pricing beats timing
A well-priced property will sell regardless of the season. Sarasohn says there are numerous factors that will play into timing but what is most important is to "price properly and present a clean home that invites buyers in." And with buyers searching obsessively online, the pictures must accurately showcase the apartment.  "It's like online dating," she says. 
And just as a perfect match doesn't always happen when you're ready, she thinks sellers who stick to the old traditional notions of perfect times to sell might lose out because of increased competition during these months. "It's the same with buyers who postpone looking during the summer," she says. 
Trichter says she's had several bids through the years on Thanksgiving morning when she's been trying to prepare for guests and cook the turkey. "So you never really know," she says. 
Brick Underground articles occasionally include the expertise of, or information about, advertising partners when relevant to the story. We will never promote an advertiser's product without making the relationship clear to our readers.