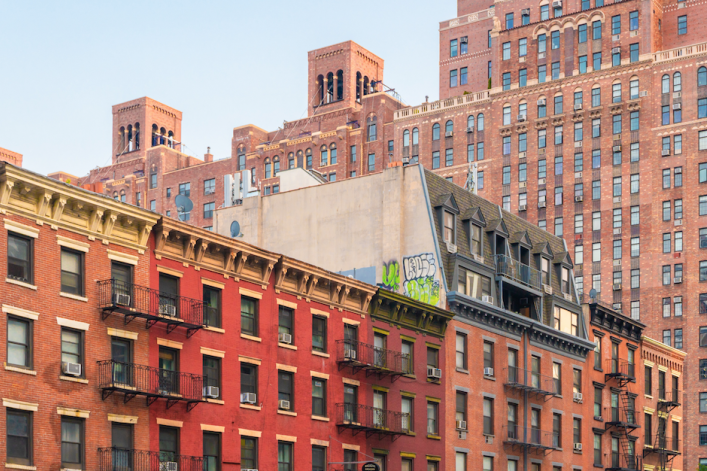 Should you jump into the booming New York City sales market now, or wait until spring, when the market may get even hotter?
Selling conditions now are optimal, thanks to high demand, low inventory, low mortgage rates, and rising prices—but there are could be an advantage to waiting until the new year. The spring of 2022 promises the full return of international buyers and more office openings, which could drive prices even higher.
Traditionally, spring is when sellers with school-age children list their properties—and look to buy somewhere else, but some brokers say that sort of seasonality is becoming less of a factor.
Of course, some sellers don't have the luxury to wait: They need to tap equity in their place for another purchase and aren't in a position to time the market. But if you have the ability to wait, what's the advice? 
Brokers that Brick spoke with have many opinions, but the general consensus is that if you have a property with coveted outdoor space or work from home potential, there's no need to delay—there are plenty of buyers scouring limited listings and you may sell well over asking. However, owners of smaller condos that might appeal to an investor could benefit from waiting for the return of international buyers or a new wave of office openings. And if your place needs renovating, you might want to see how supply chain issues resolve themselves in the new year. 
For more tips on whether you should sell now or wait, we asked NYC brokers to weigh in on the following scenarios.
tripleIf you have: A larger apartment with outdoor space or a work-from-home alcove 
The pandemic elevated demand for outdoor space or a home office into a must-have amenity for many. If you have either of these, brokers say there are plenty of buyers eager to hand over good money for them. Nicole Hechter, a broker at Corcoran, advises anyone who owns an apartment with these attributes or with a property that is "unique and not cookie cutter" to put it on the market now.
Hechter recently listed a 3,000-square-foot, four-bedroom loft in Greenwich Village with outdoor space, something she says is "incredibly important to people." The place sold for $6 million, a million over the asking price. "I've had things go above the asking price but never a million over," she says.
An alternative suggestion for owners of luxury high end condos is to rent your place out until the return of foreign buyers. Wendy Sarasohn, a broker at Brown Harris Stevens, says the rental market for these units is "extremely strong."
International buyers are expected to be more active in the spring although that isn't stopping them from looking. Sarasohn recently showed a buyer from Singapore a terraced penthouse via video but says he was forced to accept that the apartment may not still be available by the time he is able to see it in person. 
"Apartments that will capitalize the most by the return of international buyers are condos, specifically new developments," says Matthew Hughes, a broker with Brown Harris Stevens. 
Pro Tip:
To find out what actual buyers are willing to pay for your co-op, condo, or brownstone, consider discreetly "pre-marketing" it. New York City real estate brokerage The Agency has an entire data-driven pre-marketing platform that provides a way to quietly test your asking price and your marketing strategy  among real-life qualified buyers before publicly listing your home. There's no charge to participate and no obligation to enter a traditional listing agreement at the end of the pre-marketing period if your place hasn't sold. Click here for more information.
If you have: A one bedroom without extra space
There are mixed views on whether now is the best time to list a standard one-bedroom apartment. Hechter says one bedrooms without extra space are seeing less activity than those with that extra bonus room. "Maybe wait," she says.
However, studios and one bedrooms are often bought by first-time buyers. Gerard Splendore, a broker at Warburg Realty, says they are always in demand. "I encourage sellers for those sized properties to list immediately, rather than wait," he says. In his experience condos near schools and hospitals are selling easily.
Something else to consider: If it's a condo it could appeal to a foreign buyer or investor who might choose to rent it out. 
If you're selling a co-op, there's less strategic advantage in waiting for the return of the international buyer but it still might affect pricing. Hughes says foreign buyers tend to pay a premium for condos and, at times, this can force domestic buyers to consider other options. "While foreign buyers may not buy in a co-op with more stringent requirements in place they can and often do outbid locals on the condo options, forcing locals to reconsider their co-op options." So even though international buyers aren't typically interested in the co-op market, their presence in the condo market affects co-op pricing. 
"If you can afford to wait, wait. While no one has a crystal ball, sellers should be in an even better position come the end of winter or beginning of spring," Hughes says. 
If you have: An apartment in an area badly hurt by the pandemic
Brokers are split on whether location really matters in timing your listing. Andrea Wernick, an agent for Warburg Realty, believes a seller in downtown Manhattan or the Upper West Side can easily list at any time and know they will get a deal. Areas like Tribeca are as hot as ever. Christopher Totaro, an agent at Warburg Realty, says "If you are listing anything in Tribeca under $5 million, list it now."
There are certain areas, however that have felt the brunt of the pandemic: Midtown, Sutton Place, and the Upper East Side. "Those sellers should wait until early spring to list their apartments," Wernick says. 
Most brokers say your call on whether to list now or wait is a more nuanced than a decision based on neighborhood. 
Hughes says the Upper East Side is popular right now. In the third quarter, the months of supply (or how long it would take to sell all inventory) for apartments for sale in Manhattan fell from 20 months to just five months. "With supply below a six-month level for the past two months, Manhattan can now be categorized as crossing the line into a seller's market," he says.
Sales in Brooklyn and Queens set record highs in the last quarter, giving brokers few reasons to suggest waiting to put your place on the market. 
If you have: An apartment that needs work
Turn-key apartments that require no additional work or upgrades are performing "extremely well," Totaro says. "If the apartment doesn't need work, list now," he advises. However, for apartments that need work, it's no secret that supply chain issues are having an impact and that's making buyers reluctant to take on projects where the timeframe of the renovation—and therefore cost—is uncertain. 
"Condition of the unit impacts listing, as presently buyers do not want to renovate," Splendore says.
If you have: An apartment in a very large building
If you're selling in a large apartment complex see if other properties are for sale in your building. This will be less relevant if your apartment has outdoor space or is unique in some other way but if it is a one- or two-bedroom place and there are similar apartments on the market in your building you might want to wait.
"You have to take note of that and maybe put the sale on a back burner and see how those other apartments work out," Hechter says.
She points out the new year will bring another "wave of activity when companies are bringing more people back to the offices and we will see a new influx and a new buyer pool," she says. Her caveat: "If it's a one bedroom in the West Village with a lot of character I'd say, do it now."
If you have: A family-sized apartment 
Hechter recently sold an apartment in a prewar building in Gramercy where the sellers were concerned about putting the place on the market right now.  
"We had four offers which resulted in a bidding war, and it went over the asking price," she says. So if you have a unique property that doesn't come to market often she doesn't see any value in waiting. 
"The larger apartment—the two bedroom with a home office, the three bedroom, four bedroom—they are a commodity and are really in demand in the hotter Downtown Manhattan market but we are also seeing that product fly on the Upper East Side," she says.
One factor to keep in mind, however, is that there's a much larger buyer pool for one- to three-bedrooms apartments of 1,000 to 3,000 square feet than for four-bedroom apartments over 4,000 square feet. 
"I would say that larger apartments are typically purchased by families and those purchasers tend to not want to move during the holidays and winter season," Hughes says. The holidays consume a lot of people's time regardless of price point, he says. "People are also not eager to uproot their lives and move in the middle of a New York winter."
If you're selling an apartment that's ideal for a family, you'll also want to consider the school year. People with school-aged children typically want to be in place for the beginning of the academic year so are more likely to be looking in the spring with a plan to close early summer.
However, Sarasohn says in the current market, tying a sale to the school calendar is no longer significant. "Buyers are eager to commit before prices and interest rates climb," she says. In addition, there are always situations—like a new job or a change in circumstances—that can prompt families to move mid-year.  
Brick Underground articles occasionally include the expertise of, or information about, advertising partners when relevant to the story. We will never promote an advertiser's product without making the relationship clear to our readers.