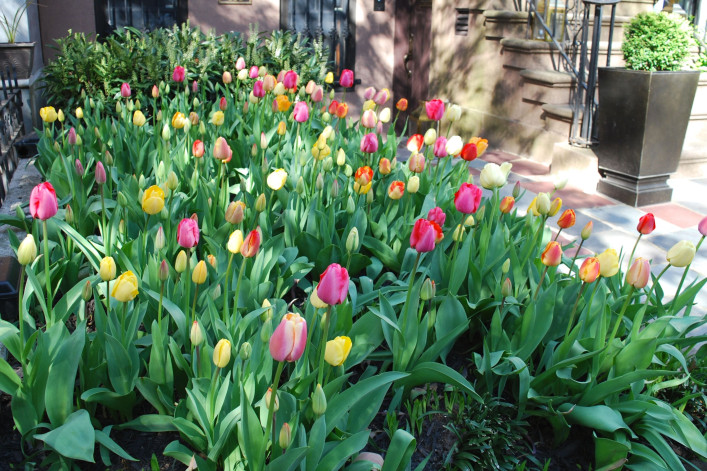 Emily Myers for Brick Underground
Every spring, a perfect display of tulips in Jason Agee's Brooklyn front yard stops people in the street. This year, as the spread of coronavirus shrinks the radius of our lives to a few blocks and New Yorkers look for signs of hope, Agee's pink and yellow tulips have become even more poignant. Agee, the founder of interior design firm Jason Agee Design, lives 700 feet from New York-Presbyterian Brooklyn Methodist Hospital. He says this year's blooms came up at least two weeks earlier than usual, a welcome reminder of spring in these scary times. He shares how he maintains his eye-catching front yard all year round. 
I always enjoy seeing the tulips in New York City parks and I work on the Upper East Side where things are very maintained and meticulous. We used to live over by Madison Park and Gramercy Park so I would just see the tulips there and I'd think, 'I want those!'
The flowers bring me tons of joy. People walk past and ask, 'do you do this for a living?' I say, 'God no, then it wouldn't be so enjoyable.' It is a lot of work to dig that whole front yard up and plant the tulip bulbs but now is the reward. I like to buy a new variety to look forward to, so every year they are different. They don't come back as great the second year so I'd rather just plant everything new and have something new to look forward to.
---
Editor's Note: Brick Underground's Inside Stories features first-person accounts of dramatic, real-life New York City real estate experiences. Have a story to share? Drop us an email. We respect all requests for anonymity. Click here for more of Brick Underground's coronavirus coverage.
---
The first year I planted the bulbs in October but you don't want to get them in too early because the squirrels just dig up all your hard work and eat the bulbs, like popcorn. For them, it's a delicious treat. I've wised up now and got smarter and I actually wait until my Christmas tree is delivered before I put the bulbs in. Every year it seems to be later and later.
After the tulips bloom in spring, we transition into the summer garden. I typically pull out the tulips once they die and will donate the bulbs to anyone who wants them.
The monkey grasses are there all the time. In fact, I know which areas of the garden get more sunlight because that's where the monkey grass is bigger and more clumpy so I pull those apart and try to redistribute them in a geometric pattern. Then I start thinking about color. By late May or June, my neighbors' cherry tree fills in with leaves and the front garden becomes less sunny by June. Besides, all the trees on the block start to fill in with their leaves so the front garden doesn't do well with plants that need a lot of sunlight. 
So at that point, I'm really zeroing in on beautiful exotic shade plants. Coleus are amazing and there's a lot of different types but I don't like to do the same thing year after year, so I try to find different varieties or different colors and then just go from there. I'm more inspired by what I see at the market or at the greenhouses.
This year it will be different because of the pandemic. I'll have to see what's available. I notice Home Depot is not getting nearly as much in the garden department and Shannon's nursery is still open but it will depend on what they have.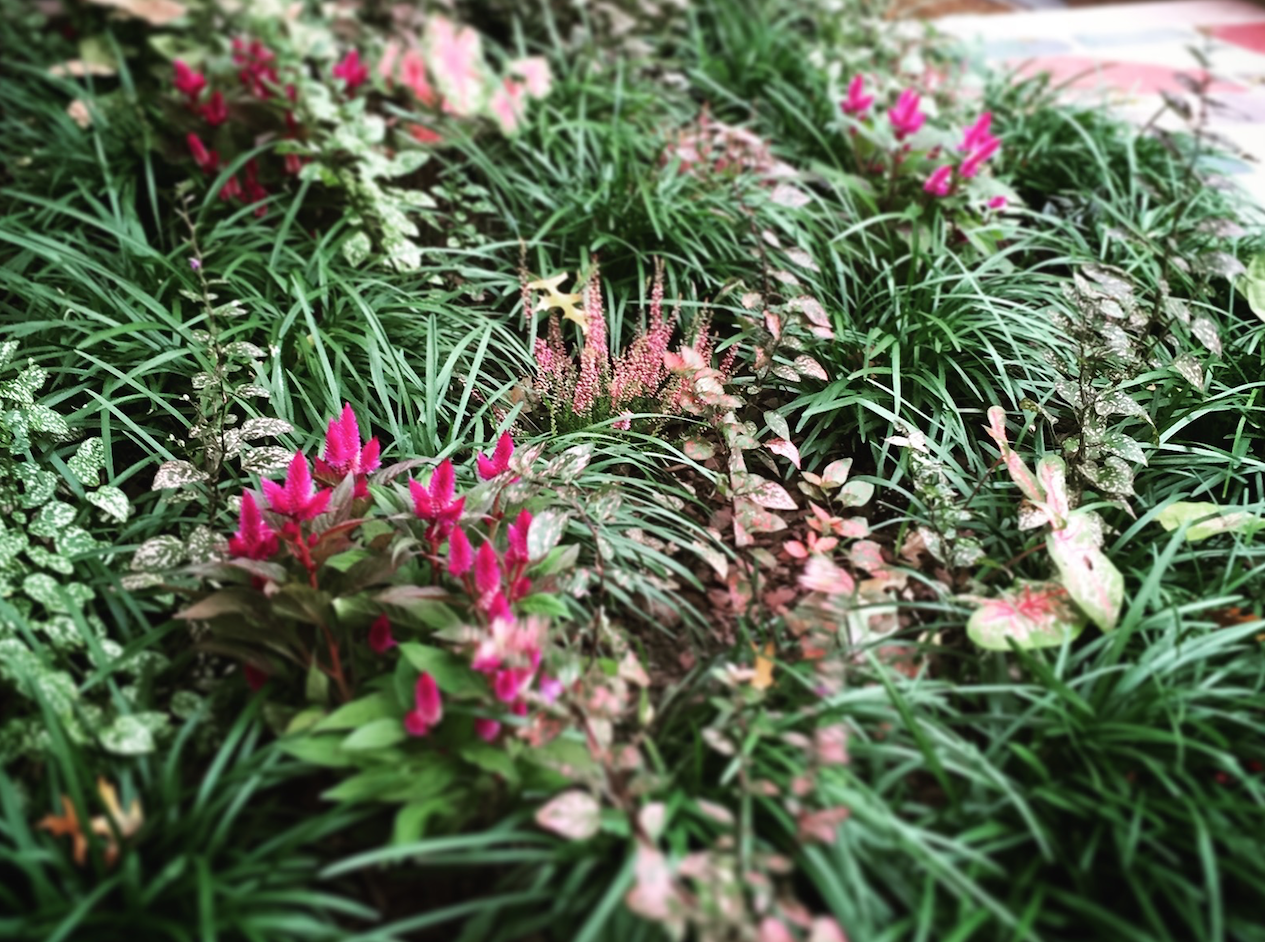 I like to do rows or make a geometric pattern so it's pleasing to the eye and incorporate it with the green monkey grass. I try to do two or three more things that I know will thrive in a shady spot that's well watered and also have color throughout the season. I love hellebores—a gorgeous plant—but that's a very early spring blossom and then it disappears for the rest of the season. It's a perennial so it comes back year after year, bigger and beautiful. But for me, the joy of the front garden is that it's a blank slate so while I've got my grasses, I really plant whatever I want in order to change it year after year and from season to season. 
If the summer planting still looks good, I'm always out there trimming back and picking off dead blooms, to help the plants grow bigger and bushier, but I'll keep them as long as possible and then incorporate some new things in the fall. The amount of trash that blows down the street and gets stuck in the fences blows my mind so I'm always out there.
And then once it's pumpkin time, it's like, 'alright now it's time to let it all die back.' The pumpkins are great because they are big and they fill in a lot of the spare areas and it looks like a pumpkin patch which is fun. I love gray pumpkins but they are always very expensive. This past year I had purple cabbages as well as the pumpkins and they lasted forever. I bought them in October and usually, the cabbages would have completely died with a hard freeze and a good snowstorm by December, but they just kept growing and looking bright and beautiful and purple so I really got my money's worth out of those. 
The pumpkins stay through until Thanksgiving but as soon as that's over and we are transitioning into Christmas I don't want to see pumpkins so I whip them out of there. The winter garden is quite good because it's the one with the least amount of work—once the bulbs are planted. Sometimes I'll buy greenery—fir and cedar and pine—I'll throw those down in the garden as a transition through winter. 
Then when Christmas is over, I am ready to take down that tree, usually by December 27th. This year the tree fell over actually. The tree even said it was done with Christmas. It happened at 11 p.m.—with such a loud thundering sound I thought the place had exploded. I got myself a cocktail and a hacksaw and I dragged the tree outside and chopped it up. I lay the branches in the yard because they still look good and the pine needles are very good for the soil, very acidic, so it does double duty as fertilizer.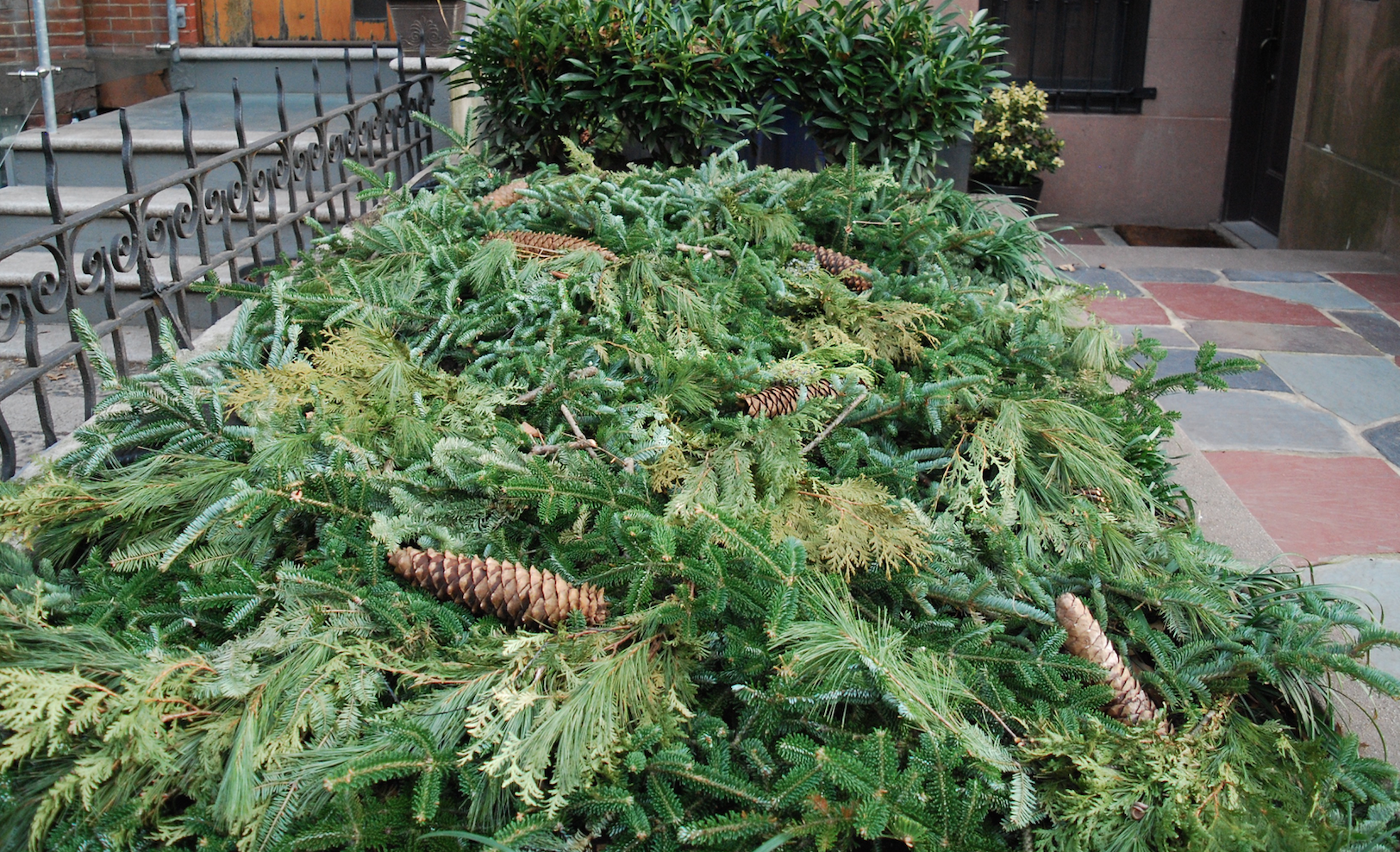 Then in late February, early March we start to get excited about spring. I'll pick out the branches and put down some decorative mulch as the tulips emerge.
Brick Underground articles occasionally include the expertise of, or information about, advertising partners when relevant to the story. We will never promote an advertiser's product without making the relationship clear to our readers.