Transitions
From Hell's Kitchen to the UES: We traded a cramped rental for a larger space in a fancy neighborhood
His 600-square-foot one bedroom was $3,500. As a couple they now pay $5,000 for 1,000 square feet
'You have to pick what you want in an apartment because there's no such thing as the perfect place'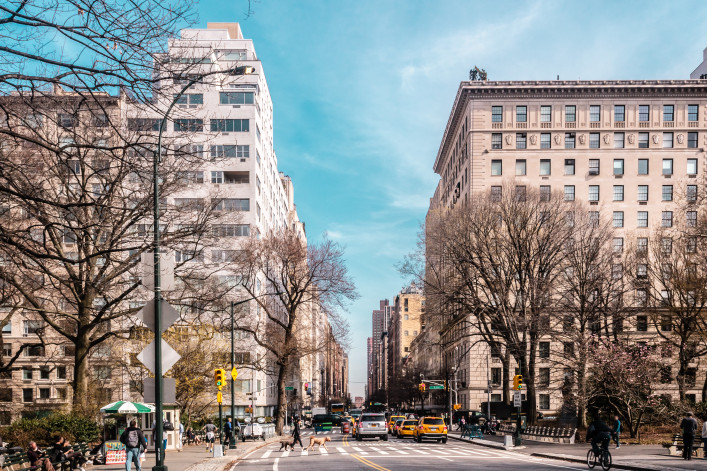 inaciouluc via Getty Images
When Thomas's girlfriend moved into his tiny Hell's Kitchen one bedroom, the couple quickly outgrew the space. So they decided to head to the Upper East Side for better socializing opportunities, more transit options, and a bigger place. They even scored a balcony. Here's their story. 
I was born in Manhattan and raised on Long Island. Most recently I was living in Hell's Kitchen. I lived there for about a year and a half on my own and then my girlfriend Nicole moved in with me.
I (and then we) rented a one-bedroom, one-bath apartment that was about 600 square feet for $3,500 a month. The building had doormen, washer-dryers on each floor, and a shuttle that would take us to and from the subway because the closest subway was about a 15-minute walk away. There was also a gym in the building, but you had to sign up for an additional $150 a month to use it. Doing laundry was so convenient—it only cost $1.25 per load, which was a great deal. 
I loved the modern feel of the apartment, especially for the price I was paying. The building itself was built in the early 2000s, so everything was relatively new. On the flip side, I really didn't like having to pay extra for the gym.
I was attending grad school at Fordham, so being around the corner from the Lincoln Center campus was super convenient. It was so convenient that I hardly needed to rely on the building's shuttle service—I could simply walk to class in no time. 
But being so far away from the subway was a pain for Nicole, who was working in the Financial District. She would have to take the building shuttle to the closest station at Columbus Circle, which between the usual wait for the shuttle and the drive time took about 15 minutes. And then she'd take the A or C train down to Fulton Street, which took another 35 minutes or so. 
There's really not a ton to do in Hell's Kitchen, so we'd also have to travel by subway when going out to dinner and socializing with friends, mostly on the Upper East Side.
There is one great place I loved (and still love) going to with friends, especially for big celebrations—it's an Israeli restaurant called HaSalon that not only has amazing food but also a crazy-fun atmosphere that turns into a late-night party.
For food shopping, I mostly relied on Instacart, but I could walk a few blocks to the Westside Market for quick purchases. I loved the variety of food options and reasonable prices there. I used Postmates occasionally to order in, usually for pizza or sushi.
How they found their new apartment
In August 2022, after sharing my place with Nicole for about six months, we decided it was too small for both of us and that we needed more space. We also wanted to be closer to more subway options, preferably on the Upper East Side.
I spent multiple hours a day for at least two full months searching apartments on StreetEasy and then reaching out to brokers and landlords to set up viewings. I ended up seeing three apartments in person. 
Once I found an apartment I liked, I had to fill out a ton of paperwork and provide my financial information, rental history, and employment background. Then I had to wait about two days for the landlord to review my file and make a decision. But  once approved, I was given less than 24 hours to sign the lease and pay the security deposit and first month's rent or they would give the apartment to someone else (so they said). Overall, the process was worth it to find the right apartment, but boy was it a long headache.
Also, you really have to pick and choose what features you want in an apartment in Manhattan because there's really no such thing as the perfect place here (unless you have unlimited funds, of course). For the average Joe, it's highly unlikely you'll be able to find a flawless apartment that checks everything on your list within your budget range. 
Fortunately, I love our new apartment! It's a spacious 1,000-square-foot one bedroom with one and half baths, which is a lot bigger than our previous place, and the building itself only has four apartments per floor. We even have a balcony!
Although the rent is higher at $5,000 per month, I'm now splitting it with Nicole, so it ends up being less than what I was paying before. However, the cost of moving was super expensive! We paid about $600 for a moving truck and two movers, plus we wanted to buy all new furniture and décor because this was the first apartment we chose together.
What he likes—and dislikes—about the new building
In terms of amenities, the building has a lot to offer. There's a free gym that's open 24/7, which is a great perk. Plus, I even have room for a Peloton in the apartment. 
There are washer-dryer machines in the basement, which is still convenient, but they cost $2.00 per load compared to $1.25 at my previous place. I do hope to have an in-unit washer-dryer one day, but alas that will have to wait. 
The main downside is that the building is much older than my previous one and has a fair share of frustrating issues that require frequent maintenance. For example, the plumbing system can be a bit finicky at times, and the heating and cooling system isn't always reliable. 
One of the best things about the building is its proximity to several subway lines, making it easy for us to get around the city. The F and Q lines are basically right below our apartment. The N-R-W and 4-5-6 trains are also just a few blocks away.
I work remotely now as a community manager at Facialteam, so my commute is non-existent. But commuting is definitely easier for Nicole now. From our current apartment, it's just a short five-minute walk to the 59th Street subway stop by Bloomingdales and then a 25-minute trip to Wall Street on the 4 or 5 express train. 
How he likes the new nabe
The Upper East Side feels more upscale and residential than Hell's Kitchen, with dreamy brownstones and high-rise buildings as well as boutique stores. The streets are less crowded than in other parts of the city, and there are a lot of parks and green spaces, which is a nice change of pace. It's so refreshing to be able to take a break from the hustle and bustle of city life and unwind in a peaceful, natural setting, especially now that I have a balcony! The fact that Central Park is close by is also a huge bonus. 
There are lots of high-end dining options as well as casual spots, and the quality of the food is generally very good. Barbaresco is a hidden gem and one of my absolute favorites, although it does lean a bit on the pricey side. Ordering in is pretty similar to Hell's Kitchen—I'll occasionally use Postmates to order in pizza or sushi when I'm feeling extra lazy.
Food shopping is much easier here. Morton Williams is directly across the street and Whole Foods and Trader Joe's are just a few blocks away. Grace's Marketplace is a great neighborhood spot for prepared foods, specialty items, and basic grocery options. 
In terms of activities, I love going to Central Park just to relax or have a picnic with friends on warmer days. For a taste of history and culture, I adore visiting the UES museums. MoMA is my personal favorite, but of course, The Guggenheim and The Met are world-class institutions—and within walking distance!
We haven't made many new friends in the area yet because I find folks in Manhattan tend to prefer to keep to themselves. However, I've had many friends and family come to visit the new place and they like it so much better than our previous apartment.
With the new space, I was able to get a bigger couch, so more of my friends can be comfortable while watching big games or even just hanging out. They also love hanging out on the balcony just as much as I do. Plus, the dining area is almost as spacious as some bedrooms in NYC.
Both Nicole and I are so glad we moved and plan on staying put for at least a few years—and then who knows!
Brick Underground articles occasionally include the expertise of, or information about, advertising partners when relevant to the story. We will never promote an advertiser's product without making the relationship clear to our readers.