Transitions
From the UES to Astoria: My rent was doubling so I found a bigger space in a cheaper neighborhood with easy parking
She was paying $1,475 for a studio. Now she pays $2,000 for a two bedroom in a private house
After viewing 25 apartments in person she submitted three applications to avoid bidding wars
'Now that I am in Astoria, I was able to purchase a car since parking is much easier'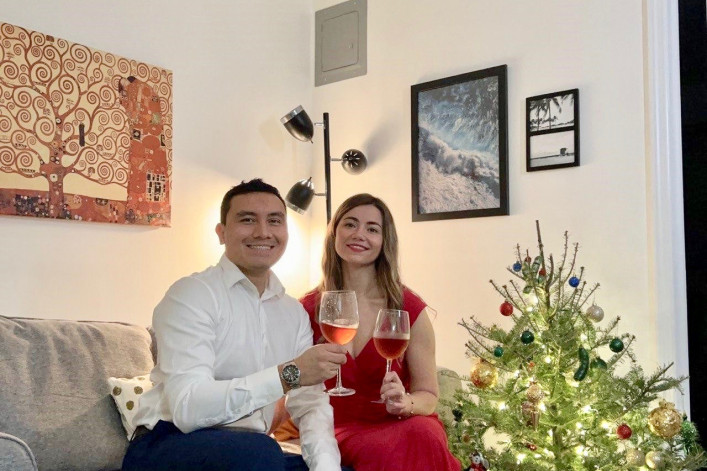 Faced with an astronomical rent raise, Yulia headed out of Manhattan and began apartment hunting in Brooklyn and Queens. She landed a great deal in Astoria and now has much more space and a new car parking here is so easy. Here's her story. 
I was born and raised in Russia and originally came to the U.S. six years ago to visit my brother—and then fell in love with New York City and decided to stay. I first lived in the Bronx, but the location was so far from work that it made sense to move to Manhattan. 
Most recently I was living with my husband Eduard in a studio apartment on the second floor of a walkup building on the Upper East Side. We got a Covid deal for just $1,470 per month. Even though we had laundry in the building (the only amenity), I would go to the laundromat often because the machines in the building would break down.
---
[Editor's Note: Brick Underground's series "Transitions" features first-person accounts of what it's like to move from one New York City neighborhood to another. Have a story to share? Drop us an email. We respect all requests for anonymity.]
---
I really liked being close to Central Park and the East River for morning runs and evening strolls. What I did not enjoy were the low-quality finishes, not having a dishwasher, and the lack of storage space. 
As a professional photographer (@pipettegogi) operating my own business, Kapturemellc.com, I would often go to Fifth and Madison avenues to practice my street photography—and the Metropolitan Museum was a just a quick 15-minute walk. 
My husband used to travel to work via the Q train, which was just a five-minute walk from our apartment. The 6 train was a bit further but also convenient, especially when the Q line was experiencing delays or was out of service. Either way, his commute took about 20 minutes. 
The UES was great for evening restaurant visits and date nights, and it was easy to get to Midtown and the West Village area to meet up with friends. 
My husband and I liked going to Bare Burger on 74th Street, which has unfortunately closed. We also liked Thep Thai Restaurant, Mission Ceviche and La Esquina, and Oda House. 
For food shopping, I usually went to Traders Joe's on 59th Street, which was about 10 minutes away by bus from my apartment.
How she landed her new apartment
I knew that when my lease renewal came up, our Covid discount would likely be gone. But I soon found out my rent was being raised to $3,000! So in March 2022, I spent about three weeks going to different areas in Brooklyn and Queens before deciding on Astoria as a new neighborhood to live in.
Then I started searching for apartments on my own and asked my friend Cristina Aculova, who is an agent at Living New York, for guidance. 
Because the rental market is highly competitive, I requested tours for every available one- or two-bedroom apartment under $2,000 (my top budget) and visited any that got back to me. I ended up seeing about 25 places. 
I decided early on not to participate in bidding wars, which is why I applied to three apartments. The first two were rejected because the unit was given to a different applicant. 
The third apartment was not in a rental building but instead in a private, two-family house, making the application process and interview much easier and more personable. It took less than a week from viewing the apartment to signing a lease. Surprisingly, this apartment listing was only posted on Craigslist. I had not expected to find an apartment on any other website than StreetEasy.
My current rent is $2,000 for a two-bedroom apartment on the first floor. It has windows in every single area/room with east, north, and west exposures. My studio on the UES had only one window facing north, so this is a great upgrade. There's no laundry in the building though a laundromat is conveniently located one block away. 
Besides paying more in rent, my electric bill is double what I paid before because the unit is larger. I now pay about $100 a month. 
On the other hand, I'm saving money on groceries since the prices are lower than in Manhattan. I used to spend about $150 per week but now it's more like $100. All my other expenses are about the same.
How she likes the new neighborhood
My new neighborhood is more residential with low-rise buildings. I like that my area of Astoria is very quiet and people are less stressed, angry, and irritated. I also like that it's just a 10-minute walk to Broadway where all the small businesses are—restaurants, coffee shops, banks, fitness centers, pharmacies, and medical care facilities. 
That is also where we can pick up the N/W subway lines. It now takes Eduard a bit longer to get to his job, around 30 to 35 minutes, depending on the work site.
When it comes to restaurants, my husband and I go to Lots O Bagels, Sanford's, New York City Bagel & Coffee, Amylos Taverna, and Pye Boat Noodle, all located on Broadway. And there's a Starbucks right next to the subway, which is great for early morning travels. 
I also like working out at Blink Fitness and visiting the Regal UA Kaufman Astoria movie theater, both within a 15-minute walk from our apartment.
Luckily, there's a Trader Joe's close by so not much has changed in terms of food shopping—except, now that I am in Astoria, I was able to purchase a car since parking is much easier.
So far, the only drawback for me is that street cleaning happens four times a week, meaning I have to re-park my car often. But it is something that I can live with and would not trade.
As an elder millennial, I am a workaholic and have not made any new friends, but a few of my existing friends have visited and commented on how spacious our new apartment is compared to the cramped studio on the UES. We even have a proper living area for watching our large TV.
Taking a chance on a neighborhood I was not familiar with paid off! As long as the rent increase at lease renewal time comes in at a reasonable price we are definitely staying.
Brick Underground articles occasionally include the expertise of, or information about, advertising partners when relevant to the story. We will never promote an advertiser's product without making the relationship clear to our readers.