Transitions
From Hell's Kitchen to Downtown Jersey City: I wanted cheaper rent and better schools for my son
Searching online for lower rents led him across the river to Jersey City, where he saw three apartments
He dropped his rent from $2,500 to $1,600 but upped his square footage, nabbing a den for his son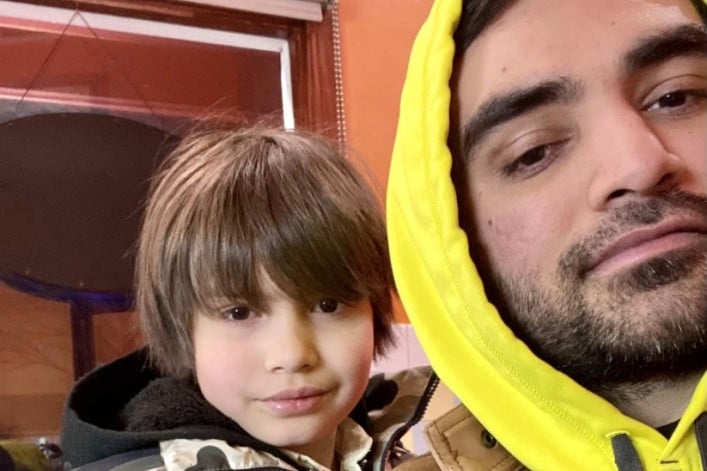 Wanting a more affordable apartment, Talal left his beloved Manhattan for Downtown Jersey City, where he landed a bigger place for less rent and a better public school for his son. An added bonus: Great Pakistani food! Here's his story. 
I was born in Karachi, Pakistan, and moved to the U.S. in 2010 for school. Initially, I lived in Texas and then Florida but couldn't come to terms with the racist attitudes in the south. I had been to New York City many times before and found it to be a lot like my hometown of Karachi. So I moved there after graduating from college, and it didn't take long to find a job. I've never looked back!
---
[Editor's Note: Brick Underground's series "Transitions" features first-person accounts of what it's like to move from one New York City neighborhood to another. Have a story to share? Drop us an email. We respect all requests for anonymity.]
---
Most recently I lived in Hell's Kitchen with my eight-year-old son. We resided in a one-bedroom rental on the fourth floor of a walk-up building for $2,500. Unfortunately, it had no amenities. 
I used a laundry service that picked up, folded, and delivered it for $10 a pound—not bad at all.
Food and shopping were also affordable. I think Manhattan spots are able to offer good prices because of the large volume and lots of competition.
One of my favorite restaurants was Cha Pa's Noodle and Grill, an awesome Vietnamese place. I really like their pho; it's a huge portion and they do it really well! I also like Dave's Hot Chicken and Gallagher's Steakhouse for when I'm feeling a bit fancy. There are some nice bars around, but I didn't go to those much. 
I work in data for an energy company and run my own audio engineering blog called ProRec. To get to the office near Wall Street, I would take the E train from 50th Street and Eighth Avenue, which took about 25 minutes. Thankfully, my job is mostly remote, so I only have to be there in person once every three months.
My son attended a public school within walking distance in the neighborhood, which was convenient. 
I love the NYC vibe; ever since I was a kid I wanted to live and work in the city. I really like the diverse culinary scene, and the everyday hustle and bustle. I like crowded areas. However, I didn't like seeing so many homeless people everywhere. This seemed to increase during Covid.
Why he left NYC for JC
In August 2021, I decided to find a cheaper one bedroom in an area with good public schools. After looking on Trulia and Zillow, I discovered Jersey City rents were way better than those in most areas of Manhattan.
I viewed three apartments in Downtown Jersey City within a couple of weeks. Two of them were owned by private landlords, but the one I ended up getting is managed by a small company. The process was easy, from contacting the broker and setting the meeting up to applying. I just had to fill out a form, and then they did the basic checks, asked me to put down a deposit, and gave me the key.
My new one bedroom is only $1,600 per month and has a den that doubles as a bedroom for my son. The building is similar to my Manhattan one—no amenities. I'm on the third of four stories. I still send out my laundry but it's a bit cheaper here. 
How he likes the new nabe
The Downtown residential area is very nice, and the schools are good, which was another big motivating factor in wanting to move to NJ. The public school my son went to in Hell's Kitchen was ok, but the one he attends now is way better. 
There are lots of small businesses everywhere you look. Within a half-mile radius, I have pretty much everything I could need, including the PATH trains. When I need to go to the office, my commute takes about seven minutes by train plus a 10-minute walk. 
Hamilton Park is awesome; it's pretty big and in the middle of the neighborhood. I like taking my son there. 
Practically every other intersection has restaurants and bars, including two Pakistani restaurants called Shadman and Laree Adda. I like going to Roman Nose and Rustique Pizza as well. 
My friends and family like my new area despite having that stereotype of Jersey in their minds. 
I haven't made as many friends here as I did in NYC, but being a single dad, it doesn't matter because I don't have that much time. 
Not only do I plan on staying in Jersey City, but given how affordable property is, I am considering buying a place here. I love it. 
Brick Underground articles occasionally include the expertise of, or information about, advertising partners when relevant to the story. We will never promote an advertiser's product without making the relationship clear to our readers.