One way to get more space and privacy for the buck in New York City is to rent a studio that's large enough to convert to a one bedroom, but there's a right way to do it and a wrong way.
That's because there's much more involved in creating a bedroom than just putting up a temporary wall. First, you need to see if your landlord permits them, then you need to get a permit from the Department of Buildings, which requires hiring a professional engineer or registered architect to submit plans to the DOB for approval, and you must use a registered and insured contractor to do the job. Why so much work? Because illegal walls can be unsafe.
Which is also why you should approach this listing for an attractive and well-priced one bedroom like 417 West 56thSt., #C2, in Hell's Kitchen, with some skepticism, because the apartment is likely a studio, which is why the asking rent of $2,150 is so low. One bedrooms typically go for $3,400 here, and studios ask $2,600, according to StreetEasy. In fact, it looks like this apartment was listed as an alcove studio when it was available for rent previously.
While there's not enough photos or a floorplan to confirm this, the half-wall behind the couch is likely being used to create some privacy for the bedroom while allowing in some light. This wall doesn't close off the room either. (Bear in mind, the DOB position is that if you change the layout of an apartment, a permit is required.)
Still, there's a lot going for this apartment, starting with its location in the northern part of Hell's Kitchen, just blocks from Columbus Circle and Central Park. The apartment has some nice extras for a studio, including a dishwasher in the kitchen, a bedroom that can fit a queen-sized bed, and extra storage space.
As always when weighing New York City apartment listings, we turn to our Take It Or Leave It experts: Constantine Valhouli, founder of real estate research and analytics firm NeighborhoodX, freelance writer Lambeth Hochwald and me.
But first, here are more pictures of the apartment.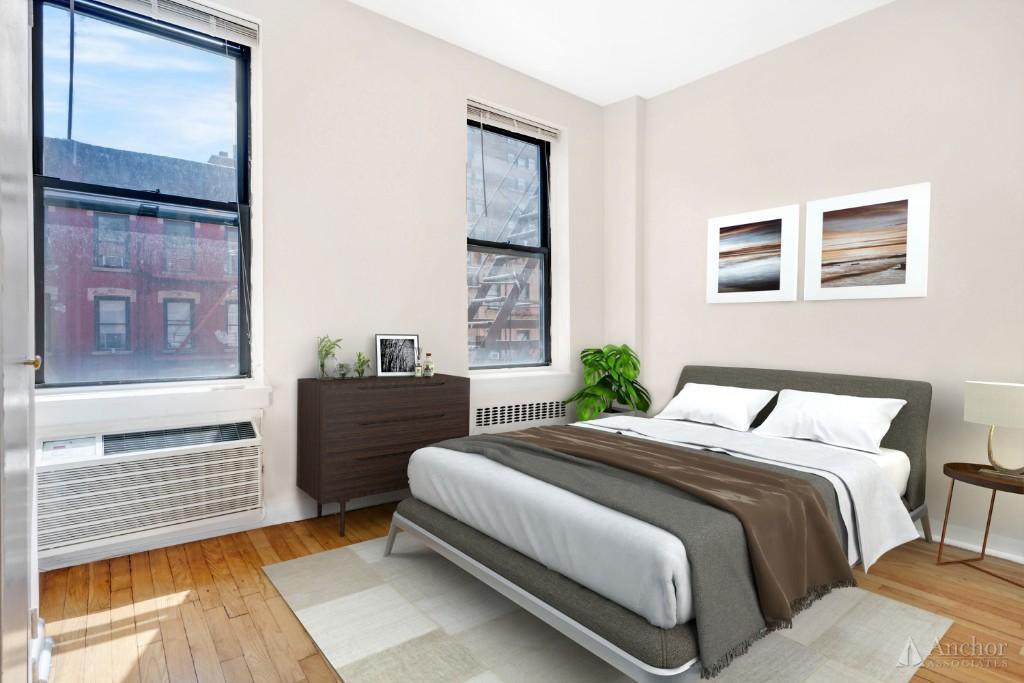 Pros and cons
"The price is definitely right for this quaint quasi one-bed in the north end of Hell's Kitchen but you definitely want to investigate whether this is a true one bed or, more likely, a studio with a handy dandy wall put up." —Lambeth Hochwald
"New York City works its alchemy on buildings as well as people. Who would've thought that in just two years, this apartment would evolve from a studio to a junior one bedroom to a one bedroom? Also, why not just build a wall that goes ALL THE WAY TO THE DAMN CEILING? Go nuts, add a door, too. Did they run out of two-by-fours and plywood? They could add a little window on top, so that the living room isn't a dark bear-cave of hibernation.
"Also, the bathroom was nicer in the photo from two years ago, while this one looks like a terrifying youth hostel in Berlin. Is this a documented example of a rare reverse-renovation?" — Valhouli 
"There is something fishy going on because the kitchen is also different in the listing for #2C from two years. And that listing was actually for '#C2', a tactic brokers sometimes use to make listings appear fresh." But the apartment is priced well and is very attractive, and the location is great. You've got the park and the shops at the Time Warner Center close by." —Jennifer White Karp
Whom it's perfect for 
"A Central Park runner or jogger who wants to be within blocks of an intense exercise regimen." —Hochwald
"Given the odd half-wall and the bathroom that looks like it's out of Berghain, maybe someone who misses Berlin and wants to graffiti the wall and jump over it, into bed every night as if it was 1989 all over again? (Or someone who has just given up hope on the apartment search and wants to rent something, anything, now.)" — Valhouli 
"A couple that is trying to save money because they're aiming to buy. They just can't own a lot of stuff." — White Karp
Take it or leave it
TAKE IT. "Provided you make sure you're getting the space for the money (don't forget the broker's fee)!" —Hochwald
LEAVE IT "I'm having a tough time getting excited about this one, at this price. As my interns would say, meh." —Valhouli
TAKE IT. "It's a good deal for Manhattan. Just keep saying that to yourself." — White Karp