If you're renting in New York City for the first time, and affordability is a top priority, one tried-and-true option is to look for a large apartment that you can share with roommates.
Keep in mind that after you find people to live with, and zero in on the neighborhood you want to be in, the key to making the whole apartment-share scenario work, in our experience, is having enough bathrooms. 
There are plenty of two-, three-, or even four-bedroom apartments on the market with just one bathroom, but these don't make great shares. Unless your roommates work evenings, or you take turns in tightly regimented shifts, getting ready for work in the morning with just one bathroom will be a real hassle.
So this four-bedroom, two-bath apartment, 1213 Rogers Ave., #2B, in Flatbush, which may not have a lot of bells and whistles, is worth consideration as a share among three or four renters: It's asking $3,199 and doesn't have a fee.
The median for a four bedroom in Flatbush is not available on StreetEasy—but the median for a three bedroom is $2,429, or $810 per person. Apartment #2B works out to $800 per person if split four ways, which puts it roughly in line with that median. (Splitting it three ways would be $1,066 each.)
It's been gut renovated, but not lavishly so: There's minimal kitchen counter space, despite what the listing says. There appears to be a decent amount of living space in the combined kitchen/dining/living room, but no window. The exposed brick keeps this place from being utterly boring.
The apartment appears to have been chopped up to create four bedrooms—you can see odd angles in the bedroom walls, and the room with the French doors would probably work better as a living room, if you don't need it for a fourth bedroom.
There's central air and heat, storage is available, but no mention of laundry. So what's the verdict on this apartment? Is this a good starter apartment for some recent grads?
As always, when weighing New York City apartment listings, we turn to our Take It Or Leave It experts: Constantine Valhouli, founder of real estate research and analytics firm NeighborhoodX, freelance writer Lambeth Hochwald, and myself.
But first, here are pictures of the apartment.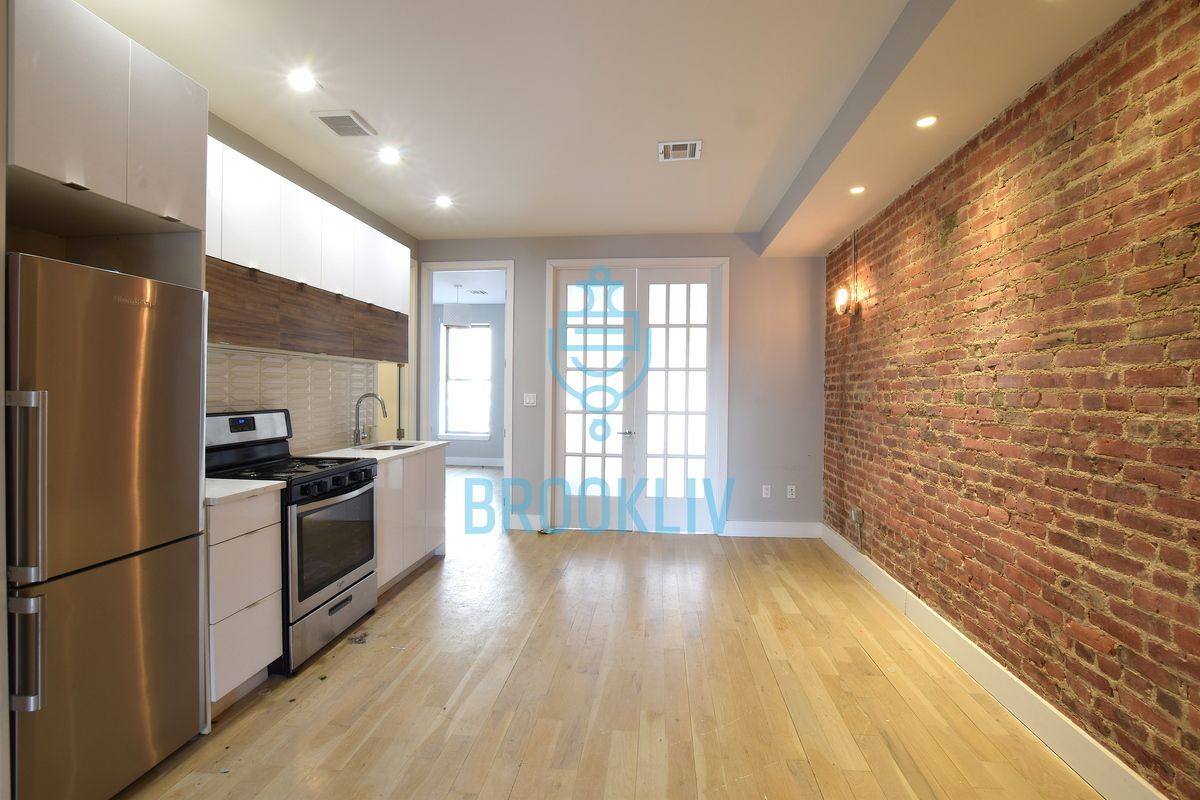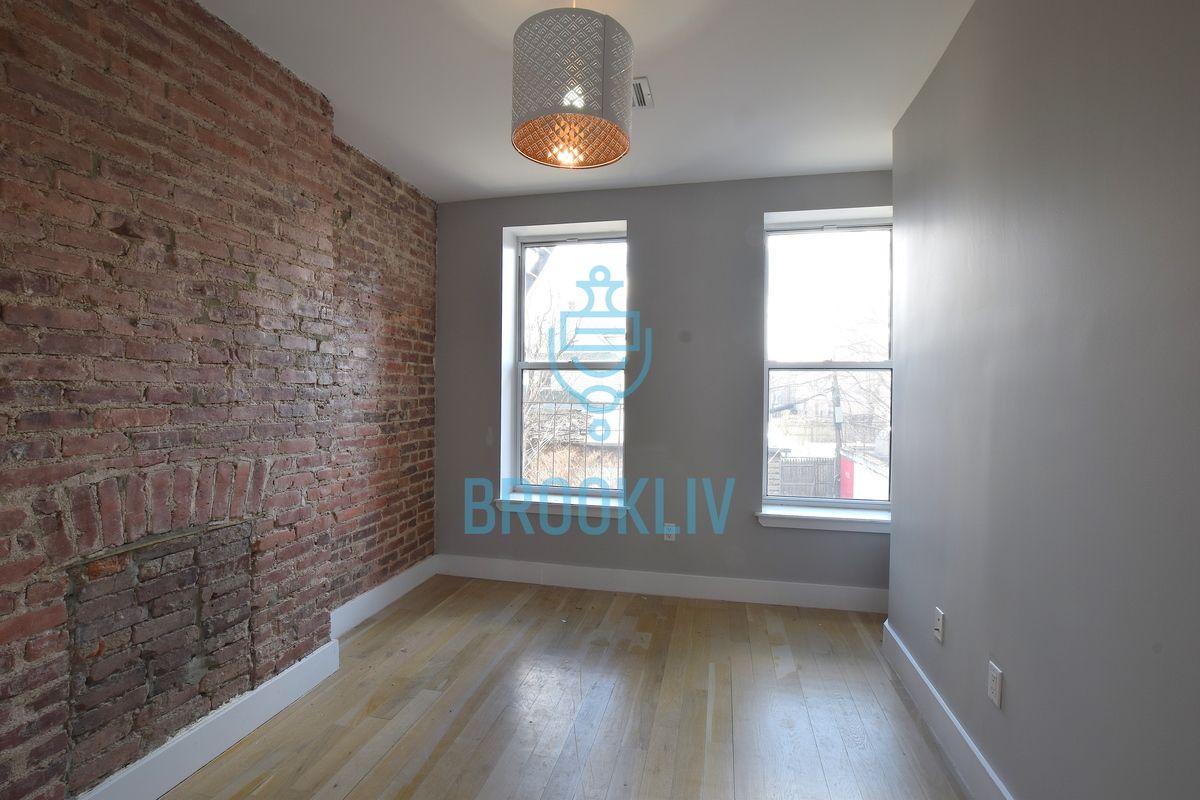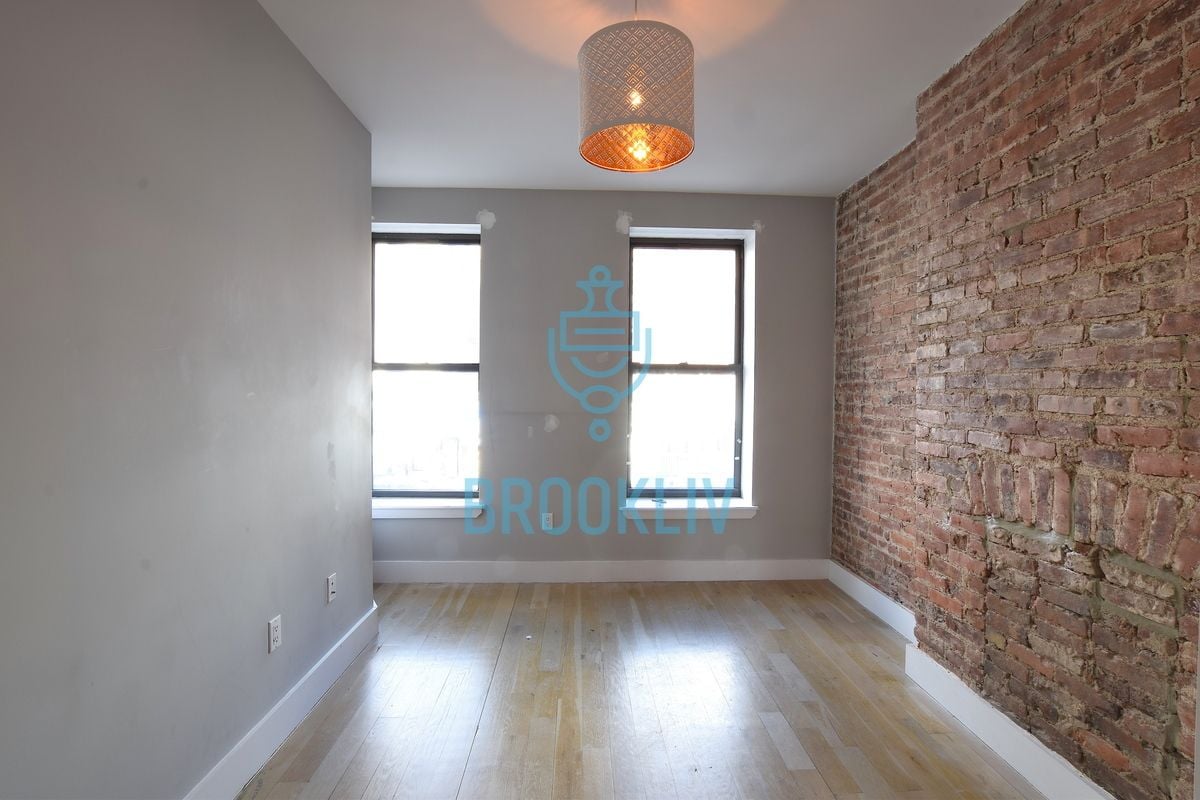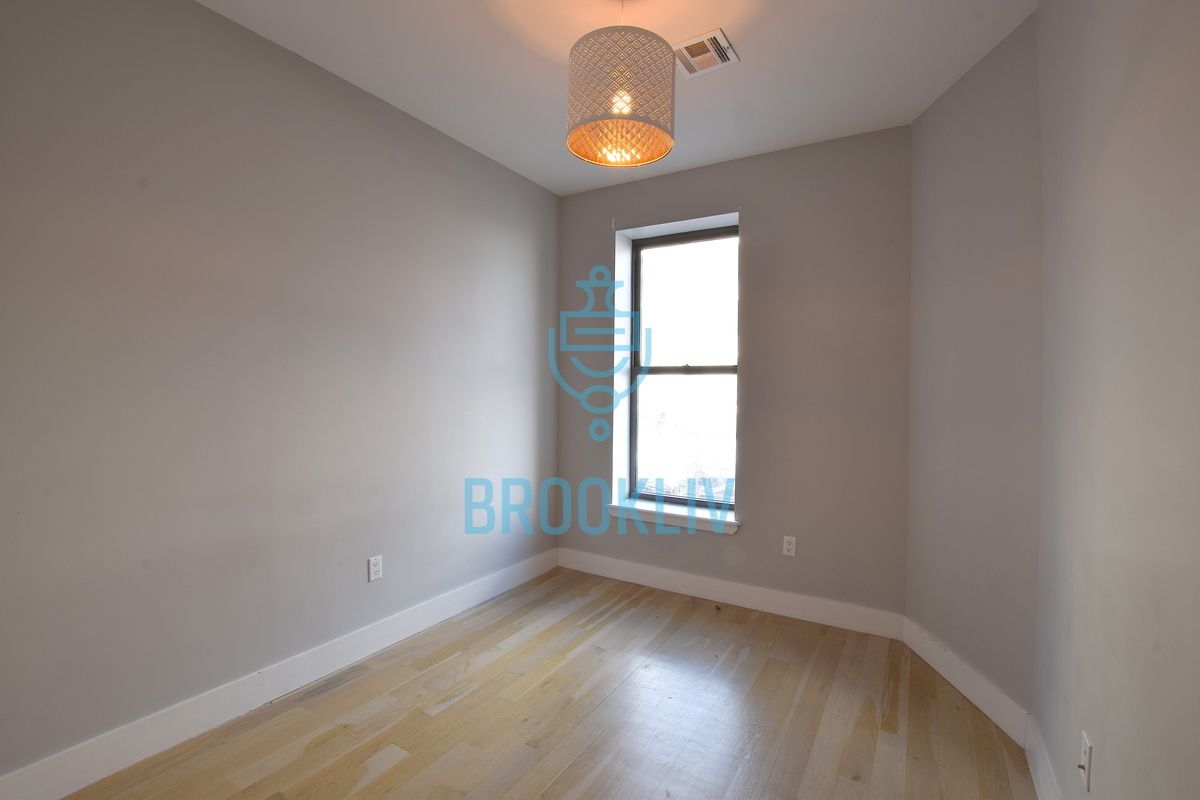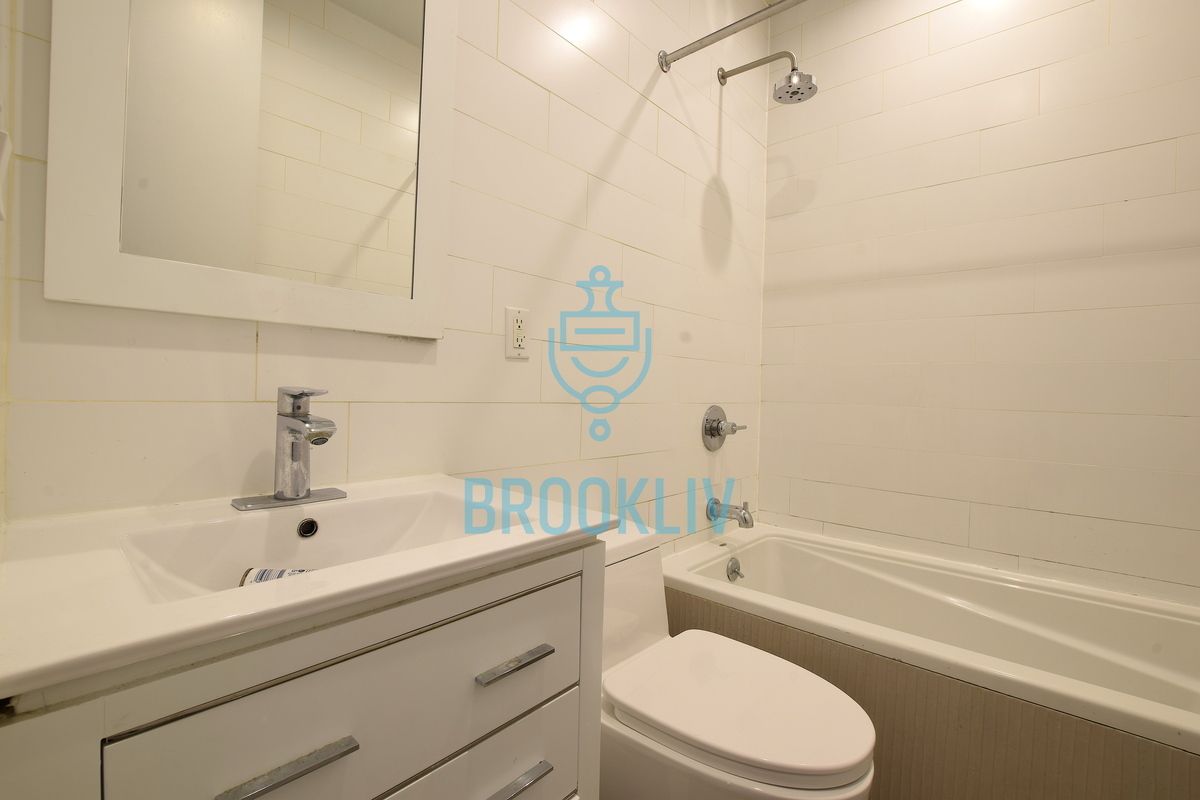 Pros & cons
"Is it wrong to love an apartment for its lighting fixtures? That's the first (fab) thing I noticed about this Flatbush four bedroom but that's about all that I liked about the place. It sounds big—four bedrooms??!!—but I'm pretty sure those bedrooms are going to feel like a major squeeze." —Lambeth Hochwald
"It's bland but affordable. But it has two bathrooms, which makes bland workable. Also, the listing has photos of Prospect Park, which is actually a 20-minute bus ride away. Have you seen the movie 'Get Over It' (the 1995 version with Kirsten Dunst)? The high school drama teacher began one story with 'As the great Bobby De Niro once told me...actually, I just read that in an interview.' Kind of like that." —Constantine Valhouli 
"The immediate neighborhood is not very exciting but it's serviceable—you can get used tires or your taxes done, and pick up necessities at a few delis and grocery stores. The Flatbush Avenue YMCA is three blocks away, and the 2 and 5 trains are three blocks away at Newkirk Avenue." —Jennifer White Karp
Whom it's perfect for
"A trio of recent college grads who won't mind a 45-minute commute to Midtown." —Hochwald
"At $800 per bedroom per month, anyone. It's deep Brooklyn, but you can afford to be in NYC and do stuff. And with two bathrooms, you don't need to find yourself urinating in the potted plant in case of an emergency." —Valhouli
"Definitely a share, but perhaps a family as well. Not sharing a bathroom with your teenager is ideal." —White Karp
Take it or leave it
LEAVE IT. "I just feel like you can get a better deal in a building that at least has a real doorman, not a virtual one!" —Hochwald
TAKE IT. "Also, go watch 'Get Over It' if you haven't seen it already." —Valhouli
TAKE IT. "At this rent, it's a good starter apartment to launch yourself in NYC." —White Karp