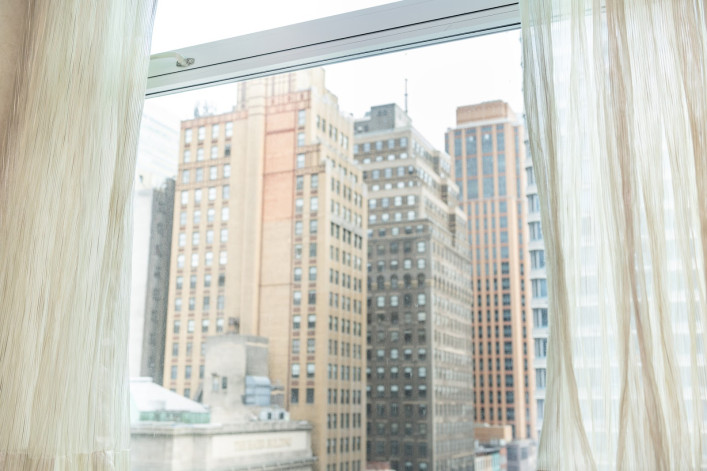 When it comes to finding an apartment in New York City, there's one thing you can count on: You won't find the perfect place no matter how hard you try. There's always something to compromise on.
That doesn't mean you shouldn't try to find the best place possible. In fact, having high standards can help you spot potential deal breakers.
I wish I had taken that advice. When our broker showed my boyfriend and me an apartment that had big windows, a decent-sized eat-in kitchen, and a low rent that the broker promised could go even a little lower, we thought we had it made. But after moving in, we discovered some problems we had overlooked during our search. 
Here are all the things that went wrong with my apartment—and what you can look for on your next apartment search.                              
1) Windows that face in the wrong direction
My boyfriend and I were excited by the two windows in the main living space, but it didn't take long to discover that the windows bring in little to no natural light into our apartment, leaving us in the dark.
We wasted tons of money on houseplants that we bought in the Flower District, just for all of them to die. 
Lesson learned: When your apartment hunting, don't just check for windows, pull out your iPhone and use the compass app to check which direction the windows face. West- and south-facing windows are the best for natural light.
2) A studio-sized kitchen sink and appliances
As someone who loves to cook, I was initially smitten with our kitchen, an attractive space with lots of cabinets. But once we settled in, it became apparent that the kitchen wasn't as functional as it seemed. 
The sink, stove, and fridge are all tiny. The sink is barely functional and our Brita pitcher doesn't fit under the faucet. I get fridge envy when I go to a friend's apartment and see what they can keep in stock.
Lesson learned: A good kitchen is about more than just looks. Take the time to move around the space and see if you could actually envision cooking there.
3) Kitchen wallpaper-turned-cat scratcher
We completely missed the fact that there was wallpaper in the kitchen: At a quick glance, it appeared to be off-white paint. While not chic, it wasn't a problem for us until we added two kittens to our family. 
Our cats were obsessed with the wallpaper as a scratching surface. Eventually, I got frustrated and peeled most of it off. We then spent an entire day sanding and painting the walls. It was a messy process, but the kitchen looks better (although the cats still scratch the walls a little)—and our landlord did reimburse us.
Lesson learned: Feel the walls! If you have cats, don't rent an apartment with any sort of wall covering other than good ol' paint. 
4) Poor sound-proofing and hardwood floors
One of our favorite features is the hardwood floors. But we didn't know the building's soundproofing is so poor that even a dropped fork would make the neighbor below us bang on the ceiling.
We bought a large area rug, and thick padding for underneath, plus smaller accent rugs. But, even so, our downstairs neighbor filed noise complaints. This lead to our landlord covering the hardwood floors with carpet—a major disappointment.
Lesson learned: Ask about noise complaints in the building. See if you and a friend can check out how sound travels—one of you can bang on the floor to hear how loud it sounds downstairs (with your neighbor's permission). Don't wear shoes inside and be sure to follow the 80/20 floor covering rule.
5) The not-so-friendly neighbors
On move-in day, I noticed a group of women staring as we moved our belongings from a U-Haul. I pointed them out to my boyfriend, and he said we should probably expect their hostility, considering how different we are. Maybe they felt we were intruding on their community. (Too bad for them.)
It didn't take long to figure out that the majority of our neighborhood consists of families and elderly people—ambulances and hospital transport vans often block our street, causing an insane amount of horn-blaring. There are not many people our age, certainly not many other gay couples, and two years later, I still get stares from people around the neighborhood.
We've also been harassed by the man who lives below us (who does more than just file noise complaints), despite countless 911 calls, police reports, and makeshift spy cameras, but that's another, very long story. 
Lesson learned: Do your homework on an unfamiliar building and neighborhood. Visit it at different times and days to get a feel for the area, and to judge your comfort level.
6) Lackluster food delivery options
I was spoiled when I lived in Astoria, our former neighborhood, because there are tons of restaurants, most of which deliver late, which is ideal after a night out. But, in my new neighborhood, there's considerably fewer options, and after 10 at night, there's even less.
Lesson learned: If you're a foodie like I am, check out the food delivery options for your prospective pad. Plug the address in on Seamless, and play around with the delivery time to see what's available throughout the day—and night.
Brick Underground articles occasionally include the expertise of, or information about, advertising partners when relevant to the story. We will never promote an advertiser's product without making the relationship clear to our readers.