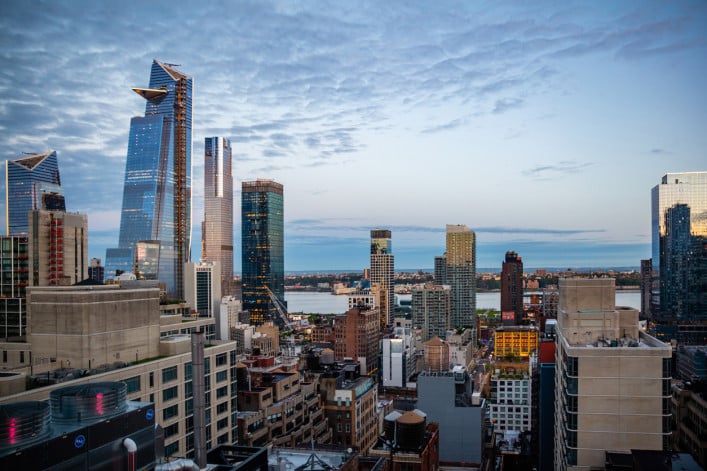 A relatively new kind of insurance that pays your rent when you lose your job is something that may be especially reassuring to New York City renters, but it could weaken your hand in a tenant-landlord dispute.
It's called a rent guarantee, and it is different from a lease guarantor or a co-signer, which are often necessary when you don't earn enough to meet the notably steep income requirements for renters in NYC: A good credit rating and an income that's 40 times the monthly rent.
Rent guarantee insurance is considered job loss protection for which you pay a monthly fee and it is more prevalent in the U.K. and just starting to grow in the U.S. It may be of particular interest to NYC renters in light of last year's changes to New York State's rent laws. In an effort to curb abuses, the new laws struck down the ability for landlords to collect additional months of rent upfront from tenants—but also made it harder for foreign students and those with shaky credit to rent in NYC.
But it is important to keep in mind this insurance could take away some important leverage you have as a tenant, according to one lawyer. Typically, if you were to rent from a landlord who doesn't make repairs, or your building has a C of O violation, or you are being overcharged, for example if you are supposed to be rent stabilized—then you may legally withhold rent. If you are guaranteeing your rent, you could be eliminating that important tool.
A response to hardship
One insurance company says its rent guarantee is aimed at helping tenants who may experience financial hardship.
"We think it's good timing to introduce this coverage. We're trying to serve tenants who are rent burdened—people who put most of their income toward rent," says Frank Costa, COO of World Insurance, which offers the Pensio Tenant Rent Guarantee program.
A rent guarantee gives a landlord "a consistent flow of income" in the event a tenant loses their job, he says, and avoids the cost of eviction and covering a vacant apartment. It especially needed right now, Costa says.
"I've never seen this level of hardship we're seeing. The pandemic is very different from other natural disasters," he says.
Costa says World is in the process of contracting with a number of property managers in NYC and says this product is a better fit for mom-and-pop landlords, not larger owners who have deeper reserve funds.
How much does rent guarantee cost?
Pensio has three coverage options: three, six, and 12 months, and the monthly fee depends on the coverage option you need and the amount of rent you pay. In the event you lost your job, you would be covered for the remaining months.
This calculator can help you figure out your fee with Pensio, for example: A three-month rent guarantee for an apartment that rents for $3,000 a month would cost $105 monthly. A six-month guarantee for that same apartment is $225 monthly, and a 12-month guarantee is $270.
Rent Guarantee insurance is typically obtained by landlords, so you may start to see it mentioned in listings. Landlords can roll it into the monthly rent, as this article from the National Law Review explains.
World Insurance's rent guarantee can also be purchased by individual tenants, and to qualify, you need to have signed a lease, be employed, and have not been given notice at work. Costa says there's no additional financial screening, since you have already been vetted by a landlord.
Tenants would no longer be able to withhold rent
However, a tenant attorney says that from a tenant's perspective, a rent guarantee is a "terrible idea."
David Frazer, a tenant attorney at Himmelstein, McConnell, Gribben, Donoghue & Joseph (a Brick sponsor) points out the cost for a 12-month guarantee is equivalent to paying a 13th month in rent.
"That's very expensive insurance. It's not a good deal for the tenant," he says. "Unfortunately, landlords are within their rights to request this," Frazer says, even for rent stabilized apartments.
Tenants should be aware if landlords ask you to pay for a rent guarantee, it needs to be spelled out in the lease, Frazer says.
And the bigger problem, he says, is that "it also effectively removes the tenant's ability to withhold rent if landlord isn't fixing things." That's important leverage tenants have over negligent owners.
"It's a slippery slope," Frazer says. He likened the insurance product to "catnip for landlords—they will want more," he says, especially "once they realize they have a failsafe method for getting rent paid. It's a lot easier and cheaper than hauling a tenant into housing court."
Who else offers rent guarantee insurance?
There are number of other companies offering rent guarantee insurance, like Steady Marketplace, Rent Rescue, and Leap. They function similarly but appear to have stricter qualification criteria and responsibilities for the tenant.
For example, Landlord Rent Default Insurance from Steady is paid for by the landlord for the benefit of the landlord. It is available in NYC. Renters do not purchase this product, the company says.
To qualify, a tenant must have a credit score of 580 or greater, depending on the state, a monthly-income-to-rent ratio of 2.5 times or greater, and no bankruptcy or evictions in the last three years. A full list of criteria are available here, according to a company spokesperson. The average premium as a percentage of annual rent has been about 1.3 percent, historically. 
Brick Underground articles occasionally include the expertise of, or information about, advertising partners when relevant to the story. We will never promote an advertiser's product without making the relationship clear to our readers.