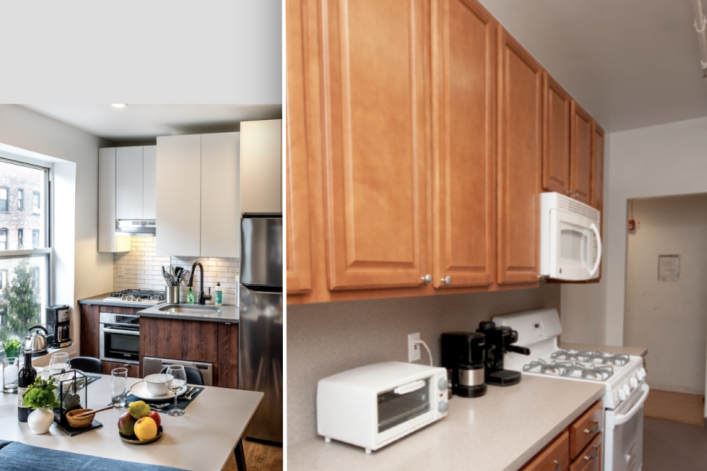 Quarters, Columbia University
Brick Underground is closely tracking the relatively new phenomenon of co-living in NYC, a fast-growing alternative to the standard (often painful) routine of renting in NYC. It has been described as upscale dorm-style living, so how does co-living actually compare to student housing?
Here's a quick look at co-living vs. student housing across a number of categories, including cost, aesthetics, and community vibe. For our schools, we picked two of the largest universities in the city, Columbia and NYU, and considered both dorm-style accommodations for first-years, and apartment-style options for more senior students. (Note that many colleges and universities require first-year students to live on campus.) 
NYU's full housing options and costs can be found here; Columbia University's can be reviewed here. 
Perks and problems on both sides
The disruptive co-living model offers single rooms in fully-furnished and equipped apartments (stocked with things like pots and pans, high-speed wifi, even toilet paper) for a single, all-inclusive fee—without some of the steep income, liquid cash, and long-term commitment requirements that landlords require. Many co-living companies also offer community events and outings for residents. (Need an even more comprehensive explanation of co-living? Check out our complete guide to the 15 co-living companies in NYC, most of which have multiple buildings.)
Co-living is popular with young professionals, freelancers and "digital nomads," internationals, and students; the flexibility and ease works well for young people in town for an internship, for example.
When comparing student housing to co-living, differences will depend on which school, which housing option, and which co-living company you are considering. Key points to keep in mind are:
Security: It's not that co-living facilities are inherently unsafe, but educational institutions are more focused on security. Entrance into a college living facility typically requires an ID, many are manned by building or security staff. Co-living is more like living in a regular (non-doorman) building.
Beds: College bedrooms have twin beds/mattresses. (Some even have bunk beds.) Most co-living rooms have a full bed. (Although you can get a room with a twin if you're looking for a lower rate.)
Aesthetics: With a few exceptions, as far as aesthetics go, co-living is going to win every time. Co-living buildings and spaces are designed to entice, and that means attempting to create a move-in, packaged lifestyle via (among other things) furniture and fixtures. College residences are not about people's shelter magazine fantasies (it's the education that's the draw). The result is a lot of ugly furniture with fabrics that can withstand spilled beer or Cheetos—for years.
Little extras: College living requires you to stock your supplies yourself: Typically students need to provide their own kitchen wares, paper products, and are often responsible for their own cleaning. Common spaces are also a blank slate, lacking co-living's on-trend style.
Community: Both college residences and co-living options offer (along a spectrum) lots of opportunity for community. And you could very well find a co-living apartment nearby Columbia University. (They are popular Uptown.) But university-run housing is for students, and that is who you will live with there—a default community of people doing what you're doing. Living on campus in a dorm full of freshman will no doubt provide a more immersive, perhaps easier experience of finding one's tribe and adjusting to living in the city.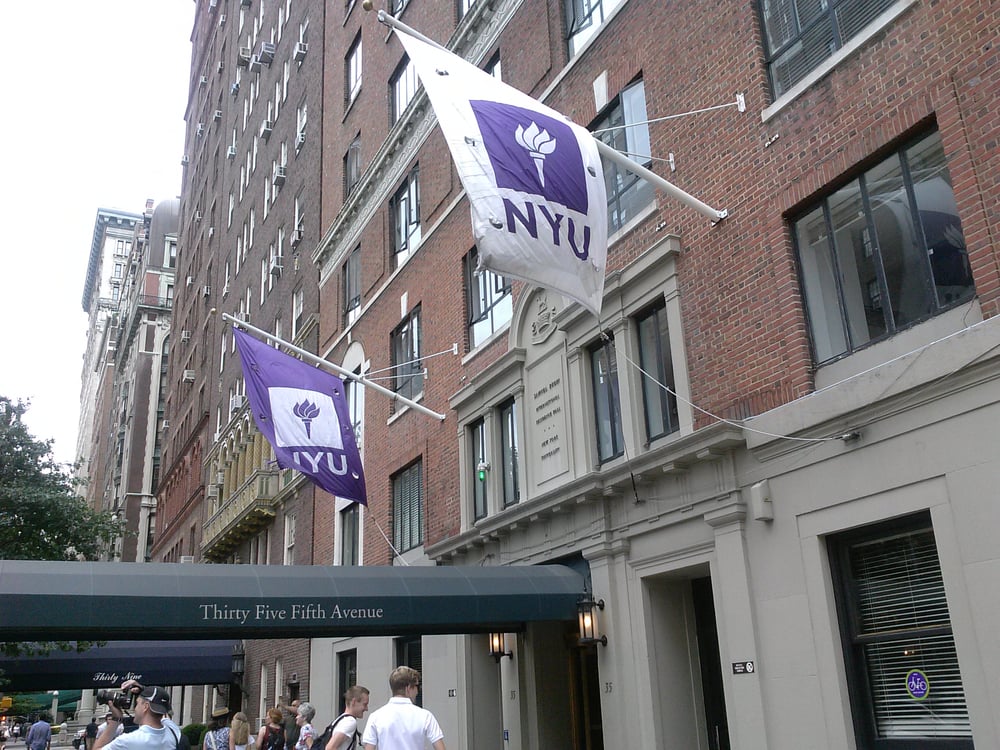 NYU
Building: Rubin Hall, a traditional dorm-style residence
Cost: $11,504 for a shared room for two in a suite/studio per academic year
A popular choice for first-year NYU students, Rubin Hall is located on Fifth Avenue between 10th and 11th streets, not far from the center of "campus." A former hotel built in 1925, the building has mostly shared suites, and shared studios, with a handful of private studios (which go for $14,640 per academic year.) Residents of Rubin are required to be on a meal plan, which starts at $2,568 for first-year and transfer students. (There are no kitchens.)
Aesthetics: For a dorm, the rooms are a nice size, although they are shared. Its prewar lineage means some bits of period detail, plaster walls, and the floors appear to be wood. Rubin Hall is not air-conditioned (one of the few dorms in the NYU system that's not.) Furniture is standard-issue dorm: bulky, not so attractive, almost indestructible wood pieces. All residents get an extra long twin bed and mattress, a desk and chair, drawer space (either underbed or dresser, and hanging space (either a closet or wardrobe cabinet). Here's a 360-degree look inside a triple in Rubin Hall. 
Rubin does have a lot of common spaces and amenities, including a theater, study lounge, dance and piano practice rooms, and ping-pong and billiards. There is an air-conditioned lounge and an elevator. The aesthetics of the common spaces are uninspiring, not exactly spaces you see and say, "This aesthetic speaks to me." (See them in the video tour here.)
Community: Rubin is part of NYU's first-year residential experience, a program which helps students transition to their first year of college in New York City through events and programs. The dorm is also home to 13 resident assistants and a faculty fellow in residence, which plan programming and events for residents and serve as a resource for information and support.
Rubin, like all dorm-like living, offers that kind of community that a lot of first-years need: Lots of people in close quarters, even in the same room. It's not necessarily a bad thing, especially if you're new to the city.
Cleaning: Residents clean their own bathrooms and bedrooms.
Tech: Rubin is equipped with campus cable, and residents can also watch HBO GO and MAX GO. Wireless Internet (NYU Roam) is available within all Manhattan undergraduate residence halls & Othmer Hall in Brooklyn. Devices such as Roku and AppleTV can be connected to the campus network.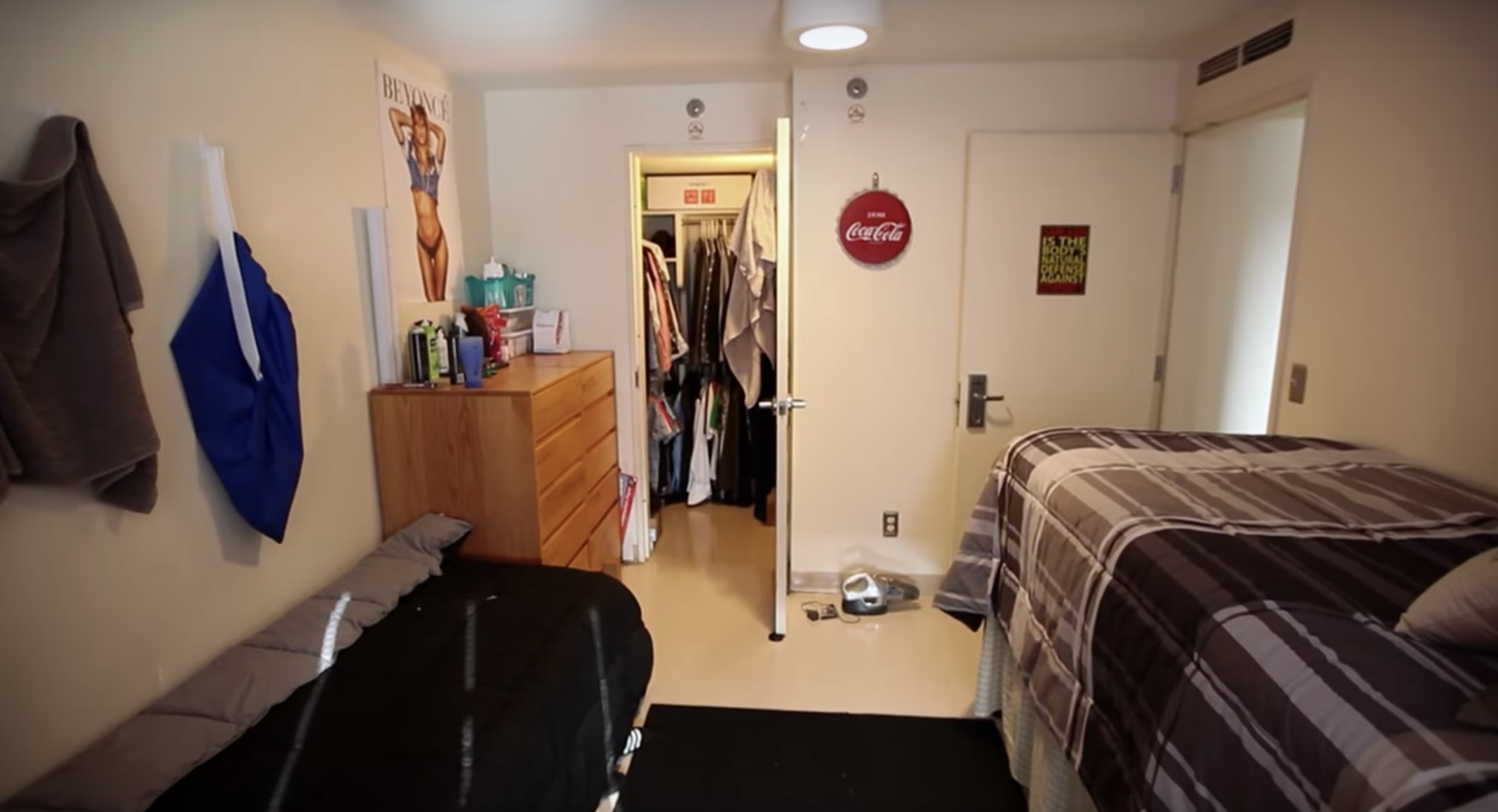 Building: Palladium Hall
Cost: $19,286 for a private room in a shared suite per academic year.
Home to 960 residents (most of them sophomores), Palladium Hall, located just off Union Square at 140 East 14th St., takes its name from the legendary club once located on the site. While there are a few private studios, the majority of bedrooms are in shared suites or apartments, and you can have your own bedroom here, making the arrangement more like co-living than a traditional dorm like Rubin Hall.
Suites in Palladium Hall do have their own kitchens, although there is a dining hall on site with even late-night service. (A meal plan is not required here.) Additional facilities include a gym, study lounges, music practice rooms with pianos and the Career Development Center for the university.
Aesthetics: Palladium "suites," are very basic, generic NYC apartments. The kitchens are small and utilitarian (no fancy fixtures or designer appliances here or in the bathroom) and the rooms feature the same standard-issue wood furniture as found at Rubin Hall. Floors are easy to clean vinyl and ceilings are popcorn-style. For a real-life look, check out this video tour of a Palladium suite.
Community: Palladium is home to 22 resident assistants, and three faculty fellows in residence, and offers a variety of program and community-based activities for residents including the Palladium Unified Government.
Cleaning: Residents clean their own kitchens, bathrooms, and rooms.
Tech: Campus cable, and HBO GO and MAX GO are available, and wireless internet are available. Devices such as Apple TV and game consoles can be connected to the campus network as well.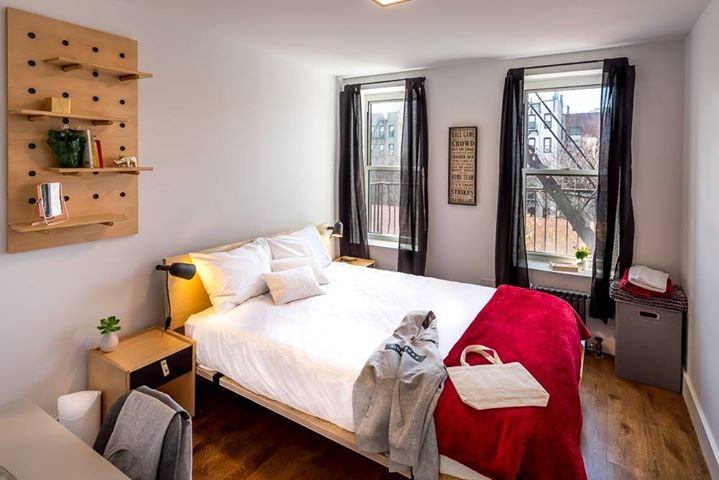 Co-living: Quarters
Building: Quarters East Village, 324 Grand St. 
Cost: Starting at $1,599 a month for a single room in a three-, four-, or five-bedroom apartment; the less expensive rooms are on the building's lower floors. You can see more of the accommodations here. 
Aesthetics: Quarters is fairly minimalist, with a dash of style, but the bathrooms are actually quite lovely. Rooms come with a bed (with a Casper mattress), desk, closet, and shelving. Kitchens are modern and equipped with nice appliances, and additional building amenities include a cinema, roof deck, co-working area, and rec lounge. There is a laundry room as well. 
Community: Weekly social and networking events. Members can connect and communicate via Slack and the Quarters app. 
Cleaning: Not included.
Tech: Cable, high-speed wifi, smart house technology (operating lights and blinds, as well as wireless door locks.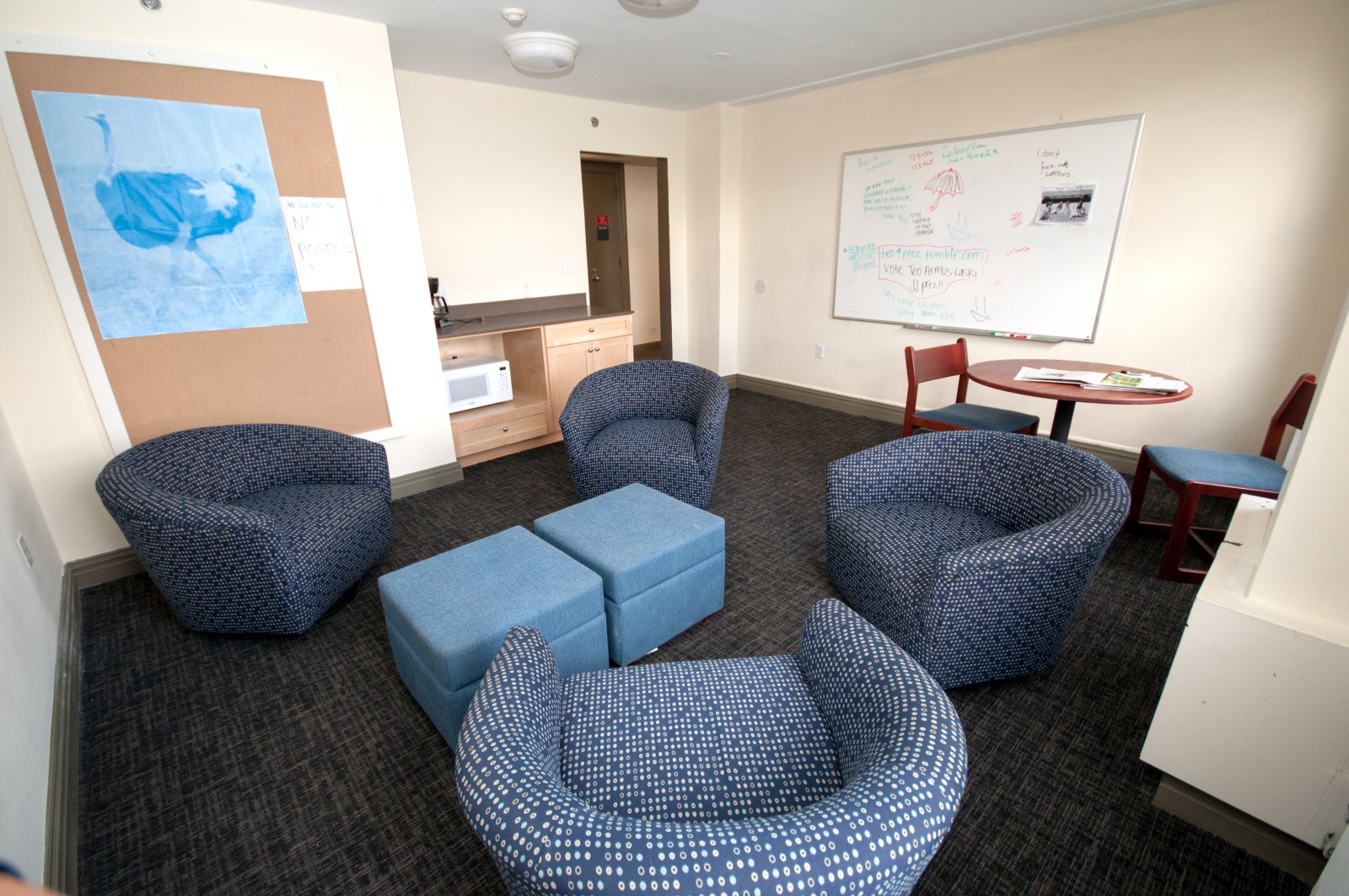 Columbia University
Building: John Jay Hall
Like NYU's Rubin Hall, John Jay Hall is a popular living solution for first year Columbia students, and houses first years exclusively. The layout is traditional dorm, with rooms off a main corridor; there are some doubles at John Jay, but most rooms are singles. The stately stone building is near the 114th Street entrance with ornate iron lanterns. It's large, with 11 floors and is home to over 400 students.
There is a dining hall on the first floor, as well as a more casual place for food, JJ's Place, in the basement (which is apparently good for late-night munchies runs in your jammies). Health Services and an urgent care facility are in the building. An impressive first floor lounge has a piano and a fireplace. Laundry facilities are in the basement.
Each floor has seven bathrooms with a single shower stall, sink, and toilet.
Cost: $8,412 a year.
Aesthetics: Rooms are an adequate size, and able to accommodate a twin bed, desk, and dresser with some additional room to navigate, and they offer views of center campus and downtown Manhattan. As at NYU, the bedroom furniture is classic dorm-issue, indestructible wood, and there is no air-conditioning. Each floor has a lounge, equipped with cable, a television, and microwave; again the furnishings are industrial stain-proof pieces without much charm, intended to withstand years of abuse. (See a video tour and more images here.)
The aesthetic overall is classic-dorm-meets-Hogwarts, with the public spaces such as the entry lounge and dining hall retaining a place-of-learning vibe, with high ceilings, lots of old wood, brass chandeliers, columns, oil paintings, and even a bust of the building's namesake. The contemporary areas (the rooms, the bathrooms) are basic with little aesthetic appeal.
Community: Resident advisors, part of the office of residential life, plan events and community-building activities for each floor. Students often leave their doors open while in their rooms, reinforcing a sense of community.
Cleaning: Bathrooms are cleaned daily, "kitchens" are cleaned daily, and recycling is daily, but trash removal is residents' responsibility.
Tech: Lounges have cable and a TV. High-speed wifi network and Internet access for capable devices is available at most Columbia campus buildings. John Jay has a computer lab and print station.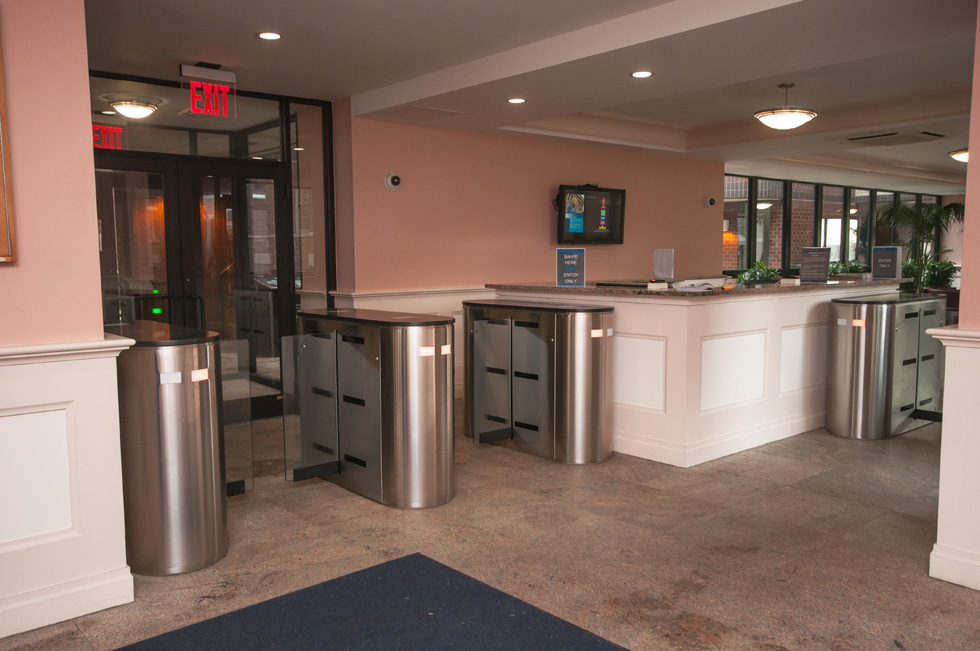 Building: 70 Morningside Dr.
An apartment-style living option for older students, this East Campus complex includes townhouses and duplexes containing suites with singles and doubles. Residences include private bathrooms and kitchens, and a common area. Building facilities include a second floor lounge with big-screen TV and piano, study lounges on the 12th, 14th, and 20th floors, laundry in the basement, a full common kitchen, and fitness centers on the 8th and 16th floors. The building does have air conditioning, and has recently undergone some renovations to upgrade the electrical systems and roofs.
Cost: $9,538 for the school year.
Aesthetics: The building itself is very postwar NYC apartment building, complete with a lobby featuring walls of windows, shiny stone floors, leatherette seating, and lots of hard-to-kill plants. The rooms look clean and basic, and are also furnished with standard dorm desk, bed, dresser. The kitchens are also generic, but are bigger than the small one featured in the Palladium tour above. We didn't see any pictures of the common spaces.
Community: Community seems largely self-generated here, thanks to the large percentage of upperclassmen, with many presumably selecting to live together in suites. There is, however, a faculty member in residence.
Cleaning: Bathrooms are cleaned weekly. Residents are responsible for emptying trash and recycling.
Tech: There is cable in suite common spaces, but none in bedrooms. Campus wifi and internet are available. There are computer labs on the 10th and 18th floors.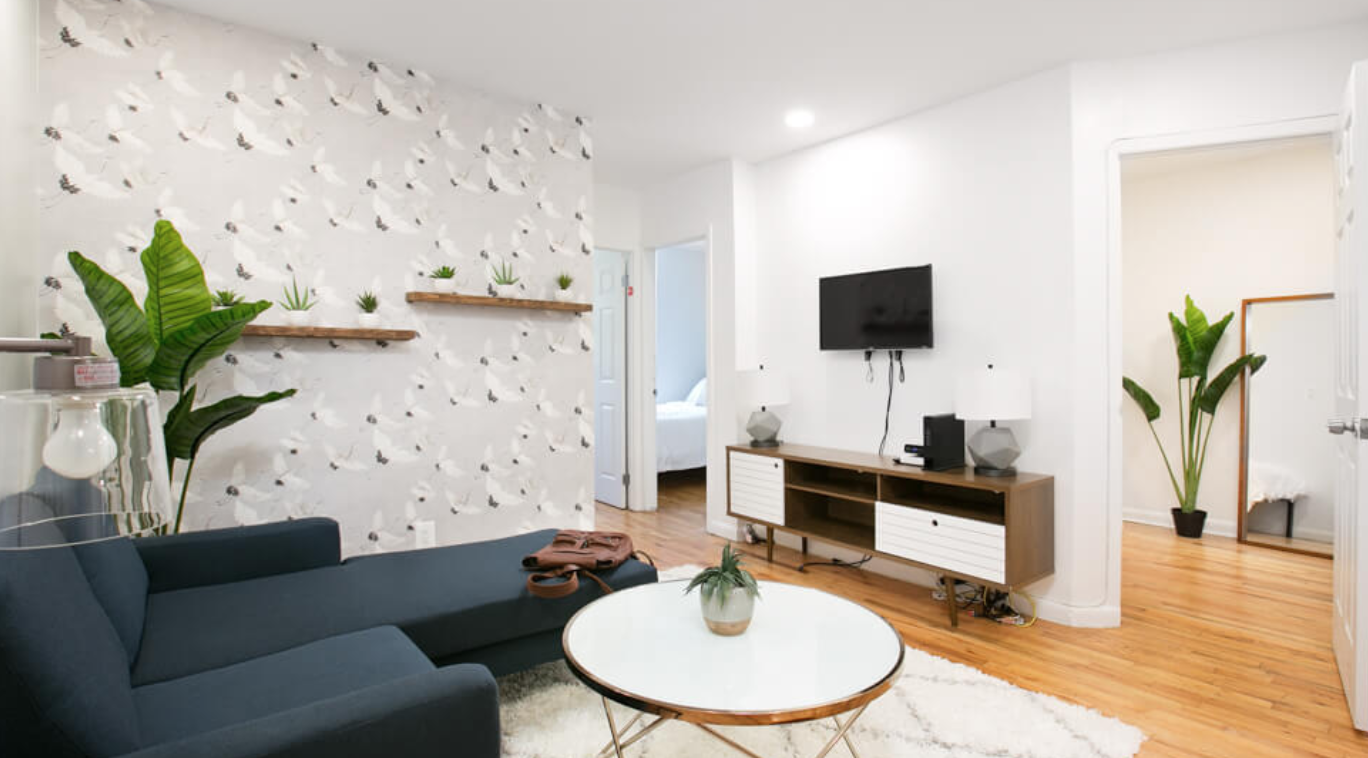 Co-living: Roomrs, West Harlem
Building: W. 149th St. , #31
Cost: $1,100 a month (rate is at full-year term).
Aesthetics: The overall aesthetic is a West Elm/Ikea mashup, sort of a Nordic mid-century vibe. Rooms come furnished with full bed and side table and lamp, bedding, and fresh towels. The kitchen is equipped, and the common area is furnished and has a Roku TV. (Get a tour here.) 
Community: Roomrs has an internal social network and also organizes events for residents that are also open to the public.
Cleaning: Monthly housekeeping. 
Tech: In addition to high-speed wifi, some buildings are equipped with smart technology such as keyless entry and "smart mattresses." 
Brick Underground articles occasionally include the expertise of, or information about, advertising partners when relevant to the story. We will never promote an advertiser's product without making the relationship clear to our readers.