The Newcomers
Why we moved to NYC from Pittsburgh: Our daughter was relocating for work and we opted to experience the city together
After a fruitless online search, they teamed up with a broker, who showed them seven places in one day
They now pay $3,750 for a 1,000-square-foot, five bedroom—the multiple small rooms fit their needs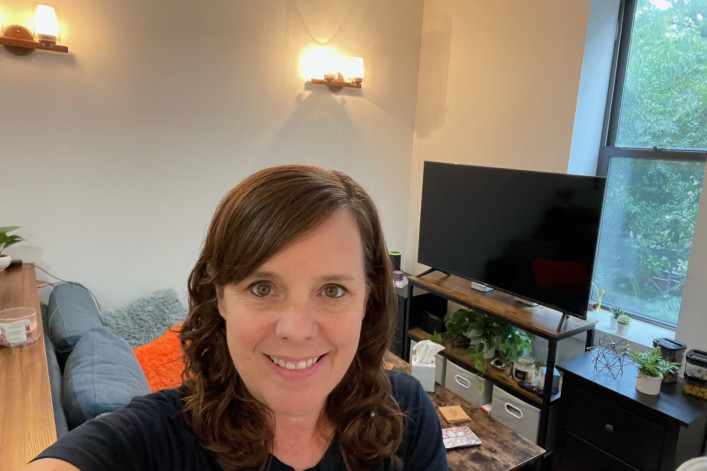 When her grown daughter gets offered a dream job in New York City, Michelle Tang and her husband opted to move there, too. They headed to Brooklyn in search of a place big enough for all of them and found an oddly laid out five-bedroom in a walkup. Here's Michelle's story.
 
I was born and raised in Southern California, and my husband was born in Wisconsin and raised near Philadelphia. We met in Silicon Valley, where our daughter was born and raised. Then we all moved to Pittsburgh, where she was attending college. We had been living for the last five years, in two different places. (We kept a home in Silicon Valley, too.)
 
First, we purchased a 3,200-square-foot, five-bedroom townhouse for just under $600,000 and lived there for four years. After our daughter's graduation, we sold the townhouse, and my husband and I moved to an 800-square-foot, one-bedroom, one-bath-apartment, and our daughter moved to a separate one-bedroom unit nearby.
Our apartment was in a brand new, six-story elevator building with a virtual doorman, gym, parking garage, dog run, pool, hot tub, and other premium amenities like a coffee bar, valet trash, and dry-cleaning pick-up and delivery. We had a balcony with a peek of a river view and were within walking distance of many restaurants and bars. We paid just over $2,000 a month for the apartment. Our daughter's building was older but included some of the same amenities like a virtual doorman, common space, gym, and pool. She paid just under $1,600 a month for her place.
 
Our Pittsburgh apartment had a full-size washer and dryer located inside the walk-in closet. It was big enough to wash a king-sized comforter. Having it in the closet was so brilliant! You could throw your dirty clothes into the washer as you took them off and start the washer when it was full.
 
The staff was incredibly nice and the unit was brand new and very modern. The main drawback was that the apartment was situated between two different train tracks, and at night you could hear the trains; one of the tracks required the trains to sound a horn almost exactly where our apartment was. Another annoyance was that despite it being prohibited, one of our neighbors smoked weed day and night in his apartment, and the smell penetrated ours. It would hit us like a brick in the face when walking in, and we used to (jokingly) accuse our dog of getting high in our absence.
 
Our townhouse was in the Oakland/Shadyside neighborhood of Pittsburgh, which is a fun neighborhood near three different universities. You could walk to restaurants, bars, and all the rest, so we didn't have to drive if we wanted to go to dinner. The apartment we moved to was in the Southside neighborhood, which was very vibrant, with many bars and a lot of nightlife. There weren't any major drawbacks to either neighborhood, except both were very popular with the many university students in Pittsburgh and could be crowded and loud.
 
We are hockey fans and went to many Pittsburgh Penguins games. Pittsburgh is on three rivers, and we were lucky enough to have friends with a boat. We enjoyed cruising the rivers with our friends. Pittsburgh is a really fun small city with lots to do and see.
---
[Editor's Note: Brick Underground's series The Newcomers features first-person accounts about why a renter or buyer decided to take a chance on NYC and live here now. Have a story to share? Drop us an email. We respect all requests for anonymity.]
---
My husband and I are mostly retired. I do some website design and programming, mainly for small non-profits, and we are in the process of setting up and writing a travel blog. This gives us a lot of mobility to live almost anywhere. Our daughter worked as a marketing data analyst for about a year before coming to New York. Her office was about 30 minutes by car. She doesn't drive, so one of us would take her, or she had to take Uber, which was generally about $40 each way. Although Pittsburgh has great public transit options, the bus route would have been over an hour each way.
Why they left Pittsburgh for NYC
Our daughter was offered her dream job in Lower Manhattan in March of 2023 and needed to move very quickly. We decided we would join her and have the opportunity to experience NYC together. Originally, we thought she would live alone and my husband and I would rent someplace outside of the city since we split our time with our place in California. But once we started searching online and saw the prices, we decided it would be more cost-effective to share a single space with our daughter when we are in town. 
We narrowed our options to Jersey City and Brooklyn based on overall costs and a manageable commute distance to her office and started off looking on our own. I refused to believe that this wouldn't work, in spite of having local friends and family who tried to explain that it was harder than one might think. 
Our initial wish list included in-unit laundry, central AC, an elevator, a dishwasher, access to a subway where the commute would be 30 minutes or less, and a budget of $3,000 a month. We went to open houses and saw a few places that we found ourselves, but it rapidly became obvious that we didn't have enough time to do this on our own. We also realized that we wouldn't be getting all those features for our desired rent.
Eventually, we reached out to Brian Mark, an agent at Bond New York, when we got tired of getting poor results. We found him through the Bond New York website. He did a great job of finding us options and lives in Brooklyn, so he was very knowledgeable about the various areas.
 
He lined up seven apartments to see in Brooklyn in a single day. We saw at least three good options—two that were not vacant and one that was vacant. One apartment looked like the resident had literally just walked out to get a coffee or something—shoes on the floor by the door, plants on the balcony, all the furniture in place, dishes in the kitchen, clothes in the closet. I was so freaked out that we might be in the wrong place, and even the agents were a little taken aback, but apparently, the former resident just took the items he wanted and walked out without moving the rest. We were told that isn't uncommon because moving furniture from a walk-up is sometimes not worth the hassle. I had never seen that before.
Landing a five bedroom with an 'odd' layout
The unit we chose—which is in a four-story, prewar walkup in Crown Heights—had been vacant for a while. It got really close to meeting all of our needs, so 10 minutes after we saw it, Brian helped us put in an application. We were accepted within a couple of days and moved in the following week. We didn't have a bidding war, though I think we beat out another interested party by completing the paperwork, which Brian helped organized while he was out of town. We went 25 percent over our budget, but because we are sharing one place instead of having two different ones, it ends up being more cost-effective.
 
The layout is a little odd but has ended up being perfect for our needs. There are five bedrooms and two baths, which sounds massive, but all of that is squeezed into 1,000 square feet, so the bedrooms are all roughly the size of a king-sized bed. The living room is also small—it can fit a three-seat sofa and that is it for seating. We ended up putting two console tables with barstools behind the sofa for eating because there was no room for a regular dining table. When we are all in the living room together, it reminds me of stadium seating. Go Rangers! 
The large number of small spaces works well for us because we all have our own discreet areas. My husband and I share a bedroom and an office, our daughter has her own bedroom and office, and the last room is being used as her closet. 
We have central air and a dishwasher but no in-unit laundry. There is a single set of laundry machines in the basement that use a payment app. I'm not going to lie—laundry is much more of a chore and I live in constant fear of dropping my undies on a floor that is usually a bit wet and grungy. 
On the plus side, our building is a seven-minute walk from the A train and my daughter can get to work quickly.
How apartment hunting in NYC is unlike anywhere else
In my opinion, New York is almost unique in how you find a place to rent. In any other place I've ever lived, you find options on some portal like Apartments.com or Zillow, then you email or call to make an appointment to look at the place and decide if you want to rent it. This was working well in Jersey City because we were looking at newer, multi-unit buildings, but it wasn't the case for us in Brooklyn. We didn't have the budget for the newer, multi-unit buildings in Brooklyn and had trouble getting callbacks from property managers for other types of places. They basically wanted full financial info before they would even agree to show you a place. 
I had complete sticker shock at what you get for your dollar in Brooklyn vs. Pittsburgh, and while I was expecting that, I was a little dazed at seeing the reality of it. Also, navigating the thousands of neighborhoods when you don't know what you are doing was challenging. We wanted to be close to the A and C subway line, but even given that info, it was completely overwhelming. And it was harder because we had no time to truly explore options.
Despite the initial sticker shock, I've come to appreciate how nice it is to have as many rooms in the apartment as we do and that the place is actually well-priced for its size.
Dealing with a challenging move
Because we were consolidating two different Pittsburgh apartments into one apartment in Brooklyn, we sold or gave away a lot of furniture and then came down with the smallest U-Haul truck available, loaded to the absolute top. My husband has amazing spatial skills—you couldn't have fit another item into the truck. We joked that if we tipped the truck over, a perfect cube of our belongings would be sitting on the street. 
We moved our stuff up two flights of twisting and narrow stairs. Parking was hard, but we just embraced our New York-ness by putting on the hazards and partially blocking a driveway. 
Of course, we couldn't fit everything in one truckload, and trying to navigate Brooklyn with even a small U-Haul was not fun. So after we returned the U-Haul, my husband made about five trips to and from Pittsburgh with a loaded SUV. 
We had to get new mattresses because we each had a king-sized bed in Pittsburgh and ended up buying a bed-in-a-box from Costco in Red Hook. I have never seen a more crowded Costco—people were parked on the sidewalks and I could barely move inside.
 
My favorite memory of our move-in: We were down to our last item from the U-Haul—an IKEA Kallax bookcase that stood about five feet tall and five feet wide and weighed around 80 pounds. We tried to carry it up the stairs, but I couldn't manage it, so my husband had to disassemble it on the busy sidewalk in front of the apartment building. A random guy came by, introduced himself, and started asking us about our lives. We were exhausted and stressed about the process of taking apart furniture on the street, but we still found it amusing. People say New Yorkers are completely aloof and we certainly didn't experience that.
How they like living in Crown Heights
We are city people. We have lived in an urban setting for at least 10 years between California and Pittsburgh and this is the best place we have ever lived in terms of being able to find anything we need within walking distance. I am that annoying person who says "good morning" to everyone I pass and most people respond, which I appreciate.
 
We love all the prewar apartment buildings and converted brownstones in Crown Heights and being able to easily walk to many places in Brooklyn. In general, Brooklyn is great for walking. It is very flat and easy to navigate and because the buildings are lower, I find it has a bit of a breeze, making it feel cooler than Manhattan. Recently, my husband and I picked a nice day and walked from DUMBO through Red Hook and back to Crown Heights and just loved exploring on foot.
 
The street we are on is busy and the prewar building windows are thin. People honk outside the apartment at all hours because the street feeds a main artery in Brooklyn and gets backed up.
I am also surprised at how many people do not pick up after their dogs in our neighborhood. It's definitely important to keep your eyes on where you are stepping. 
The biggest change for me was the lack of grass. Even in other cities where we've lived, there was always some open space with grass, even if it was in front of a business or in a handkerchief-sized park. Here I can walk for blocks and the only green I see is from weeds or plants in a tree well. Even the brownstones with small front areas mainly have concrete.
 
That being said, we head to places with greenery often. We have an enjoyable walk to the Brooklyn Botanical Gardens and to Prospect Park. I recently discovered the Green-Wood Cemetery, just south of Prospect Park, and spent a couple of hours completely lost inside it. It's a national historic landmark and is maybe the best cemetery I've ever explored.
 
There is any kind of food you want in our neighborhood and it is usually incredible. My current favorite restaurant is Taqueria Milear on Nostrand—very authentic Mexican food in a family-owned establishment with a nice outdoor patio. We also enjoy Ras Plant Based on Franklin for Ethiopian, and a beautiful, small bar called Altar on Sterling, which has great ambiance, fun cocktails, and good bar food.
 
Shopping is easy and walkable now that I found an actual grocery store. I spent the first week walking into bodegas because Google Maps indicated they were grocery stores. The cost of food is higher than in Pittsburgh (or even California) and the grocery stores are smaller, but I have no trouble finding what I need. I have learned to carry two reusable shopping bags and to put the items I'm buying into the bags instead of using a cart. This ensures I buy only what I can easily carry. Our daughter almost always orders her groceries for delivery and it is fast and easy. My husband has ordered Costco items for delivery, which eliminates the need to fight the Costco crowds. Ordering take-out food for delivery is so much better here than anywhere else I've lived. Many places have their own delivery people and even if you use an app, things get here quickly and the food is mostly still warm.
 
After the first two weeks here, we moved our car to my mother-in-law's house, which is a two-hour train ride outside of the city. It was nothing but a nuisance to have a car in Brooklyn since you can get anywhere you want via the subway and a bit of walking. And if you managed to get a parking spot in our neighborhood, you would have to move your car twice a week for street sweeping. One time, we spent 45 minutes driving five blocks in Brooklyn and decided that was enough. We usually even take the subway to the airports for our frequent travels.
I often jump on the subway and go into Manhattan to meet up with friends or do some exploring. I personally love subways and can be very annoying about how much I love them, so this has been really fun for me. I am amazed at how efficient and effective the NYC subways are. People mostly don't want to talk to me when I'm on the subway. I have tried.
How their social life is going
People our age who have not lived in New York are often a little confused as to why we would want to live somewhere with no in-unit laundry or other conveniences, but our friends and family who have lived in New York understand the attraction. We recently had a friend come in from out of town and had to put her on a twin-sized air mattress in our office, but she enjoyed exploring the city, even if the guest room was a bit spartan.
 
Our daughter has connected with college friends and her best friend since elementary school, all of whom live in the city. She has also made friends at work easily. New York is a place that many college graduates choose for their first jobs, and it has been great for her. 
My husband and I have one set of good friends on the Upper West Side and it's been fun doing things with them. At some point, everyone you know will come to New York, so there is always an opportunity to see old friends and acquaintances. But the only way I think that my husband and I could make new friends would be by trying to meet friends of existing friends.
 
For our daughter, it has been life-changing to live in New York. Her world has gotten so much bigger and richer. She will definitely stay as long as her job is here. 
Given my husband and I are living with her when we are in town, it might be better for her to have her own space soon. So if she finds a roommate, we may opt to give her that space. As a retired couple, New York is a little expensive, but I can't deny it has a lot going for it in terms of youthful energy and keeping us active.  
Brick Underground articles occasionally include the expertise of, or information about, advertising partners when relevant to the story. We will never promote an advertiser's product without making the relationship clear to our readers.