The Newcomers
Why we moved to NYC from Tennessee: We wanted to be back where we belong, socially and politically
Wanted: outdoor space, not too many entry stairs, and room for a music studio—for under $1 million
Landed: a three-story townhouse in Bushwick with a 400-square-foot backyard for $1.379 million
There was another buyer, but the seller gave them three days to do the inspection and pay the deposit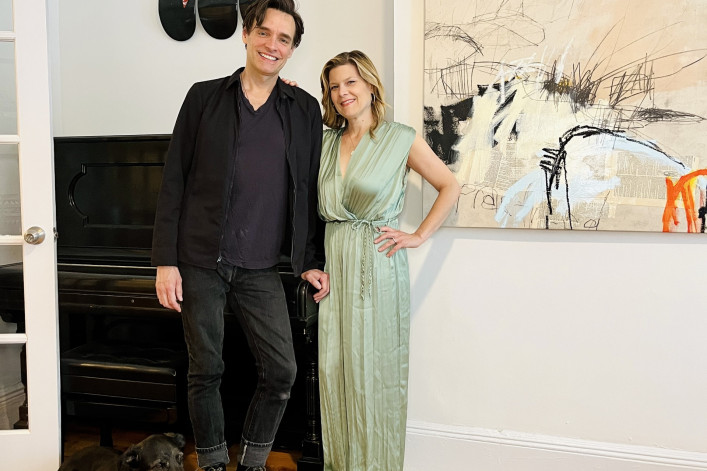 Marc and Kirsten fled their Tennessee home to head back to New York City, which they felt was more their vibe. The professional musicians landed a Bushwick townhouse, complete with outdoor space and room for a studio. Here's their story.
Marc was born in Worcester, Massachusetts, and I am from Bloomfield Hills, Michigan, a suburb of Detroit. We met while we were both living in NYC, and Marc ended up moving into a 650-square-foot, one-bedroom co-op in Hell's Kitchen that I had bought one month before meeting him. (I had already lived in the same neighborhood for 11 years.) After seven years sharing that space, we decided to move near Nashville, Tennessee, for what we thought would provide a better quality of life. 
 
We bought a 2,600-square-foot house in a beautiful neighborhood in the historic town of Franklin, TN, for $400,000. It was a three-bedroom, two-story home with a large backyard and garden. We had an outdoor stone fireplace on our deck that we ended up building a roof over so we could enjoy it year-round (and even in the rain).
We loved the amount of space that we could afford there, having come from our small Manhattan apartment. Our NYC furniture was dwarfed by all that space! The area was quiet and had animal visitors like red foxes and deer. There was a huge park attached near our subdivision, and we took long walks there every day with our dog. Hiking on the Natchez Trace trails was another favorite. We also enjoyed hearing music at the Ryman Auditorium and The Opry. 
What we disliked were the strong opposing political views and the feeling that we didn't really fit in with the general population there. We missed our longtime friends and the culture of NYC—being able to visit museums, go to the Met to hear an opera, and see a Broadway show or the ballet at Lincoln Center. Those opportunities don't exist anywhere else in the same way. 
---
[Editor's Note: Brick Underground's series The Newcomers features first-person accounts about why a renter or buyer decided to take a chance on NYC and live here now. Have a story to share? Drop us an email. We respect all requests for anonymity.]
---
I was working as the associate professor of harp at Vanderbilt University Blair School of Music, as well as the top recording session harpist, while also traveling back and forth to NYC to play my longtime steady afternoon tea gigs at the St. Regis Hotel, Mostly Mozart Festival, and The New York Pops. 
Marc is a songwriter who is published by Concord Music Group, was seen on ABC's show "Nashville," and mostly works in NYC or on tour, opening for the Eagles, Chicago, ZZ Top, and The Doobie Brothers. 
 
We each had a car—in fact, we had three! You can't get around our former TN nabe without one. Our commute was approximately 30 to 45 minutes to downtown Nashville.
Why they returned to NYC
We always knew deep down that we would come back home to NYC and decided at the beginning of 2021 to do so, immediately reaching out to Barbara Helms, who is a good friend of mine from college and currently an agent at Sotheby's International Realty.
 
Our primary need was a place that could accommodate a professional recording studio. Aside from that, we wanted outdoor space, minimal stairs in front (for our instrument load-in and out), and something at least partially renovated. Our ideal budget was less than $1 million.
 
We viewed eight to 10 properties, one of which was a great townhouse in Bushwick that we knew we wanted right away. There was an outstanding unsigned contract, but the prospective buyers were holding up the process, so the owner gave us three days to get the property inspected and pay the deposit. That was on a Friday afternoon! We made it happen.
 
We ended up paying $1.379 million for a fully renovated three-story, 3,600-square-foot townhouse in a residential area of Bushwick. It has a washer/dryer, full kitchens with dishwashers, three bathrooms, and a 400-square-foot backyard that we have now renovated. We closed in mid-May and started building a full recording studio on the ground floor. 
 
We drove all of our instruments in a huge U-Haul and also hired a moving company for some furniture and our other belongings. We bought new things like a couch and also some of the staging furniture from the seller's agent. 
Fun Fact: I wrote my new album, called "Aquamarine," during that time and recorded it in my newly renovated space!
Overall, buying real estate in NYC is much more competitive and complex than in Tennessee, both in pricing and inventory. It's much harder to find what you want here, especially for what we needed. There always seemed to be hidden issues that had to be accounted for. The process in Franklin was far easier, and the decision of what to buy was obvious. There weren't any caveats, and everything was very upfront. 
How they like their new neighborhood
Bushwick feels like an up-and-coming neighborhood. Our street has several buildings that are currently under renovation and are even adding a fourth floor.
We like the multi-cultural element, which translates to an exciting culinary experience and new friends who are French, Argentinian, Haitian, etc.  
There are two fun bars across the street (Phil's and the brand new Black/female-owned Filthy Diamond) and an amazing restaurant just up the street in Ridgewood called Rolo's that we love! The best bakery ever is L'Imprimerie, and the coolest café is Saint Michel. The street art is amazing; Bushwick is known for it.
We absolutely love our dog park hang (Irving Square Park/Irving Square Puppers). 
Like in many NYC neighborhoods, we dislike the rat and garbage problem and the late-night noise. 
 
For commuting, the L, M and J, Z trains are equidistant from us, though we almost always take the L. Our average subway commute is 40 minutes to Midtown. I still have a car, too, because I need it to transport my harp. 
 
Everyone loves our place! We have an incredible group of friends here that welcomed us back with open arms and quickly made new ones as well. We feel very grateful to be back where we belong.
Brick Underground articles occasionally include the expertise of, or information about, advertising partners when relevant to the story. We will never promote an advertiser's product without making the relationship clear to our readers.